SPAR's warehouse in Ebergassing, Austria, meets the newest logistics standards. It's one of the most innovative and eco-friendly distribution centers of its kind. SPAR had particular requirements on adaptability and scalability which would enable them to respond favorably to fluctuations in the food retail sector. We had the ideal answer: Our Flexible Case Picking system solution. This concept for brick and mortar retail allows the degree of automation to be designed to perfectly respond to fluctuations at all times. Despite being a semi-automatic solution, it reaches the same performance as a fully automatic system, but for a much smaller investment.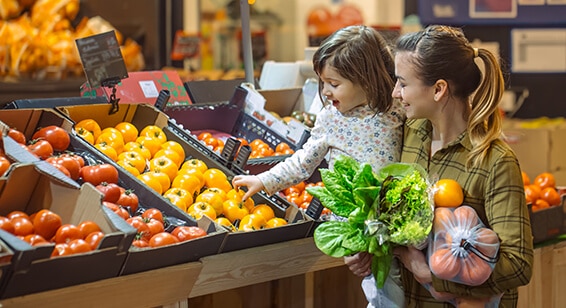 We talked to Martin Gleiss, Head of Group Logistics and Goods Flow at SPAR Österreichische Warenhandels AG. He explained how food retail is evolving, how customers gain added value from automation and why SPAR values the years of partnership with us.
What characterizes SPAR's business model?
SPAR owns more than 800 stores in Austria and supplies around 700 independent SPAR retailers. SPAR has four sales types: SPAR supermarkets, deli-oriented SPAR Gourmet stores, EUROSPAR stores and INTERSPAR hypermarkets. These allow us to respond according to local needs and ensure supply for different areas ranging from large cities to rural areas to mountain valleys.
What trends do you observe in the food retail sector?
The current trend is towards a healthy diet and regional products. SPAR offers its customers around 30,000 regional products. With regard to healthy foods, SPAR has launched a range of initiatives: For example, SPAR has banned 1,200 tons of sugar from its own brands as well as palm oil and the use of glyphosate.
"
"
The key factors in food logistics are speed, completeness, punctuality, accuracy and the goods arrangement according to each store layout.
What are the key factors in food logistics?
The following factors are the key to working efficiently and successfully in the store and providing excellent service to customers:
Speed
Completeness
Punctuality
Accuracy
Goods arrangement according to each store layout.
What challenges are local retail and store delivery facing in the light of these trends?
Meeting the above-mentioned points in the face of increasing demands, such as an ever-increasing range of goods. Increasingly specialized products also entail new and tough requirements: Faster supply chains, for instance, to offer the freshest products at the point of sale.
What are the advantages of automation in food retail for order fulfillment?
It has the potential to create a picking sequence according to each individual store. During times where demand peaks suddenly, we can see how important it is to have jobs that don't require weeks of training. Visual aids help employees fill orders, which rapidly increases throughput. Working hours can be quickly adapted and extended according to the workload without the need for long training phases.
Why did SPAR decide to work with KNAPP?
In the future, it won't be possible to find the required number of people to do classic, manual picking. KNAPP has been our reliable partner for 25 years, and we are convinced that Austrian partners can create the ideal solutions for our requirements.
How would you describe the partnership with KNAPP?
Success-oriented, straight-forward and open to learn from each other.
"
"
Peak times show just how important a functioning supply chain and smooth logistics processes are.
How do your customers benefit from smooth logistics and supply chains?
Peak times show just how important a functioning supply chain and smooth logistics processes are. We see how demanding such extraordinary situations are for our employees in sales and across the entire chain, and what it means when revenue doubles overnight. We have experienced how important it is to stock the products for our stores, to have stocks of items available and to avoid supply chains including products only produced again once the old stock has been sold. This strategy gives us a buffer that helps us cushion any unexpected fluctuations, first and foremost for our customers.
How do end customers benefit from KNAPP's solution?
As the solution optimizes sorting, the shelves in the stores can be filled more quickly and efficiently. For the stores, this means that they are more "prepared" for their customers. This technology does not depend on the number of picks per order line to be efficient, so stores can order small quantities of a product. Because of the large item range in combination with not available storage space at the stores, the stores make smaller orders, which results in frequent orders and deliveries. These effects are no problem with technological support.