Robotics
Technological advances in robotics and artificial intelligence are shaping the world of logistics, promising innovative logistics processes. Automation and robotics are on the rise and already feature in countless distribution and production centres around the world. In intralogistics in particular, the demands placed on robotics are incredibly high. Ultimately, the increasingly high demands for quality and performance in order fulfilment have to be met in the face of diverse article ranges, cost pressure, lack of space and shortages of workers.
At KNAPP, we keep close tabs on these challenges and continue to develop our solutions, designing the future together with our customers. Because of this, we have been committed to robotics and artificial intelligence for many years.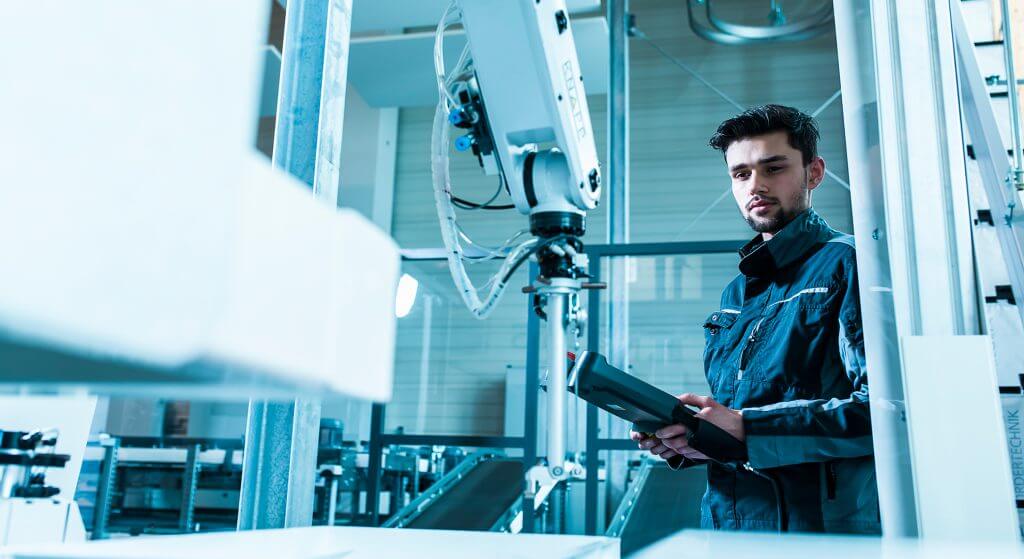 Humans and machines
The world and its demands are changing – and with them, the working environment of humans. Problems such as the lack of resources are solved by using robotics in the supply chain, which simultaneously increases quality and profitability. Man and machine do not compete with each other – they complement each other. A robot never gets tired and can carry out tasks such as building pallets, picking or sorting goods over a long period of time with consistently high quality. By comparison, a human can react quickly and flexibly to new requirements. Workers and technology form a stronger team that fulfils logistics requirements in the best way possible.
Which processes are right for robots?
Theoretically, many processes in a warehouse can be automated using robotics. However, we're not concerned with "What can be automated?", but "Which processes will be made safer, more productive and more efficient by using robots?" and "How can robots improve the human working environment?"
Processes where robots can bring lasting improvement:
Handling
Manually handling load carriers and documents costs both time and resources, is subject to errors and is monotonous for personnel. These processes can be reliably and efficiently automated to optimize order handling. KNAPP offers an extensive portfolio of handling systems for containers, trays, cartons, pallets and documents, based on the latest Streamline and Powerline conveyor concepts. Our handling systems are characterized by their high performance, profitability and efficiency.