Our service for your success – comprehensive and smart service rates very highly at KNAPP. Our services are summarized in our portfolio, System Support 360°+. KNAPP provides comprehensive care, including a full complement of service products and services; in other words, a world of service under one roof.
Our services flexibly adapt to the needs and goals of each of our customers. According to our motto, our service for your success, we view ourselves as partners who understand our customers' businesses and who develop additional services that keep customers happy, because they enable customers to go well beyond the usual level of service with their own customers. Our customer service focuses on maximum performance capacity and availability for the entire life cycle of the system, as well as on ongoing consultation and training. With this holistic approach, KNAPP pursues one goal: not only to offer services, but to really "wow" its customers with them. Going the extra mile in service helps to achieve sustainable success and investment security.
Watch video KiSoft WebEye.
Watch video System Support 360°+.
Watch video Business Operation Partnership.
For more information about System Support 360°+, visit the KNAPP service portal, e-insight.
Need to set up your login data? Please contact us at customerservice@knapp.com.

Smart Services by KNAPP – increase the efficiency of your system
How can Smart Services support you?
In this digital age, customers have high demands for the level of service and the flexibility of logistics services. The main driving forces behind digitization are increased demands for transparency, delivery capacity and customized services. This is why we developed our Smart Services to enhance our portfolio of service products. What can Smart Services do for you? They help you to solve problems, make better use of your systems and to stay one step ahead of the competition. Discover our solutions, collect empirical data from your systems and optimize your processes in doing so.
What advantages do the Smart Services offer?
Compiled information: We help you to effortlessly filter relevant process information, correctly interpreting and displaying it on the terminal most suited to its purpose, whether that be a smartphone, tablet or desktop computer.
Learning from the best: Benchmarking allows you to analyse your own warehouse systems and compare them with other sectors and regions.
Individual and simple access: Personalize your online dashboard and find all the information you need straight away. The straightforward user interface is well-arranged and ensures the online dashboard is easy to use.
Mobile assistance system: Call up the key figures you need anywhere and anytime thanks to our mobile assistance system. You don't have to be connected to the KNAPP network, meaning you can enjoy greater flexibility.
Intelligent maintenance: We detect a potential breakdown before it happens. By continually monitoring your components, potential errors are detected and rectified in good time.
The 6 Smart Services modules
1. Digital Assistance
Your workday assistant. Check the current status of your system any time. We went to great lengths to design the interface to be as straightforward and flexible as possible. You can also customize it to suit your individual requirements. Depending on the Smart Services package you choose, you will receive either a defined pool of index numbers or individual index numbers. From this pool, you can put together your own personalized dashboard. All key figures and information available on the online dashboard can also be accessed using mobile devices. The mobile app works outside of your warehouse network, all over the world, and is available for Android and iOS.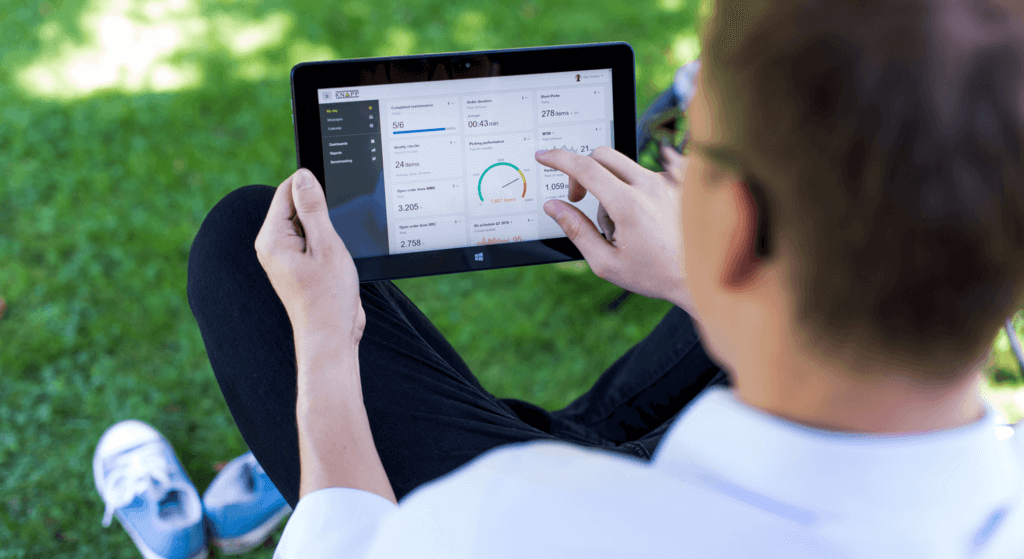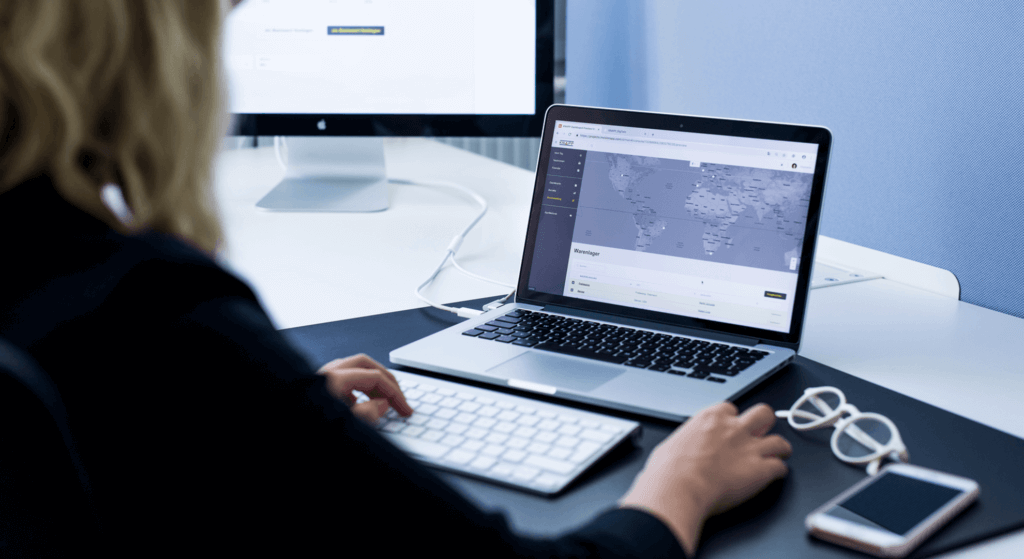 2. Benchmarking
Learn from the best. The benchmarking tool helps you to think outside the box. Analyse your own warehouse systems or compare them directly to other sectors and regions. Multi-site dashboards enable you to customize your benchmarks and generate reports from them. All of the index figures available to you are used to create this comparison of your warehouse systems.
3. Smart Maintenance
Doing the right thing. For us, intelligent maintenance means doing the right thing. The system uses machine learning to fully automatically classify all relevant mechatronic components in your warehouse systems and sort them into maintenance categories. In addition to this, critical system states and components are calculated and monitored around the clock to check their age, degree of utilization, temperature, vibration, etc. The mobile maintenance logbook on your smartphone makes it easy to record maintenance work. It shows the maintenance status of individual components and can create statistics for maintenance tasks.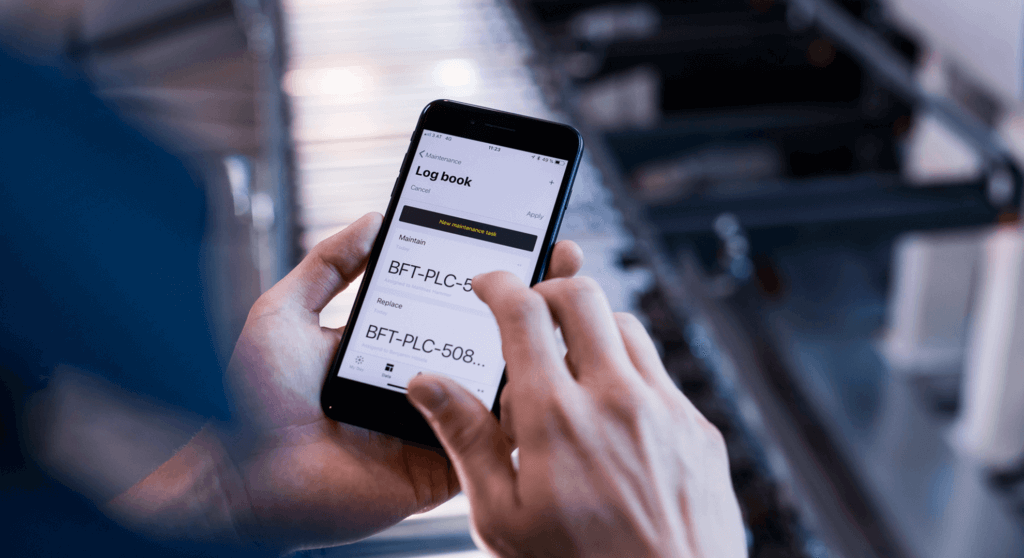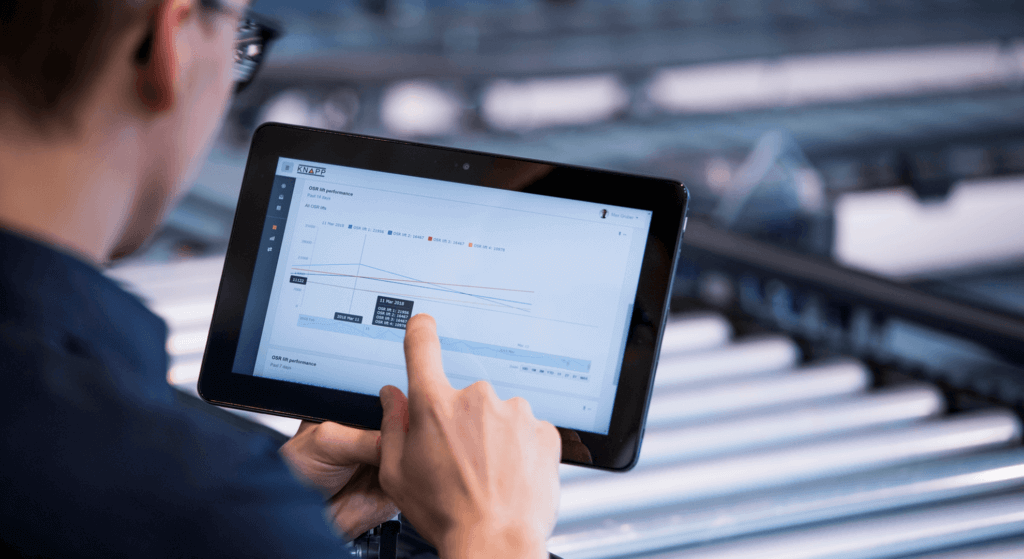 4. System Health
We take care of your system's health. The System Health module allows you to detect irregularities and errors in your warehouse system, reducing unplanned standstills to a minimum. We evaluate your warehouse system's state of health and signal which stage of life the individual warehouse components are in. When thresholds are exceeded, the dashboard also tells you which components need your attention. These thresholds are displayed in the visualization as limit values, and they are also used for calculating life cycles. You also have the option of setting individual thresholds for specific components.
5. Advanced Systems
Progressive solutions for boosting efficiency. The module Advanced Systems helps you to reduce the complexity in your warehouse system, make processes more efficient and optimize the use of available space in your warehouse. Historical data is used for analyses, and logistical key figures are presented as a result of historical trends. Correlations and progressions of warehouse data are calculated automatically from the beginning of data recording to the present. Workload calculation is also one of the module's core functions. Based on the system data recorded, automated algorithms for calculating the workload and for performance analysis are run for the components you choose. The Digital Twin allows you to create future simulations and visualize goods flows retrospectively in order to detect bottlenecks in your goods movements as quickly as possible. All the movements within the warehouse are recorded, laid against a model that replicates the real warehouse layout. Machine learning and artificial intelligence enable the system to independently develop and optimize itself.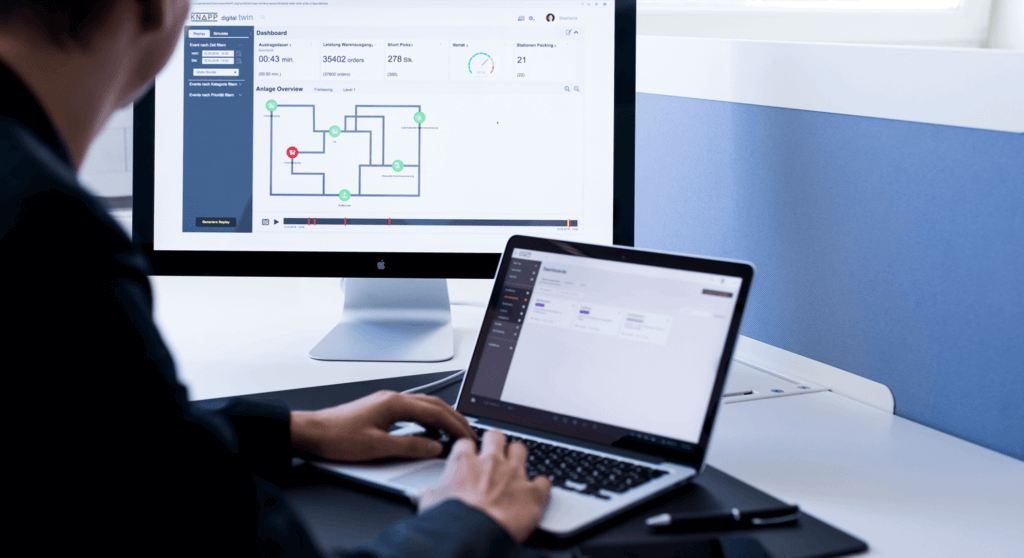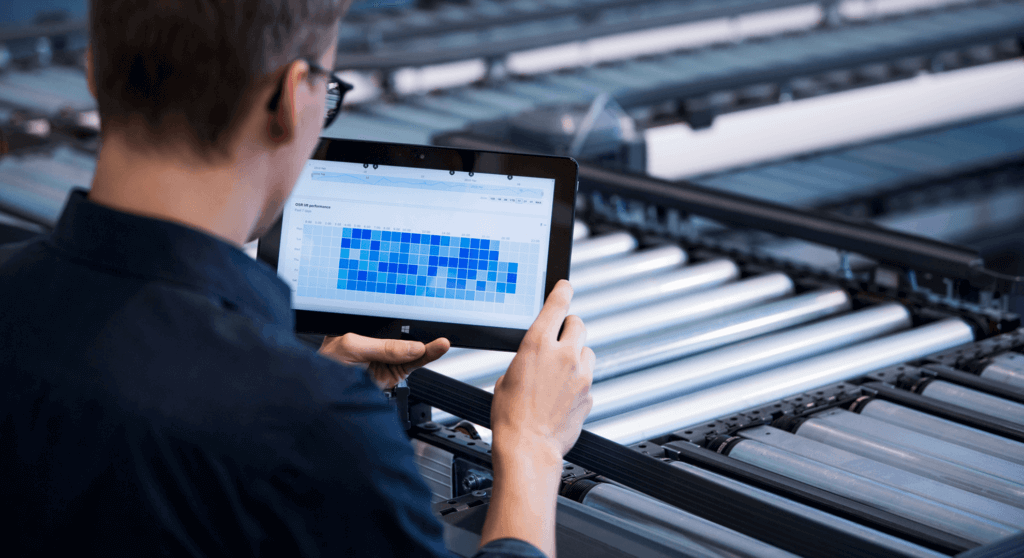 6. Business Operations Partnership
We stand by your business. As your consulting partner, we understand what goes on in your business day to day, and we tailor our service products to your individual requirements. KNAPP consultants will look at your warehouse in person and analyse the situation on site. We will hold a joint workshop to assess where there is room for improvement. We also suggest ways in which you can improve your warehouse. As a result, you benefit from maximum system efficiency and logistics process monitoring in real time.
We are happy to provide you with more information and answer any questions you may have.