3 minutes reading time
Article contains videos
Food retail uses a variety of reusables for transporting and storing fresh food, and for presenting it on supermarket shelves. These receptacles are used over and over for ecological reasons. Reusables are also steadily on the rise in the beverage industry. Bottles and beverage crates must be cleaned and made ready for re-use as quickly and resource-efficiently as possible. This trend is bringing higher volumes, and this is where RMS, our solution for successful empties management, really steps up.
"
"
The trend is clearly moving towards reusables. Handling the increased volumes is a real challenge for us.
Empties management adds value
The producer or manufacturer fills various reusables with fresh food and beverages, which are then distributed to retailers for sale. After use, the points of sale return the unsorted reusables. Consumers pay a deposit for reusable bottles and crates when they buy the product. After they have enjoyed their beverage, they return the empties to the retailer and get back their deposit. This is where the bottles' trip through an empties sorting system starts.
"
"
We have now been working closely with KNAPP for more than 20 years. For new projects, we collaborate to develop innovative and sustainable solutions.
Many happy returns with empties
Cleanaway, our customer and partner of many years, uses our RMS solution at ten locations. The reusables processed there are beverage crates, totes for meat and meat products, foldable crates and special handling units. Unsorted empties are processed and sorted by type for re-use very quickly using our modern technologies.
The highlights of our solution at Cleanaway
Our semi-automatic solutions separate handling units automatically and provide empties as unmixed stacks for further use. The system really takes the strain off the team. Cutting-edge image recognition technologies mean that the exact deposit values are booked for each store. At the heart of our solution is the handling unit management software KiSoft RCS (Reusables Control System). It coordinates complex material flows in the background, manages the empties and books them quickly by store.
handling units / hour
Continuous performance
handling units / hour
Peak performance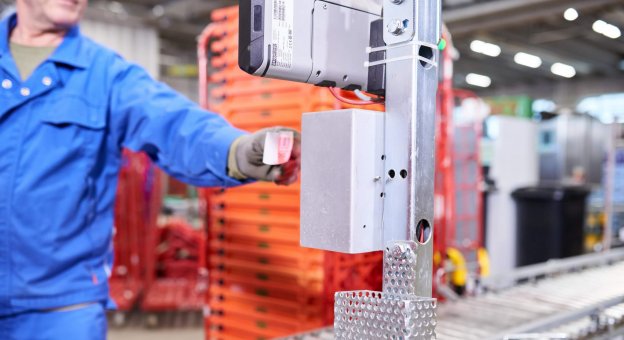 "
"
Our empties solution deals with booking deposit values and sorting reusable handling units. The design is modular and scalable, and the degree of automation is perfectly tailored to the customer's requirements.
Pioneering technologies for successful empties management
Cutting-edge machines identify crates and bottles, recognizing their deposit value. The data is centrally logged in our warehouse management system. This ensures end-to-end material flow tracking and transparent processes. The credit for the empty handling units is booked by store fully automatically.
Our detection machines sort the handling units by type. They capture the manufacturer logo in a split second, defining which sorting lane the empties belong in. The empties arrive at a convenient height for the employees to manually stack them on unmixed pallets.
The recognition rate is nearly 100 %. The system learns new logos really quickly, and the error rate is kept optimally low. For beverage crates, sensitive sensors can detect how many bottles there are in a crate. A camera system detects handling units that were not recognized or that are damaged. These are sorted manually afterwards.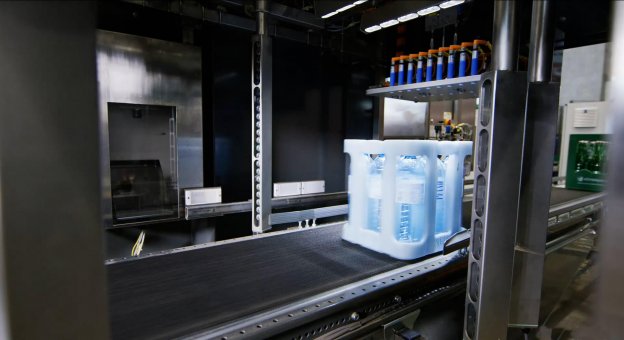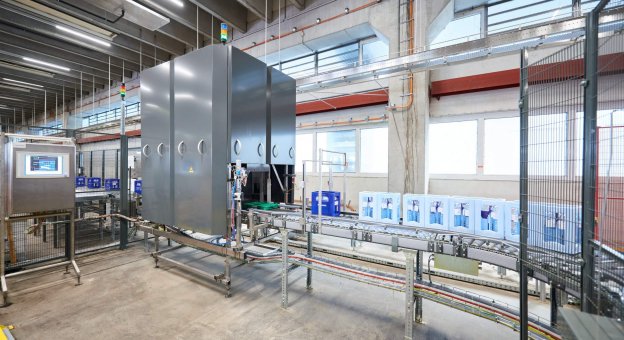 Automated destacking and sorting
Apart from beverage crates and folding crates, the Cleanaway sorting systems also processes totes for storing and transporting meat and meat products. A fully automatic destacking machine separates them for further processing.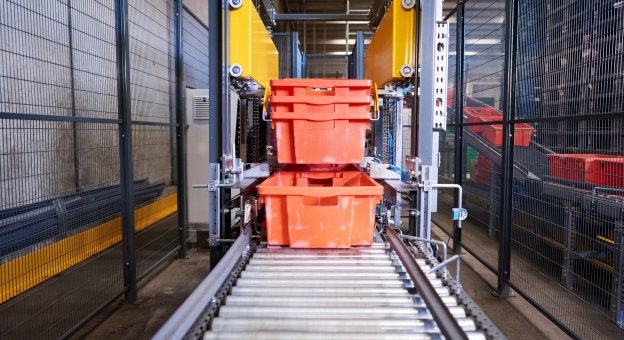 Ergonomically designed sorting lanes for creating unmixed stacks
Rotating pushers divert the beverage crates and foldable crates to the pre-defined sorting lanes. The empties arrive at a convenient height for the employees to manually stack them, forming unmixed pallets. When the process is complete, the sorted pallets are ready for pickup in goods-out at Cleanaway, ready for re-use.