Automated picking systems improve performance and quality
In automatic picking areas, automated picking systems take care of order processing. Automatic picking is particularly effective in high-performance applications or when consistent quality and performance are required over long periods of time. The Central Belt System is an all-in-one, automatic picking solution that is well suited for distribution centers experiencing pronounced peak loads. The KNAPP-Store is an innovative storage and picking system that can be used along the entire pharmaceutical supply chain, whether in wholesale or for online pharmacies. Apostore brings the pharmacy of the future to life today. The intelligent automated pharmacy dispensing system gives pharmacists more time to consult with customers and increases economic efficiency. The InduStore automated small parts warehouse is the right solution for many industrial applications and functions as a stand-alone system or as part of a larger system with an Industry 4.0 strategy.
Automatic, high-performance picking: Central Belt System
The Central Belt System is a comprehensive solution for distribution centers that provides rapid, automatic picking of items with defined characteristics and inventory turnover rates. This includes in particular items typical in the pharmaceutical wholesaling and cosmetics sectors. This is a proven solution that not only increases productivity, but also throughput and picking performance, all in a relatively small space. The Central Belt System mitigates the effects of peak workloads, makes efficient use of the off-peak periods and allows important resources to be put to best use.
Would you like more information on our proven solution?
Three great reasons to choose a Central Belt System
By combining the Central Belt System with different automated picking machines, such as the fast-mover picking machine (SDA), transfer stations, and tailor-made software, we offer a modern system for automatic order fulfillment – all from a single source.
Experience
• 35 years of experience in central belt technology
• Inventor of the A-frame autopicker
Flexibility
• High modularity and scalability
• Adaptable in terms of space, performance and investment
Productivity
• Mitigates peak loads
• Efficient use of off-peak periods
• Sensible use of resources
Novaltia counts on fully automatic picking system
Spanish pharmaceutical wholesaler Novaltia and the KNAPP group are connected through a successful partnership of many years standing. Headquartered in Zaragoza, Novaltia operates four distribution centers and delivers to around 1,000 pharmacies.
"
"
We use central belt technology in all our distribution centers, using different automated picking machines for different groups of items. This gives us the high throughput we want, provides rapid order fulfillment for our fast- and medium-moving products and speeds up delivery to our customers.
Automated picking machines – Intelligently integrated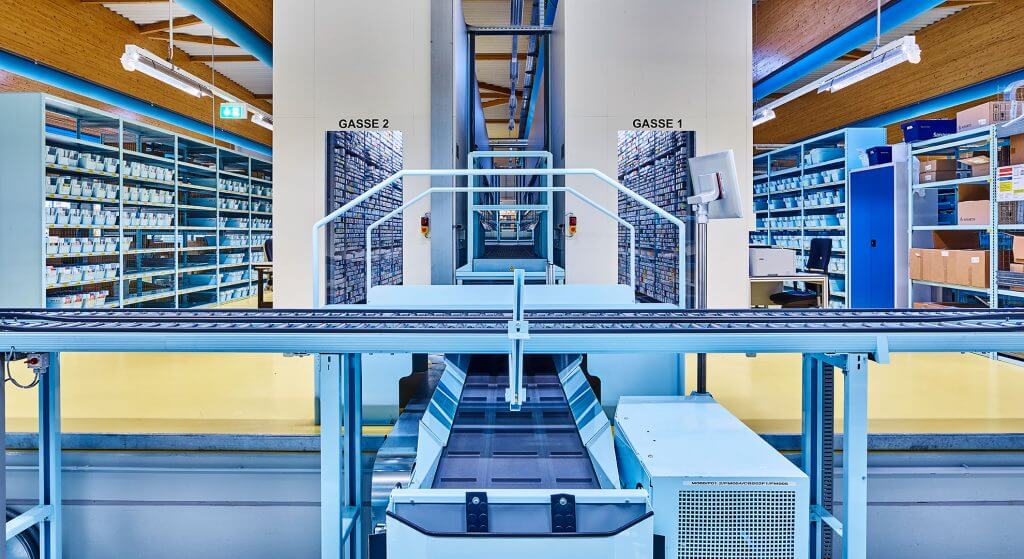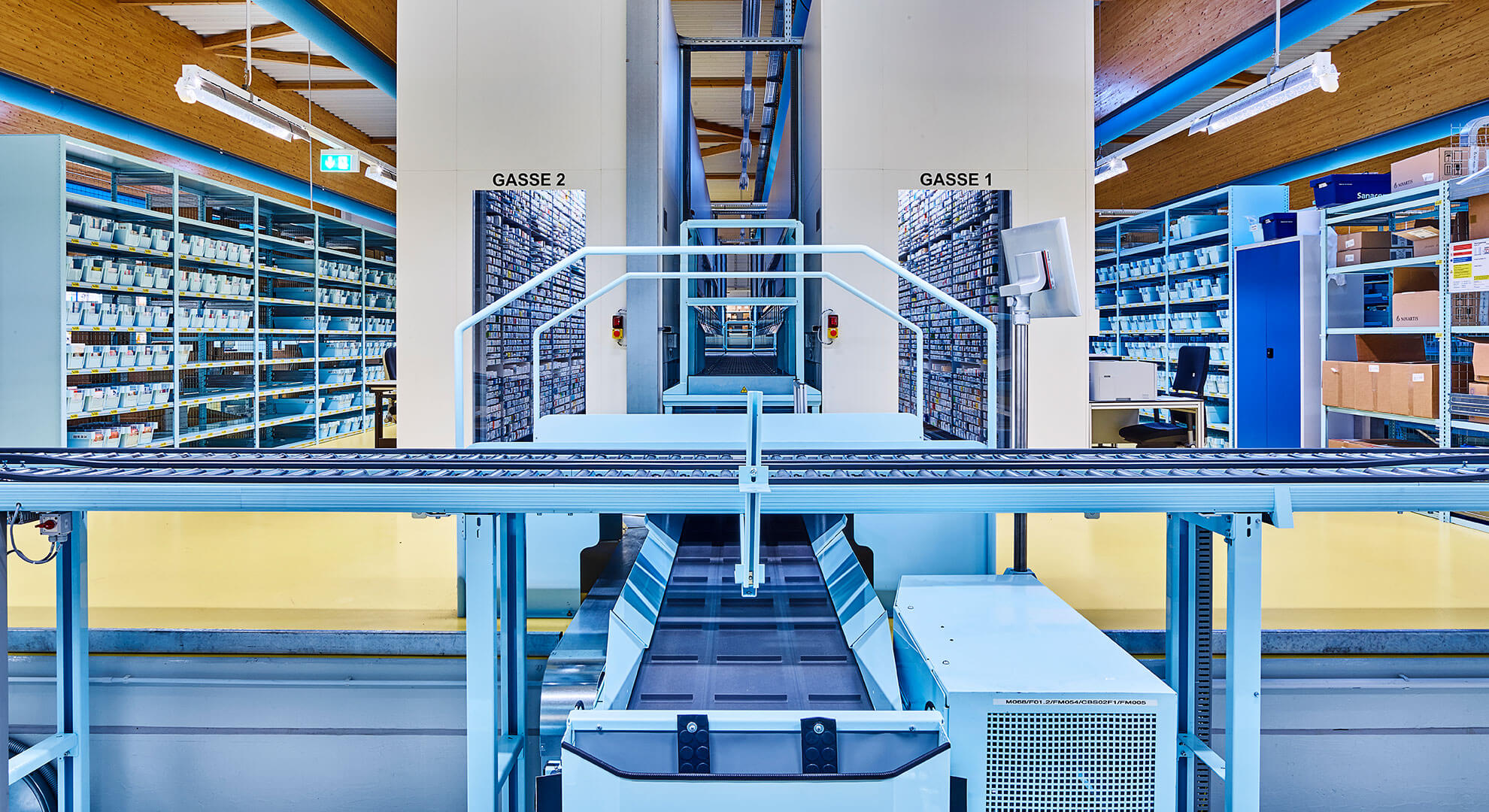 Central Belt System + KNAPP-Store
Rapid fulfillment. The integration of the KNAPP-Store into the Central Belt System greatly reduces the order transit time through the warehouse.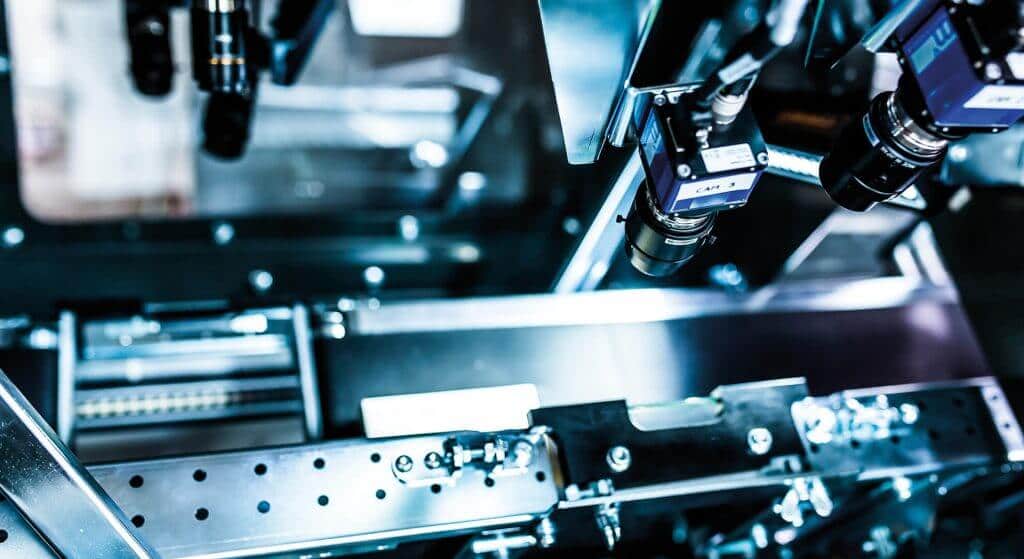 Central Belt System + Vision Central Belt
Everything checks out. In addition to the Vision Central Belt for image recognition and processing, a 100 % check can also be incorporated in the automated picking area.
Smart automation for single items with the KNAPP-Store
The KNAPP-Store is a sophisticated and innovative system for storing and picking single items. It covers everything from automatic goods-in and space-effective storage to automated processes and modern stock management – all while keeping investment and storage location costs low. The KNAPP-Store is especially suitable for use in the pharma supply chain, for example in wholesale or for online pharmacies. A range of different items can be easily stored in minimal space in the KNAPP-Store, with the added plus of lot and serial number tracking.
Would you like to know more about smart automation with the KNAPP-Store?
3 great reasons to opt for the KNAPP-Store
The KNAPP-Store is an efficient and safe automation solution for handling a wide range of products. It provides the highest storage density where space is limited and has many different applications.
Flexible design
• Precise item handling
• High system availability
• Scalable rack line system
Broad item range
• Perfect for medium- and slow-moving items, returned items, special items, cans, pots and cold-storage products
• Direct access to all items
• Identification with modern image recognition technology using iScan 3.0
Easy integration
• Full software integration with automatic serial number tracking and Track & Trace
• Multiple integration variants available
Mail-order pharmacy apotal.de relies on KNAPP-Store
Apotal.de is one of the pioneers in mail-order pharmacy in Germany focusing on the home delivery of mail-order medicines. Through the mail-order pharmacy's online portal apotal.de, customers receive both prescription and non-prescription medicines as well as natural medicines and health products comfortably delivered right to their door. Henning Fichter, procurator of the Bad Apotheke, provides insight.

With the KNAPP-Store, your medicine at a mouse click
"
"
We decided to work with KNAPP, because their KNAPP-Store and its many possibilities convinced us. The system relieves the employees of many peripheral and complex processes that take place in the warehouse. Furthermore, in the KNAPP-Store, we can easily store more of the smallest quantities – C-articles, for example. The KNAPP-Store fills the gaps left by other processes that we previously handled manually. Also, the new system is an investment for the future.
The perfect combination for a zero defect warehouse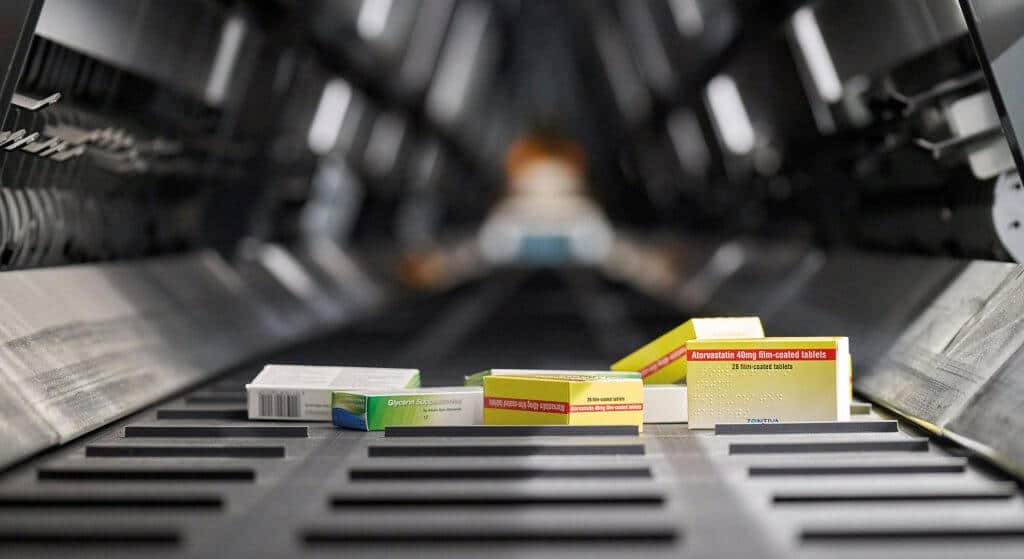 KNAPP-Store + Central Belt System
Time saver. By combining the KNAPP-Store with our Central Belt System, customer orders can be fulfilled faster, thereby reducing the transit time of the orders in the warehouse.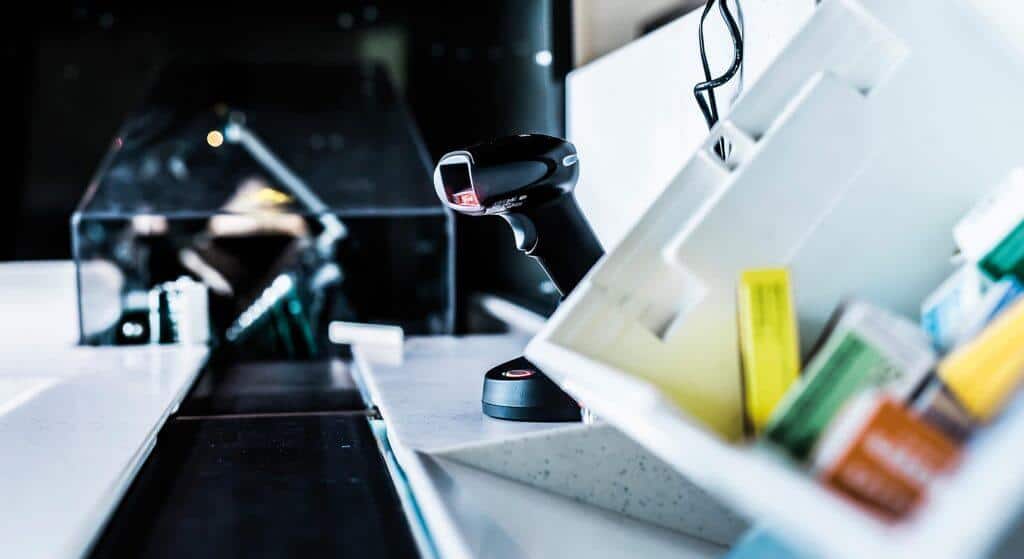 KNAPP-Store + iScan 3.0
In the wink of an eye. The KNAPP-Store combined with the modern iScan image recognition system is the perfect match for checking not only national drug codes and data matrix codes, but also printed expiry dates and lot numbers as early as during goods-in.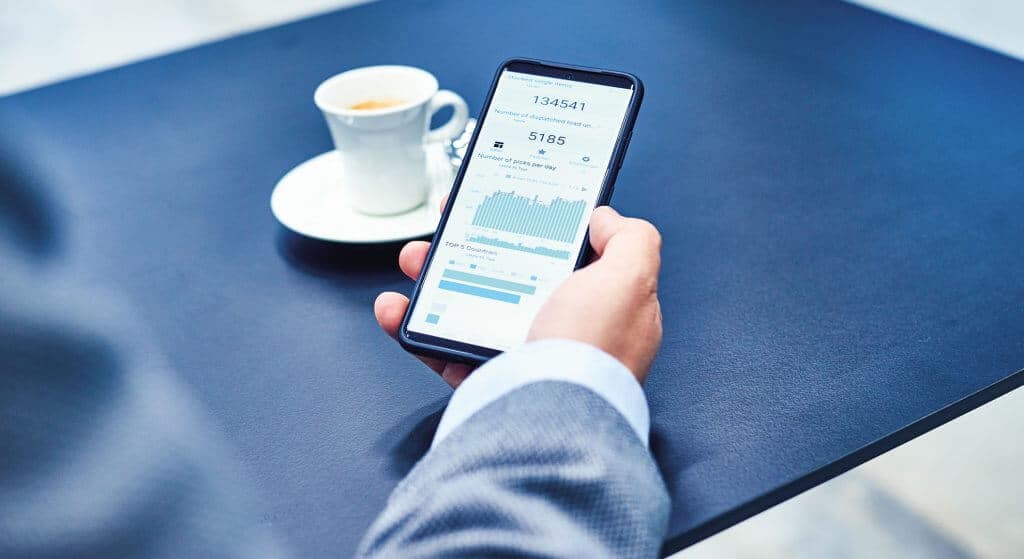 KNAPP-Store + software
Everything under control. The KNAPP-Store has a special control software, making monitoring the item features with precision easy. Items with a specific expiry date, lot or serial number can be retrieved at the touch of a button.
APOSTORE dispensing systems
Flexible and easily expanded: APOSTORE dispensing systems can be precisely configured to the available space and the storage and throughput capacities. When the time comes, they can be expanded as needed. You don't get just any solution, you get the solution that is just right for your requirements. Our software, fully automatic storage and automated cleaning modules can raise the level of automation in your pharmacy to an even higher degree.
Would you like to know more?
3 great reasons to choose an APOSTORE dispensing system
The APOSTORE family of dispensers comes out of more than 30 years of development and is geared towards the requirements of today's modern pharmacy. They deliver precision innovation that is just right for your requirements.
Smart
● Rapid and intelligent options for storage
● Very high level of automation with gripper technology
● Few moving parts generate little to no heat
● When not in use, Greenline Technology decreases energy consumption
Durable
● Processing and use of high-quality industrial components
● Investment security through guaranteed supply of spare parts for 15 years
● General overhaul can be made during ongoing operation
● 400V system technology is gentle on the electronic motors
Customized
● Significantly greater storage capacity in the same space
● Dispenser can be located in the upper floor or below the ground floor
● Elimination of overstock in storage and basement rooms
● Makes modification of the pharmacy possible
More time to advise customers and a pleasantly quiet dispensing system
The Zürn pharmacy sees itself not just as a pharmacy, but also as a service provider who always reserves plenty of time to serve customers. When Stefan Zürn converted his pharmacy, he opted for an automatic dispensing system from Apostore. He was convinced that the A1000e was the right choice for the pharmacy because of its many installation types and space-effectiveness.

"
"
Today, thanks to the Apostore, I can take time with my customers and provide them with personal as well as personable service.
Intelligently integrated: Dispensing system suited to your requirements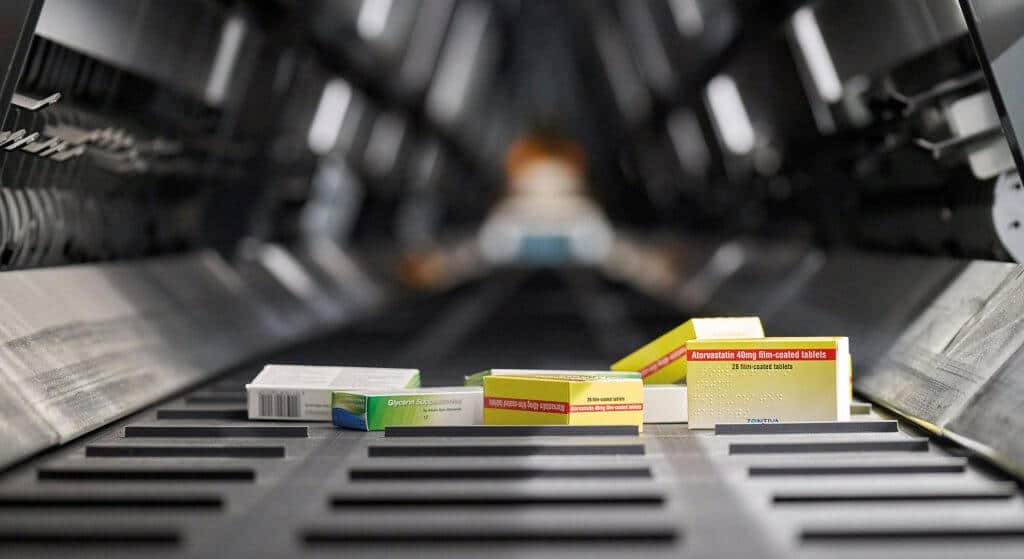 Dispensing system + feeder
Quickly stowed away. The feeder is a real partner when it comes to speeding up repetitive processes. The pharmacy team is freed from monotonous tasks that generate no value. With the feeder, you can fill your A1000, A2000/3000 or Cube+ faster and more reliably than ever.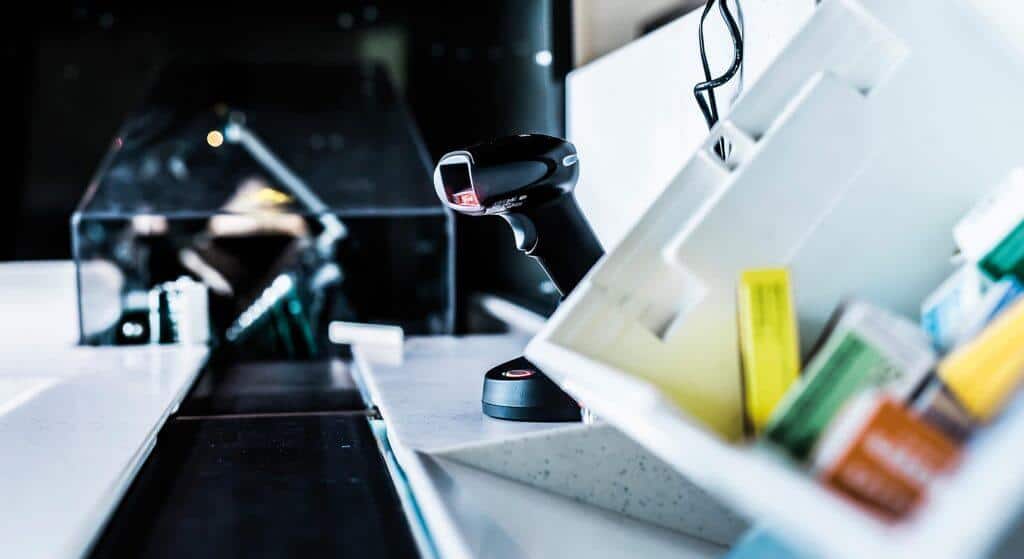 Dispensing system + iScan 3.0
At a glance. Apostore's OCR recognition system reads the national drug code, the Data Matrix code as well as imprinted expiry dates and lot numbers in just one step.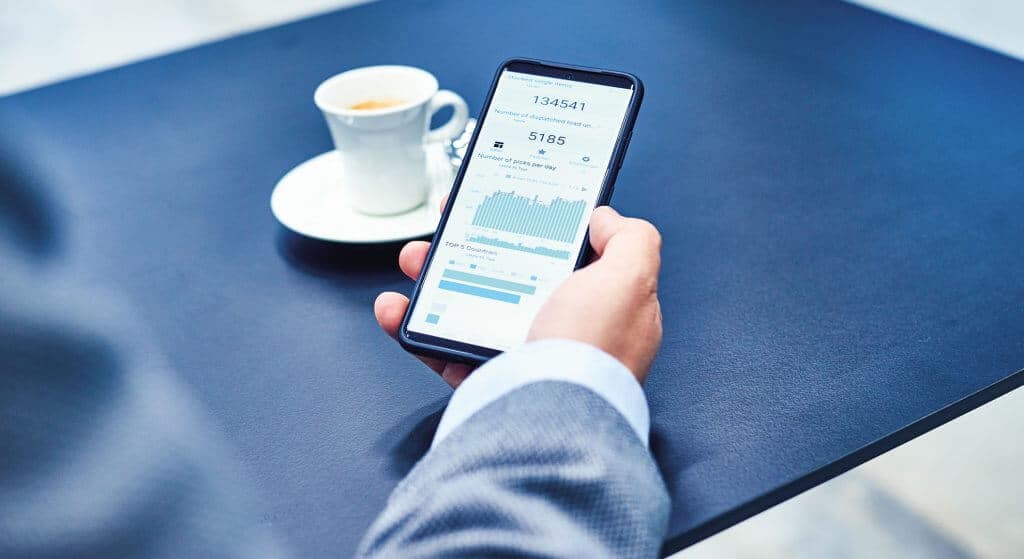 Dispensing system + ApoScreens and digital solutions
A new era of showcasing. Our software helps you create digital posters and offers. The time for the display on the screen can be set for any length of time that suits the displayed content. This can be perfectly adapted to the daily business and therefore perfectly tailored to your customers.
InduStore
The innovation and automation of the InduStore make it the right solution for implementing an Industry 4.0 strategy. The InduStore scores top marks in process reliability and inventory visibility. It stores and handles your items ideally, and provides you with the complete overview of inventory at all times. When used as a stand-alone solution or integrated right into your material flow in connection with your ERP system, you benefit from efficient and secure storage and picking, no matter whether you need the system for manufacturing, retail or 3PL logistics.
Would you like to find out more about automated small parts warehouse solutions for your industry?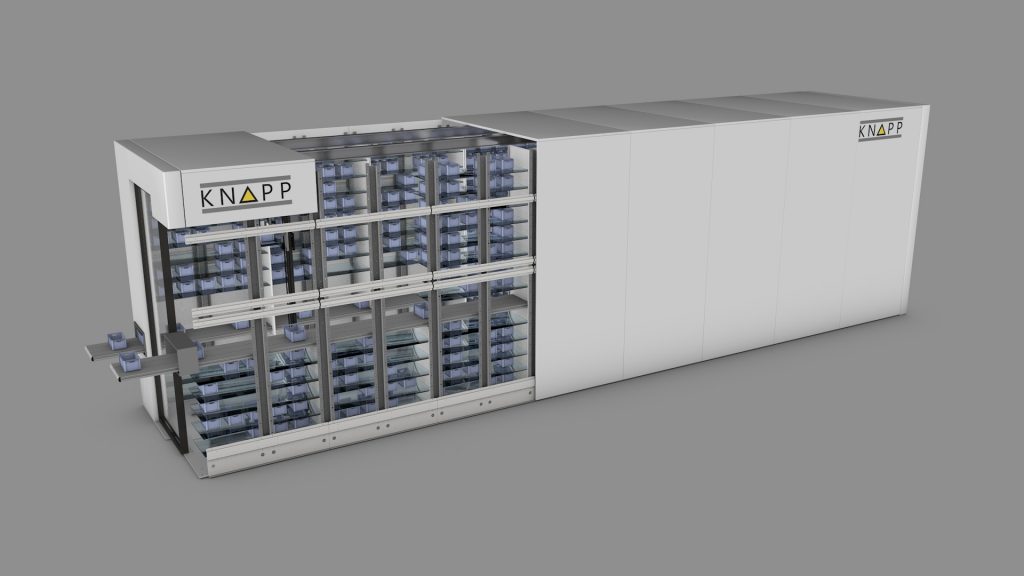 3 great reasons to choose InduStore
The InduStore was specially designed for industry and is an ideal small parts storage solution for individual items and small load carriers. This automation solution will help you brilliantly master the challenges of your sector.
Safe
● Precise and controlled handling and storage of items
● Top-tier theft protection for high-end or delicate goods
● Fully automatic supply by conveyor or autonomous mobile robots (AMRs)

Smart
● Self-learning software continually optimizes the use of storage locations
● Fully automatic product identification by scanning on 6 sides
● Direct integration into the material flow system and ERP landscape

Flexible
● Single-order, multi-order and combined picking strategies
● Scalable size: 5-21 m and 18-150 m³ (16-69 ft and 636–5300 ft³)
● Stores individual items, containers, trays or cartons

InduStore – 3 combinations with other KNAPP products or solutions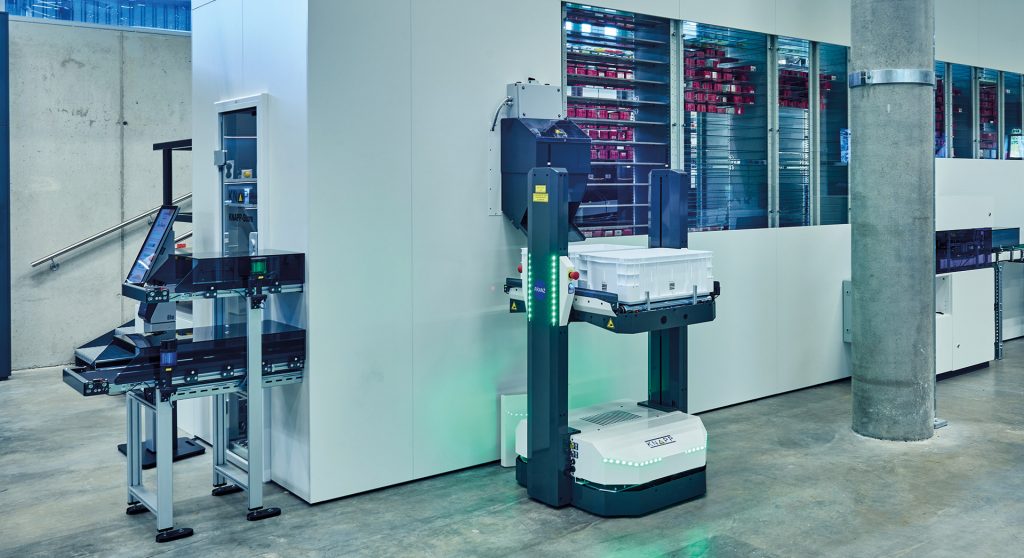 InduStore + Open Shuttle
Fully automatic feeding and retrieval of products from the InduStore using our autonomous Open Shuttles. Extra automation reduces manual handling, which increases security along the material flow.
InduStore + SAP® EWM by KNAPP
Using SAP® Extended Warehouse Management by KNAPP allows you to directly integrate the InduStore in your SAP® system landscape. This reduces complexity, creates transparency and raises availability. Direct control, no new or additional process steps needed.
InduStore + iScan 3.0
iScan 3.0 can measure and identify up to 100 percent of items prior to storage. This reduces the risk of errors, prevents storing unsuitable products and allows capturing lot numbers or date marks for optimizing the downstream process steps.
More on autopickers for high performance
Have we sparked your interest?