Digital solutions and specialized software for value chains
Intelligent software and digitalization solutions are the key building blocks of modern value chains. As a Value Chain Tech Partner we offer comprehensive all-in-one software solutions from warehouse management and warehouse control to machine control. Intelligent tools for data analysis or resource and skills planning round off our portfolio.
The software, as integrated intelligence, networks all processes, automation technology, and people in the warehouse and links all the steps in the value chain. This ensures performance and transparency along the entire value chain. Decades of experience in automation of logistics processes and a wealth of industry expertise have all flowed into the ongoing development of our software portfolio and form the foundation of each customized software solution.
Integrated intelligence: KiSoft – the central intelligence connecting everything
Our KiSoft logistics software suite couples experience with innovation and enables tailor-made software solutions to be created for all processes at all levels. KiSoft can be used for a wide range of applications: Not only does it cover vertical integration, from machine control and warehouse control to warehouse management, but it also covers horizontal integration along the value chain – from production and distribution to the POS or even the end customer, including networking, supported by KiSoft Analytics and transport management. Thanks to the modular system architecture, the standard software offers considerable flexibility and scalability. Not only can it be efficiently implemented, but it can be easily integrated in a wide range of higher-level systems. Ongoing development coupled with defined lifecycle support means that KiSoft ensures long-term investment security.

Want to know more?
Three great reasons to opt for KiSoft
Supported by our logistics industry knowledge together with innovative technology, KiSoft becomes a complete central intelligence solution.
Industry know-how
• Lead in technology
• Years of expertise from the industry and logistics
• KiSoft as central intelligence
Flexibility
• Highly integratable software – from the machine control and WMS to analysis
• Can be quickly adapted thanks to modular standard software
• KiSoft grows with your needs
Investment security
• Long-term solution partnership
• Innovative power
• Can be rolled out regardless of degree of automation
KiSoft: As versatile as a Swiss army knife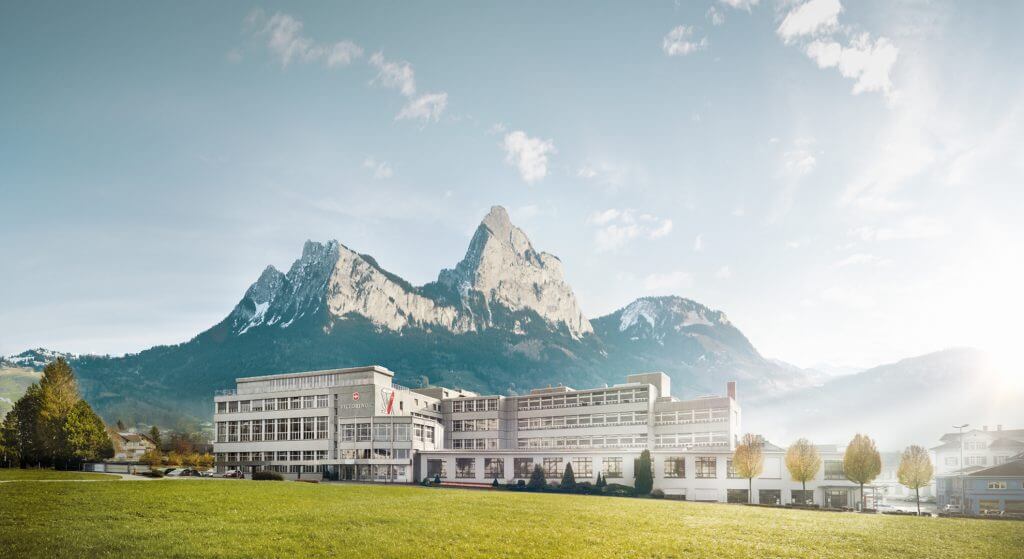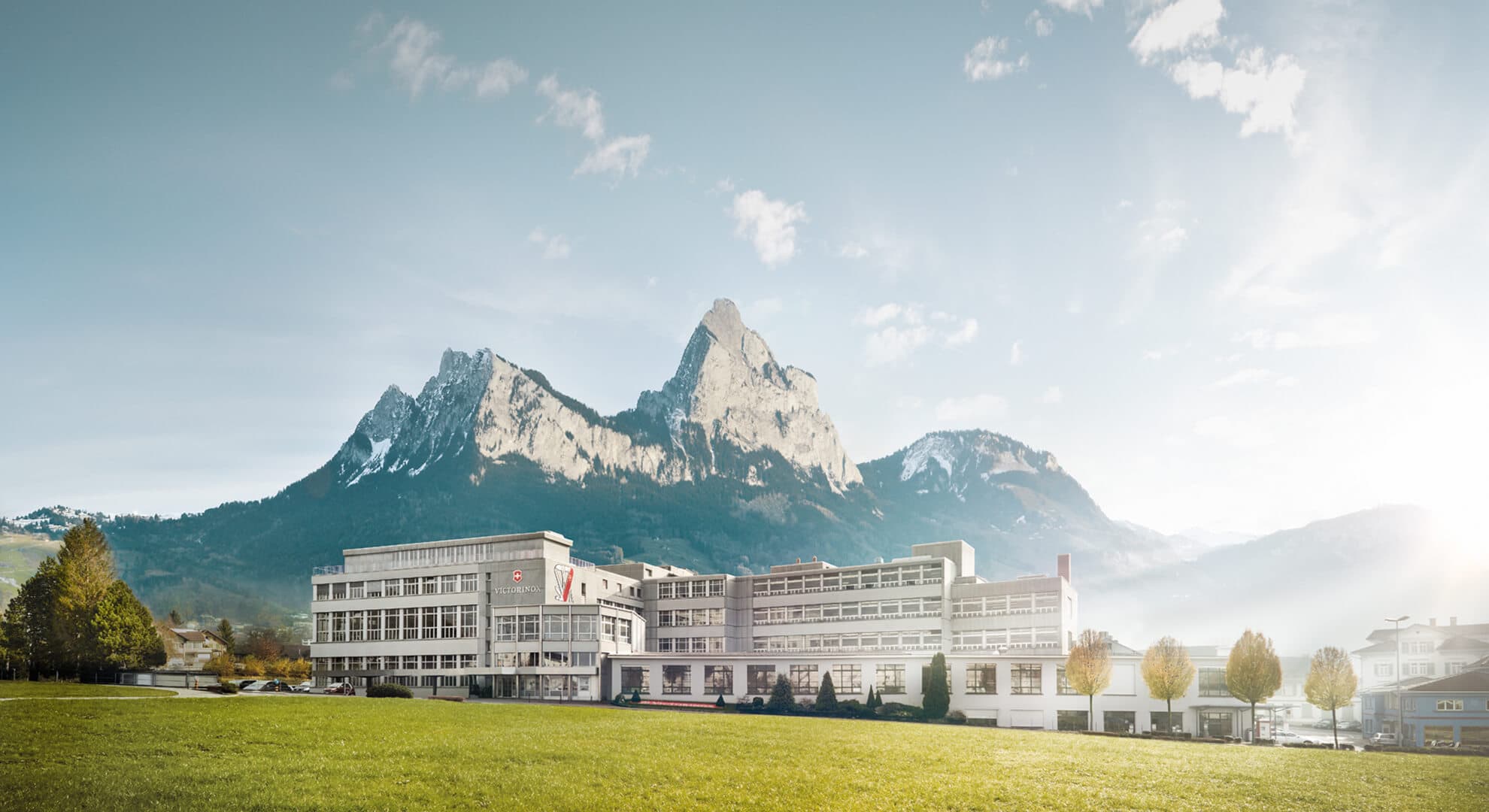 Victorinox sells high-quality pocket knives, household and professional knives, luggage, watches, and perfumes around the world. The new automated "Europa Distribution Center" was built in Ibach, Schwyz with a fully integrated software solution to make outbound deliveries more efficient. The project was planned and set up in collaboration with KNAPP software consultants.
"
"
The whole point of this intense collaboration was to build a foundation of mutual trust. When it comes to company culture at KNAPP and Victorinox, we are on the same wavelength. Employees are more than just a number at KNAPP too; they are valued for their work and appreciated as people. We experienced this at first hand when we toured the KNAPP headquarters. Our wishes were taken seriously – KNAPP always involved us in our solution.
KiSoft – Intelligently integrated
Our KiSoft software is everywhere – it is the driving force behind our technology and the central intelligence which links them. KiSoft is at the heart of our solutions.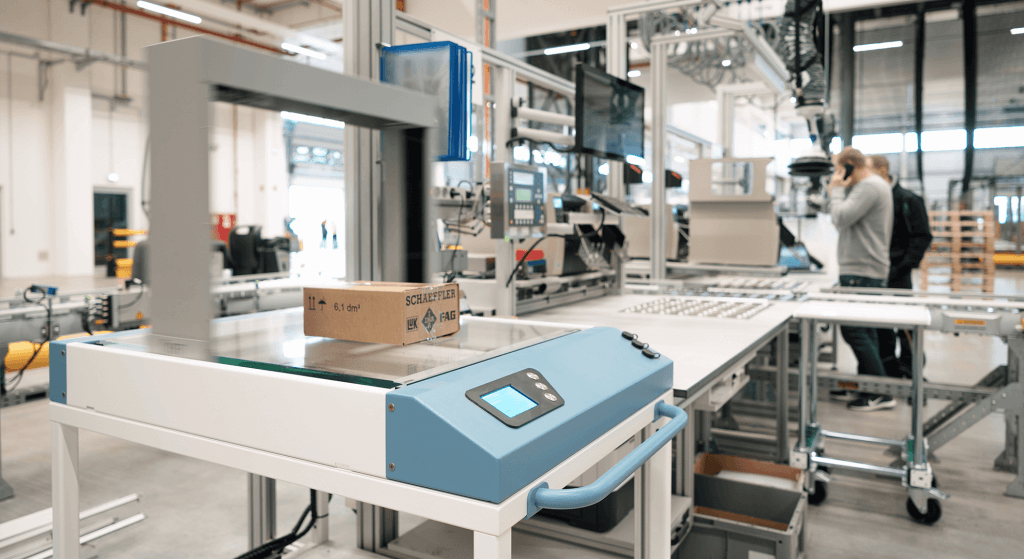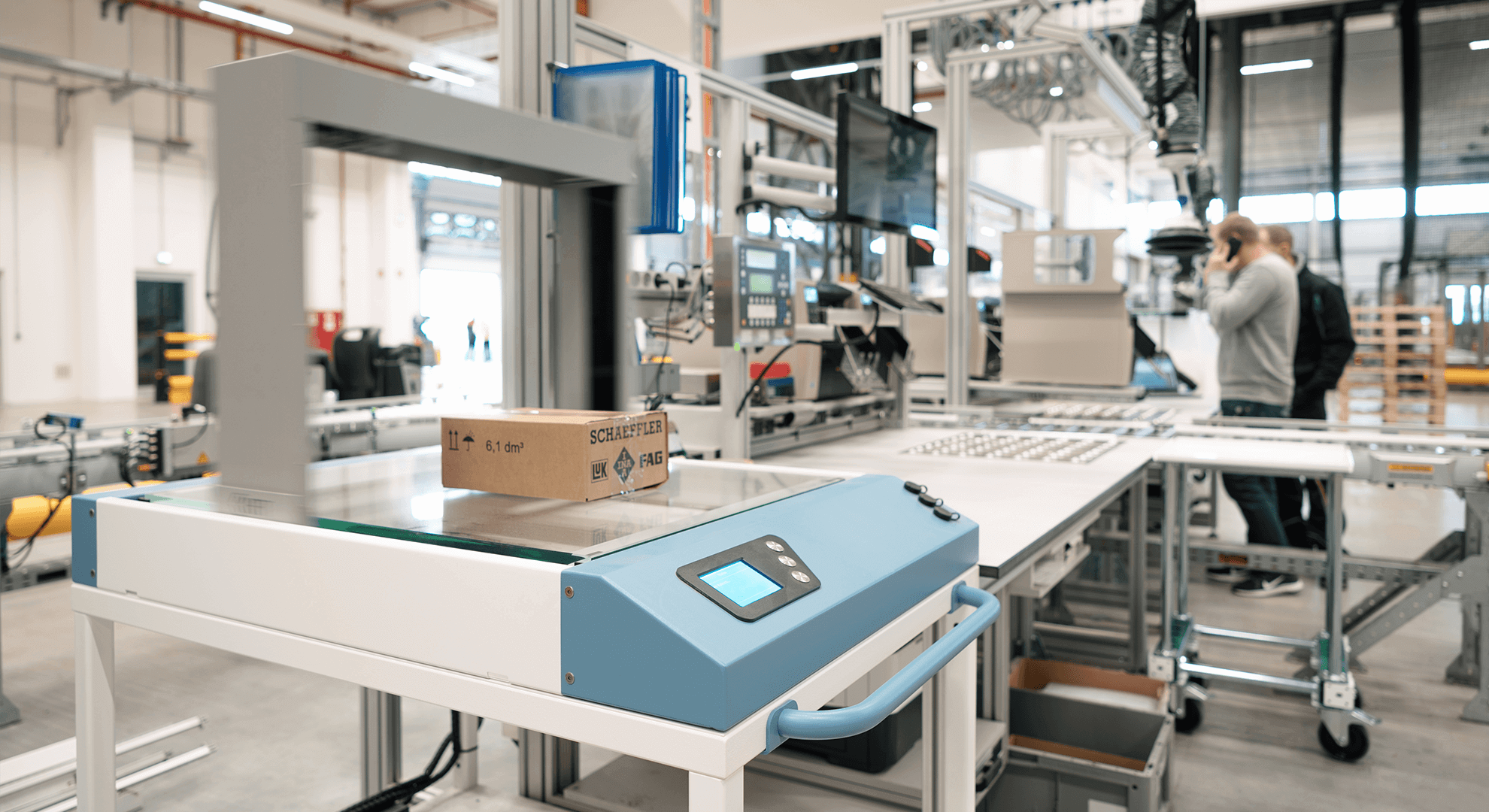 KiSoft + KHT Multiscan
MultiScan captures article master data such as volume, weight, or EAN barcode precisely and easily. This automatically captured data is transferred to KiSoft. When it comes to KiSoft WMS and KiSoft WCS in particular, correct and comprehensive article master data is very important for efficiently determining and utilizing storage capacity, for outbound delivery planning and picking.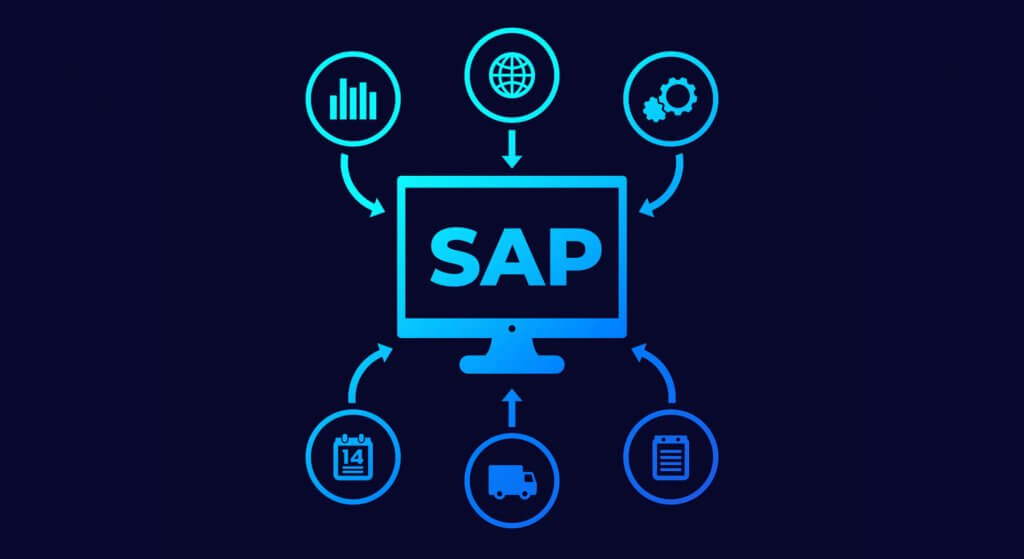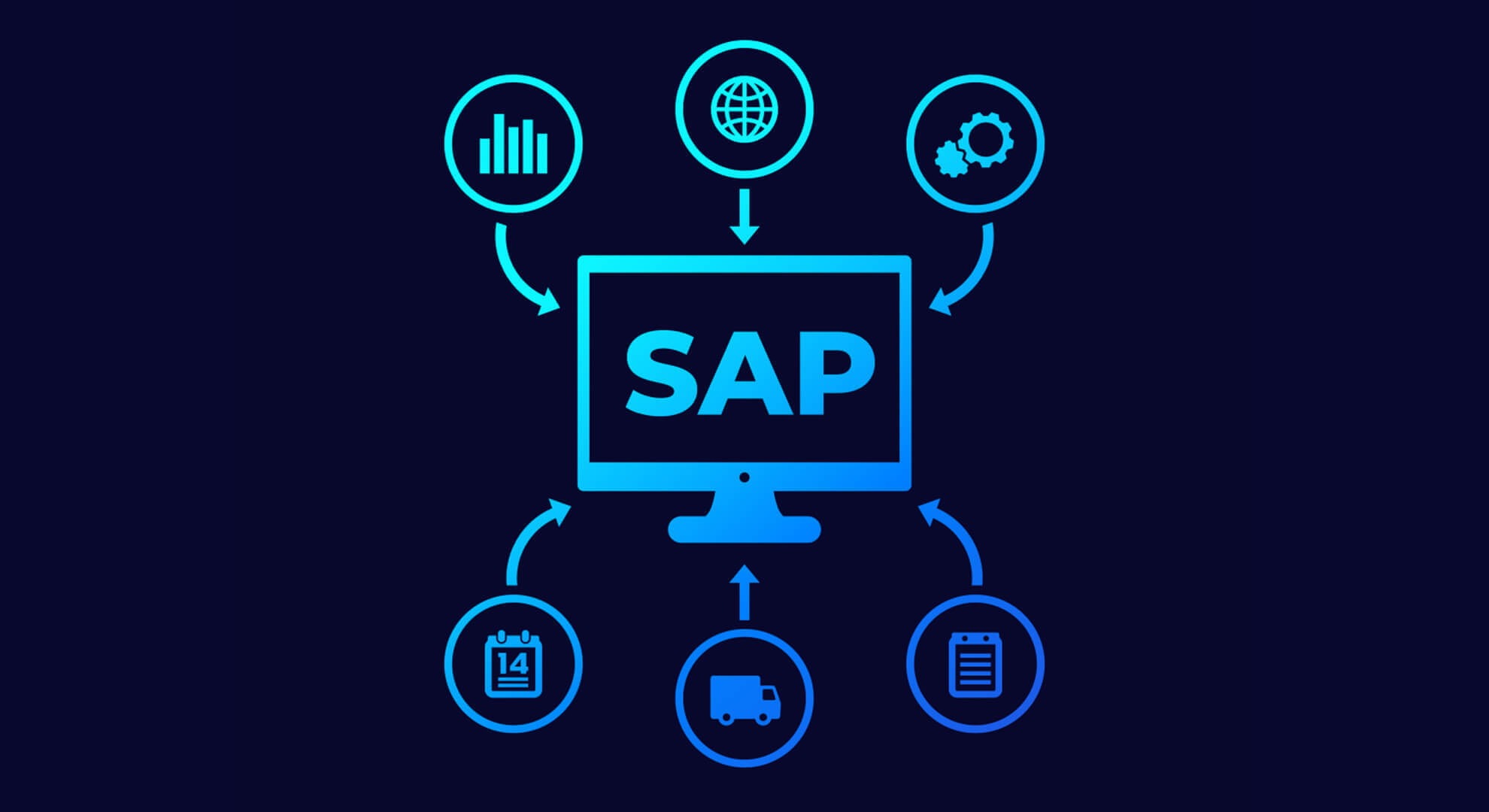 KiSoft + SAP®EWM by KNAPP
We bring together the best of two worlds: proven SAP® technology and logistics expertise and industry knowledge. You benefit from KNAPP as your SAP partner: in completing around 100 SAP® EWM projects and more than 3,000 WMS/WCS projects worldwide, we have the solution-oriented skills you need. When it comes to automation, there are interfaces from the KiSoft machine control at PLC or software level to SAP® EWM by KNAPP including MFS as well as technical warehouse visualization with KiSoft SCADA.
Make the right decisions with smart software: KiSoft Analytics
KiSoft Analytics gives you a clear overview. It links logistics processes with realtime data at machine level and presents all the information in clear visualizations and as KPIs. This smart tool for data analysis provides you with a clear overview of the complex processes in the warehouse, the systems, and the entire supply chain so that trends can be identified and forecasts can be made. Now you can view your data over the long-term to gain a better understanding of your business and make the right decisions – both tactically in the short term as well as strategically in the long term. KiSoft Analytics is a SaaS solution that is ready for rollout and can be implemented in any system environment regardless of KNAPP equipment and software.
Want to know more?
Three great reasons to opt for KiSoft Analytics
The modern world is in a constant state of flux. For today's companies, the new opportunities this brings go hand in hand with new challenges such as ever-increasing complexity and more and more competition. KiSoft helps you to make smart decisions at the right moment for systems and supply chains, based on solid information. This means you can keep an eye on everything around the clock, can take the right actions, and be on the ball when it comes to changes and trends.
Structure
• Intelligent combination of logistics processes & realtime data
• Integration of all information flows
• Provision and visualization of standardized key figures
Vision
• Trends and forecasts
• Intelligent maintenance
• Identify changes in business early
Orientation
• Worldwide access
• Benchmarking across multiple installation sites and industries
• Intelligent threshold values & anomaly identification
KiSoft Analytics: From high-level KPIs to the smallest work step
KiSoft Analytics is part of the powerful KiSoft portfolio. Strategic and tactically correct decisions can only be made with the right data, so that high-quality information can be derived. The added value becomes clear with correct implementation in operations: KiSoft WMS offers out-of-the-box integration with KiSoft Analytics – both as data supplier and for implementing optimizations. In automated systems, further KiSoft modules such as WCS for overarching control, to individual machine control systems and KiSoft SCADA for technical warehouse visualization are seamlessly connected. KiSoft therefore becomes a completely vertically integrated tool that allows you to maintain control of logistics, from high-level KPIs right down to the smallest work step at all times.
"
"
Thanks to the vertical integration of KiSoft Analytics in our installations, all information about the various subsystems is connected in real time. As well as flexibility, we are also offering our customers transparent solutions for efficiently controlling and evaluating day-to-day challenges in operation across multiple processes.
KiSoft Analytics – Intelligently integrated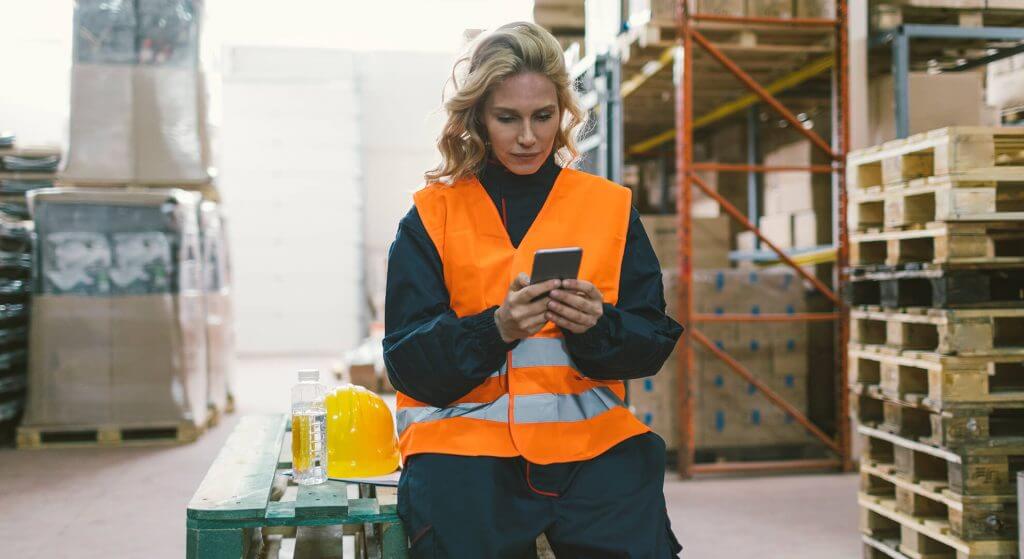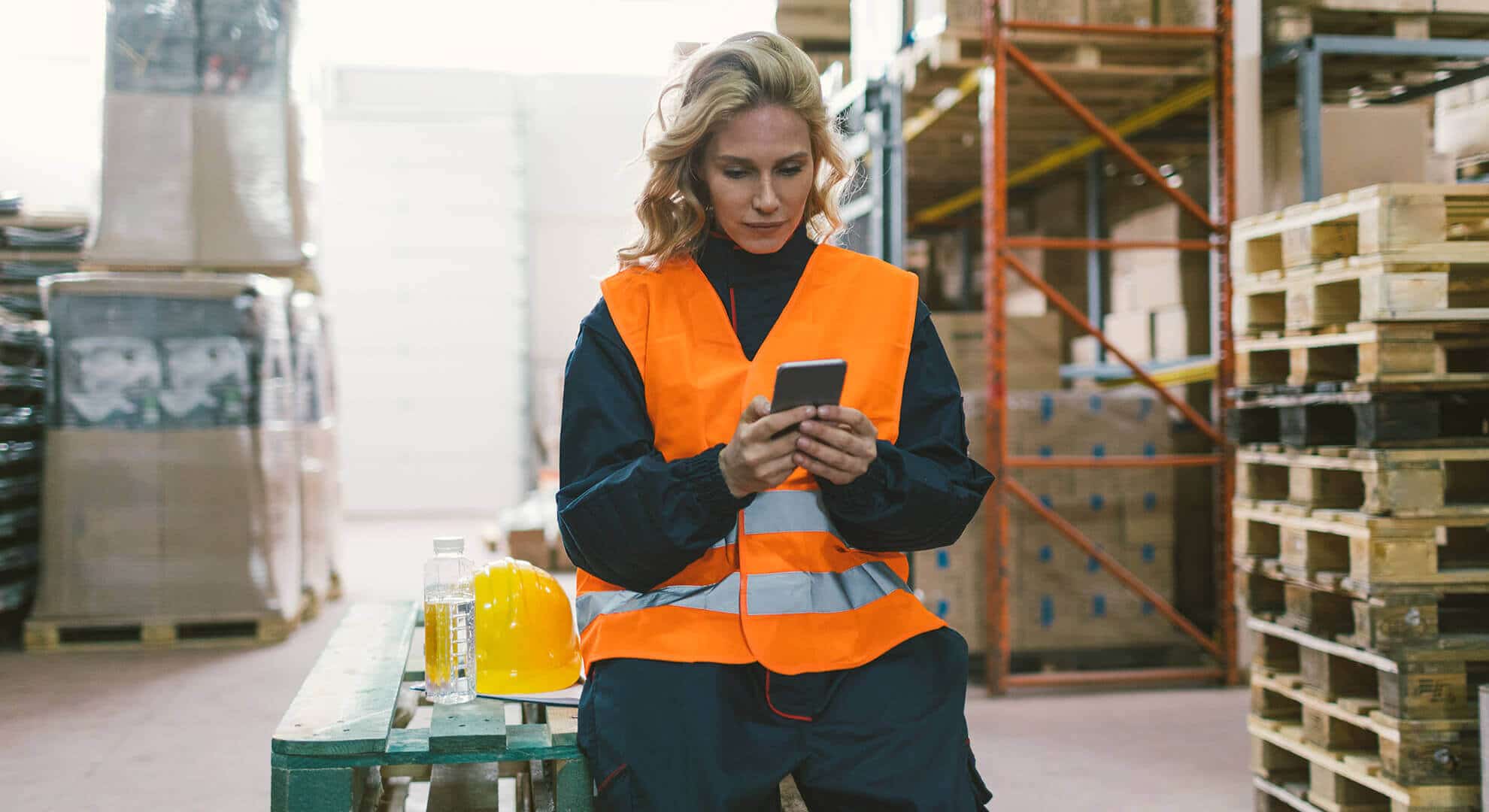 KiSoft Analytics + redPILOT
redPILOT helps keep your logistics systems working at their best at all times. This complete software solution helps you plan sustainable use of available resources and continuously optimize them – starting with the classic logistics workers through to machines and maintenance. KiSoft Analytics provides the logistics data out of the box in the correct format for redPILOT so you can achieve operational excellence in your company at any time. In addition to comprehensive logistics analysis from a tactical and strategic perspective, the two tools used together form the right planning tool for operations.
Efficient Automation Thanks to Well-maintained Master Data: KiSoft Genomix
Automation solutions need high-quality master data. At the moment, data is usually collected manually, a process that takes time, entails high cost and is prone to human error. Many times, important information about items is missing – attributes are available in insufficient quality or not at all. The more attributes and the higher the data quality, the more efficient the automation solution. This reduces the error rate and increases the performance of all subsequent processes. KiSoft Genomix is our solution: An all-encompassing system that centrally records all necessary attributes for the entire supply chain digitally, and provides, manages and maintains the data. In this way, each technology has all the information it needs to know how to handle each item.
Three great reasons to opt for KiSoft Genomix
KiSoft Genomix is an intelligent all-in-one package that automatically decodes and digitizes the DNA of items. Our innovative self-learning system collects and maintains all relevant attributes of items for automation: Weight, dimensions, packaging type, content, center of gravity, tilting behavior and much more. The complete solution adjusts to the degree of automation in the warehouse. KiSoft Genomix knows exactly which parameters the technology needs to work perfectly in an automated warehouse environment. The system can be used across warehouses, sectors and solutions.
Flexibility and transparency
• Efficient recording of all necessary master data (< 30 sec.) without experts
• Configurable for every type of warehouse
• Transparent data collection
High quality of item attributes
• Software that records, manages and verifies data using self-learning AI
• Increases the efficiency of automation
• Reduces handling damage as well as transport costs on the last mile
Single source of information
• Works with every integrator of ERP, WMS or automation systems
• Central supply and management of automation data
• Data use across warehouses
KiSoft Genomix, intelligently integrated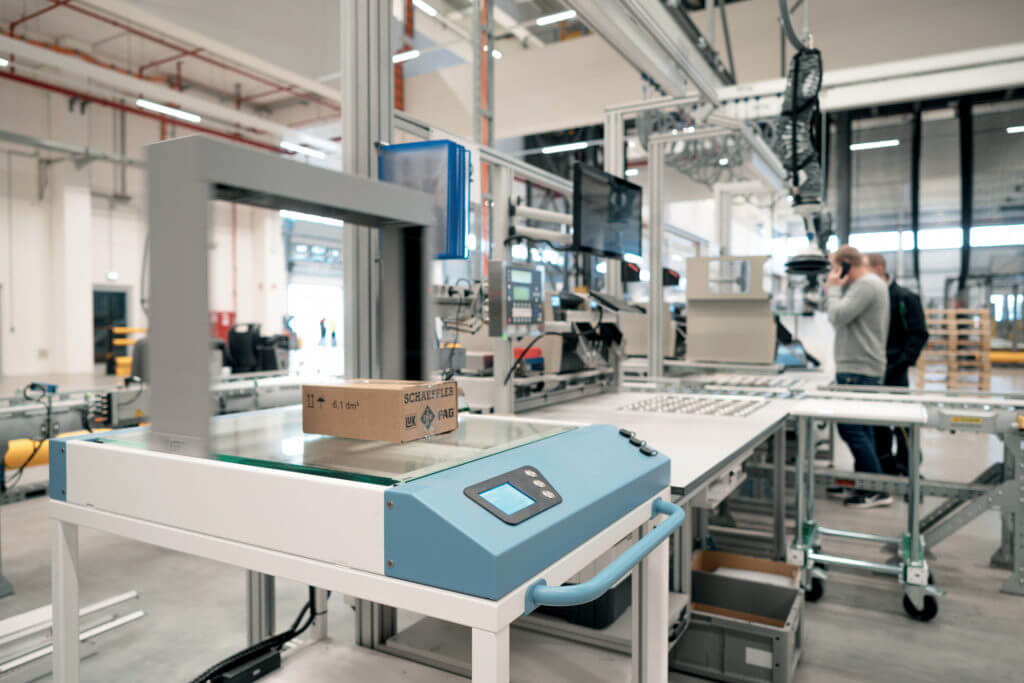 KiSoft Genomix + KHT MultiScan
During the goods-in procedure,  MultiScan records the dimensions of the items and their weight 100 % automatically. The data is transmitted to the overall system and integrated.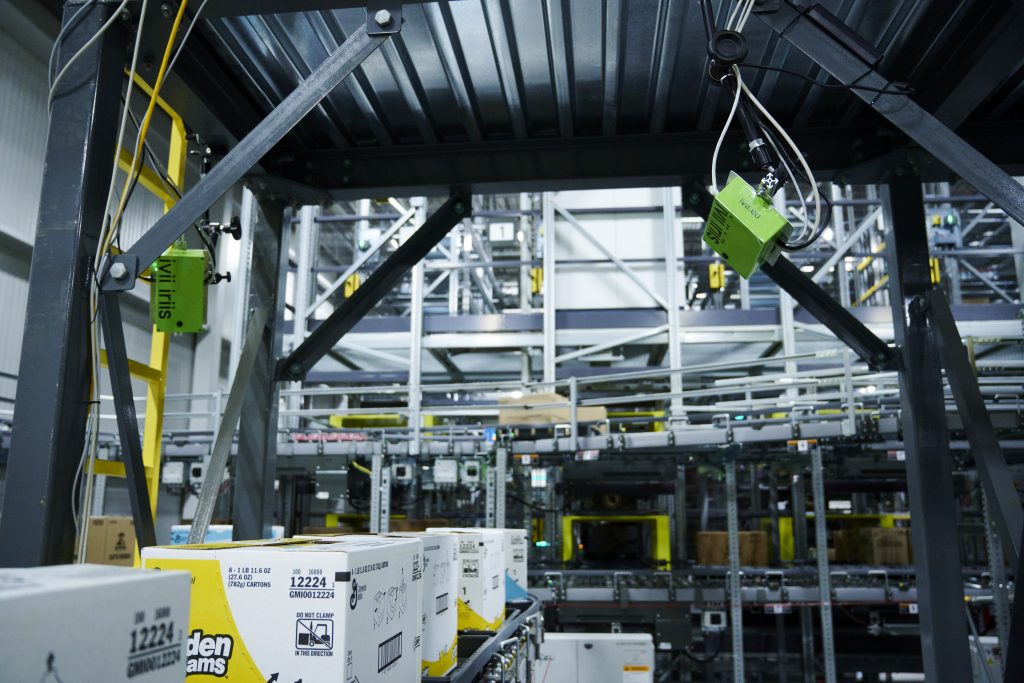 KiSoft Genomix + ivii iris
The cutting-edge vision system ivii iriis carries out a quality check. It determines whether the master data recorded in the system matches the actual item data.
Making intelligent maintenance simple with KiSoft CMMS
Logistics installations must be kept up and running and in tiptop shape. Every standstill comes with a cost. Maintenance and servicing activities must be seamlessly integrated in operation and troubleshooting and prioritized by the importance of the components affected. In the balancing act between operation and servicing, KiSoft CMMS is the key to making sound, data-driven decisions. With maintenance management firmly under control, both your team and installation are more productive.
Would you like to know more?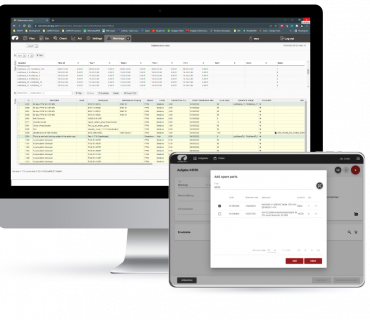 Three great reasons for KiSoft CMMS
KiSoft CMMS structures processes and makes maintenance management more efficient. Tasks are prioritized based on operational requirements to ensure the installation is doing its best.
More productive teams
• Servicing tasks are planned based on operational requirements and real data
• Improved communication thanks to a system-aided workflow
• Simplified processes and centralized servicing information
Higher availability
• Preventive maintenance reduces unplanned repairs and failures
• Automatic calculation of availability and real-time data enable data-based decisions
• Integrated spare parts management signals when stock levels become critical
Lower costs
• Higher efficiency of the team thanks to the mobile app
• Intelligent algorithms optimize servicing cycles and minimize failures
"
"
CMMS makes monitoring cyclical and one-off servicing tasks really easy. With just a glance, you can see which spare parts you have used and how many are in stock – at any time. In addition, scheduling servicing is easy, which saves you a lot of time. With the tool, you can evaluate and compare real-time data and historical data. With all the data, you can identify weak points more quickly.
KiSoft CMMS intelligently integrated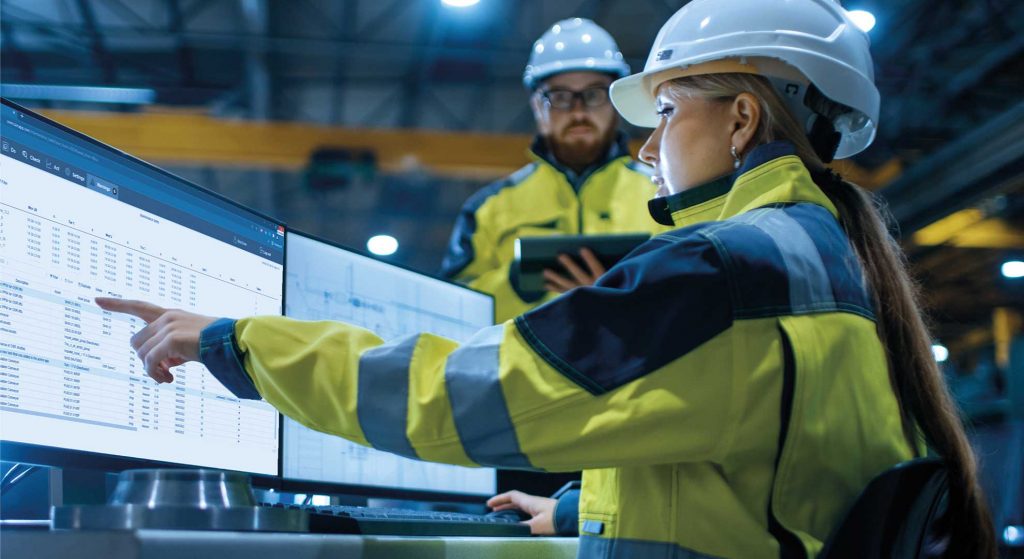 KiSoft CMMS + KiSoft SCADA
By combining KiSoft CMMS with our KiSoft SCADA, you can automatically create tasks, calculate technical availabilities and view additional reports.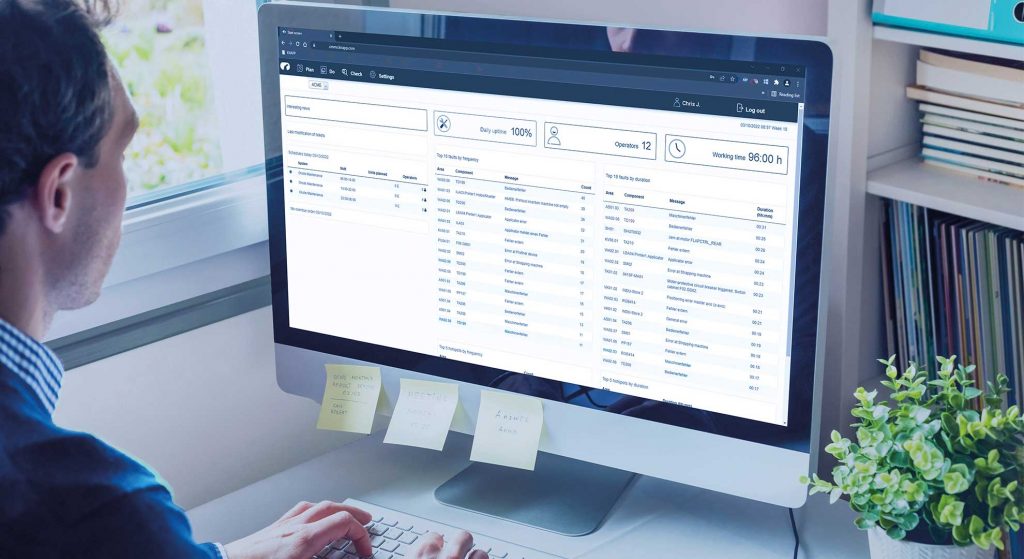 KiSoft CMMS + redPILOT
By combining KiSoft CMMS with our redPILOT Operational Excellence Solution, you have a comprehensive tool at hand that optimizes all aspects of resource planning, helping you to improve the operation of your logistics system over the long term.
One software to control all transport vehicles: KiSoft FCS
Transport tasks and processes in a warehouse or factory are varied. So are the warehouse vehicles that handle these tasks. This is why there is often a mixed fleet of various transport vehicles, for example, of autonomous mobile robots (AMR) from various manufacturers as well as manually operated vehicles. With KiSoft FCS, the fleet control system, you can see, control and coordinate a diverse fleet.
Would you like to know more about one software to rule them all?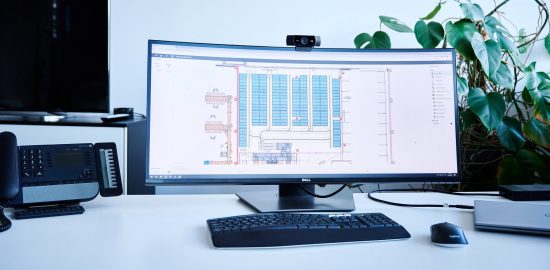 Three great reasons for KiSoft FCS
KiSoft FCS is a fleet management software. Combined with innovative technologies such as the Open Shuttles, we offer a smart package for controlling all your internal transport. Using the fleet control system's digital twin, you can simulate the Open Shuttles' applications and processes before deployment in the real environment. Simply transfer the results to the real system once you're done.
Flexible
• Flexible management of all transport orders
• Manage mixed fleets
• Make and implement changes easily and quickly
Simulate it
• Digital twin for simulations
• Easy to understand and operate
• Intuitively operated user interface
Plug and play
• Integrates into KNAPP systems
• Integrates into other Host systems
• Works as a stand-alone solution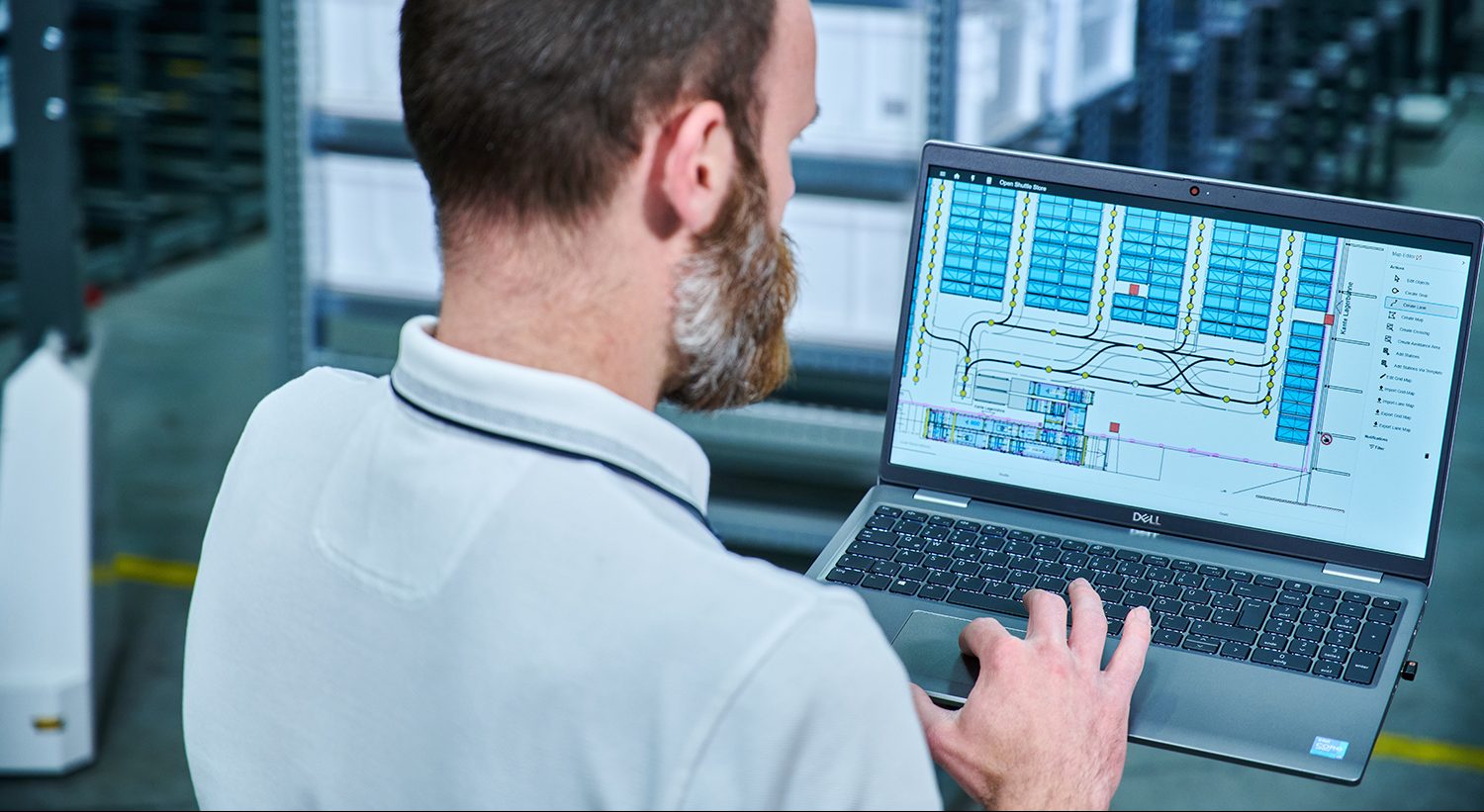 KiSoft FCS is intelligently integrated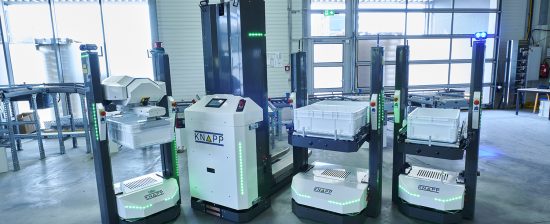 KiSoft FCS + Open Shuttles
Combining the autonomous mobile robots, the Open Shuttles, with KiSoft FCS gets the most out of your fleet. Depending on what is needed in the moment, different AMRs are put to work and efficiently controlled and monitored by the fleet management system.
Calculate the best packing pattern for your store with KiSoft Pack Master
From small shops to large supermarkets, retailers supply various stores having different layouts all from one warehouse. With the KiSoft Pack Master software, customer-specific requirements can be factored into the assembly of orders. The software allows specific packing criteria to be defined for every order and every store, thereby ensuring optimum picking processes in the warehouse and stocking of store shelves. KiSoft Pack Master calculates the ideal packing pattern for each target load carrier and determines the retrieval sequence for the products stored in the OSR Shuttle™ Evo.
Three great reasons to opt for KiSoft Pack Master
KiSoft Pack Master takes into account all the relevant master data of an item, from its dimensions and weight to load capacity and other information. The intelligent software calculates the ideal arrangement for every order based on the customer's requirements. This ensures the perfect balance between store-friendly delivery, stability and packing density for every order.
Store-friendly delivery
• Supplies stores with different layouts • Fulfills criteria for keeping certain products together or separate
Stability
• Stacks products in a running bond • Static and dynamic calculations
Packing density
• The number of load carriers is reduced • Uses space effectively
KiSoft Pack Master at SPAR Ebergassing: Tailoring deliveries for each store
The logistics center of the supermarket chain SPAR in Ebergassing, Austria, supplies 150 stores in and around Vienna six times a week. With sustainability a top priority during the design phase, the warehouse meets the newest logistical standards.
Employees working at the innovative Pick-it-Easy work stations can see the arrangement calculated by KiSoft Pack Master on the screens of the work station. KiSoft Pack Master, with its intuitive easyUse operating concept, guides the employees through the picking process, and learning how to use the system takes just a few minutes. The information provided by KiSoft Pack Master helps employees position the items at the right location, which increases packing quality and reduces the risk of damage to the goods.
"
"
The KNAPP solution holds long-term advantages for us especially in terms of the cost structure. Despite a drastic reduction in technology, a comparable performance can be achieved compared to all the systems currently on the market. At the same time, we now have a solution which allows us to quickly train employees and easily handle order peaks better than previously possible.
Intelligent integration with KiSoft Pack Master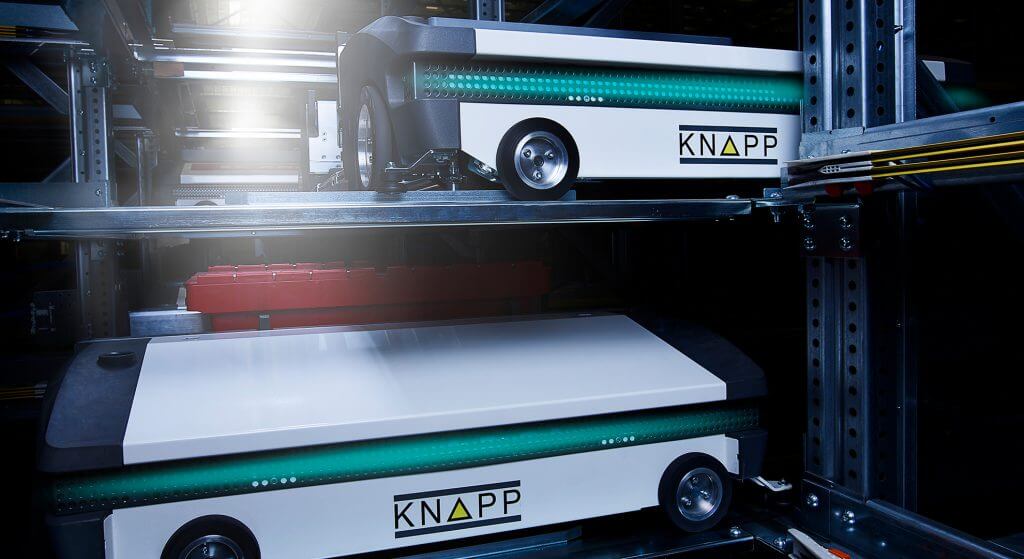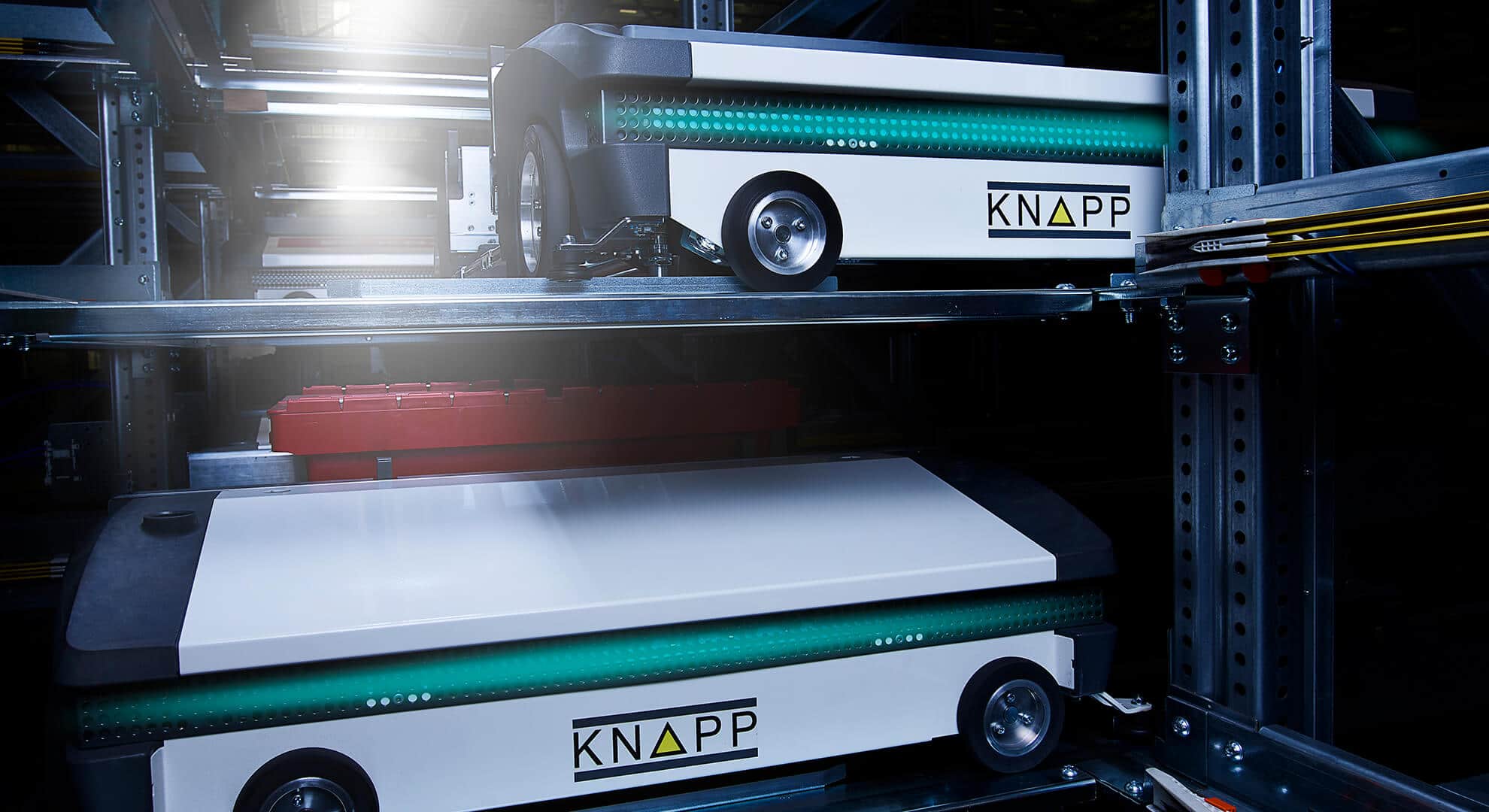 KiSoft Pack Master + OSR Shuttle™ Evo
The right sequence does the trick. Items stored in the OSR Shuttle™ Evo are retrieved in the ideal sequence and supplied in the right order for automatic or semi-automatic picking.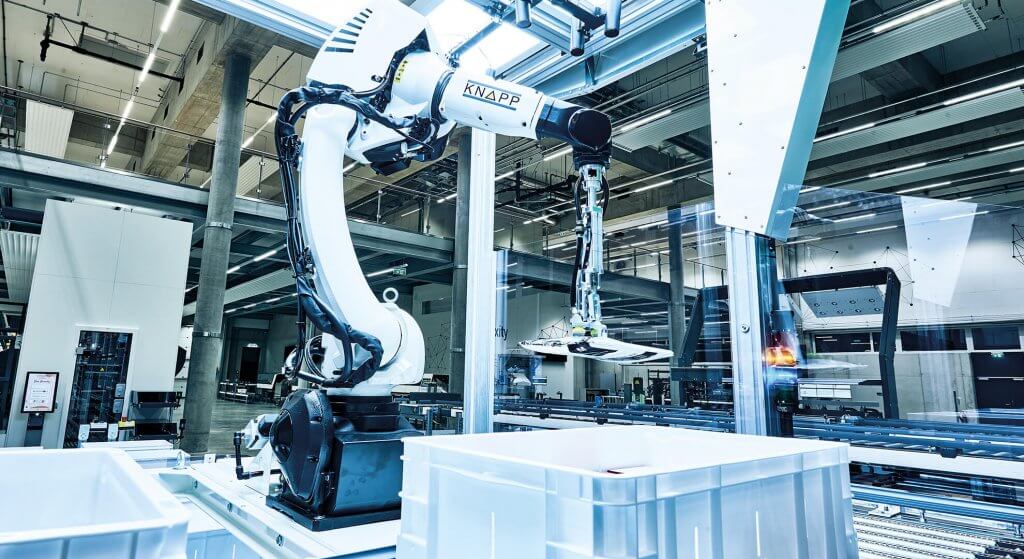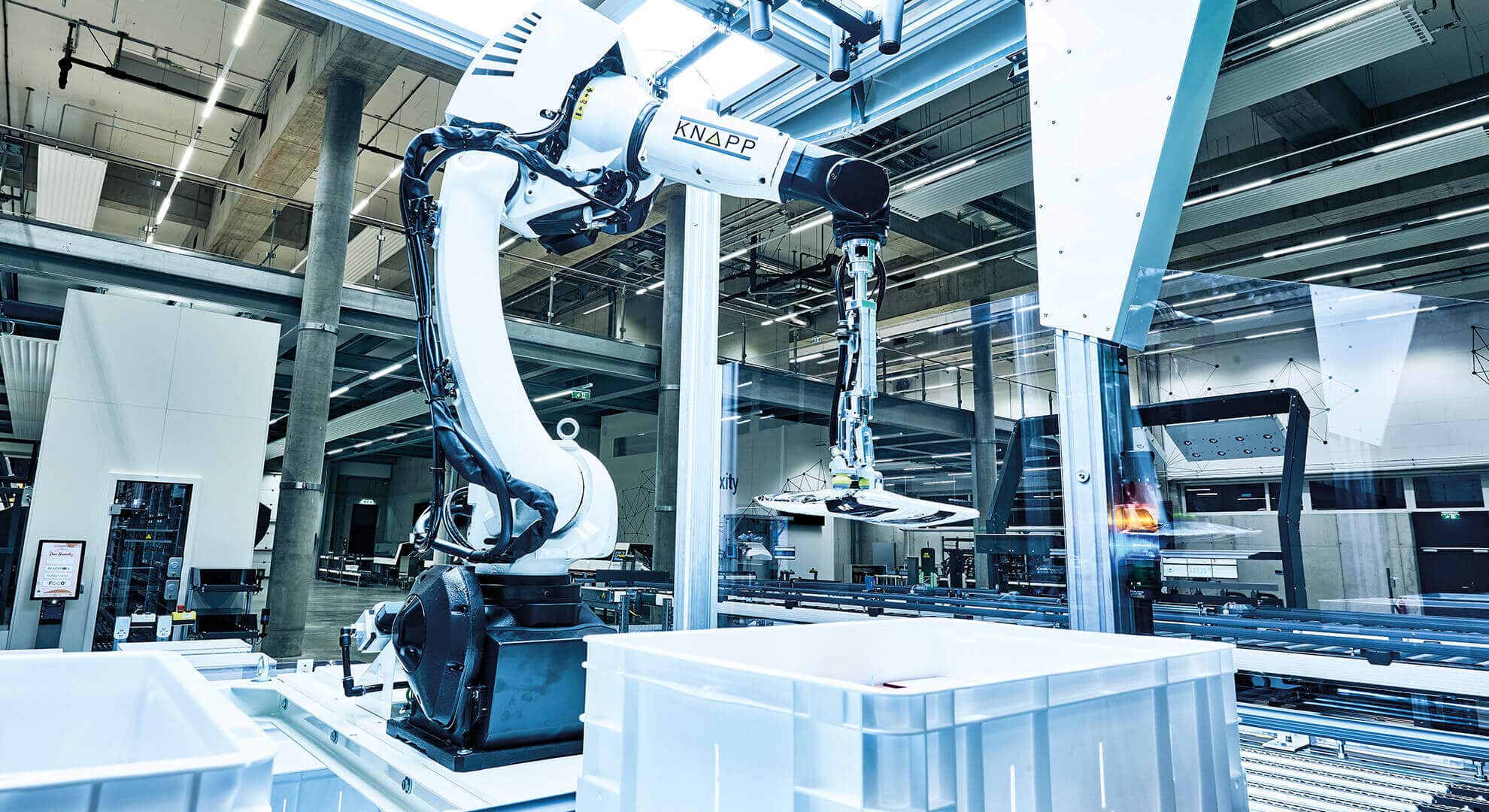 KiSoft Pack Master + Pick-it-Easy Robot
Packed to perfection. In fully automatic picking, the retrieved items are supplied to our picking robot, the Pick-it-Easy Robot, in the right sequence.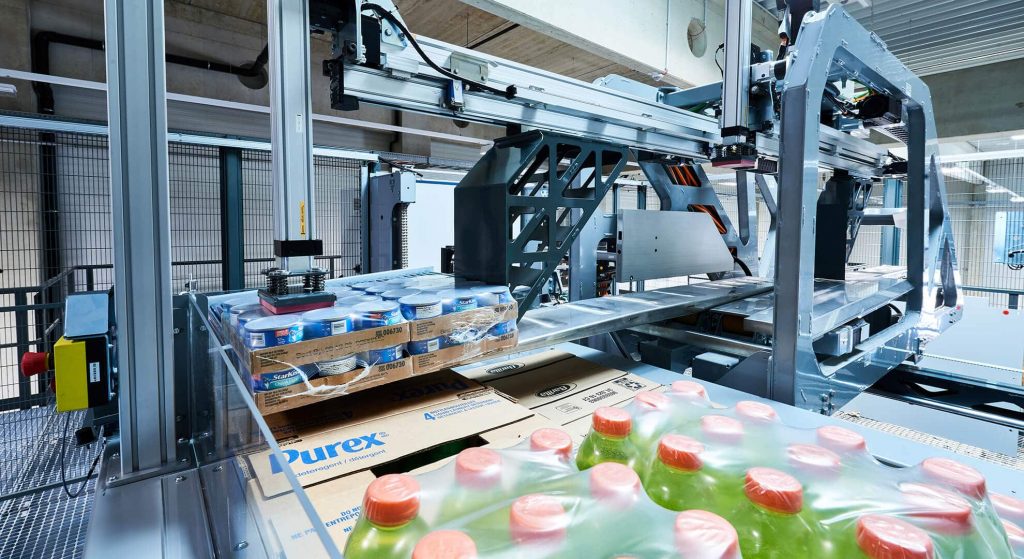 KiSoft Pack Master + RUNPICK
Brains meet brawn. Thanks to KiSoft Pack Master, the picking and palletizing system, RUNPICK, knows exactly where to place each item on the pallet or in the roll
Sustainable operational optimization: redPILOT® Operational Excellence Solution
redPILOT® makes sure that your logistics system is running at its optimal limit during every hour of operation. The Operational Excellence solution ensures that all resources, whether human or machine, are ideally engaged despite the continually changing conditions within a logistics operation. The teamAPP provides a framework for the dynamic and flexible scheduling of employees, fully integrating them in a modern work environment in the process. During daily operations, redPILOT® provides live reports to base decisions on and suggestions for the best possible alternative actions for operative warehouse management. With machine-learning algorithms, the application constantly improves itself.
3 great reasons to choose redPILOT®
redPILOT® supports the warehouse management in improving the operation of logistics systems and in profiting through operational excellence over the long term.
Greater performance
• Create optimal schedules with the best configuration
• Identify bottlenecks or overcapacities in real time; find alternative actions
• Rapid adjustments possible thanks to live reports
Lower costs
• Ideal planning means neither machine nor workforce is wasted.
• Planning reduces work and upholds quality through rule-driven automatic resource management
• Improvements are continuous thanks to machine learning
Business intelligence
• Detailed overview provided of all the warehouse processes, which are presented in diagnostic reports dealing with performance and costs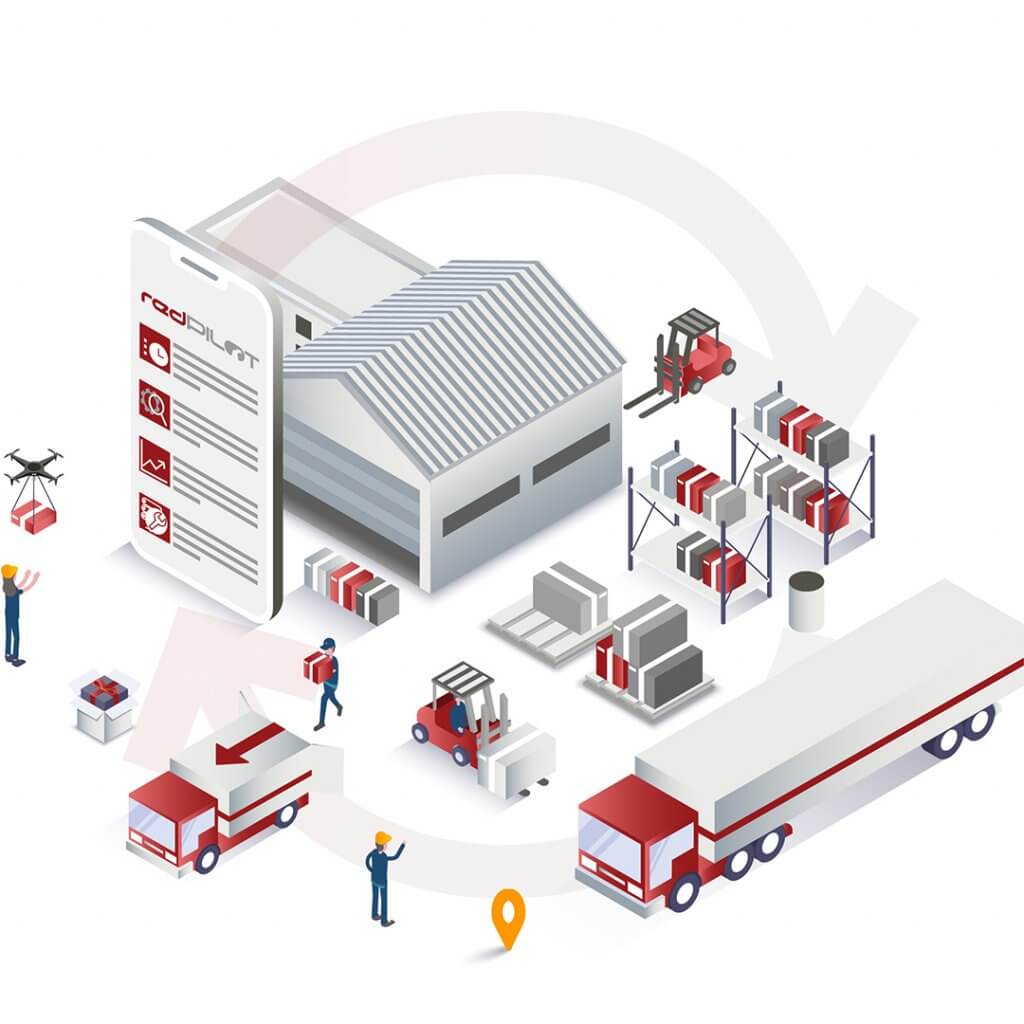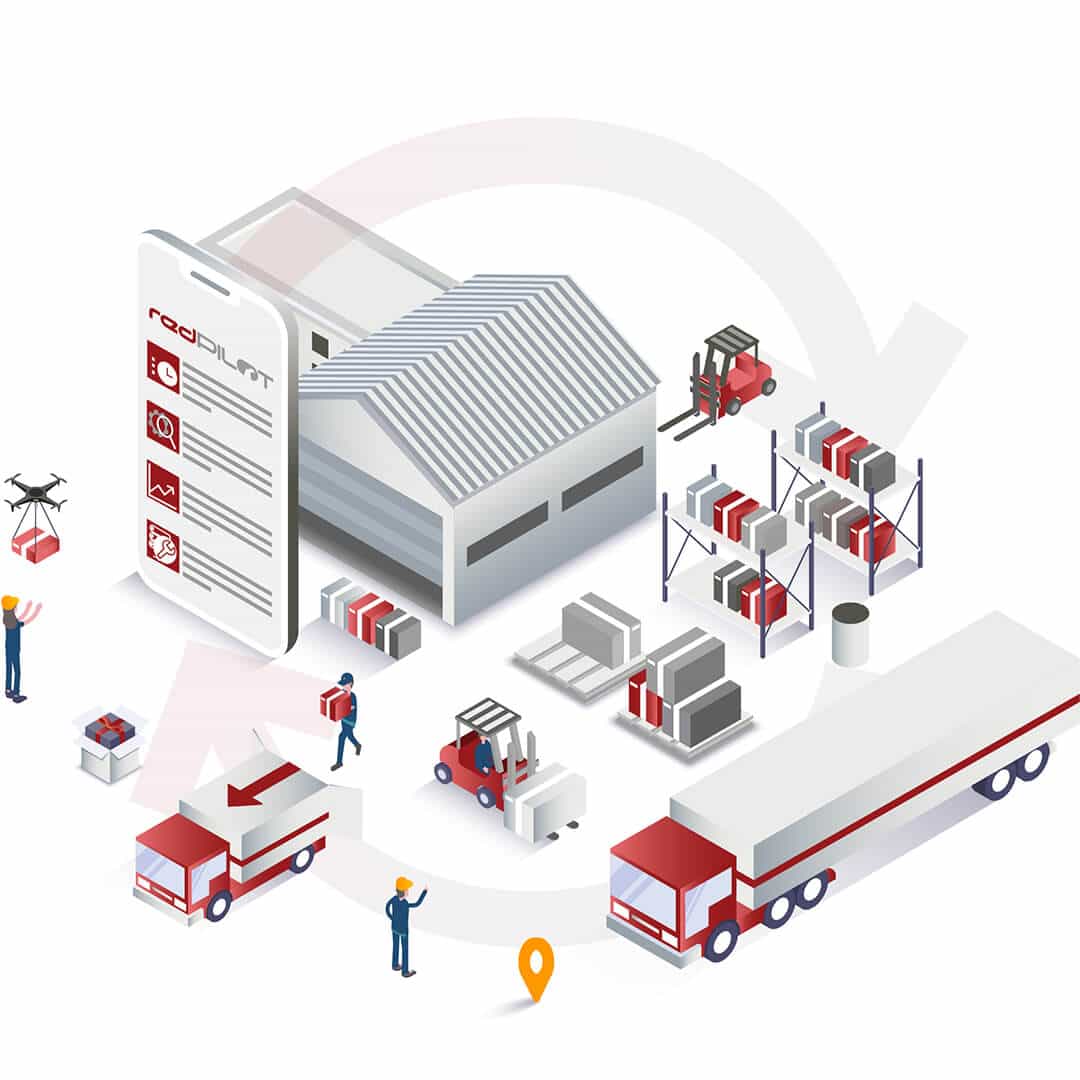 Frigologo: Sustainable optimization of operations with redPILOT®
Frigologo is a complete supplier of temperature-controlled food logistics in central and eastern Europe and offers comprehensive services for transport, storage, materials management and value-added services. Richard Nejezchleb, Head of Merchandise Management at Frigologo, explains how the company uses redPILOT to optimize their processes.
"
"
Having the processes mapped out in redPILOT means that we can have a detailed analysis of our value chain across several levels and from different perspectives. Based on the results we gain from the analysis, we can change or correct entire blocks of processes as well as subprocesses or even just work steps."
redPILOT® intelligently integrated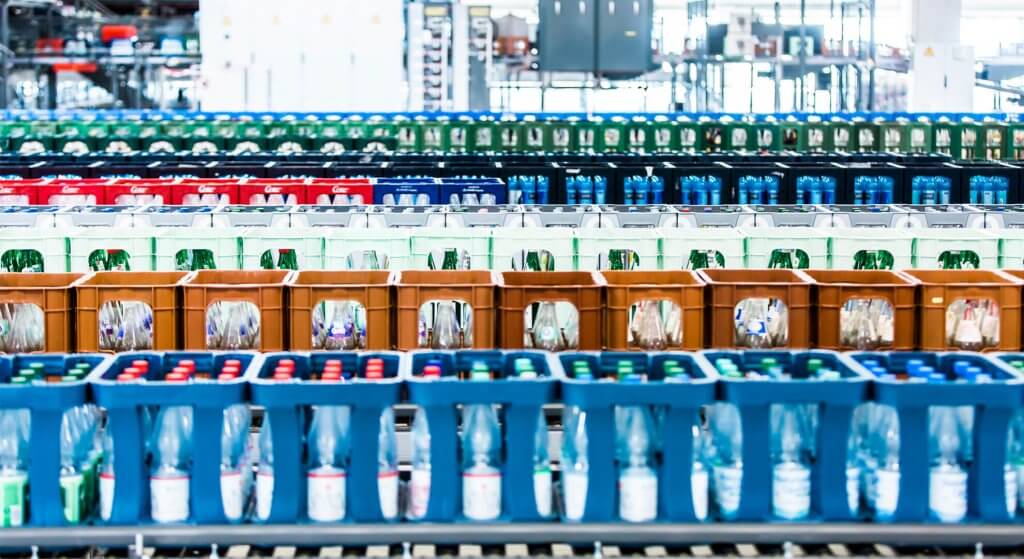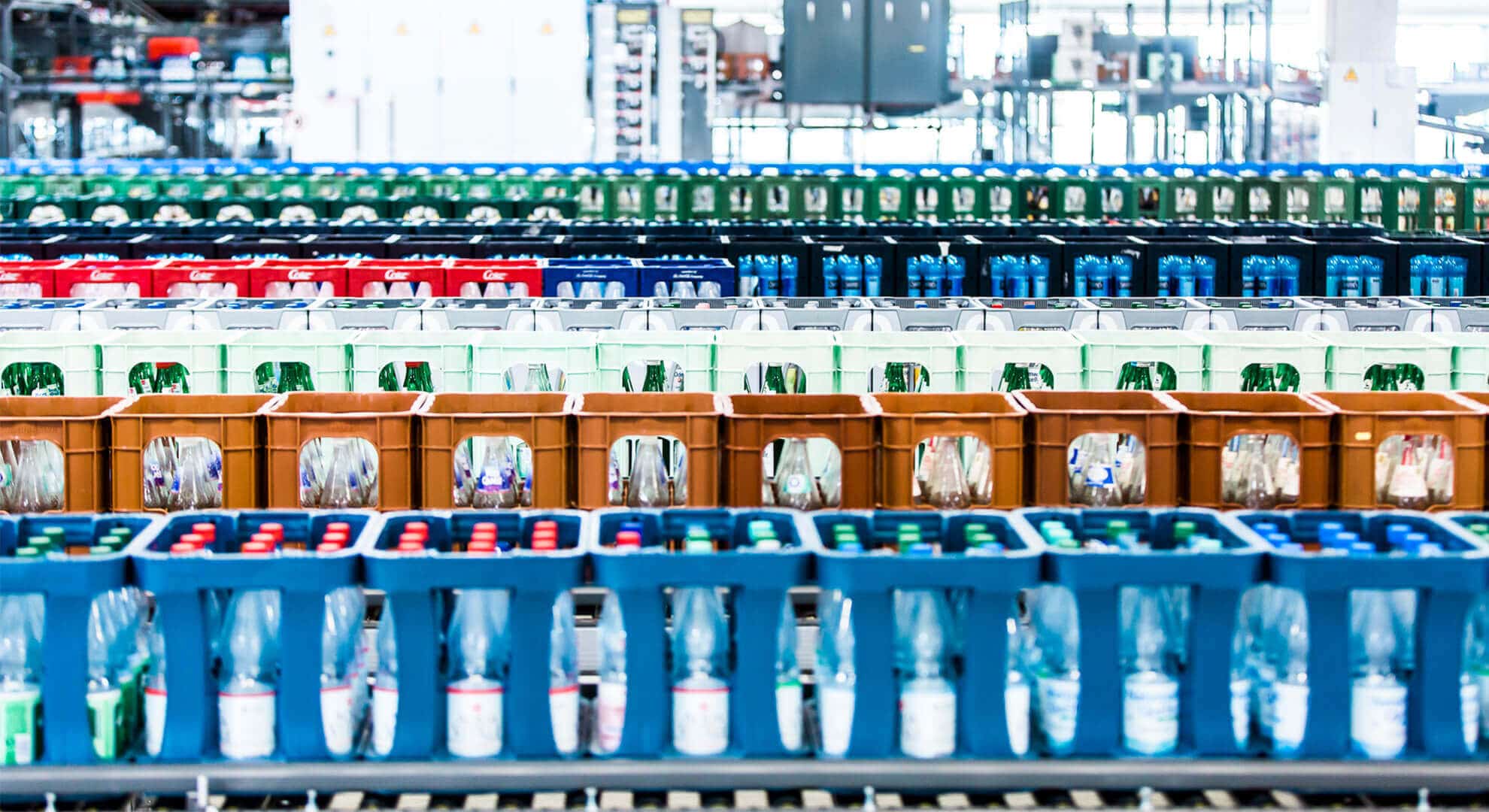 redPILOT + RMS
At EDEKA, pairing the redPILOT® Operational Excellence Solution withReusables Management Solutions (RMS) for empties management provides a high level of flexibility in the warehouse.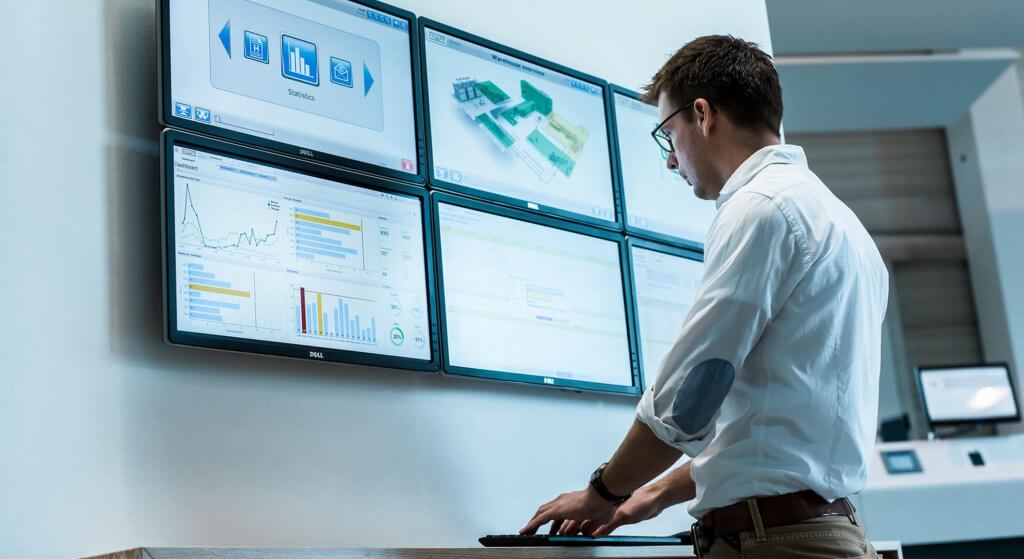 redPILOT + CMMS
The CMMS (Computerized Maintenance Management System) communicates with the KNAPP system through the integrated SCADA interface, which efficiently minimizes downtimes.
The ideal warehouse solution for your SAP® IT strategy: SAP® EWM by KNAPP
SAP® Extended Warehouse Management (SAP® EWM) is the right logistics software for anyone wanting to implement an SAP® IT strategy. As an end-to-end solution, SAP® EWM can be connected directly to the control system (PLC) and covers all the functions of a warehouse management system (WMS) and a warehouse control system (WCS). With SAP® EWM by KNAPP we offer a range of solutions, as well as service and implementation for manual RF- or voice-guided warehouses, and for complex automated warehouses using SAP® EWM for greenfield and retrofit projects – even if you've already set up SAP® EWM through a different provider.
3 great reasons for SAP® EWM by KNAPP
SAP® EWM by KNAPP unites the best of two worlds, the SAP® logistics software with the years of experience and industry expertise of the entire KNAPP group. You benefit from KNAPP as your SAP partner: In completing over 90 SAP® EWM projects and more than 2,000 WMS/WCS projects worldwide, we have the experience and solution-oriented skills you need.
The best of both worlds: SAP and KNAPP
• Use of proven SAP® technology and SAP standards
• KNAPP logistics expertise and best practice solutions
• Sector-specific solutions with KNAPP Building Blocks for the extension of SAP® EWM standards
Tailored solutions with SAP® EWM by KNAPP
• Scalable solutions for simple warehouses to complex distribution centers
• Material flow system (MFS) included for an end-to-end SAP® solution with a direct connection to the PLC and subsystems
• Template design for rollout in multiple warehouses
• Integration and optimization of existing SAP® EWM solutions
Joint project implementation
• Team approach: Optimum transfer of expertise to customers through cross-company implementation teams
• Transparency, security and autonomy through source code transfer
• Proven project procedure based on the combination of the SAP Activate methodology and KNAPP best practice logistics processes
• Ideal support after the go-live with our 24/7 SAP® EWM Service Desk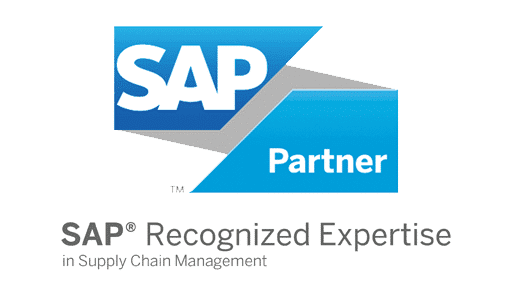 SAP® EWM by KNAPP at Voigt: the new pharma supply chain
Together with the Swiss pharma service provider VOIGT, we combine pre-wholesale and wholesale in one logistics solution in a single distribution center. SAP® EWM by KNAPP integrates and controls all the technology and processes in the RF-guided and automated areas of the warehouse.
End-to-end SAP® solution – from WMS to WCS including machine control and control of the material flow
Control over new KNAPP-automated warehouse as well as the existing installation from a different provider
Storage and replenishment control
Continuous lot tracking
Consolidation in the shipping area
GDP and GMP validation
"
"
Since we provide the support to customers ourselves, we can flexibly respond to market dynamics when fulfilling customer requirements. The decision for SAP® EWM by KNAPP was a conscious one. We want to be able to further develop and control the solution ourselves once the know-how transfer with KNAPP has taken place during implementation.
KNAPP Building Blocks for SAP® EWM are intelligently integrated
KNAPP Building Blocks are specially developed software elements for using and configuring the SAP® EWM software. They are entirely based on SAP® coding and serve as a connection to many different subsystems, work stations and business processes in SAP® EWM.
KNAPP Building Blocks + KNAPP easyUse work stations
Simple is the new standard. The SAP® EWM by KNAPP interfaces are designed according to the tried and tested KNAPP easyUse concept. The user-friendly interfaces of the design ensure an optimal user experience at the warehouse work stations. The easyUse interfaces are based on SAP® UI5/Fiori technology and are honed down to the essentials. Their clear structure, with the smart use of icons and colors, facilitates intuitive interaction. Using touchscreens, the user can navigate quickly and accurately through the individual work steps.
KNAPP Building Blocks + business processes
Good practice. KNAPP Building Blocks expand the standard SAP® EWM software with sector-specific requirements and business processes, for example, order release for manual and automatic warehouse areas by route departure times and considering storage capacities.
KNAPP Building Blocks + KNAPP subsystem
Combine and shine. With KNAPP Building Blocks, KNAPP technologies, such as the Streamline and Powerline conveyor systems, OSR Shuttle™ systems, Central Belt Systems and the KNAPP-Store, can be integrated and controlled directly in SAP® EWM by KNAPP.
Have we sparked your interest?