Nothing lasts forever, not even warehouse logistics. Both hardware and software components and systems can operate for decades, which is reflected in their product life cycles. As a result, an aging system may stick in the same places and its error rate increases. During on-going operation, these "symptoms" are treated with a patch here, a new part there. However, years of intensive wear and tear increase the risk for more frequent and longer system failures. Spare parts themselves are eventually discontinued and, to be honest, out-of-date warehouse design is not going to deliver what future business models require. So now what? Should we invest in a new system or modernize our old one and retrofit the warehouse? Or should we just continue operating our old system and risk not being able to obtain my spare parts? We can help you decide.
What does a retrofit mean for warehouse logistics?
Imagine your car's motor is acting up. Your trusty auto mechanic offers you two options.
Option 1: You can have a part or two replaced, which will keep your car running for a few more miles. You can take the time to look for a new car or to even think of switching to a different mode of transportation.
Option 2: You can replace the entire motor, which will get your car driving safely and reliably again. From a logistics point of view, option 1 is a revitalization, while option 2 is a warehouse retrofit.
Revitalization
Revitalizing a system means only replacing individual components, such as electrical or mechanical components, to ensure the warehouse continues to operate over the short or medium term.
Warehouse retrofit = modernization and revitalization
Along with upgrading mechatronic, electrical and mechanical components, a retrofit requires rethinking the entire warehouse design. Retrofitting takes your current and future business requirements into account to provide maximum business continuity and performance.
Retrofitting a warehouse is more than just upgrading the hardware and software or replacing old parts. It involves testing processes and components and designing a solution that meets your current requirements. Experienced retrofit teams analyze changes to your business case and design custom optimizations. Very often, it's not necessary to completely renew the infrastructure to reach your goals. A serious warehouse retrofit makes use of the existing space, steel and other resources. This saves energy and reduces emissions, which has a positive impact on your carbon footprint and allows the system to be modernized during on-going operation. It also ensures the logistics system maintains the required output even during modernization. Additionally, reliable retrofit partners implement their work in one or more projects and plan downtimes in advance with you so that the remodeling and expansion has the smallest impact possible on your operations and daily business.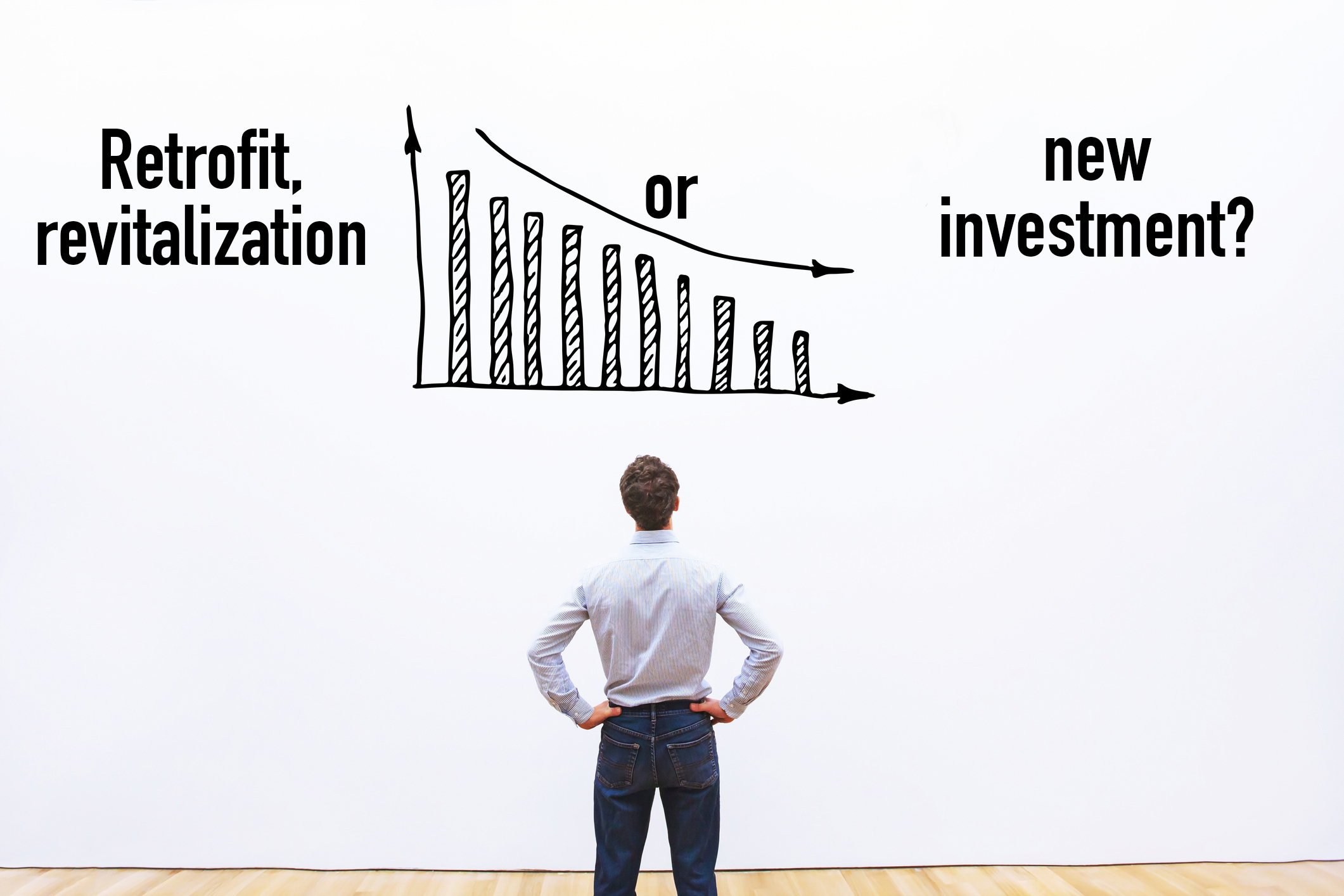 When does a warehouse retrofit make sense?
Many companies opt for modernizing, expanding or revitalizing their existing systems instead of constructing new ones. Not only is this more sustainable, it often proves to be much more economical as well. Replacing old components and adding innovative system technology extends the product life cycle and increases efficiency and availability in the warehouse. Additionally, the requirements for the coming years and the entire system design are scrutinized. These adaptations prepare you for the challenges of your sector and allow you to benefit from higher operational reliability and unlimited spare parts supply. However, a retrofit may not always be the best decision for your warehouse. Multiple factors come into play here, such as which lifecycle phase your components and operating software are in, how your business case will change in the next few years, and much more. For this reason, the first step of a serious retrofit is thoroughly evaluating your current situation. To find out what a warehouse retrofit typically looks like in practice, you will find more details below.
When is the most suitable time for a retrofit? [1]
Advantages of a warehouse retrofit
Reliable service partners support you and your systems even after the end of the product life cycle. Retrofitting your warehouse has the following advantages:
Economical
Investment significantly lower compared to purchasing a new installation
Reduced operational costs, such as for maintenance and repair
Sustainable
Reduced energy consumption and emissions during implementation
Normal operation continues, only planned system standstills
Reliable
Implementation of the latest hardware and electrical and mechatronic components
Cybersecurity: Secure protection thanks to the latest software versions
Future-proof
Full support ensured by customer service generally for 10 additional years, plus five more years in limited support
Supply of original spare parts ensured
7 steps to a successful warehouse retrofit
The goal of a warehouse retrofit is to make your system fit for the future. It not only extends the life cycle of the components, hardware and software in your warehouse, but also helps make your system more sustainable. But how are retrofits generally implemented?
1. Evaluate the current situation: The product life cycle
The first step in planning your warehouse retrofit is taking a close look at your system's life cycle. There are generally three support levels:
Full support
Limited support
Out of support
Which life cycle phase are your installed products and currently operating software in? Could some of them already be out of support? Experienced retrofit partners contact you while your products are in limited support – a few years before the end of the product life cycle – and discuss your plans for the coming years with you.
2. Analysis
The next step is analyzing which products will have a critical effect on the on-going operation of the logistics system. Generally, not all installed components can be produced by the retrofit partner themselves, which means they are also dependent on parts from suppliers. The analysis includes checking whether these parts are still available on the market. If not, then a new solution must be found.
3. Design phase
How would I describe my current and future business models?
What's changed since the system started operating?
Have there been repeat issues in my warehouse?
Do I need higher throughput or more space?
An experienced retrofit team will work with you to find the answers to these questions – and many more. At the end of this phase, you receive an offer detailing your ideal logistics solution for the future. It might be "just" a software upgrade, a revitalization of a few individual mechanical or electrical components, or even a complete warehouse retrofit.
As soon as all the open issues have been clarified and the offer confirmed, it's time to start with scheduling and detailed planning.
4. On-site inspection
In order to make sure everything is optimally prepared for the retrofit, a team of experts carefully examines the system in advance. They check if there is enough space for modifications and take stock of the condition of the individual components of your system.
5. Planning and production
The most effective steps for modernization are planned in detail based on all data collected. Then all parts needed for your revitalization or retrofit project are produced and/or ordered.
6. Implementation
Now it's time for "open heart surgery". Experienced service technicians implement the project with as little disturbance to your daily business as possible. Depending on whether you decided on a revitalization or a retrofit, the implementation consists of one or multiple projects. The first step of a complete retrofit would be, for example, making sure that the latest versions of each software and hardware are running smoothly in your system. This eliminates any security risks and ensures the availability of the system. Then the retrofit of the mechanical and electrical systems follows.
7. Fit for the future in full support
State-of-the-art technology: After a retrofit, all system components are once again in full support, which will then as usual be followed by a period of limited support, significantly extending the product life cycle.
Example: Reducing CO2 emissions by retrofitting a warehouse shuttle system
To showcase the environmental friendliness of a warehouse retrofit, we've prepared the following example. Imagine a logistics system with a warehouse shuttle system that has the following dimensions:
Area: 953 m² (10,250 ft²)
Height: 5.6 m (18 ft)
Rack weight: 573 t
8 rack line systems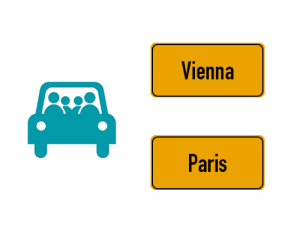 Retrofitting this system saves 1,486 tons of CO2 compared to building a new shuttle system. That's about the same amount of CO2 produced by 6,132 trips from Vienna to Paris. Retrofitting your warehouse not only prepares you for the future of logistics, but is good for the environment as well.
Are you also faced with the same challenges? Are you considering a warehouse retrofit? We are here to help! Together, we'll find the best solution for your specific use case, whether it's a revitalization, a retrofit or a brand new warehouse. Drop us a line and schedule a meeting with one of our retrofit experts.