Solutions for Automated Micro Fulfillment
What is micro fulfillment?
Micro fulfillment centers (MFC) are automated mini warehouses for e-grocery in urban areas. They are directly connected to a supermarket, using the existing infrastructure, or are operated as dark stores. This keeps investment costs lower and allows rapid processing of online orders. MFCs score by fulfilling orders automatically, quickly. Furthermore, because they are near the consumer, delivery is usually possible within a few hours and the costs of the last mile are lower.
Numerous food retailers across the globe are using our MFC and proven technologies. Their goal is to open up new sales channels and to offer even better service to the consumer. We have almost 30 MFCs in service worldwide, fulfilling about 150,000 orders on a weekly basis.
5 facts about micro fulfillment

Compact
Supermarket with small, connected e-commerce warehouse uses the existing infrastructure

Automated
Speeds up error-free order fulfillment compared to manual solutions

Rapid
Right around the corner, short delivery times and keeping the costs of the last mile low

Modular
Quick start with an individually adapted modular and scalable design

24/7 monitoring
Proactive and preventative service solution for MFCs during ongoing operation
"Micro fulfillment has provided us with incomparable speed and accuracy in order processing. At the same time, we are close to our customers to provide rapid and flexible delivery."
Amanda Bardwell, Managing Director of WooliesX, which is part of the Australian supermarket giant Woolworths.
Micro fulfillment is the answer to the challenges in e-grocery
More and more people live in urban areas. This is leading to both economic and social changes. The more people live in cities, the more challenging goods supply becomes, and this also applies to food. In addition, the price of real estate is quite high, and space is much less available. Regulations are also on the uprise.
Digitalization has changed consumer behavior. As a result, consumers have raised expectations. They want to flexibly switch between different sales channels and have a choice to shop where it is easiest and most advantageous for them. The consumer expects a wide range of goods to choose from, fresh and in the best quality, combined with perfect service and a flexible last mile solution. The completed bags of groceries must be delivered to the home or be ready for pickup as quickly as possible, with delivery costs remaining low.
The shortage of qualified personnel in logistics is another challenge faced by today's logistics sector, and automation is now seen as one solution to this trend. With an optimum combination of intelligent technologies and automated processes, employees in the warehouse are freed from heavy work and monotonous tasks. Running in the background, the software serves to optimize all the processes. Compared to manual solutions, automation also significantly reduces the error rate, which naturally leads to more customer satisfaction. For example, an automated micro fulfillment center can save 40 percent of personnel in comparison to manual solutions.
How micro fulfillment works?
Automation is the only way to handle food e-commerce economically and profitably. Exactly what is stored and retrieved first can be defined. The error rate is lower and any disruptions that occur are traceable. Furthermore, the quality and performance in order picking are higher.
But what is micro fulfillment really?
Automated micro fulfillment centers are small, standardized solutions for urban areas featuring comparably rapid installation times and lower investments. Their benefits include high storage density and rapid throughput. They function like a store and also offer an online order service, allowing consumers to choose what they want from the full assortment of goods. The process is a combination of manual, in-store picking and automated processing in the MFC, forming an ideal link between the two areas. Thanks to optimal planning and sequencing, the cold chain is also maintained, and items are handled gently.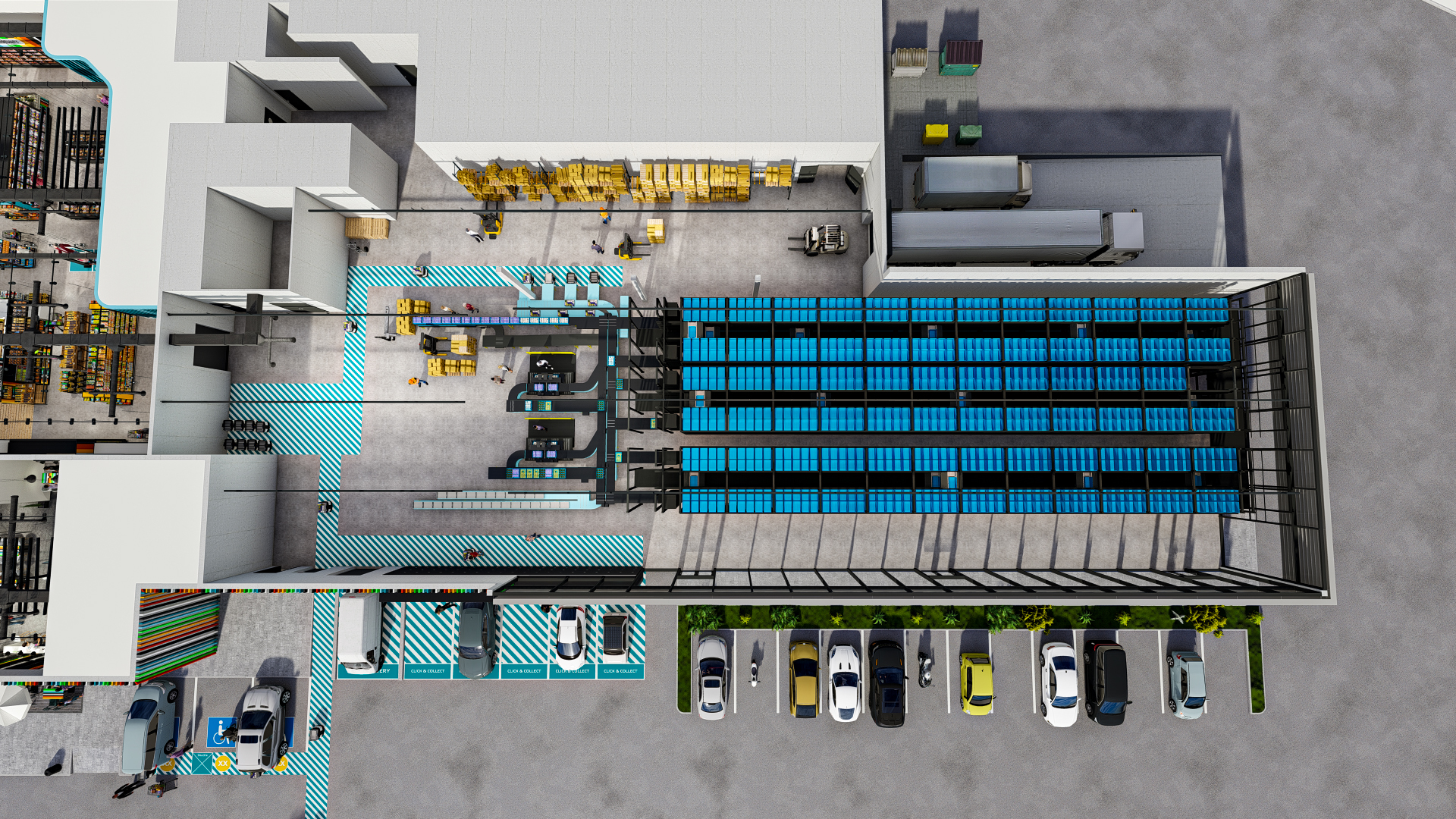 Benefits of micro fulfillment
Significantly more economical and rapid order handling through intelligent automation in compared to manual solutions
Competitive advantage thanks to significantly more economical solution compared to manual or semi-automatic solutions (ROI)
Scalable and easily adapted to changing market conditions
Higher throughput thanks to high-performance robotic solutions
Improved ergonomics and intuitive workflows for employees
Increased customer satisfaction thanks to seamless availability for all products
Significantly higher quality in customer orders
Same- or next-day delivery
Why our MFC is the right choice for you
Even though our micro fulfillment centers are standardized, they are more modular and scalable compared to conventional MFC concepts on the market. Depending on what you want, you can expand at any time with semi-automation, full automation, including robots.
In our standardized layouts, the various technology combinations are freely selectable, which covers the individual needs of our partners. Our solution offers the following:
Modular
Thanks to our modular approach, the automation solution is optimally integrated into the existing building.
Container
Using different containers in different sizes is possible. Dividing the containers into compartments uses all the container space available.
Buffer & Function
A unique buffer function requiring little floor space decouples picking from shipping. Completed orders can be stored in their containers and retrieved when it is time for them to be dispatched.
Click here to discover the MFC concepts of our partners Intermarché and Woolworths.
Discover more about our modular solutions and get in touch with our MFC experts.
Micro fulfillment uses tried and tested technologies
In the past years we have continuously been developing our solution in ongoing operation and working with our partners. Additionally, we use our expertise in automation and our in-depth understanding of the sector to keep the ramp-up phase short.
We continually optimize our MFC solution based on three pillars:
Markets and innovations
Our MFC concept, which we have implemented across the globe, is years ahead compared to similar solutions on the market. We are continuously developing new innovations that improve and develop our solutions.
Ongoing system operatio
We improve our solution based on experiences from our MFCs that are operating live.
Needs and requests of our customers
In the work with our customers, new ideas and potential for improvements are always arising, which then flow into future projects.
Our technologies at a glance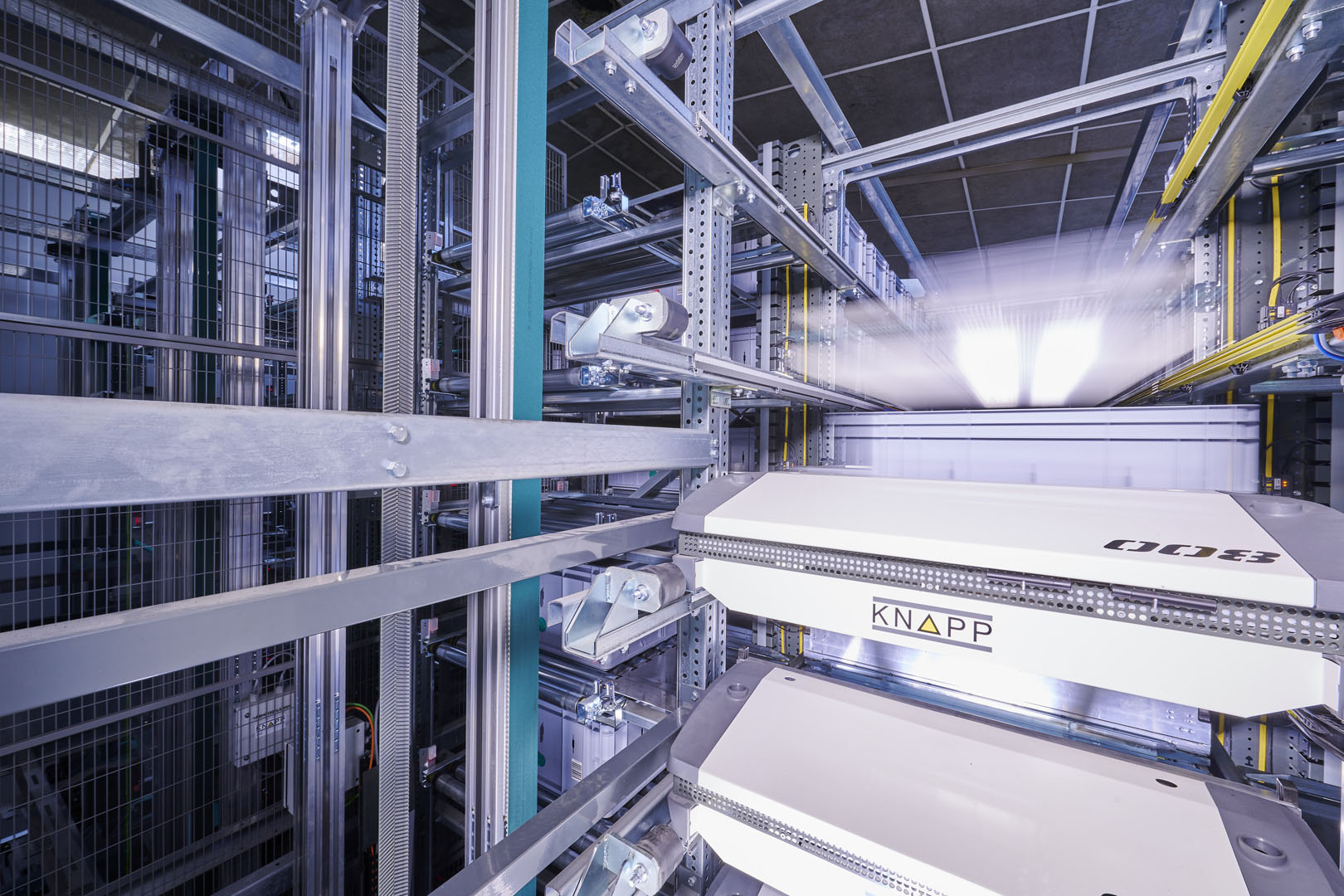 OSR Shuttle Evo
The hub for all the automated processes is our proven, space-effective shuttle system. It stores various sizes of containers, multi-deep or stacked. Important logistic processes are all handled by this flexible system, including storage, picking, buffering, replenishment and supplying. The OSR Shuttle Evo retrieves containers in the optimal sequence and supplies these to connected work stations or robots.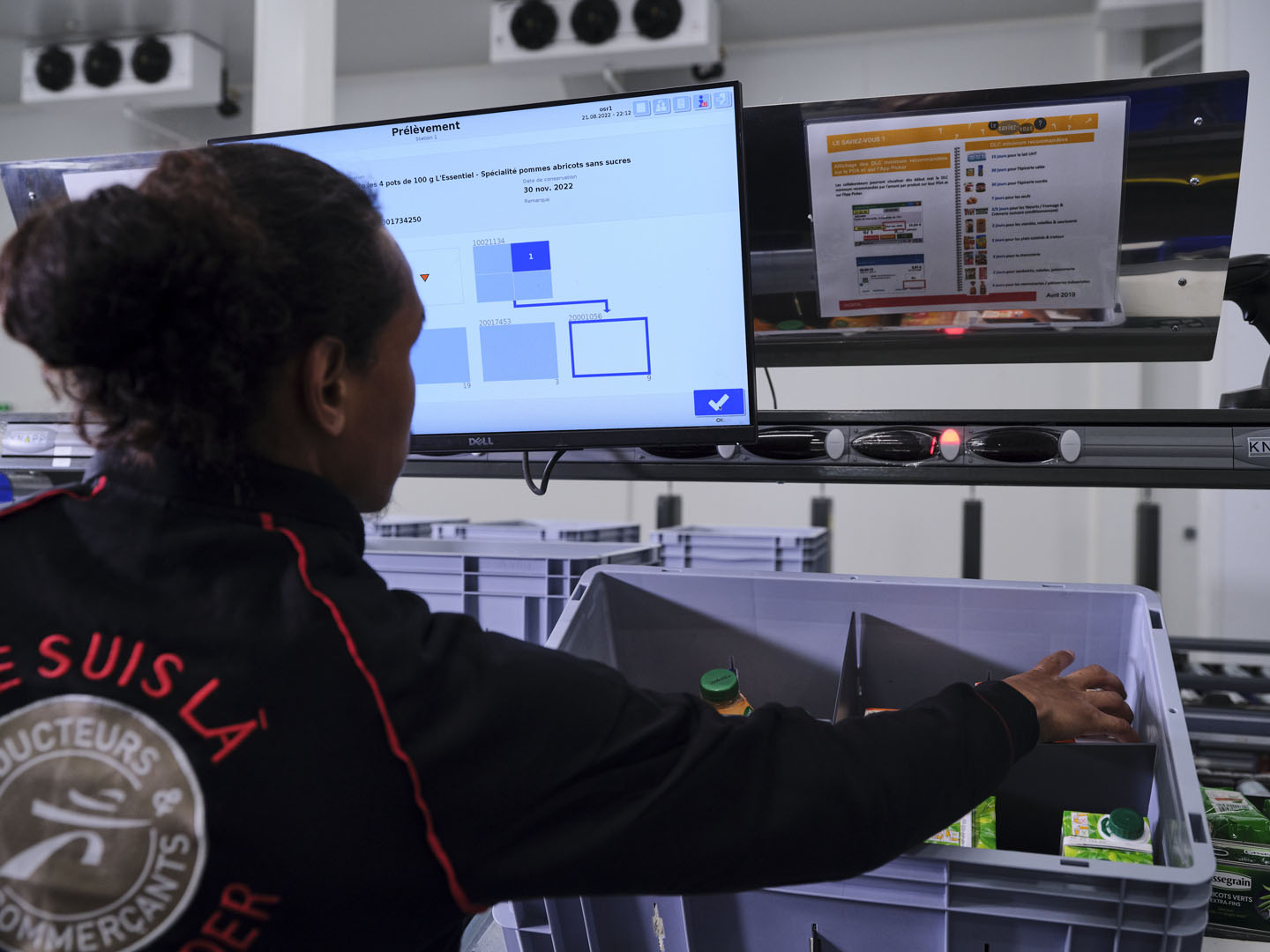 Pick-it-Easy work stations
The Pick-it-Easy work stations are modern, ergonomic picking stations for order fulfillment. Our goods-to-person work stations provide software-guided work processes, for error-free order fulfillment with great ergonomics. The center of all of this is the human, who can learn to work at the station very quickly, and work without mistakes, thanks to the intuitive user guidance provided by the station.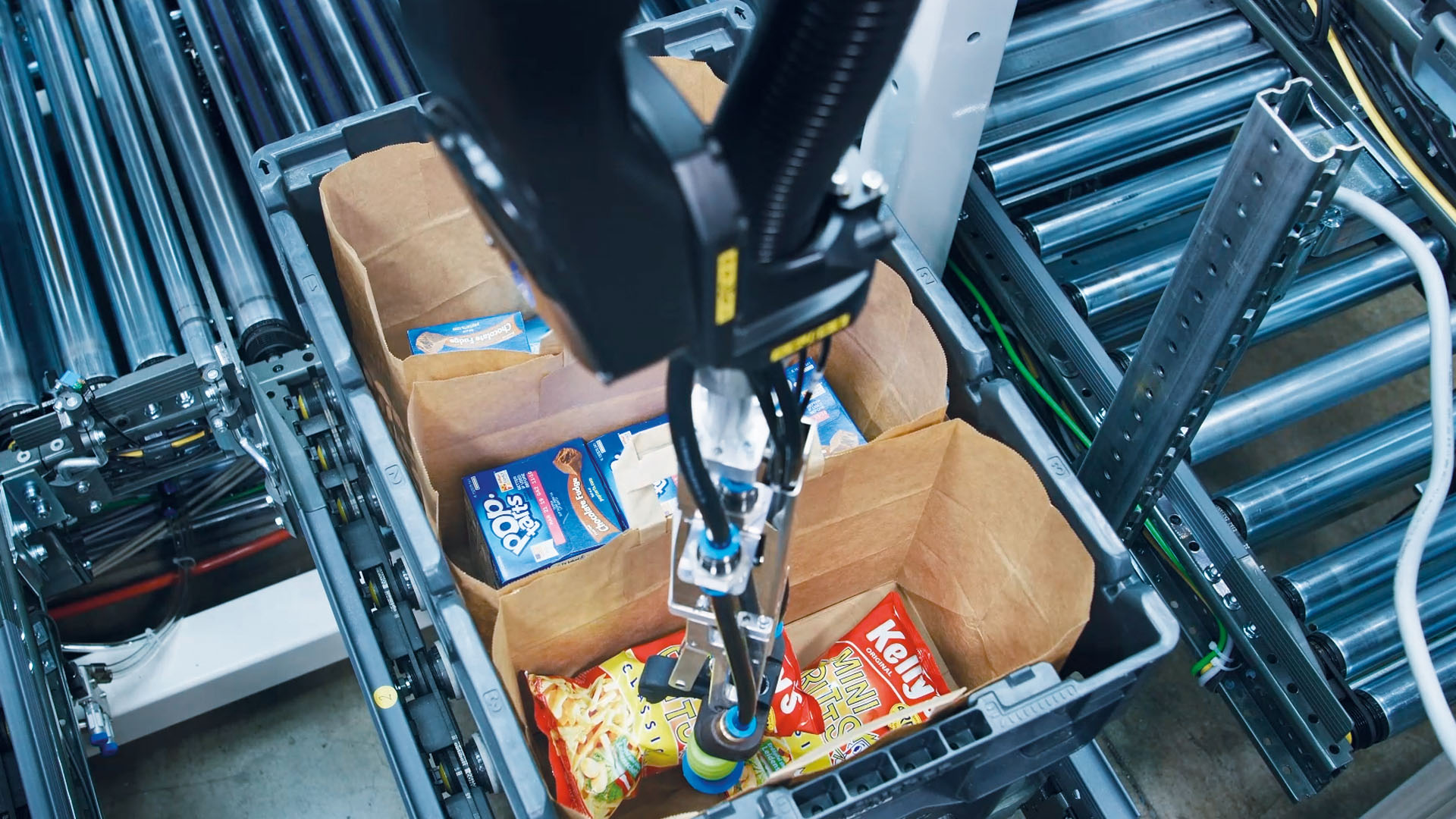 Pick-it-Easy Robot
Robots raise efficiency, performance and quality in an automated warehouse. For a fully automatic MFC solution, our Pick-it-Easy Robot handles the picking. The robot places individual food items carefully and directly in the shopping bag. Its artificial intelligence means that the robot learns with every pick. All on its own, it improves its performance, the quality of its work and expands the range of items it can pick. The robot can work at any hour of the day because working time regulations do not apply to it, which leaves the better shifts for its human colleagues.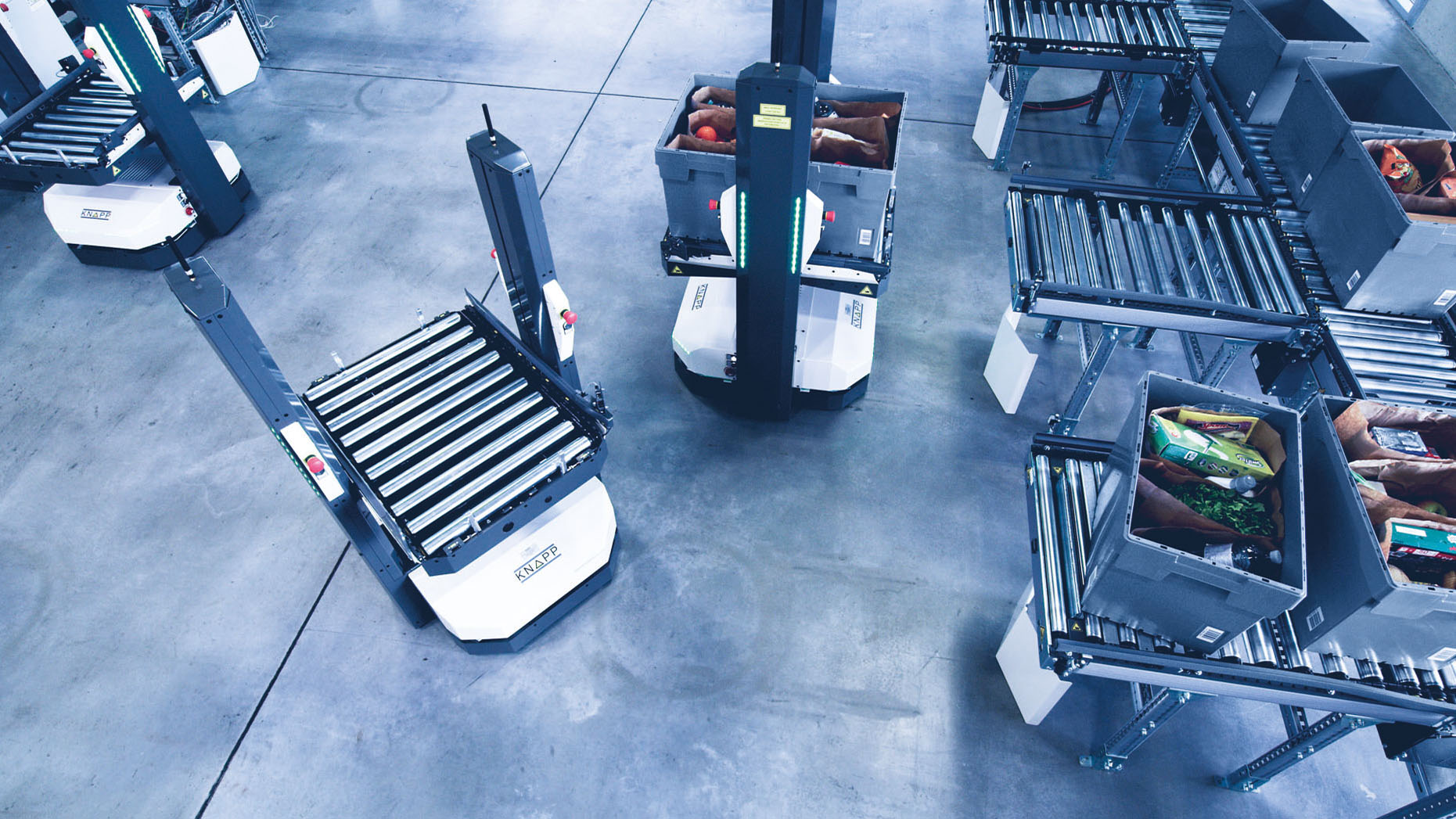 Open Shuttles
Our autonomous mobile robots connect all areas of the warehouse quickly and flexibly. Whether used for internal transport, to supply work stations or as an alternative to a classic conveyor, our fleet-footed robots really score with smart route planning and intelligent order management. The fleet size is completely individual and can be expanded at any time. In our MFCs, they handle internal transport after orders have been prepared and bring the containers to the shipping area.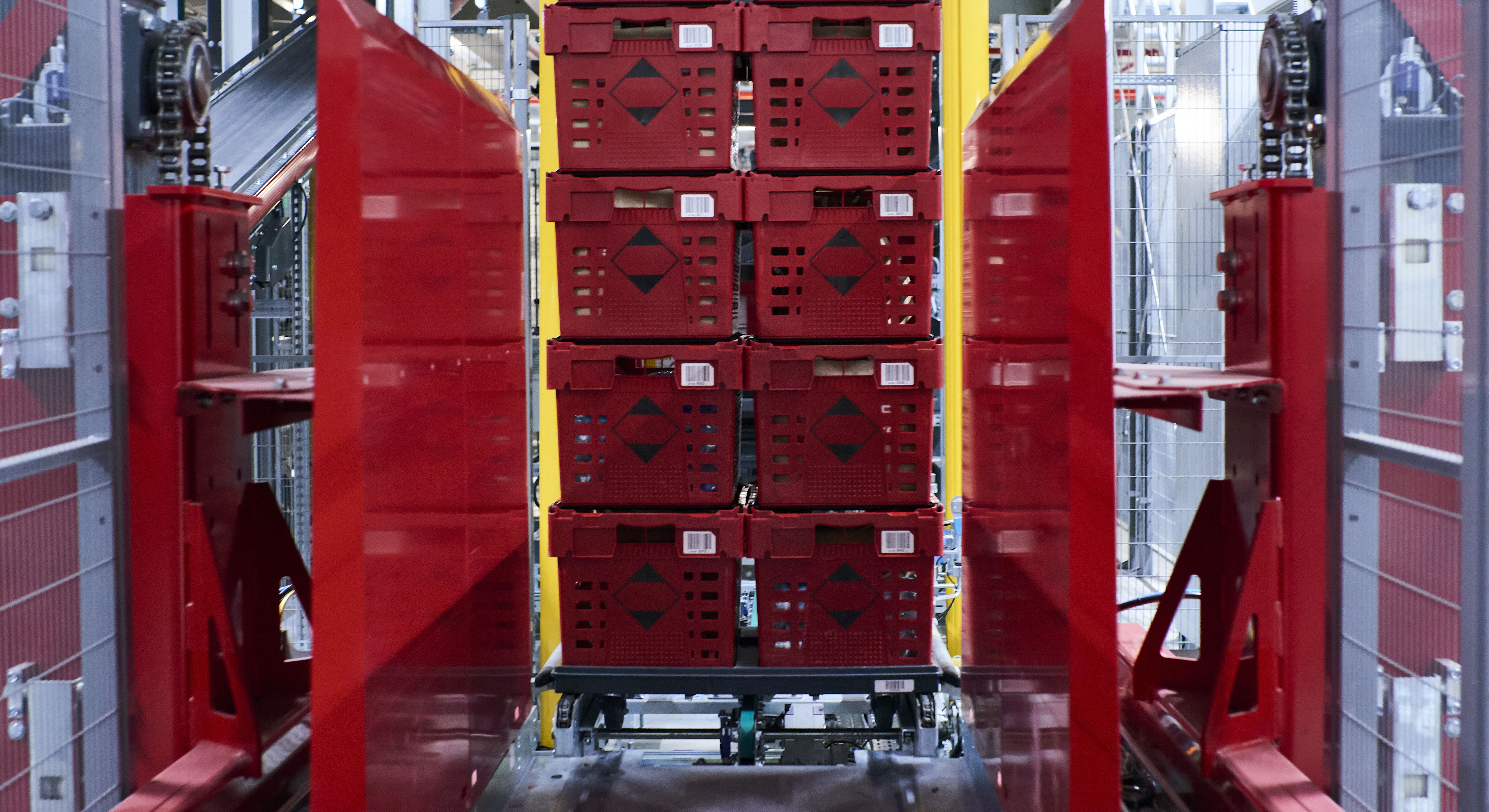 Dolly loader
In the shipping area, a fully automatic model is available. Our dolly loader stacks the completed order containers on roll containers – in the optimal reverse sequence for the delivery route.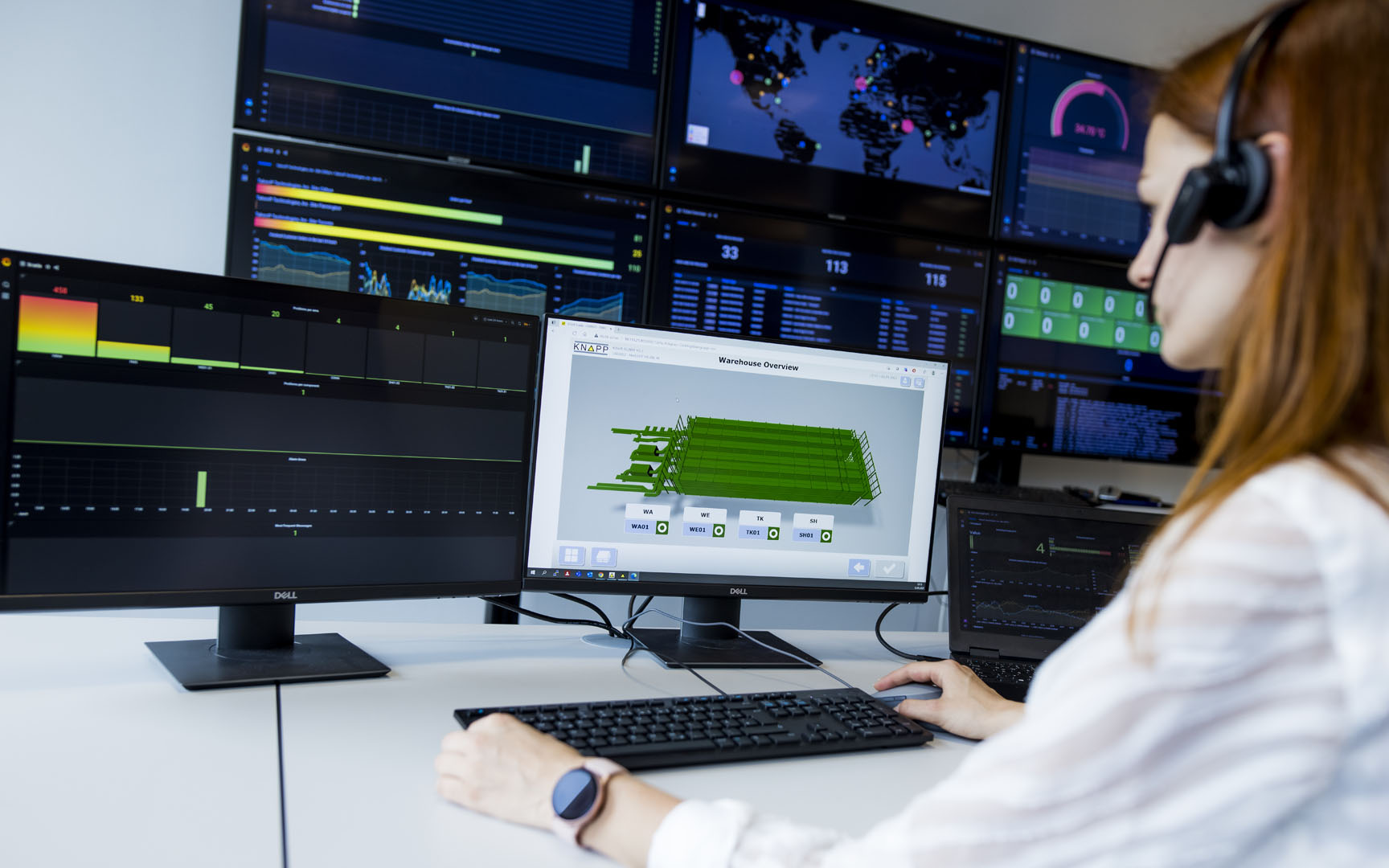 Multi-Site Control Center
Our service experts provide remote care for the entire MFC network around the clock. System checks are ongoing, and detect incidents early on, before they impact operation. Our dashboard shows all KNAPP and customer systems as well as all logistic and technical processes. Specially developed key figures show the MSCC team the system's status. Furthermore, the key figures from several locations can be pooled and analyzed together. The analyses tell us where we can make long-term, overall improvements, which flow into the further development of our integrated solutions.
Find out more about our solutions and technologies for food retail.
Micro fulfillment dark store at Intermarché
At the French food retailer Intermarché, the MFCs function as independent stores that are not combined with a retail store. The two automated mini warehouses in Lyon and Paris supply 15-20 surrounding stores with completed online orders. The MFCS handle 80 % of the product range automatically. The rest of the foods, such as fresh meats and deli products, are supplied by the retail stores.
Picking rate of order lines
per hour
Autonomous transport containers
per hour
Stores containers
per hour
supplies stores
Each location
Last mile solutions:
Curbside pickup at store of choice
Grocery locker pickup
Home delivery
"The MFC offers maximum flexibility, productivity and reliability in large cities. The increased productivity is more profitable and also serves our customers with more flexibility."
Cédric Lebastard responsible for e-commerce supply chain automation projects at Intermarché.
MFCs in Woolworths food retail network
In the market, it's becoming more and more important to think in terms of networks. Fulfillment centers of different sizes open up many new opportunities for online food retail. The Australian supermarket giant, Woolworths, shows how an intelligent combination of MFCs, large central fulfillment centers (CFCs) and classic brick-and-mortar stores provide a high level of flexibility in regard to order quantities and volumes. An optimal network of different sales channels gives one answer to issue of changed consumer behavior. We provide the right processes and technologies for every link in the value chain. From adaptable and flexible automation solutions for e-commerce including optimal route planning and up to urban networks as well as concepts for classic store delivery.
Micro fulfillment as "a game changer"
Woolworths already has four micro fulfillment centers integrated in their network. The company calls micro fulfillment a game changer for its business: The MFCs not only ensure increased efficiency, but also offer additional capacities for our partners. With this approach, Woolies processes five times more orders as conventional online stores that use manual picking.
"
"
"Our automated online fulfillment center in Auburn and our other fulfillment centers are tremendously important additions to our stores. This is how we are able to offer our customers same-day or on-demand delivery."
Additional food retailers who are now operating with our MFC concept developed with Takeoff Technologies:
Sedanos
Albertsons
Wakefern Foods
Loblaws
Ahold Delhaize
Carrefour
Have we sparked your interest?
Want to read more about food retailing? Check out our blog posts: