Smart Manufacturing Logistics through Automation
Improving your productivity is our job
To remain competitive as a manufacturing company, the logistics in the background need to run smartly and smoothly. Today, the manufacturing sector is facing a number of challenges, which mainly include increasing complexity, rapidly changing demands, climate change and a shortage of qualified specialists.
Dynamic systems and stronger interconnection are the solution. Maximum flexibility and investment security are the central requirements in the new era of manufacturing logistics. At the same time, the systems must have the necessary adaptability and capacity to grow with changing demands. They must ensure excellent quality, be efficient, cost-effective and ergonomic. With new approaches and a mix of innovative and proven technologies, we are opening up new opportunities for the manufacturing sector.
Our mission: To understand your business and help you achieve an added plus in flexibility with our innovative logistics solutions.
Have we sparked your interest? Get an overview of our solutions and customers here. Please don't hesitate to contact us. We are looking forward to having a conversation with you!
Find out more about what production may look like in the future in this blog post.
We are aware of how important process reliability is in production, the core of every company, and see it as our mission to develop optimal solutions using our industry expertise. The use of innovative technologies and intelligent software makes the flexible interconnection of processes possible. With our all-in-one solutions, we make smart production a reality.
Production supply
just-in-time and just-in-sequence
Perfectly timed production supply – in the right sequence, in the right place, at the right time

What role does time play in smart manufacturing logistics?
An essential one, especially when it comes to the supply of assembly lines and work stations. The right component must be in the right place at the right time. If a component is missing or the wrong one is delivered, it costs time, and time is money as they say.
The solution is to have your assembly lines and work stations supplied as needed and the required components provided in the right sequence, in the right quantity, at the right time. But how can you achieve this? With smart, automated storage systems, intelligent software and autonomous mobile robots for flexible transport.
"
"
Above all, our customers need components to be made available at the right time and supplied in the right sequence. The OSR Shuttle™ Evo storage system ensures exact sequencing directly from the system at full capacity.
"
"
Our solution also allows small load carriers to be supplied to a tugger train station directly from the shuttle system in the exact sequence and to be automatically transferred to this station or to autonomous mobile robots. This way, nothing stands in the way of smart production.
An automated small parts warehouse and three different picking processes for Terberg
Several processes at Terberg, a manufacturer of special vehicles, have been centralized in one storage system in order to handle an increasing number of picking orders. The small parts are stored in the OSR Shuttle™ and presented to the ergonomic Pick-it-Easy work stations as needed. Picking is conducted here for manufacturing, the assembly line, or for the shipping of spare parts, according to the order. All these processes are mapped by the KiSoft software, the brain of the solution.
All-in-one: Three picking processes from one storage system
Three picking processes are carried out at the Pick-it-Easy work stations:
Picking of small parts into roll containers for production
Picking for replenishing kanban racks
Spare parts picking
After the picking process, the roll containers and the kanban racks are provided at the assembly line in a timely manner.
Highlights
"
"
For Terberg, opting for an automated solution was a major step. It was especially important for us to work with a supplier who has successfully implemented their systems around the globe and who also offers local support and servicing.
Flexibility
The key to demand-driven production
Flexibility along the entire assembly line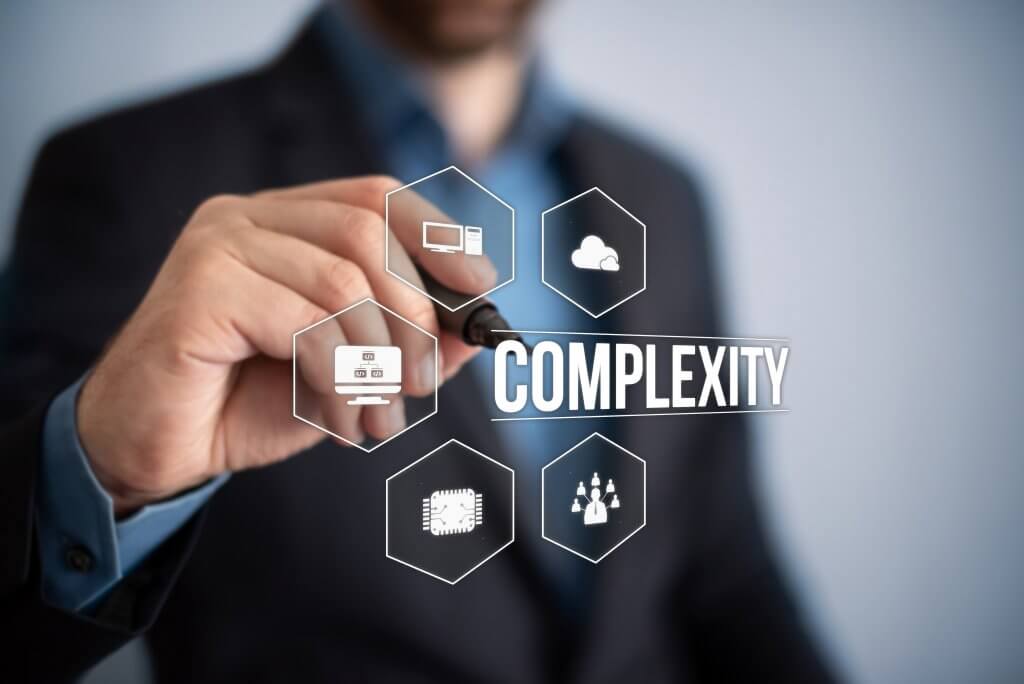 Mass customization and an increasing number of variants require demand-driven manufacturing logistics.
Another topic influencing manufacturing logistics is the increasing orientation towards customer demands. Customer's desire for individualization results in a large number of variants to which production must respond flexibly. For handling small lot sizes, classic assembly line production is no longer an option. But how can you manage this complexity and respond to limited plannability?
To overcome these challenges, you need systems that can handle different load carriers. It is essential that they are flexible and adaptable, and are controlled by an intelligent software according to the demand. We have the solution in our OSR Shuttle™ Evo+, a combination of a high-performance storage system and flexible transport system that optimally fulfills the efficiency requirements of  manufacturing logistics.
The prerequisite for flexibility is a dynamic manufacturing environment
The new trend points away from the assembly line concept towards manufacturing in production cells. They make managing and adapting to new demands much easier. The transport system must ensure the material flow within a production cell in a flexible, scalable and space-effective way and connect the individual cells with each other. We offer such a flexible transport system with our autonomous mobile robots, the Open Shuttles. Open Shuttles transport different types of load carriers and are easily integrated into the existing infrastructure. They are handy systems, allowing processes, layouts and work stations to be changed quickly and easily.
"
"
Autonomous mobile robots such as the Open Shuttles monitor their environment and make decisions based on the recorded and detected conditions. Integrating these robots is very easy with room for flexible modifications. The fact that there is increased communication between the vehicles helps optimize the available transport capacities.
Digmesa: flexible production supply with Open Shuttles
The Digmesa company manufactures flow meters for fluids in Ipsach, Switzerland. With the boom in coffee machines in the past years, the demand for these measuring devices practically exploded. To keep up with the demand, the two affiliate companies were merged at one location to optimize the production of injection molding parts. An Open Shuttle serves as the link between the two affiliates, transporting empty containers to the injection molding machines and the finished pieces back to the warehouse. The Open Shuttle also brings the parts to the quality check station. Find out more about the solution at Digmesa in this  interview with the Managing Directors.
million
produced items per year
channels
in the flow rack
weeks
implementation time
meters (99 feet)
of paths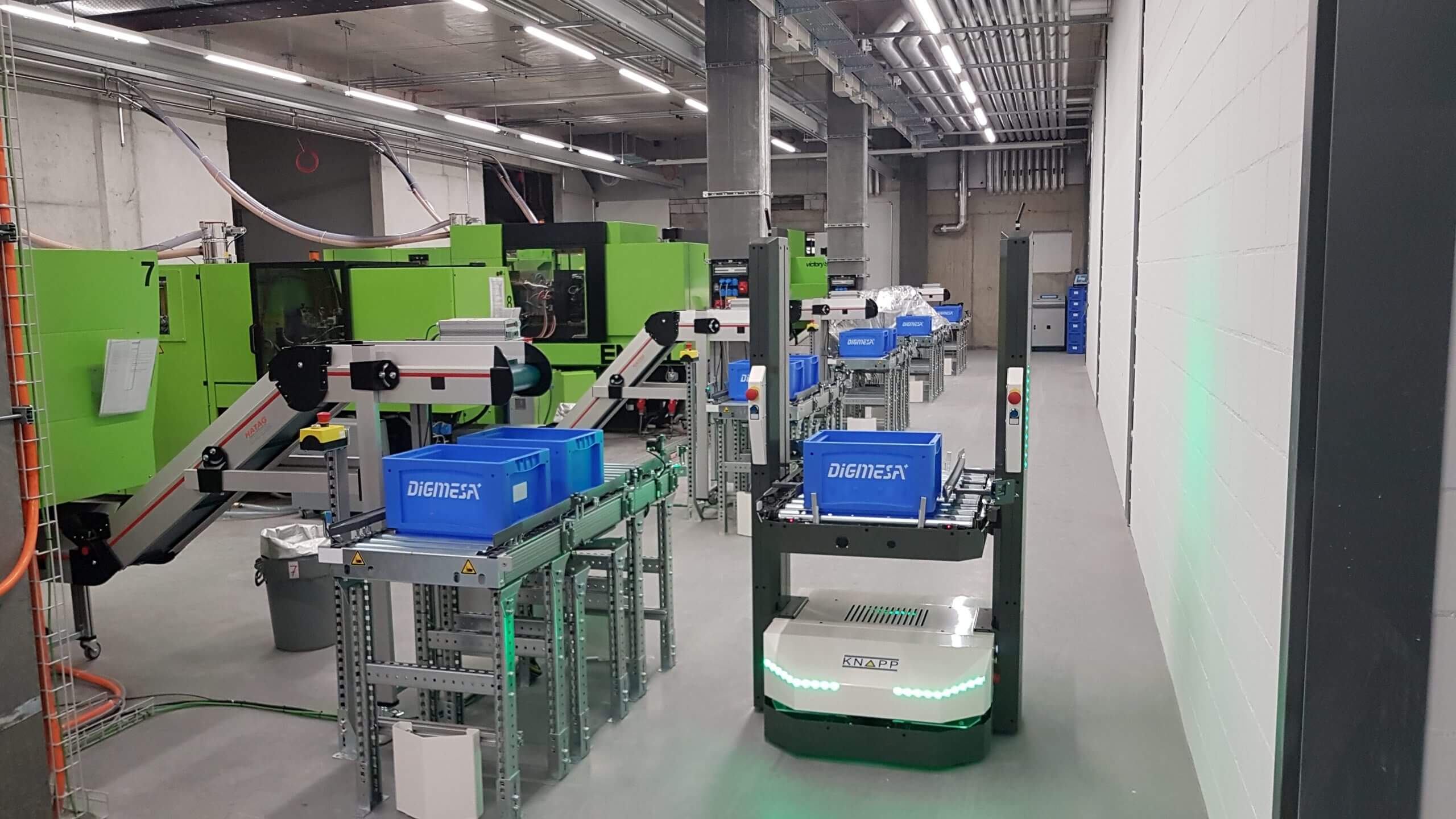 "
"
The flexibility we gain by using this system is incredibly valuable. We didn't have to install anything in production for the Open Shuttle. All it needs is the general travel paths and nothing else.
Zero defect and full transparency requirements in manufacturing logistics
What role does quality play in production?
Errors or inaccuracies in production have long-term consequences, such as production stop, costly modification tasks and product recalls. All of this takes resources and money. The consequences are especially serious when defective products put people at risk. Often, quality deficiencies cannot be detected with the naked eye and are only noticed in quality checks down the line. However, it is usually too late to intervene in the production process at this point. Our innovative technology checks quality as early as during the production process, thereby ensuring error-free production.
Real-time feedback ensures error-free assembly
The ivii.smartdesk work station includes integrated image recognition and processing technology , which checks the process of assembling components step by step. The system provides real-time feedback on whether the parts were assembled correctly. Infrared cameras detect details that the human eye cannot see. Only when the work step has been fulfilled correctly will the system allow the employee to proceed.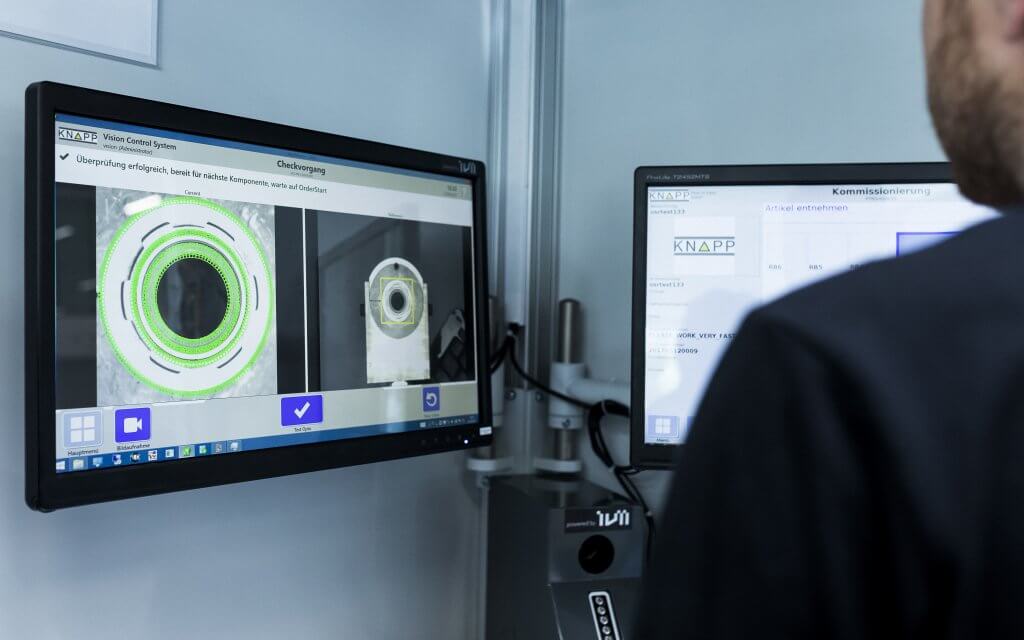 "
"
Thanks to the ivii.smartdesk, I could reach my goals as a supplier/logistician in the automotive sector. The error rate dropped to almost zero, we hardly have any returns and are able to make  deliveries in a timely manner. On a management level, we can now make ideal decisions based on evaluations and statistics.  Using the ivii.smartdesk also significantly increased the quality which resulted in acquiring additional customer orders. 
Next-level quality check
The demands on quality are especially high in the automotive sector.  At the intelligent ivii.smartdesk  work station, quality is assured using innovative image processing technology. It helps the employees to check the parts, taking actual images of the part  for the employees to compare with images of the correct assembly. Thanks to real-time feedback, quality deficiencies are immediately identified and employees are given optimal support while working.
Smart manufacturing logistics allow full traceability and transparency
The Pick-it-Easy work stations are modular and can be adapted to the individual requirements as needed. The work stations are equipped with LED displays and touch screens including the intuitive easyUse interface and have an ergonomic and space-saving design to allow efficient order processing. Add-ons for quality assurance and traceability round out this special picking station.
Here's an example of how these work stations ensure quality and traceability:
Components or packaging might have barcodes, RFID transponders, or even Data Matrix codes. Each work step is designed to ensure the highest level of quality by checking the components several times:
1) The RFID transponders are scanned to automatically record and display container and item master data. New data is also saved on the transponders through RFID gates.
2) Using image processing technology, Data Matrix codes are immediately read and a precisely aligned beamer projects a light cone on the items that must be picked. This also helps employees find and pick the right lot or item with the earliest date of minimum durability.
3) The items are scanned again as they are being picked.
This process ensures in a number of ways that the parts are checked before they are picked and before they are used for assembly. This results in a 100 percent check process regarding traceability and transparency.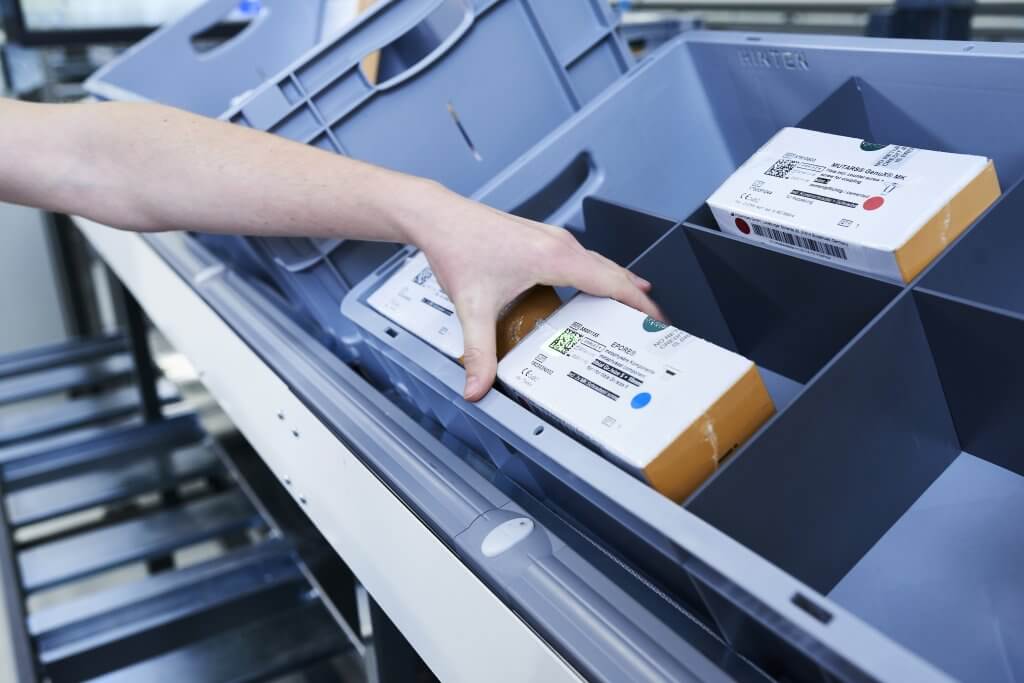 Pankl's manufacturing logistics: a prime example of smart production
Pankl Racing AG produces drivetrains for motorcycles and the world of racing. Pankl opted for an integrated solution from the KNAPP group that unites automatic and manual tasks in a smart assembly process. An automated small parts warehouse with shuttles that can move in all directions supplies the assembly work stations following the goods-to-person principle. The latest in image recognition and processing technology verifies each work step and guarantees error-free drivetrain assembly as well as complete traceability. This makes it possible for Pankl to achieve their goal of implementing a zero-error strategy and customized traceability across the entire manufacturing process.
"
"
Pankl has achieved a new level in production when it comes to the fundamental interconnection of all manufacturing processes, data on quality, operating data and assembly data – from the blank to the finished part. We achieve a high level of transparency and traceability and, therefore, high efficiency in processing. We have certainly created a best-practice application for integrating production in a network.
Software
paves the way for smart manufacturing logistics
Have we sparked your interest?
We look forward to hearing from you.