Open Shuttle: An Autonomous Mobile Robot Bringing Flexibility to Your Warehouse
Over the years, many different names have been coined for flexible transport systems on the market, from automated guided vehicle system (AGVS), automated guided vehicle (AGV) to autonomous mobile robot (AMR). KNAPP's Open Shuttles are autonomous and intelligent transport robots that help bring flexibility to the design of logistical processes. Find out more about our flexible solution for internal transport.
Autonomous mobile robots as intelligent automation solutions
Logistics is our passion and your logistical challenges and goals are what we work on every day. We offer intelligent and tailored automation solutions as well as software for the entire value chain. Logistics link different areas of a company, ensuring that goods, raw materials, semi-finished and finished products are available in the right way, in the right place and at the right time. This is guaranteed by internal transport. Since the requirements never stay the same, a flexible and adaptable transport system is required to respond to these dynamics. Here is where our Open Shuttles come into play. The VDA 5050-compatible Open Shuttles allow simple and rapid response to increasing requirements in flexibility, adaptability and scalability in a warehouse. They can be used for various applications, combining flexibility, configurability, intelligence and economic efficiency within a logistics system.
Get to know our AMRs, the Open Shuttles, in this video!
Contact
KNAPP Industry Solutions GmbH
Gewerbeparkstraße 17
8143 Dobl-Zwaring, Austria
Tel.: +43 504954 0
E-mail: kin.sales@knapp.com
Overview
Logistical Challenges
require flexibility, intelligence and configurability
Logistical challenges that Open Shuttles overcome
"
"
Change is the only constant.
The world is constantly changing.
Every day, we have to respond to new demands. The challenges for logistics are also growing – existing systems need adapting, and quickly.
Autonomous mobile robots are the perfect solution for the following logistical challenges:
Rapidly changing processes and fluctuations in material flow
Integration in existing systems
Three good reasons to opt for our Open Shuttles as your AMR for transport

Intelligent
Smart path planning and intelligent management of orders and transport resources
Open Shuttles independently manage transport resources and orders using a fleet management system. The intelligent fleet control system, KiSoft FCS, distributes transport tasks evenly to the autonomous mobile robots and optimizes the transport routes. Since transport is autonomously handled, employees can focus on value creation.

Configurable
Simple control of the layout, processes and fleet
Changes to the layout, new processes and work stations are rapidly and easily simulated and adapted by the fleet control system. Adapting the system and the travel paths is incredibly easy. Integrating the Open Shuttles into existing systems is fast and straightforward, since they support a number of interfaces such as VDA 5050.

Flexible
An adaptive transport solution to connect all locations in the warehouse without needing to make changes to the system
The Open Shuttles easily link places, processes, goods and raw materials. Wherever the work station, be it at goods-in, in picking or in quality control, the Open Shuttles bring the materials to the right place. Open Shuttles carry out all sorts of transport tasks. They are also ideal for seasonal peaks – you can simply add more robots for that period of time.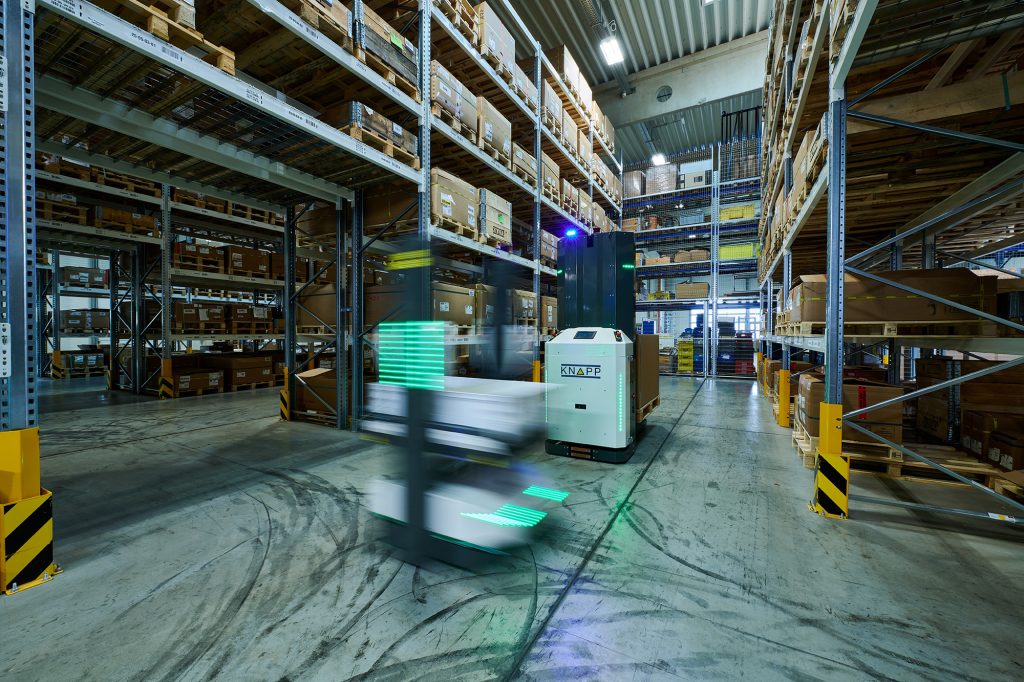 The Open Shuttles have a 3D obstacle detection system. This means that when a new order is given to the Open Shuttle, it just gets going. If an obstacle appears in its way, it is detected by the integrated 3D camera.
Our Range of Autonomous Mobile Robots
The Open Shuttles and their applications.
Flexible AMR for various applications
Work station supply with AMRs
AMRs are a flexible alternative to conventional container conveyor systems. The Open Shuttles link all warehouse areas, for example, by transporting goods, raw materials, semi-finished and finished products from the goods-in area to a central storage location and then on to decentralized work stations. Our AMRs supply a range of different work stations:
Picking work stations
Production and assembly stations
Packing and repacking stations
Work stations for returns processing
Value-added services stations
Quality check and quality assurance stations
The Open Shuttles can bring materials to and from buffer areas, temporary storage areas and flow racks – all by themselves.
They can transport many different kinds of load carriers, such as:
Containers (up to 800 mm x 600 mm, max. 100 kg) (31.5 in x 23.62 in, max. 220.46 lb.)
Cartons (up to 800 mm x 600 mm, max. 100 kg) (31.5 in x 23.62 in, max. 220.46 lb.)
Trays and tray stacks (up to 800 mm x 600 mm, max. 100 kg) (31.5 in x 23.62 in, max. 220.46 lb.)
Pallets up to 1,200 mm x 1,000 mm, max. 1,300 kg (48″ x 40″, max. 2,900 lb)
Special load carriers
The Open Shuttles for container transport are the right robots for moving load carriers around the warehouse. Depending on the model, the Open Shuttle can carry one to two load carriers of up to 100 kg (220.46 lb.). The robot can unload containers from both sides, allowing free access to any of the containers it carries. Our AMRs also come with the option of an integrated lifter for heights of up to 1,500 mm (59.06 in). Equipped with a lifter, the Open Shuttle can automatically fill shooter racks, flow racks and roller conveyors that supply work stations.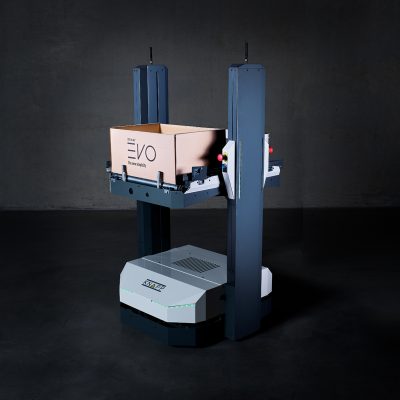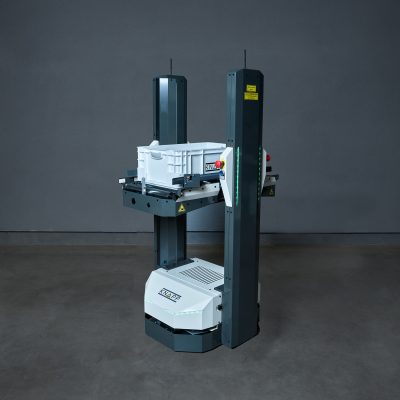 Automated guided vehicle for automate pallet transport
Using a pallet conveyor system is often difficult because there just isn't enough space. The Open Shuttle Fork features omnidirectional movement and can now transport pallets and other load units flexibly and efficiently. The special kinematics of the AGV enables it to move around in tight spaces. The integrated lifting mechanism lifts load carriers from the floor and can even transfer them to a conveyor system.
The Open Shuttle Fork can handle the following load carriers:
Pallets up to 1200 mm x 1,000 mm, max. 1300 kg
(48″ x 40″, max. 2,900 lb)
Small portable racks such as kanban racks
Special load carriers
Link to automatic storage systems
The Open Shuttles are quite handy to use in combination with other systems. They transfer loads to kanban or flow racks, to conveyors, or they act as a direct link to automated storage systems, such as the OSR Shuttle™ Evo or the INDU-Store.
OSR Shuttle™ Evo+
OSR Shuttle™ Evo+ is a flexible system solution encompassing a central storage system and a fleet of autonomous mobile robots. Goods, raw materials, overstock, buffered orders – everything is stored centrally in the OSR Shuttle™ Evo+. The Open Shuttles supply different warehouse areas directly from the storage system just-in-time.
Would you like to know more about the benefits of the OSR Shuttle™ Evo+? Click here for more details.
INDU-Store
The INDU-Store is a space-effective automated storage system. The system stores small and micro parts in various small load carriers. This includes individual parts, assemblies and semi-finished products for temporary storage as well as storing finished products. Our autonomous mobile robots supply the work stations with small parts from the INDU-Store.
Would you like to know more about the benefits of the INDU-Store? Click on the button to find out more.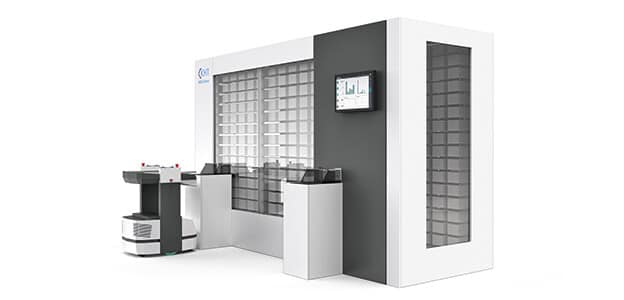 Our automated guided vehicle for the supply of production lines
We offer various solutions for supplying production lines. For example, our Open Shuttles for container transport supply productions lines just-in-time with raw materials, semi-finished products or empty containers and transport finished products to shipping or buffer areas. In addition to our model for container transport, we also have a model suitable for carrying heavier loads – the Open Shuttle Fork. The autonomous mobile robots can transport pallets, portable racks and special load carriers.
Here is an overview of the range of load carriers our robots can transport:
Containers up to 800 mm x 600 mm, max. 100 kg
(31″ x 24″, max. 220 lb)
Pallets up to 1,200 mm x 1,000 mm, max. 1,300 kg
(48″ x 40″, max. 2,900 lb)
Small portable racks such as kanban racks
Special load carriers such as containers into which components from the small parts and pallet storage systems are consolidated
Open Shuttles for efficient sorting into flow racks
With our micro fulfillment center, the E-Grocer MFC, we offer a highly flexible and scalable automation solution for online food retail. The solution comprises an OSR Shuttle™ Evo as the storage and picking system as well as Pick-it-Easy work stations and Open Shuttles for order sorting.
In the E-Grocer MFC, the Open Shuttles load up the picked orders right from the conveyor system connected to the work stations. The autonomous mobile robots transport the containers to the multi-level flow racks in the shipping area. Here they are sorted to the right flow rack for the order. The lifter on the Open Shuttle raises or lowers the load-handling device to the right height (from 550 mm to 1,500 mm) (from 21.65 in to 59.06 in) en route.
The Open Shuttles sort the containers in a smart way according to a range of criteria, for example by target location to optimize transport routes or by order type – they know the difference between a pick-up order and an express delivery. In addition, our Open Shuttles combine the transport of deep-freeze and cold-storage goods, thereby maintaining the cold chain during transport.
Autonomous mobile robots for the electronics sector
Open Shuttles with special load-handling devices for magazine transport
Autonomous mobile robots flexibly handle the range of different transport processes in the electronics sector. This includes transporting load carriers such as circuit board magazines, reels, containers and tray stacks to production lines and assembly systems. The Open Shuttles for the electronics sector are equipped with a special load-handling device. We designed them with integrated width adjustment, allowing the robots not only to transport magazines and containers of different widths, but also to center them as required. Thanks to the width-adjustable clamping function, the magazines are secured in place during transport, preventing them from tipping. On the way to the next order, the load-handling device automatically adjusts its width to the new load carrier.
The integrated width adjustment therefore makes the Open Shuttle the perfect solution for the electronics sector. It transports load carriers of up to 50 kg (110.23 lb.) and can unload them on either side.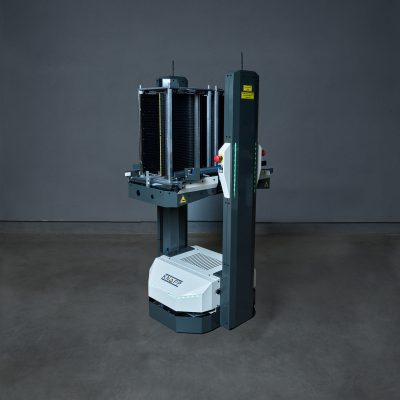 Open Shuttle exclusively for the ASM Material Tower
Together with ASM Assembly Systems, KNAPP has developed a special transport robot for the ASM Material Tower storage system.
For more information, please visit:
Special and express transport jobs are easy for the flexible Open Shuttle
Thanks to the autonomous mobile robots' flexibility, they are perfectly suited for special and express transport orders. The Open Shuttles can be integrated into processes quickly and flexibly, regardless of how urgent or special the job. They quickly transport goods from A to B, including to check stations.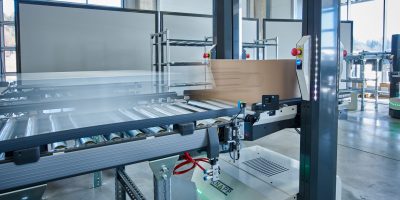 AGV and storage all in one: the Open Shuttle Store
With the Open Shuttle Store, we have brought two worlds together. This is all about having a scalable, flexible storage solution comprised of Store Units and autonomous warehouse vehicles, the Store Bots.
Would you like to create an automated warehouse quickly and easily, simulate your solution and integrate it rapidly? With the Open Shuttle Store, it's no problem.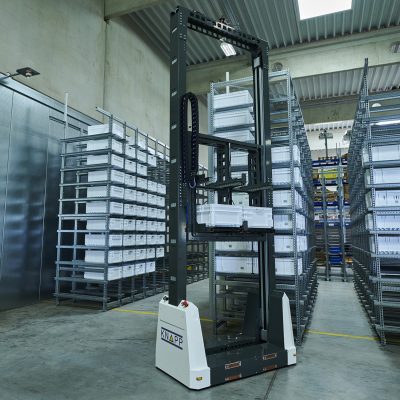 Full of High Tech
Intelligent software, innovative add-ons and easy integration.
How do KNAPP's autonomous mobile robots work?
Automated guided vehicles, including KNAPP's AMRs, use different technologies to navigate. Some vehicles navigate with the help of physical lines on the floor, some with the help of reflectors and others by following a virtual line. But how do the Open Shuttles navigate?
Intelligent software and sensors for navigation
The Open Shuttles navigate freely with the help of an intelligent fleet management software, KiSoft FCS, and sensors. Our robots don't require artificial landmarks or aids, making it quite simple to integrate the solution since the infrastructure doesn't need to be changed. The robots sense their surroundings while moving using their integrated laser scanners and can therefore respond quickly and flexibly when encountering obstacles. The Open Shuttles detect natural contours, allowing them to move around obstacles and find alternative routes.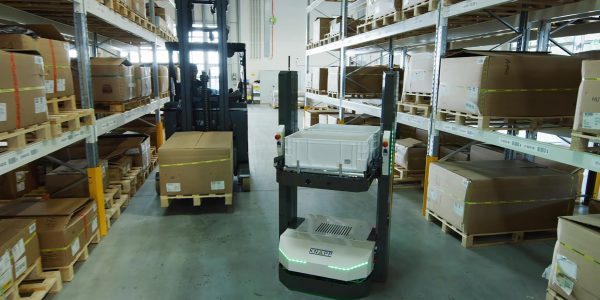 Innovative add-ons to take the flexibility of your Open Shuttle another step further
Your autonomous mobile robot can be flexibly tailored to your needs using our innovative add-ons.
Equipped with an integrated lifter, the Open Shuttles retrieve and deliver their loads at different heights (from 550 mm to 1,500 mm/from 21.65 in to 59.06 in or at the Open Shuttle Fork from 0 mm to 1,200 mm/from 0 in to 48″) . This provides even more flexibility when designing your processes.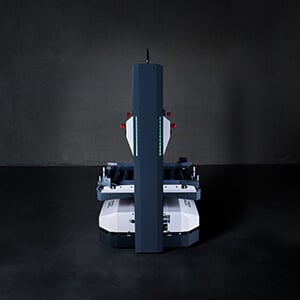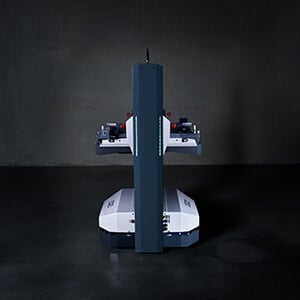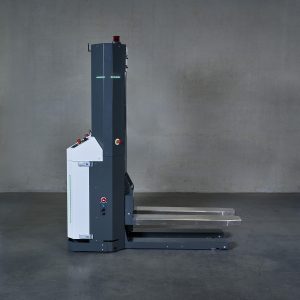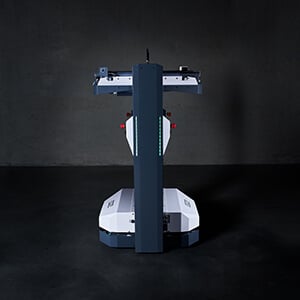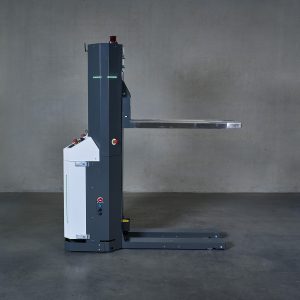 The load-handling device can also be equipped with width adjustment, allowing the device to adapt its width to that of the load carrier being transported. Equipped with integrated lifter and width adjustment, the Open Shuttle flexibly adapts to both the height and the width of its load.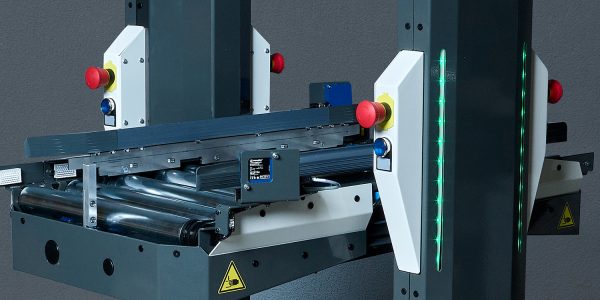 Additional indicator lights and sensors increase the Open Shuttles' visibility in areas with frequent traffic. The autonomous mobile robots can be equipped as required by company policy and safety standards.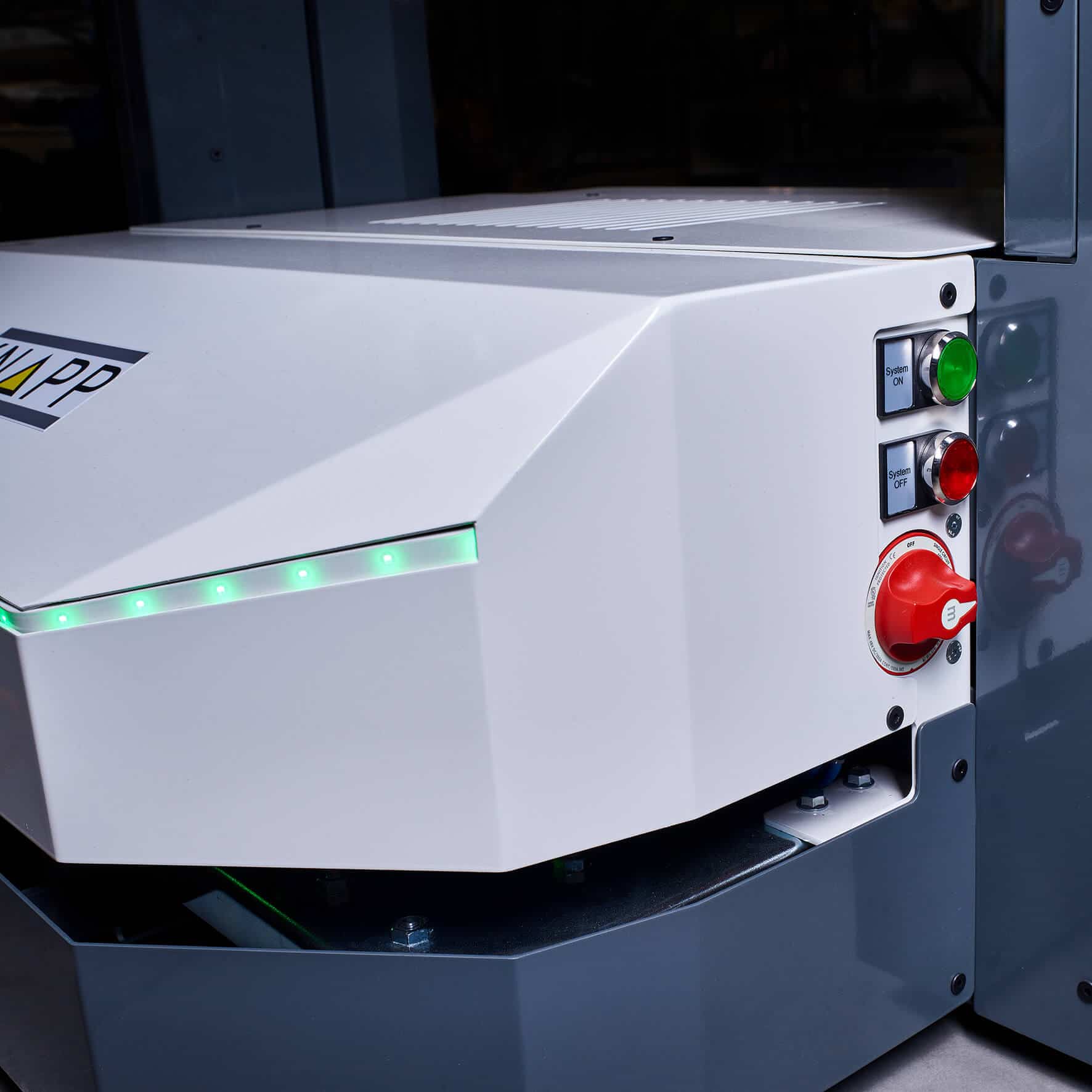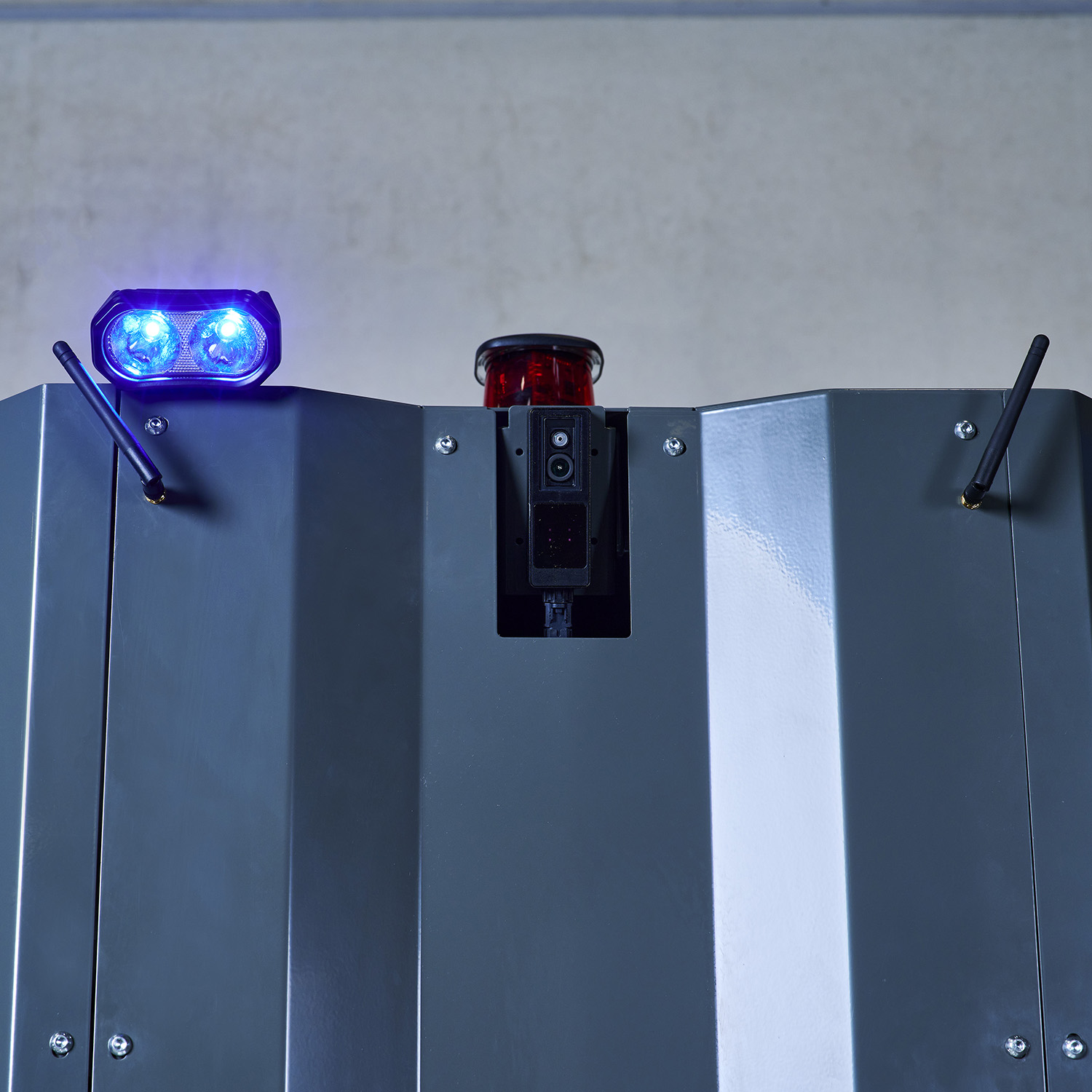 Integration made easy
Integrating and installing our autonomous mobile robots is simple and can be done during ongoing operation. Depending on your requirements, the fleet management system can be integrated into and connected to your ERP system, WMS or WCS. The fleet management system is in charge of the traffic rules and assigns incoming orders to the Open Shuttles.
Install the Open Shuttles in a few simple steps:
Install the server
Switch on the Open Shuttle and connect
Define the layout
Define the processes
Activate the system and other shuttles
Observe and adjust where necessary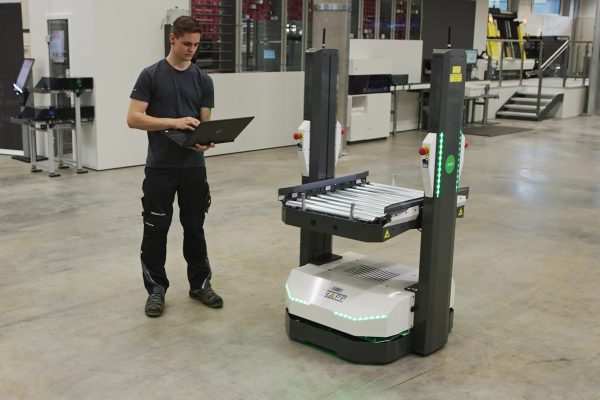 Customized AMR fleet
You decide what your Open Shuttle fleet will look like. You can have two robots, or 30 – the size of the fleet can be adapted to the current situation and changed any time. Our range of AMR models with different load-handling devices can also be combined to form a versatile fleet.
Thanks to their VDA 5050 interface, you can link our Open Shuttles and transport robots from other providers. The fleet management system, KiSoft FCS, allows you to depict, control and coordinate various vehicles in one and the same software. KiSoft FCS manages all the transport orders, all the manual and automated warehouse vehicles and can function as a central coordinated software instance.
Your Plus in Flexibility
Rent our Open Shuttles to respond to varying demand.
Test or rent our Open Shuttles
You have varying need for internal transport or you aren't sure if an autonomous mobile robot is the right solution for you? Don't worry, try out our Open Shuttles in a demo setup or simply rent one.
Flexible renting instead of buying
Your need for internal transport isn't always the same? Take advantage of our renting model and call in our Open Shuttles to help you handle seasonal peak periods. Your new backup robots are easily integrated into your fleet within minutes and are ready for operation right away.
Open Shuttle demonstration on-site
You aren't sure if an autonomous mobile robot is the right solution for your warehouse? We can set up a demonstration, right in your warehouse. We'd be happy to make you an offer for a demo, based on your use case and the demo duration.
Open Shuttles in Action
One technology, many possibilities.
An overview of our Open Shuttle installations
AMRs used as an innovative link to automatic small-parts warehouse at Würth Industrie Service
The many joint projects successfully completed in Bad Mergentheim reflect KNAPP and Würth's long-standing partnership. Besides KNAPP's OSR Shuttle™, Pick-it-Easy work stations, picking robots, palletizing and depalletizing systems for shipment, Würth Industrie Service also uses our autonomous mobile robots.
Three Open Shuttles handle transport tasks in the goods-in area. The autonomous mobile robots convey trays with products from the goods-in area to the infeed point of the conveyor system, from which the trays are conveyed into storage into the OSR Shuttle™. This provides great relief to the employees working in the goods-in area, because they no longer need to manually transfer the containers to the conveyor system. Since the goods-in area at Würth Industrie Service needs to stay free for fork lift traffic, using our Open Shuttles as an optimal alternative to static conveyor systems made all the sense in the world.
Key project data
Würth Industrie Service GmbH & Co. KG: World-leading retailer of mounting and fastening materials
Site: Bad Mergentheim, Germany
Application: Goods transport from the goods-in area to storage in a central storage system
The challenge: Busy traffic in the goods-in area
Solution: 3 Open Shuttles ease the workload for employees by linking the goods-in area with the shuttle warehouse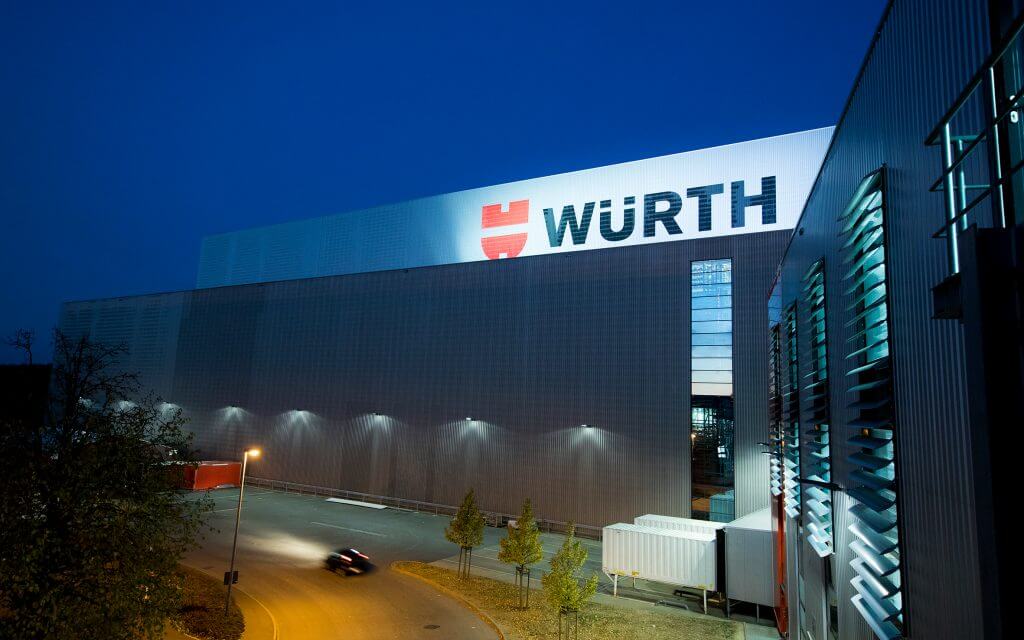 Würth Industrie Service GmbH & Co. KG
Bad Mergentheim, Germany
Würth Industry Service GmbH & Co. KG in Bad Mergentheim is a separate company within the Würth Group. Würth in Bad Mergentheim supplies the industrial sector, offering their customers modular logistics and procurement solutions for joining and fastening elements.
"
"
Cutting-edge technology is improving our quality and productivity.
Open Shuttles supply empty containers to production systems at Digmesa Polyform AG
When the locations of the subsidiaries Digmesa Polyform and Digmesa AG were combined, the production processes had to be restructured and production moved to a new hall. As part of this relocation project, they wanted to automate the transport processes supplying the assembly machines. An Open Shuttle system was installed and implemented within just four months. The autonomous mobile robot now brings empty containers to the injection molding machines and transports the finished pieces to a flow rack, which serves as a buffer area. The robot automatically transfers the full container to the flow rack according to the first-in first-out principle. The containers are equipped with an RFID tag, ensuring continuous traceability of the goods.
Alongside the installation of the Open Shuttle, a process for quality assurance was set up: The robot transports every tenth container to the check station.
Key project data
Digmesa Polyform AG: Manufacturer of flow measurement devices for fluids
Site: Ipsach, Switzerland
Application: Brings empty containers to the production machines; transports finished pieces away
The challenge: A tight implementation schedule
Solution: 1 Open Shuttle to supply 6 assembly systems with empty containers and to transport finished parts, which are automatically transferred to the flow rack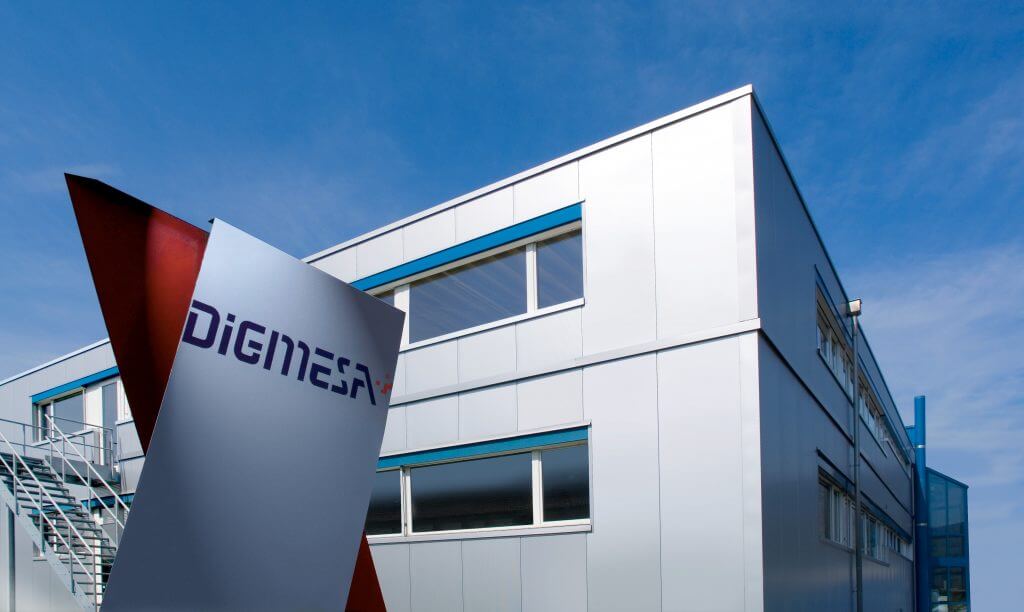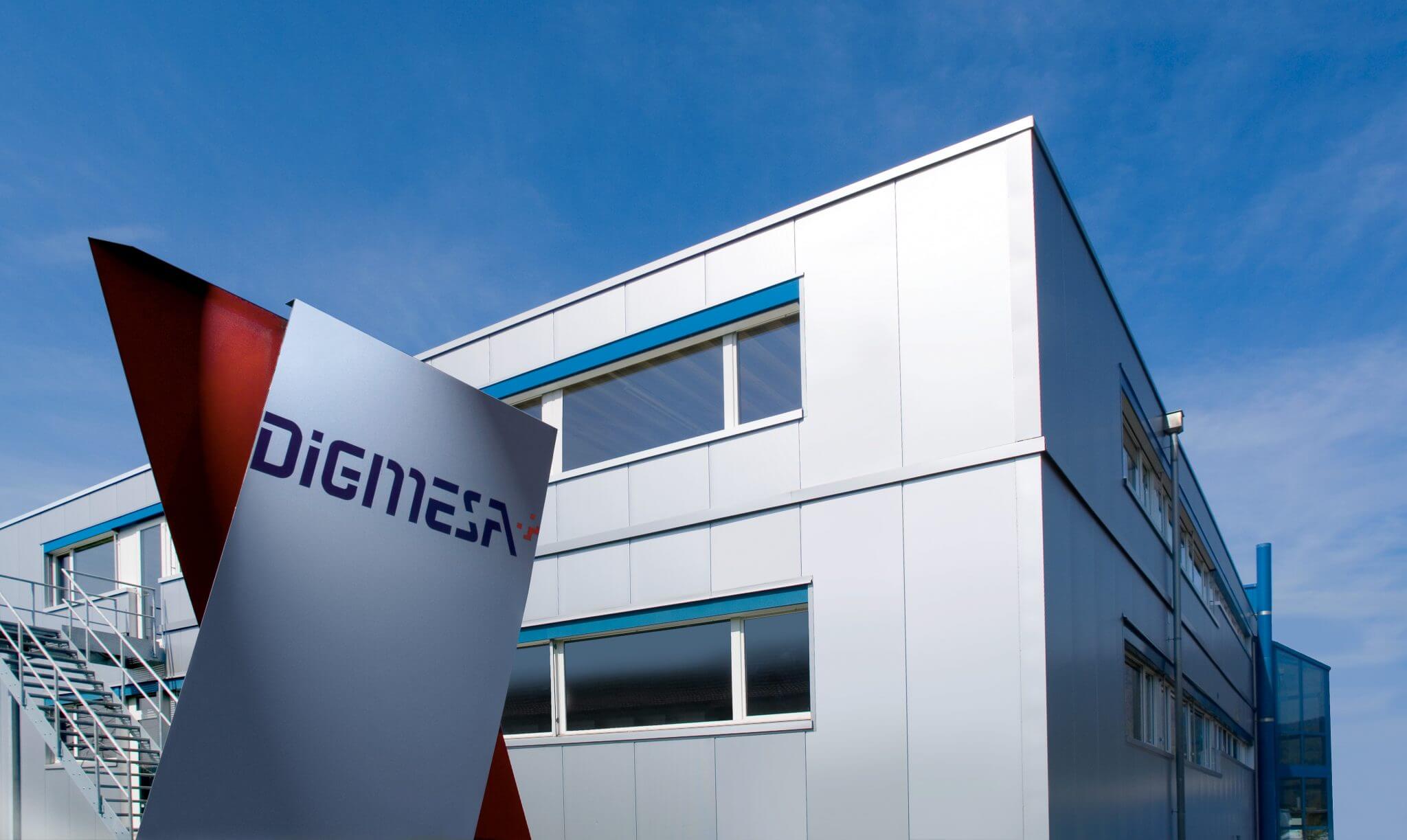 Digmesa AG
Ipsach, Switzerland
Swiss company Digmesa Polyform AG develops, manufactures and distributes flow measurement devices. Digmesa offers a wide range of mechanical flow sensors as well as innovative, contactless ultrasonic sensors.
"
"
The flexibility that we gain by using this system is incredibly valuable. We didn't have to install anything for the Open Shuttle in production. It just needs the general travel paths and nothing else.