New: Pick-it-Easy Evo
Ready for the new work experience?
Find out about our new goods-to-person work station for logistics and production in this video.
Overcome the new challenges in logistics
The changing logistics sector
The logistics sector is changing. A constant influx of new challenges to the supply chain and new consumer challenges call for new logistics solutions and re-designing processes. You may well already be dealing with some of the following trends in the logistics sector:
Merging production and distribution
Low plannability for business developments
High demands for performance and quality; same-and-next-day delivery
High demands for service and comfort such as omni-channel fulfilment click & collect
Shortage of space to store a growing article range efficiently
Resource management, for example, for returns handling
Customized goods and services as well as value-added services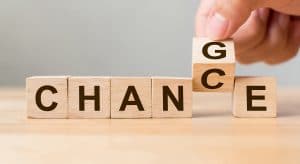 Find new solutions for the supply chain 
We see it as our mission to provide the right solutions and technologies for these demands to guarantee your success. This is why we have never stopped enhancing our tried and tested shuttle technology. It is with great pride that we now introduce our new generation of automatic storage systems: OSR Shuttle™ Evo. With the OSR Shuttle™ Evo, we aimed at setting new benchmarks for efficiently organizing logistics processes. More information sales@knapp.com Watch this video to see how the OSR Shuttle™ Evo works and the advantages it offers.
What is the OSR Shuttle™ Evo?
More than just an automatic storage system
The OSR Shuttle™ Evo is an automatic small parts warehouse designed for use as both a storage and picking system. Consequently, the OSR Shuttle™ Evo is at the heart of numerous logistics applications, facilitating efficient and space-effective storage, picking, buffering and sequencing of goods, orders and raw materials as well as supplying work and assembly stations. The OSR Shuttle™ Evo is made up of modular blocks comprising:
Scalable racks
Shuttles
Lifts
Safety fence and access monitoring system
Depending on the design: Pre-zone
Tailor-made software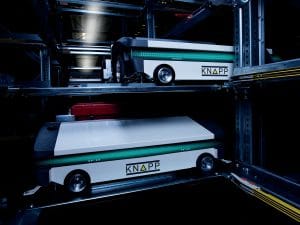 The OSR Shuttle™ Evo is also fully integrated into the entire logistics solution. Learn more about how a shuttle system like the OSR Shuttle™ Evo works.
What advantages does the OSR Shuttle™ Evo offer?
A strong team – success with a complete logistics solution
The OSR Shuttle™ Evo is only as good as its integration in the overall solution. It can only achieve its optimal performance level and unfold its economic added value if the system works in complete harmony with the overall logistical solution. Below we will show you some of the perfect matches for the OSR Shuttle™ Evo from the KNAPP system world.
References
We are pioneers in shuttle technology and have put more than 250 shuttle systems into operation around the globe over the last 15 years. Nonetheless, it's still exciting to launch a new technology like the OSR Shuttle™ Evo into live operation. Here are some of the companies who already rely on our new shuttle technology. Our customers tell us about their requirements, experience and what made them choose the OSR Shuttle™ Evo.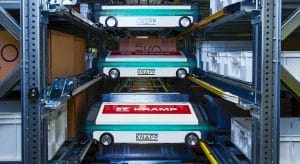 KRAMP Groep optimizes customer service
The international Kramp Groep corporation with headquarters in Varsseveld, the Netherlands, was founded in 1951 as a one-man operation. Today, Kramp is Europe's largest specialist in spare parts and accessories for the agricultural industry and delivers to 26 countries. The company continues to be on a strong course for growth. In keeping with their slogan "It's that easy", smooth logistics and great customer service are the cornerstones of the success of Kramp. For several years, Kramp has been relying on the intelligent automation solutions by KNAPP for its logistics in Denmark. In order to support further growth and to further optimize the service for its customers, Kramp selected a new automation solution that utilizes the brand-new OSR Shuttle™ Evo for the distribution centre at the company headquarters in Varsseveld. Key project data
Kramp: Specialist for agricultural technical supplies
Headquarters: Varsseveld, Netherlands
Distribution network: Deliveries in 26 European countries
Mission: It's that easy. Make is easy for our customers to run their business.
Challenge: Greater demand for storage capacity; more than 500,000 articles available high order numbers; fast delivery times
Solution: OSR Shuttle™ Evo for fast, medium and slow moving articles as well as overstock. One-touch picking using the goods-to-person principle at 8 Pick-it-Easy work stations. KiSoft software solution. Step-by-step expansion – 9,600 order lines per hour by project completion.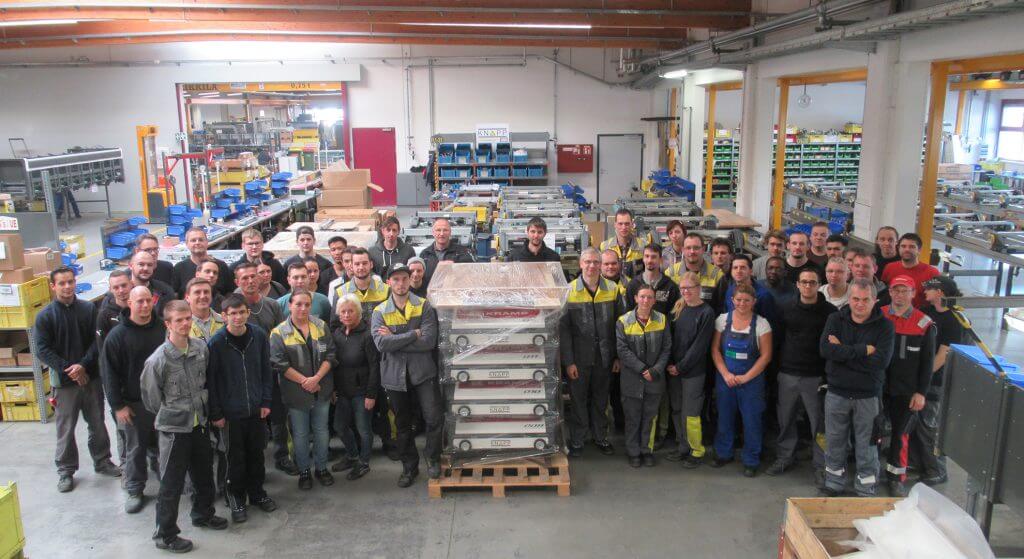 Press release: Agricultural technology expert Kramp signs contract Storage capacity and increasing orders with very short delivery time are among the challenges that Kramp is facing currently. Jan Frans Berends, Logistics Director at Kramp Netherlands explains why Kramp decided on the OSR Shuttle™ Evo and what advantages he expects from the new solution. Watch the video:
Schukat electronic automates with a new shuttle system
The German electronics specialist Schukat electronic relies on our new shuttle technology in their new logistics centre in Monheim am Rhein. Schukat electronic's business comprises low-volume daily business involving articles that need to be shipped as quickly as possible, as well as large-volume forward transactions that have to be delivered to customers on a specific date. The aim of the new logistics centre was to offer the customer even more and more customized services. In doing so, sufficient capacity was needed for the growing article range and for future business growth. It was the first automation project for Schukat electronic. Managing Director Georg Schukat and Thomas Reichmann, aide to the Managing Director tell us why the company decided to automate and how important an equal partnership is to the success of a project.   Why did you choose automation with the OSR Shuttle™ Evo? Mr. Reichmann: During the first planning phase, it was not yet clear whether automation in general was the right approach. This wish only arose from the project and from other issues related to it. There were also economic concerns: will this solution be profitable by 2030? We wanted a solution that offered us the flexibility we needed to expand. When we decided to automate, the question was – stacker crane or shuttle? At first, we thought the shuttle system would be too expensive, but then during discussions, we realized how to evaluate the economic end of things. Performance was another criterion in the decision. The OSR Shuttle™ Evo offers us the ability to scale up for when we need the performance. Mr. Schukat: It's quite a challenge for us at Schukat to plan for the next 15 years in advance. We simply just don't know what the business will look like in 15 years' time. This is why it was necessary to have a flexible overall solution, regardless of the system, which would enable us to continue our business in 15 years, whatever it looks like. This call for flexibility is what led us to choose the OSR Shuttle™ Evo.
At KNAPP, "innovation is our tradition". To what extent are the values innovation and tradition reflected in your company philosophy?
Mr. Schukat: Independence is especially important to me. We gladly work with external partners as equals, whether they are customers, suppliers or institutions. Traditions can only be maintained if a company has a certain level of financial or structural independence. For this reason, we cultivate long-standing relationships with our customers and suppliers and utilize products as sustainably as possible. In all of this, we want to be innovative, to dare to attempt things and to tread on new paths. This does not mean, however, that we blindly follow every trend. This is not innovation and contradicts tradition. We want to be a partner for our customers, employees and suppliers, where innovation makes working together easier and better. Long-term success will only be achieved if things are improved within a partnership over the long run.
Which advantages do you expect from the new system?
Statistics have shown that our pickers walk an average of 8–10 kilometres per shift. For us to develop further without automation, we would have to ask our employees to walk 15–20 kilometres, which is simply impossible. We also need more capacity and are aiming to triple it. For this we need to create more space. The OSR Shuttle™ Evo must be flexible enough to continually adapt to changing demands.   Read the whole interview in the 3/2017 issue of our World of Solutions magazine.
I'm proud that I still enjoy striking out in new directions. Working with KNAPP is particularly interesting because there are so many possibilities. They also recognize that their customers have ideas and needs too, and that we can build upon these to move head into the future.
Evo stories – behind the scenes of our new storage system
Our innovations are the brainchildren of many different people and it was no different with our new shuttle system, the OSR Shuttle™ Evo. Here you get the chance to hear from some of our colleagues from diverse divisions. They tell us about the challenges they face and their personal highlights from the OSR Shuttle™ Evo project.
Combining design and function
One of the exiting challenges in developing a new product is to allow function and design to flow harmoniously into one another. Marc Pendl is one of our design engineers and was involved in the mechanical development of our OSR Shuttle™ Evo starting with the first idea and continuing through to prototype construction and production. The development took about two years. Marc gives us an exclusive view backstage with our design team.
What were the challenges in the design of the new OSR Shuttle™ Evo?
Our goal was to get our corporate design to come alive in the product.  The challenge was bringing together both construction and design. As a design engineer, you want as much space as possible for the installation of the components. This looks rather boxy or chunky in design. Form generally follows function but our designer was unsatisfied with this shape. The challenge became finding a way to get as much volume as possible into an appealing shape.
How did function and design come together in the new shuttle?
Function and design can be found, for example, in the shuttle's 4 plastic corner elements. These assume various mechanical tasks such as bearing the wheels. With this corner element, the installation is easier and faster, and the shuttles can also be space-effectively and stably stacked for shipping. It is always important that design elements do not limit the flexibility of the product. For the OSR Shuttle™ Evo, this affects the middle section of the shuttle grill. The shuttle can be adapted in width for the requirements of the customer.  
Our new shuttle makes a lot of people think of a futurist car…
(laughs) We get that a lot. It's a funny coincidence that people make this association. Even so, our clear design goal was to create an optically pleasing shuttle and to make a mark on the shuttle market, we were really not thinking about cars. The illuminated bar that gives our shuttle a special look came about because it was functional – we wanted to integrate the status indicators harmoniously with the design.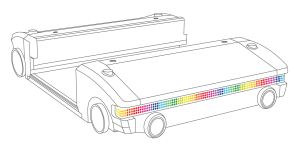 Premiere for OSR Shuttle™ Evo
On June 4, 2018, the day had arrived. The first OSR Shuttle™ Evo in the world went into operation at agricultural technology expert Kramp, in Varsseveld, the Netherlands.  Joy Naumann was on site as a startup engineer and was responsible for establishing the shuttle configuration, startup and testing on site. Here, he shares with us his take on the first ever startup of the OSR Shuttle™ Evo.
What is the challenge when starting operation with a new technology for the first time?
It's really just that, that fact that it's a new technology. You do pioneering work and don't know exactly what's coming your way for the startup. Working on the construction site in close cooperation with our development department and creating the test scenarios for the shuttles was particularly exciting. But I have to say, it's just this type of challenge that really motivates me. I always loved to tinker, and it's easy for me to get motivated about finding solutions and having everything function as expected.
Is there something in particular that you personally got out of the project?
Of course! I really got the chance to develop personally with this project. I used to always try to solve all the problems by myself. In this case, it wasn't possible, because we were starting up a completely new system. I had to constantly consult with various people in the company to get the information that I needed. What this taught me was that working as a team accomplishes more than working alone. I have really become more open and have gotten to know many colleagues that I didn't know before.
What was your most memorable moment on the construction site?
There were really a lot of great moments. Just seeing the shuttle live for the first time was absolutely fantastic. There were also moments to remember with the customer. When the customer saw his shuttles up and running for the first time, he was just beaming. This makes me feel proud and is also a highlight because I know – I did that.   Are you ready to change the world of logistics together with us? Are you interested in a new challenge in our installation and start-up team? Check out our vacancies worldwide.
Our design goal was to create an optically pleasing shuttle and to make a mark on the shuttle market. Everyone who sees our shuttle should recognize at first glance: That's a KNAPP shuttle.
When the customer saw his shuttles up and running for the first time, he was just beaming. This makes me feel proud and is also a highlight because I know – I did that.