Warehouse Shuttle System for efficient order fulfillment
The OSR Shuttle™ Evo is an automated storage and retrieval system (ASRS) for containers, cartons and trays holding up to 50 kg (110 lb). The warehouse shuttle system is the right choice for logistics applications demanding the highest performance in order fulfillment as well as maximum flexibility in processes. The OSR Shuttle™ Evo can be tailored to customers' performance targets and investment needs, making the system the ideal solution for automating online retail or omni-channel distribution.
OSR Shuttle™ Evo: The pinnacle of automated fulfillment
Are you processing high levels of orders every day? Does your business require the highest delivery quality and do your customers love your company because service is perfect?
Reach the pinnacle of order fulfillment with our automated warehouse shuttle system – the OSR Shuttle™ Evo. Our shuttle systems can provide you with the performance you need to thrill your customers. With the OSR Shuttle™ Evo, you profit from maximum flexibility and efficiency in order processing. This makes our shuttle system the ideal element in an automated logistics solution where high-performance is needed, such as in e-commerce, micro fulfillment and omnichannel distribution.
Experience our OSR Shuttle™ Evo >
Looking for the absolute powerhouse for your order fulfillment?
Introducing the OSR Shuttle™ Evo.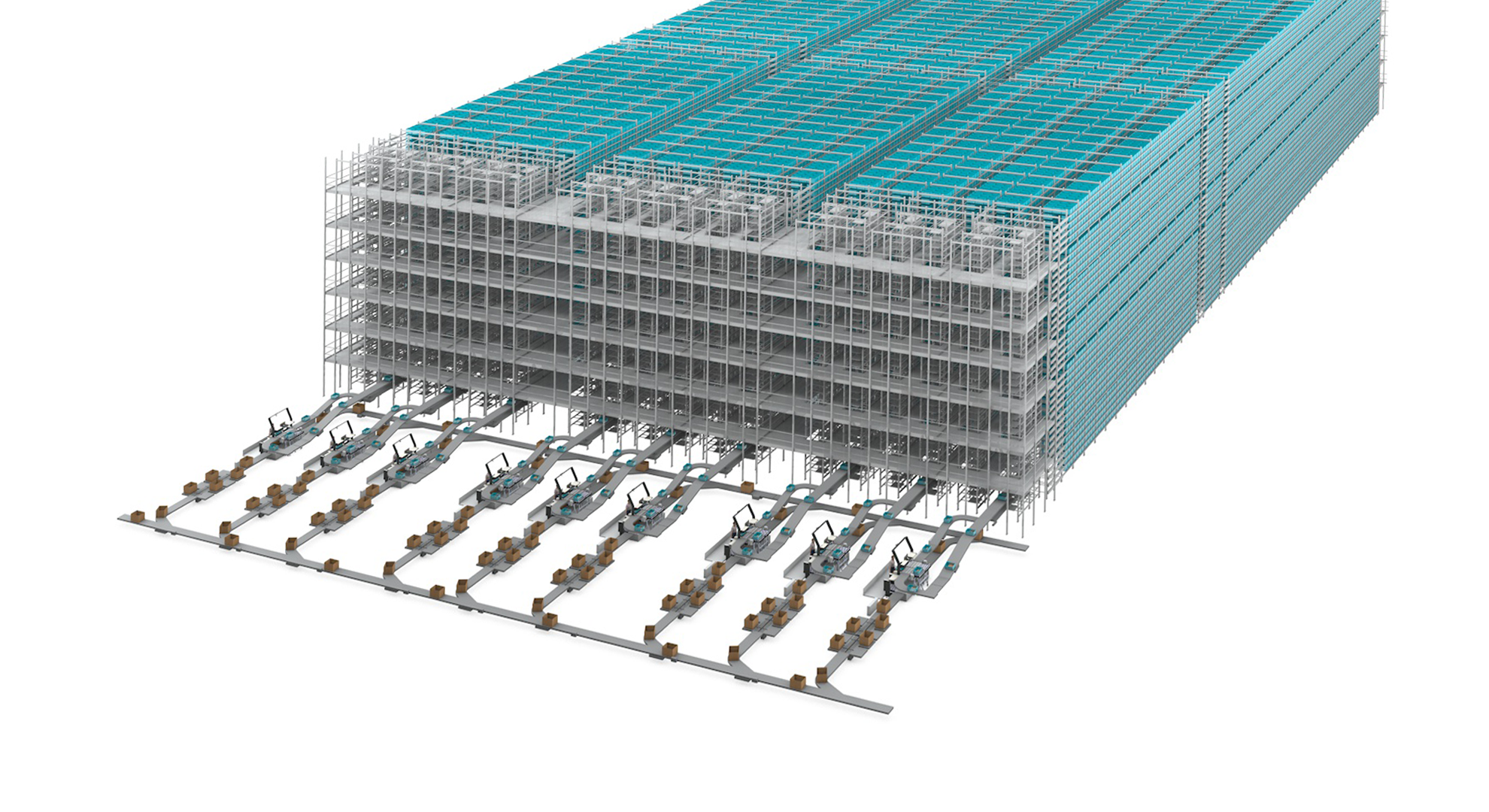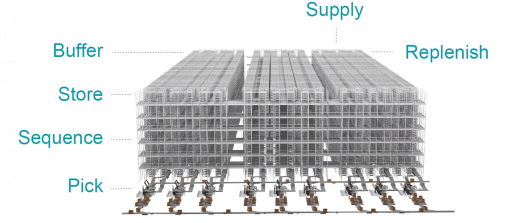 Store, buffer, sequence, replenish and pick with the help of just a single shuttle system
The OSR Shuttle™ Evo streamlines the logistics processes in the warehouse. Two very important features are the creation of precise sequences and storing stock and overstock in one location.
The warehouse shuttle system covers the following processes:
Automatic storage and retrieval of containers, trays and cartons
Efficient central storage of stock and overstock
Buffers goods, orders semi-finished products
Automatic replenishment for other work areas
Goods-to-person and goods-to-robot picking
Work station supply
Automated storage system for maximum flexibility and storage density
Are you racking your brains in the goods-in area trying to figure out where to store your goods? Scrap the ABC analyses. In the automated storage and retrieval system OSR Shuttle™ Evo, all goods are stored equally: stock and overstock are stored in one system. Store your inventory centrally and conveniently in a warehouse shuttle system and benefit from maximum flexibility and optimum storage density:
Multiple-deep storage
Load capacity up to 50 kg (110 lb)
Containers, cartons, trays
Various sizes: 250 x 250 mm – 850 x 650 mm (10 x 10 in – 33 x 26 in)
Direct storage of cartons
Different types of load carrier possible
The right OSR Shuttle™ Evo for your process
We have the right shuttle system to meet all your requirements. If you need a real powerhouse, OSR Shuttle™ Evo 1D is the right choice for you, as there is only one shuttle per level. If you're looking for more flexibility in designing your processes, however, OSR Shuttle™ Evo 2D is right up your alley. The shuttles in the 2D system can change rack line systems, allowing them to access all the lifts on that level. With this approach, performance and the number of storage locations can be scaled independently of one another. In addition, our shuttle systems allow items to be retrieved from the rack line system in the exact sequence required. The special system design makes efficient one-touch fulfillment a reality, with every work station being able to access every item.
Tailored to your requirements:
OSR Shuttle™ Evo
From medicines, shirts, perfume and eggs to drive shafts, bulk material and teddy bears – our warehouse shuttle system is ideally suited for the efficient storage and handling of a diverse range of goods. Combined with our smart add-ons, the OSR Shuttle™ Evo optimally covers the requirements of many sectors.The OSR Shuttle™ Evo is scalable, meaning the system can be tailored to performance, process and investment needs. Our customers are thrilled.
Case studies this way >
Industry challenges
The spare parts sector is changing rapidly. Customers are demanding faster delivery, more selection and more parts. Flexibility and speed in delivery are therefore becoming more and more important.
The KRAMP solution
KRAMP, Europe's largest specialist in spare parts and agricultural supplies, relies on KNAPP automation for their supplies to 26 countries. The interplay between an innovative warehouse shuttle system, ergonomically designed work stations and an intelligent software solution support KRAMP in continuously optimizing their service for customers. Using the OSR Shuttle™ Evo really scores thanks to its simple handling of more than 200,000 products that can be delivered overnight to the customers.
ADVANTAGES: This installation can be expanded in a step-by-step manner, to grow with the company. In its final form, KRAMP will have the capacity to process 9,600 order lines per hour.
Industry challenges
In the electronics sector, speed and precision are in demand both in the small volume orders of daily business and in large volume forward transactions. Both areas depend upon good service and offering the best price. In the logistics for this sector, storage density and container subdivision are key.
The Schukat solution
In the OSR Shuttle™ Evo at Schukat electronic, there is room to stock around 35,000 items for delivery to B2B customers in 50 countries. Distributors, semi-conductors or ventilators are efficiently stored and picked. Optimal storage density and space efficiency were particularly essential ideas factored into the design of the new warehouse shuttle system. The system has 64,000 storage locations for various containers and trays. Six goods-to-person work stations and the intelligent logistics software KiSoft including an interface to SAP® EWM round out the innovative logistics solution.
ADVANTAGES: The flexible system architecture offers the company capacity for future growth.
Industry challenges
Lack of space, constantly changing demand, growing complexity, rising costs and personnel shortages are among the main challenges that producers today face. In today's manufacturing environment, flexible logistics processes and just-in-time production supply are crucial.
The Knorr-Bremse solution
With the OSR Shuttle™ Evo, Knorr-Bremse has an all-in-one solution at hand. It is not just a picking warehouse to supply the subsidiary, it is also used for the direct shipping of spare parts and as a buffer and sequencing warehouse for in-house production. The warehouse shuttle system has a total performance of 793 double cycles per hour and stores about 16,000 containers. When the warehouse is completely expanded, a further eight levels will be available, providing an additional 7,000 storage locations. In addition, the picking performance at the four Pick-it-Easy work stations can also be increased.
ADVANTAGES: Adapting processes or orders is fast and easy. This makes responding to changes in the value chain faster.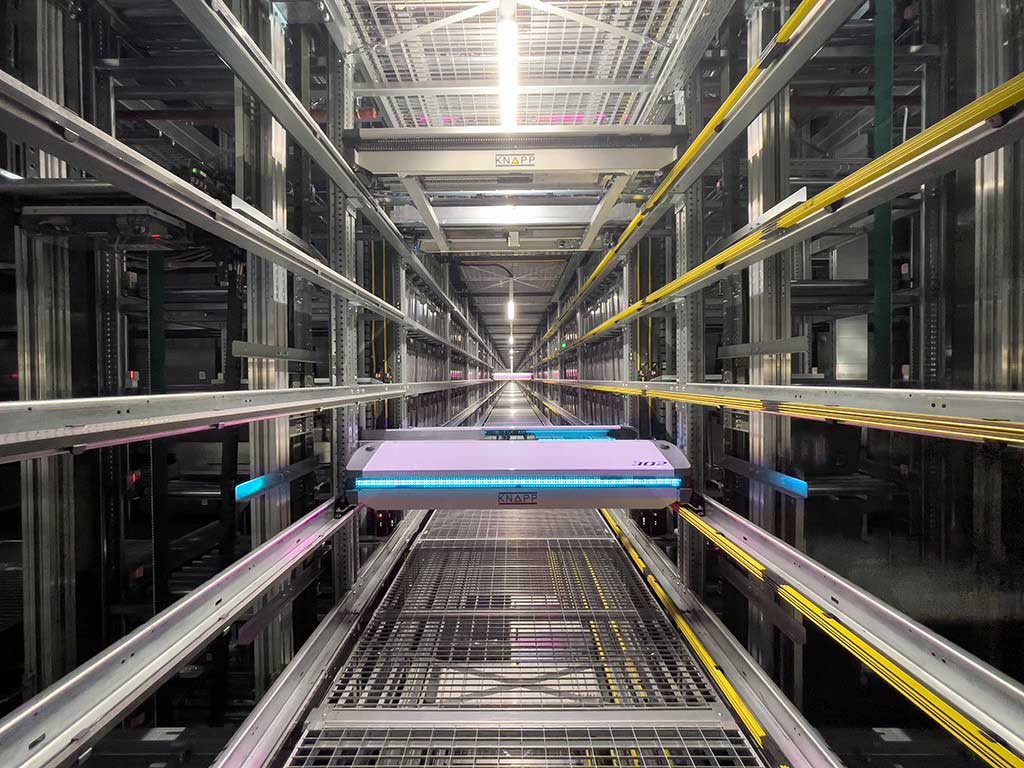 Perfected, tested and proven shuttle technology raises your logistics to the highest level
You can rely on our shuttle systems. For more than 20 years, we have been successfully designing, manufacturing and implementing shuttle technology. Reliable operation and safe maintenance – that's what you can depend upon with the OSR Shuttle™ Evo. Across the globe, more than 500 systems are in operation, even under extreme temperatures, even in earthquake-prone areas, thanks to robust, high-quality construction. Our top sectors include:
Pharmaceutical wholesaling and medicine distribution
Fashion and textiles
Online retail
Omnichannel fulfillment
Food retail
3PL
Get the most out of the space you have with the OSR Shuttle™ Evo
Make the best of your available space when designing your system. The warehouse shuttle system is scalable in length and width and can reach heights of over 30 meters (98 ft). What's more, your warehouse can grow along with your business because the OSR Shuttle™ Evo can be expanded simply by adding more shuttles or rack line systems.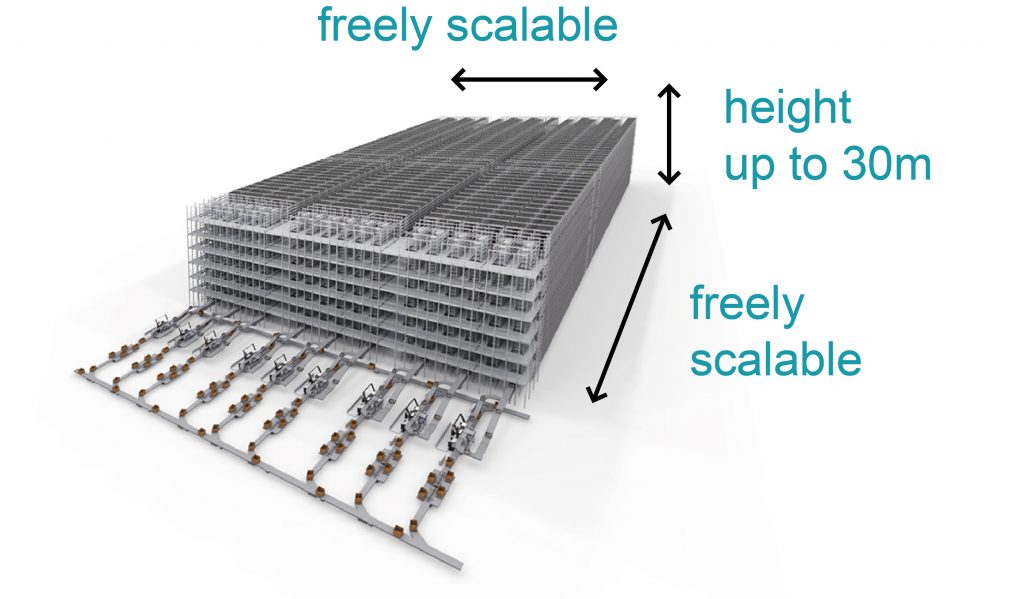 Some like it hot, some like it cold –
our warehouse shuttle systems like both!
Our OSR Shuttle™ Evo operates smoothly even under extreme conditions. Its high-quality design allows it to be used in any temperature range, which is of the essence in food retail. Whether it's shelf-stable goods, fresh goods or frozen products, our shuttle system can handle them all. Our solution is especially useful for automating processes in cold storage logistics, taking the strain off employees doing physically strenuous work in freezing environments.
Advantages provided by the
OSR Shuttle™ Evo
warehouse shuttle system
30 meter rack height (98 ft)
Optimal use of space, multiple-deep storage, optimal storage density
Endless possibilities
Store containers, cartons and trays of various sizes
Gentle handling
Low vibrations in rack make it ideal for sensitive and expensive goods
Complete sequences
Straight from the racks for efficient processes
Everything under control
Integrated software keeps track of the entire stock
6 in 1
Store and retrieve, buffer and sequence, replenish and pick – all your processes in one system
Safety first
Earthquake-resistant design, fulfills FM global regulations, highest safety for personnel
-28°C to +40°C (-18°F to +104°F)
Use in various temperature zones
500+ systems successfully in operation worldwide
Spare parts and 24/7 Service Desk
Rapid provision of spare parts; robust, low-maintenance system; access to experts 24/7
Add-ons to complete your shuttle solution
Added value and success are the result when technologies and processes are intelligently combined. The OSR Shuttle™ Evo heads up an incredibly strong team with these technologies:
percent
faster processing of express orders
percent
system availability
percent
increase in employee performance
* Figures refer to warehouse performance before conversion to a KNAPP warehouse shuttle system

OSR Shuttle™ Evo + 5 work stations + KiSoft logistics software
– the perfect formula for ASICS to deliver to more than 10,000 stores
ASICS, a sports shoes and sportswear manufacturer founded in 1949, is gearing up for today's challenges with the help of a tailored solution by KNAPP. ASICS needed a system that would meet the requirements of day-to-day business and that would have additional capacity for the peak periods. With the intelligent combination of warehouse shuttle system, Pick-it-Easy work stations and the KiSoft logistics software, ASICS is now several lengths ahead of the competition.
"
"
We chose the OSR Shuttle™ Evo because it allows us to complete our orders a lot faster and makes processing more flexible.
5 steps to your ideal logistics solution
with OSR Shuttle™ Evo
At KNAPP, we take the time to find the ideal logistics solution for you. We look at your entire value chain, not just your warehouse. Automating and digitalizing logistics processes for competitive advantage is what we're all about. We want to generate added value in every step of your supply chain; that's why we take responsibility for the whole automation project. You are just five steps away from your customized all-in-one automation solution. This is how we ensure that the challenges of your sector and your business model are optimally covered.
Here is our recipe for success >
Project start and integration of the team
Business analysis and design
Do you want your logistics to provide you a competitive advantage?
You are just 5 steps away.
Explore our blog posts on warehouse automation and the value chain