Our Autonomous Mobile Robots for the Electronics Sector – Open Shuttle
The production of circuit boards and electronics is highly organized and characterized by a high degree of automation. Electronics companies are also pioneers of digitalization. To gain ground in production efficiency, the links between the individual production steps and the optimal use of resources need to be perfected. Our Open Shuttles – automated guided vehicles (AGVs) for the electronics sector – organize transport processes flexibly and efficiently. They are autonomous mobile robots (AMRs) that are ideal for jumpstarting your automation.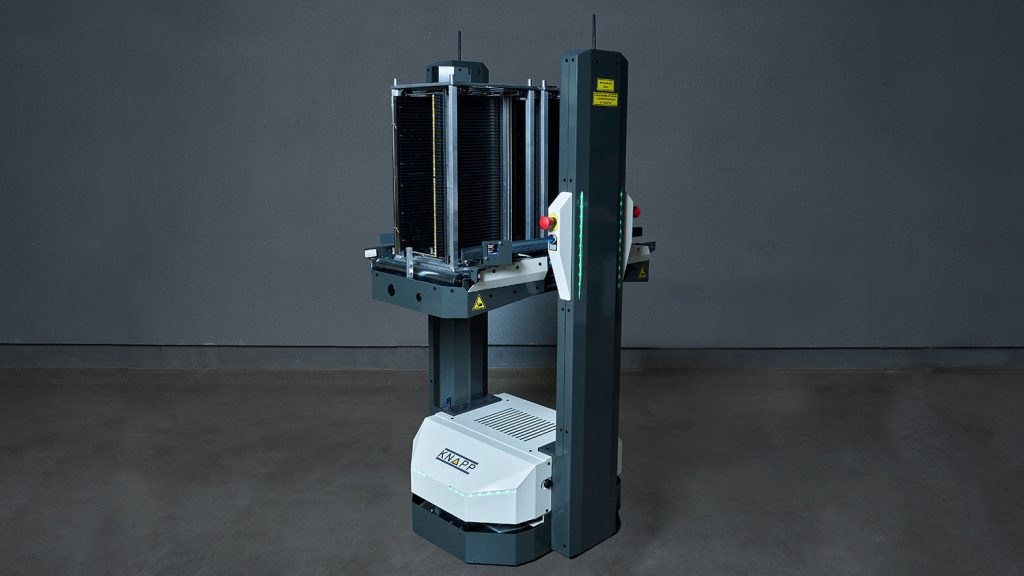 Looking for flexible AMRs for the electronics sector?
Find out more about the Open Shuttle by KNAPP!
Our AMR models for the electronics sector
Our Open Shuttles are ideal for transport in the electronics industry. We offer two models you can select to meet your requirements: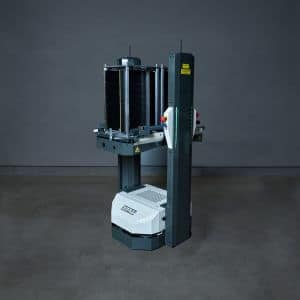 Open Shuttle
AMR with roller conveyor load-handling device
for transporting magazines
Can secure payload through integrated width adjustment
Max. payload 50 kg (110 lb)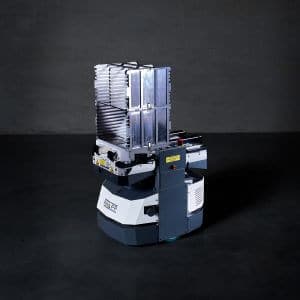 Open Shuttle
AMR with telescoping load-handling device
for transporting magazines
Connects directly to towers and machines
Max. payload 25 kg (55 lb)
Check out our high-tech AMRs for the electronics sector!
Autonomous mobile robots with special load-handling devices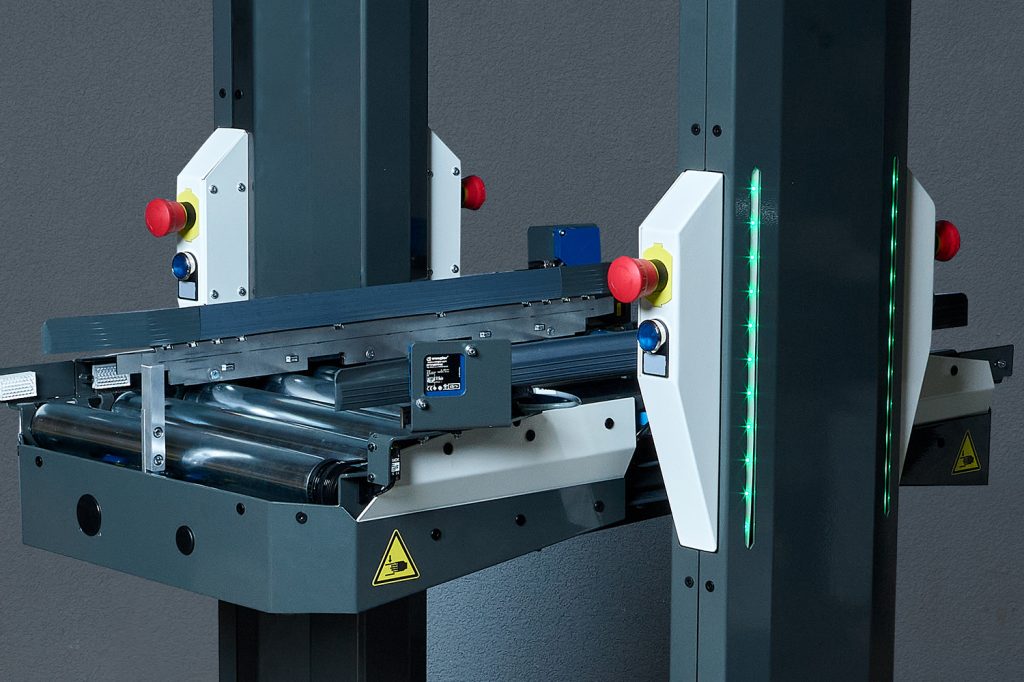 In the electronics sector, load carriers such as circuit board magazines, reels, containers and tray stacks must be transported efficiently to production lines and automatic assembly machines. To support these processes, we developed a special load-handling device (LHD) for the Open Shuttles.
We designed them with integrated width adjustment, allowing the robots not only to transport magazines and containers of different widths, but also to center them as required. Magazines are secured in place during transport to prevent tipping. While moving, the LHD automatically adjusts to the dimensions of the load carrier for the next order, using time efficiently.
How do KNAPP's autonomous mobile robots work?
Find out more about our intelligent Fleet Management Software!
Our AMRs feel at home in the electronics sector
Open Shuttles are highly versatile and the AMR fleet can be installed without any structural modifications, making Open Shuttles an ideal solution for retrofitting existing automated or manual systems with cutting-edge robotics.
Uses for AMRs in the electronics sector:
Supplying work stations, setup locations and production lines
Connecting production machines
Connection to automatic storage systems, such as the ASM Material Tower
Connection to pick-and-place machines
Special and express transport tasks
"
"
Our Open Shuttles open up novel opportunities for interconnected transport in the warehouse. They are flexible and can be used in a number of settings, making them the perfect solution for handling peak periods.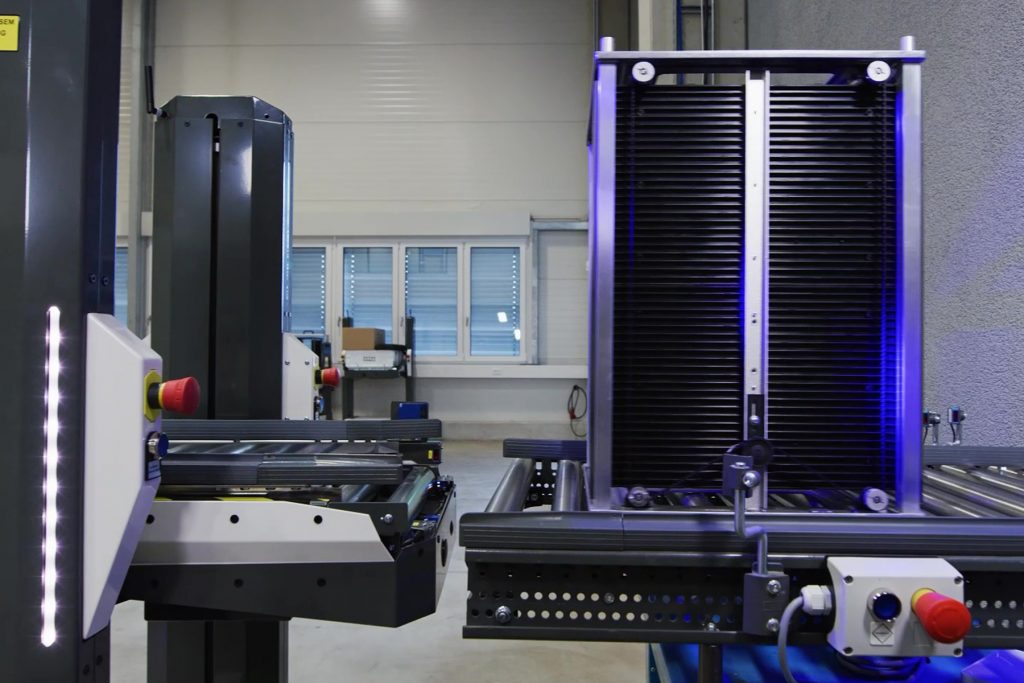 Advantages of the Open Shuttle AMRs in the electronics sector Ready to use ASAP in all industries
Compatible with VDA 5050; autonomous, robust, deterministic navigation
Intelligent management
Smart path planning and intelligent management of orders and transport resources
Easy to configure
Simple simulation and control of the layout, processes and fleet
100 % flexible
Flexible interconnection of all warehouse areas; easy-to-adapt layout, processes and fleet
Maximum safety
Scanners on the sides of the vehicles, blue light and signal lights for more safety in the warehouse
Instant automation
Easy to integrate into existing systems, no structural modifications needed
Cost-efficient system
Increase in efficiency thanks to 24/7 availability and consistent performance
Over 400 Open Shuttles operating successfully worldwide
Open Shuttle + cassette + ASM Material Tower
= the perfect solution called Robot Batch Unit by ASM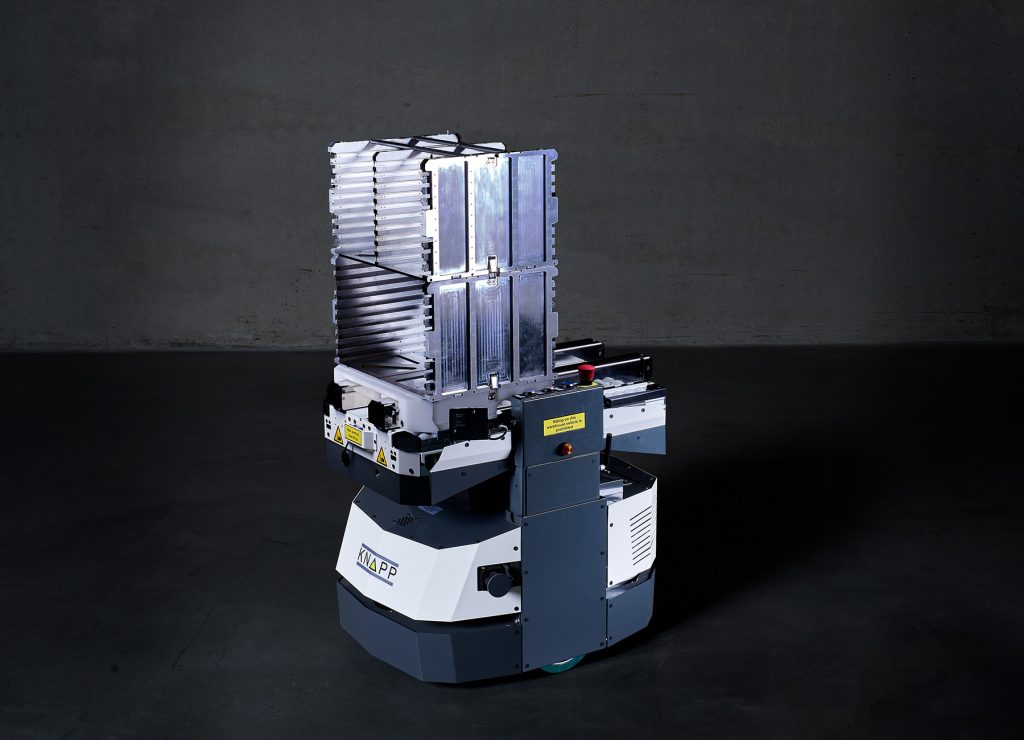 Our certified Open Shuttle model for the ASM Material Tower storage system has a special load-handling device exclusively designed for the internal transport of cassettes. The ASM Material Tower fills cassettes with component reels according to the needs of the production lines. These reels contain tiny parts, which are built into the circuit boards by efficient, automated pick-and-place machines. To prevent interruption in production, the reel cassettes must be provided just-in-time to the pick-and-place machines. This important task is carried out by our Open Shuttles.
Find out how ASM uses our Open Shuttle AGVs!
Are you curious about what other AMR models we offer?
Find out more about our AMRs for transporting containers and pallets!