4,5 minutes reading time
Article contains videos
We know that in nature fish, bees and ants work together in swarms, letting them achieve the best possible effect with the least effort. Together, they are efficient and can react quickly to changes in their environment. So, why not learn from these examples from nature and develop new strategies that can make logistics processes more flexible and efficient? What are known as autonomous mobile robots, or AMRs, are providing exciting new possibilities in this area. In the same way as hard-working bees, this new generation of intelligent vehicles works in a swarm and gives processes a new edge. In this post, you will learn more about AMRs at KNAPP, which we are calling Open Shuttles, and about the possible applications and advantages in logistics.
What are autonomous mobile robots?
Let's start with some history. The idea of robots that move around independently in a warehouse and assist with tasks is not entirely new. As early as the 1950s, the first driverless transport systems (AGV) were being developed. These AGVsfollowed defined paths along markings on the floor, circling warehouse and production areas. For a long time, little was done in the field of driverless transport systems, but the call for flexibility and efficiency in production and distribution applications finally got louder. In addition, technological advances, for example in sensor technology and computer performance, opened up new possibilities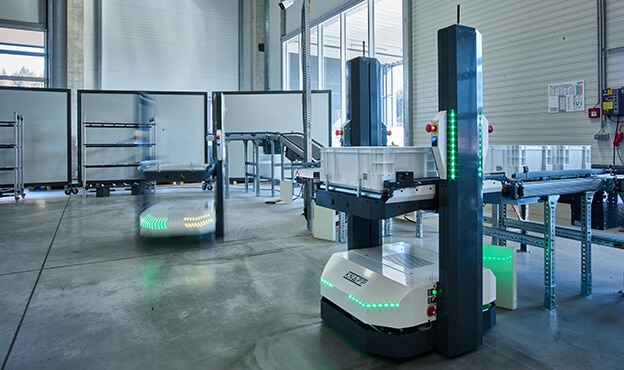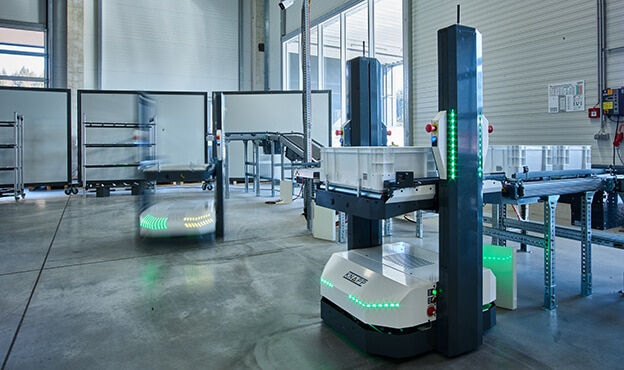 With these innovations, it was full steam ahead for autonomous mobile robots in the industry.  The definition of the term 'autonomous mobile robots' (AMRs) is not standardised, but it describes the type of robots that do not require any guiding lines or that plan their routes independently, detect and avoid obstacles by means of sensor technology and are capable of making intelligent decisions.Here at KNAPP, we have already been working on the topic of 'autonomous robots for applications in production and distribution' for many years. Our solution is Open Shuttles.

Gregor Schubert-Lebernegg, Product Manager for autonomous mobile robots at KNAPP
What tasks in the warehouse are Open Shuttles suitable for?
Because of their flexibility and their ability to work as an intelligent swarm, autonomous mobile robots are extremely versatile for use in production and distribution tasks. For example, they are suitable for the following:
Producing flexible internal transport networks: This includes express transport from goods in to goods out, supply of work stations or storing goods or raw materials in a warehouse system. AMRs are agile, flexible helpers for a variety of tasks.
Flexible alternatives to static container or pallet conveyor systems: The layout is often adapted in production plants, and static conveyor systems would restrict this. Flexible AMRs provide an alternative here.
  Transportation of several source and target containers using small portable racks or special load carriers

Intelligent robots: the swarm is where the work is
A clear advantage of autonomous mobile robots such as our Open Shuttles is of course how flexibly they can be used. These intelligent robots are always in the right place, at the right time, in the right quantities, and they complete tasks independently or assist humans. True to the motto: the swarm is where the work is.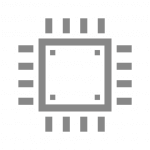 Intelligence
The Open Shuttles have swarm intelligence. They independently manage transport resources and orders using a fleet management system. This means that when an Open Shuttle receives an open order, the Open Shuttle that has transport resources free, and can complete the order the quickest, takes it on.
Intelligent path planning: The swarm intelligence lets the Open Shuttles work like a perfectly organised swarm of bees. In addition, each Open Shuttle also has what is known as integrated intelligence. Using this integrated intelligence, each Open Shuttle independently plans its route to the destination and avoids obstacles.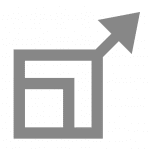 Configuration
Simple checking: You can determine yourself where the Open Shuttles should be travelling to and what processes they should be assisting with.
Dynamic changes: Integrate new processes in a few minutes, add transport areas or stations, or deactivate areas with just a few clicks.
Scale capacity with a rental model: You can adapt your Open Shuttle fleet to your capacity requirements. You can rent additional Open Shuttles for seasonal peak periods. The new vehicles can be integrated in your fleet in just a few minutes.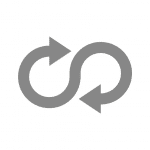 Flexibility
Create new paths: Create a flexible internal transport network. It's extremely simple to integrate locations, processes, goods and raw materials into a network. The Open Shuttles don't require any guiding lines, artificial landmarks or other aids, instead they move around using intelligent software and sensor technology. This means that no building work is required making Open Shuttles highly suitable for integration in existing systems.
Adaptive swarm for optimal efficiency: The Open Shuttles independently adapt to the number of incoming orders. If fewer orders need processing at certain times, the Open Shuttles that are not required stay at the charging points. This ensures optimal efficiency.
Overview of the Open Shuttles
We have a variety of Open Shuttles in our portfolio as we know that many different transport tasks have to be performed in production and distribution centres. From S to XXL, whether it's a container, carton, tray or pallet, using either a tugger train or production-line supply, there's a suitable Open Shuttle:

 Open Shuttles for container transport
Transporting goods or raw materials in containers, cartons or trays is no problem for our Open Shuttles. Depending on configuration, they can transport one or two containers with dimensions of up to 800 x 600 mm and up to 100 kilograms in total. The Open Shuttles automatically retrieve the load carriers and automatically deliver them to their target position.
Open Shuttle for transportation of several source and target containers
The Open Shuttle Fork is available for larger loads and for transporting rack structures or special load carriers. This type of our autonomous mobile robots can retrieve and convey rack structures weighing up to 1000 kilograms and receiving surfaces of 1200 x 800 mm directly from the floor. 
Add-
ons
for Open Shuttles
There is a range of add-ons available for different requirements:
Load-handling devices for circuit-board magazine transpor

t
In electronics manufacturing operations, magazines are often used which are automatically filled with products in what are known as towers. Equipped with a special load-handling device, Open Shuttles can dock directly on to these towers and pull the magazines on the Open Shuttle making them available safely and precisely at a work station or machine.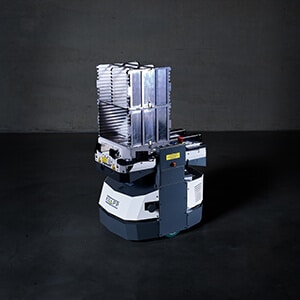 Magazine transport with tilt protection
For transporting circuit board magazines in electronics manufacturing, there is special tilt protection that secures the magazines during transport.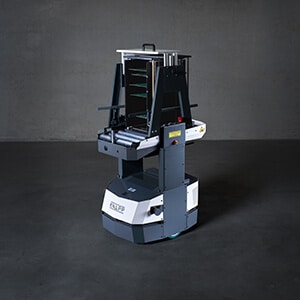 Integrated lifting function
The Open Shuttles can retrieve and deliver their loads at different heights by means of an integrated lifting function. This provides more flexibility when designing the processes.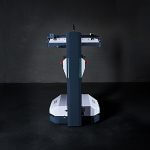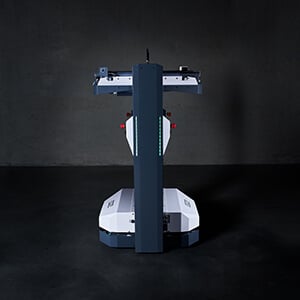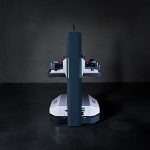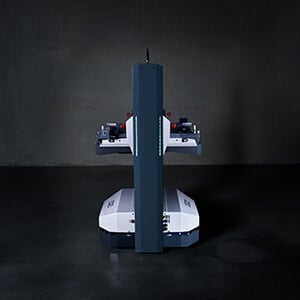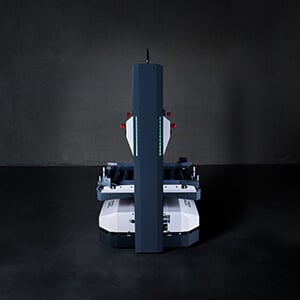 Special sensors and indicator lights
Our Open Shuttles meet the highest safety standards and can safely share their travel paths with people and other vehicles. In areas with an increased internal transport volume, it is recommended that the Open Shuttles are equipped with additional sensor technology and indicator lights.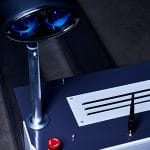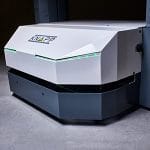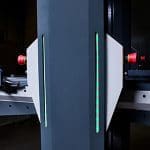 Intelligently integrated: Open Shuttles provide a flexible transport network
We are convinced that added value can only be created in logistical processes when technology such as Open Shuttles is intelligently integrated in an overall system. In combination with a central warehouse system such as our OSR Shuttle™ Evo, our autonomous mobile robots give processes a new edge. The intelligent Open Shuttles integrate every location in the production plant or distribution centre with the automatic warehouse system into a network. We are calling this innovative system solution the OSR Shuttle™ Evo+.
Using the OSR Shuttle™ Evo+, we can automate various processes:
Supply of (decentralised) work stations
Quality assurance
Value-added services
Special processes
Watch this video to see how the OSR Shuttle™ Evo+ can forge new paths to your success.
Intelligent supply of production lines with AMR
The OSR Shuttle™ Evo+ system solution is suitable for intelligent automated production-line supply, for example.
Automatic storage: Open Shuttles transfer small load carriers to an automatic warehouse system. All parts are now stored in the warehouse system in a space-saving manner; intelligent software gives an overview of the goods on hand at any time.
Dynamic access: Using the principle of central storage, every part can be made available to the production line as quickly as possible.
Intelligent supply: Using the Open Shuttles, the production line can now be supplied with parts from the central warehouse system using a just-in-time and just-in-sequence approach.
Tugger train: In addition, Open Shuttles with small portable racks can supply the production line using the tugger-train principle
A similar system solution was given the Top Innovator Award at VW Scouting in 2017.
As you can see, the possible applications of autonomous mobile robots such as our Open Shuttles are extremely versatile. Interested in finding out more about our AMRs? Write to us at kin.sales@knapp.com.  
Watch this video to see how our customer Tucker is using the intelligent Open Shuttles. https://www.youtube.com/watch?v=Y24-Q8ezdqI 
4,5 minutes reading time
Article contains videos
Additional Information

Dynamic.
Autonomous.
Efficient.
Open Shuttle
Further advantages of our Open Shuttles
Easily design internal transport networks and modify them at any time
Integration without structural measures
Fast amortization of the investment costs through low startup costs
Flexible connection of all warehouse areas, work stations or production cells
Integrated intelligence: Independent, intelligent navigation
Fleet management: Intelligent swarm independently distributes work orders
Maximum certainty: Intelligent avoidance manoeuvring and the latest sensor technology ensures certainty between man and machine
Scalable Open Shuttle fleet and attractive rental model for peak loads
Efficient, autonomous energy management