04:30 minutes reading time
We are expanding our Open Shuttle portfolio with the Open Shuttle Fork, an autonomous guided vehicle (AGV) forklift for pallet transport. Find out more about our new product in conversation with the product manager and the head of software development.
Open Shuttle Fork – hard-working and uniquely versatile
Gregor Schubert-Lebernegg has been project manager for the Open Shuttles since 2012. What's your take on how automated guided vehicles (AGV) and autonomous mobile robots (AMR) are developing? What's the latest from KNAPP on that subject?
Gregor Schubert-Lebernegg: In the past few years, we've seen a great deal of development in the field of AMRs. The market developed very well and expanded. At KNAPP, we've responded to our customers' needs as well: we're now offering a large portfolio of autonomous vehicles covering many different applications. With our latest, the Open Shuttle Fork, we now have an AGV for pallet transport. This Open Shuttle in particular features a combination of different characteristics that is unique in the market.
"
"
The Open Shuttle Fork turns on a dime and is great for compact layouts with narrower aisles. Best thing is, you can get it at a very competitive price.
What does the AGV forklift by KNAPP feature? What's so special about it?
Gregor Schubert-Lebernegg: Just to name a few things, for one, the Open Shuttle Fork features integrated 3D obstacle detection and can classify obstacles as either static or mobile. Based on this information, it makes decisions and plans where it goes. For another, the Open Shuttle Fork is built robustly and is therefore suitable for industrial use. Another unique feature is the fully electric lifter – completely different from a scissor lift. This is why the Open Shuttle Fork can be used with pallets in all industries and can transfer them to existing conveyor systems. The Open Shuttle Fork can move in every direction, also turning on its own axis. This means the Open Shuttle Fork can move at a 90 degree angle from its usual alignment and can, for example, pick up pallets that may have been manually placed less precisely on a position. This means it can move about in tighter spaces, saving space and serving a more compact layout with narrower aisles. The best thing is, the Open Shuttle Fork comes at a very competitive price and has rapid delivery and installation times.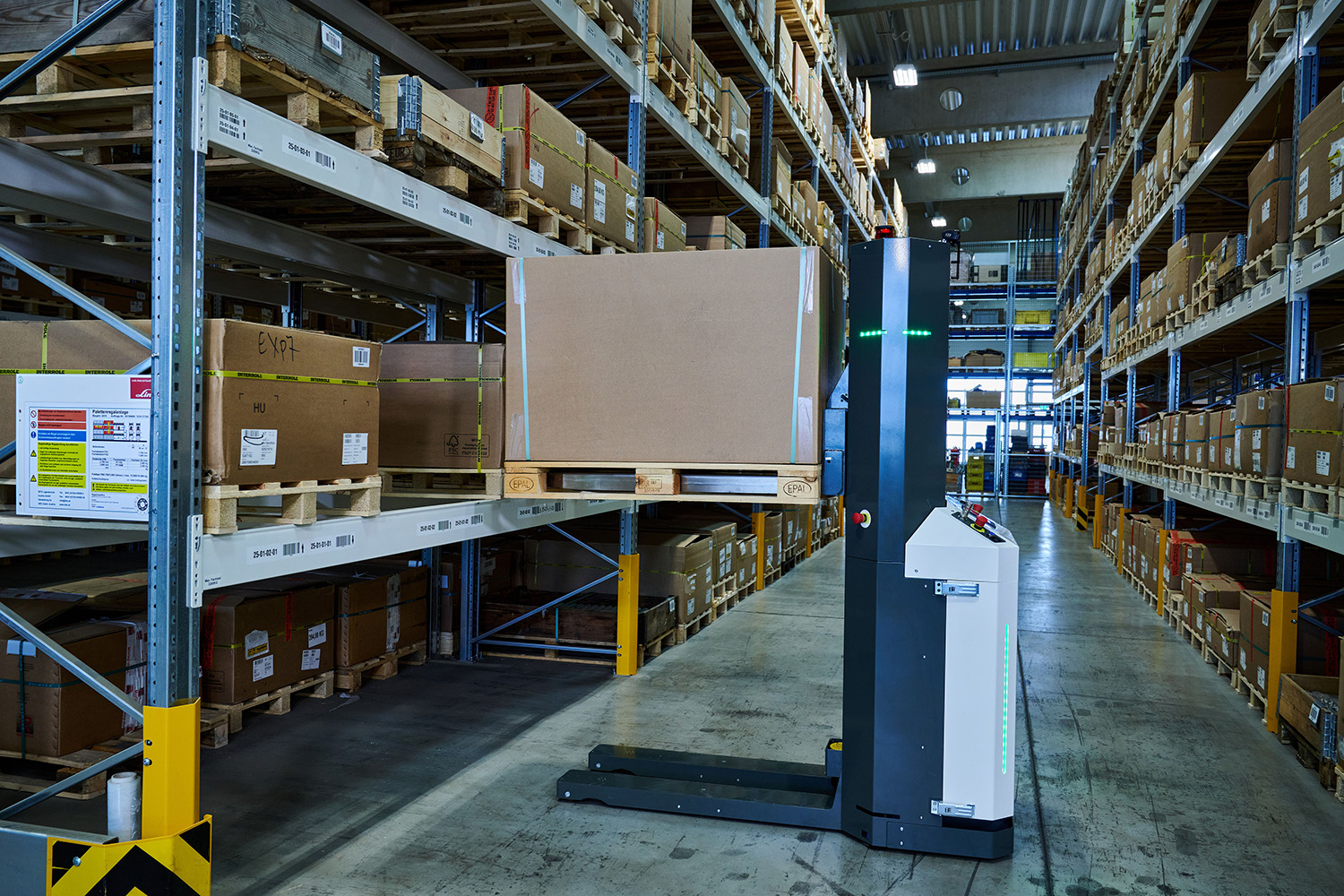 How can the Open Shuttle Fork be used and what applications can it cover?
Gregor Schubert-Lebernegg: A couple of examples include the internal transport of pallets, supplying work stations, such as decanting work stations, transport jobs in goods-in, applications in a block storage warehouse and transport jobs in goods-out. Other uses are, for example, in mobile order processing. There are still many warehouses where people pick manually from pallets. Even here, the Open Shuttle Fork can complement these processes and provide a lot of added value for our customers. The functionalities of the shuttles include the transfer of pallets to and from pallet conveyor systems.
Numbers and facts on KNAPP's
automated guided vehicle forklift for pallets
Speed: up to 1.5 m/s (5 ft/s)
Lifting forks for picking up objects from floor
Integrated electric lifter
(0 to 1,200 mm) (0 to 47 in)
Variety of different load carriers possible (pallets,
special load carriers, racks, etc.)
Load carriers: up to 1,200 x 1,000 mm (47 x 39 in)
Limit load up to 1,300 kg (2900 lb)
Charging time about 60 minutes
Battery life in continuous operation
up to 8 h
Detects natural contours
Safe around personnel
3D obstacle detection
Automatic pallet detection
Navigation and control of the AGV forklift
How does the Open Shuttle Fork navigate?
Gregor Schubert-Lebernegg:
The Open Shuttle Fork navigation is based on SLAM technology (Simultaneous Localization and Mapping). The natural contours are detected, saved and continuously compared with the known contours of the route. The forklift therefore always knows where it is. Thanks to this approach, the Open Shuttle Fork can be started up immediately, without changing or adapting the existing infrastructure.
Thomas Ulz: Localization works without additional markers, simply based on the existing contours. No inductive loops in the floor or any other type of visual marker are needed. The laser scanner of the AMR simply reads the existing contours. Based on the localization, the Open Shuttle Fork navigates through its surroundings. The vehicle uses virtual lines, or tracks, defined and managed in our software.
"
"
The automated guided vehicle forklift for pallets is managed by the KiSoft FCS software. This ensures, most importantly, smooth-flowing fleet traffic and the optimum assignment of transport jobs."
Mr. Ulz, you head up the department for software development at KNAPP Industry Solutions. Tell us more about the software for the Open Shuttles.
Thomas Ulz: The Open Shuttle Fork is managed by the software KiSoft FCS. KiSoft Fleet Control System (FCS) is the central instance for coordinating the fleet of autonomous mobile robots. KiSoft ensures that the fleet traffic flows smoothly and optimally assigns the transport orders. This is accomplished by planning and reserving the travel paths precisely and by correctly communicating the driving commands to the AMRs, which then carry out these commands. The travel paths exist only in the software and are therefore virtual. You can compare the functionality of KiSoft FCS to a flight control system, where very precise directions ensure the smooth and efficient flow of traffic.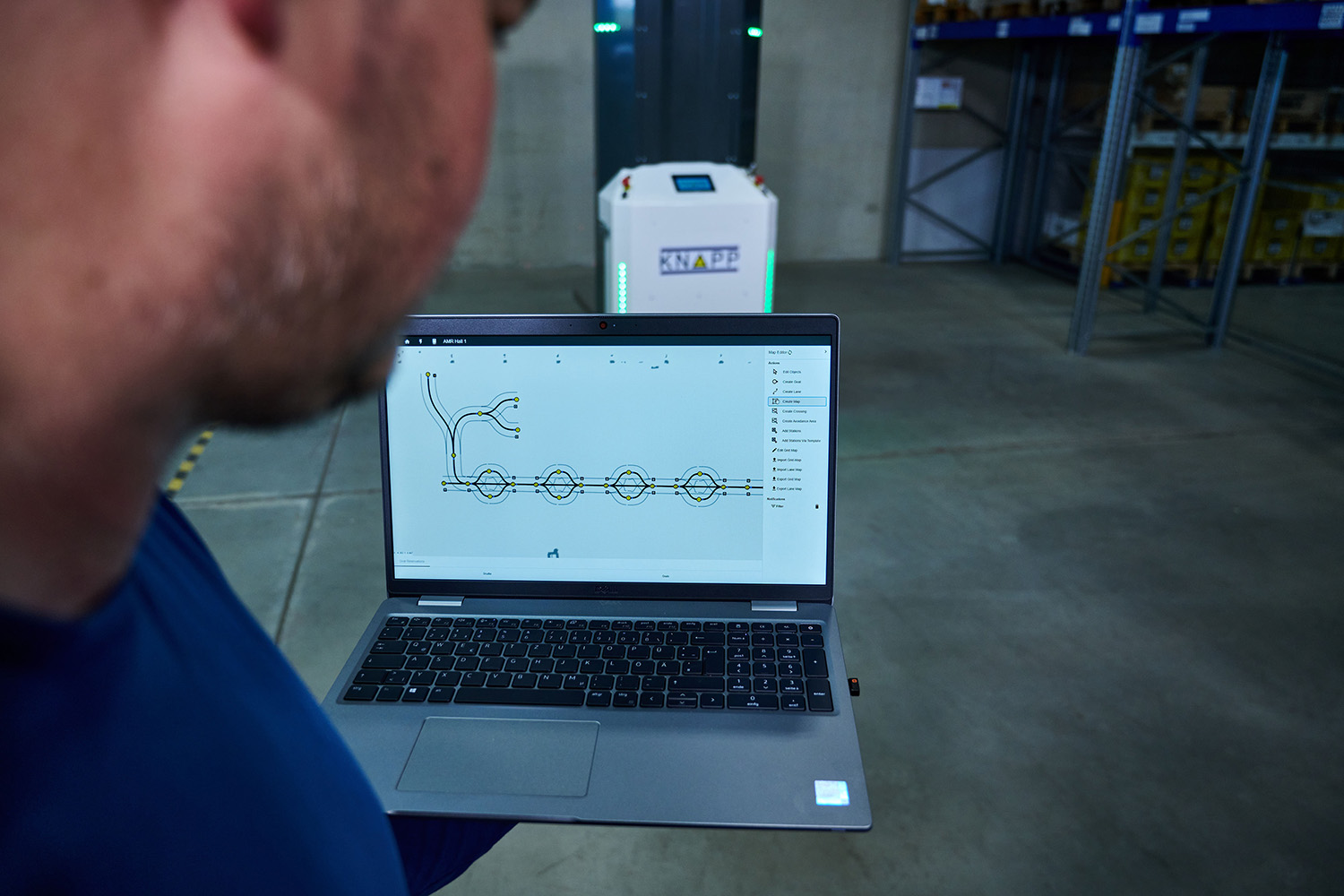 How are the orders assigned?
Thomas Ulz: KiSoft FCS can be combined with KNAPP systems as well as other host systems or can be implemented as a stand-alone. The assignment of orders considers all available AMRs and all the defined travel paths as well as the current traffic situation and coming work load. An optimized workflow and throughput for the entire system is the result.
What can be controlled using KiSoft FCS?
Thomas Ulz: Naturally, the fleet control system works best with KNAPP's AMRs. This includes the Open Shuttles for container transport and the Open Shuttle Fork, our AGV for pallets. Interfaces such as the VDA 5050 allow the software to control the AMRs of other manufacturers. Manual transport resources such as forklift trucks can also be mapped in the system. One definite advantage of KiSoft FCS is its scalability. This applies not only to the fleet size in terms of its ability to control a variety of vehicles using its line-based system, but also through the scalability obtained by just adding more vehicles.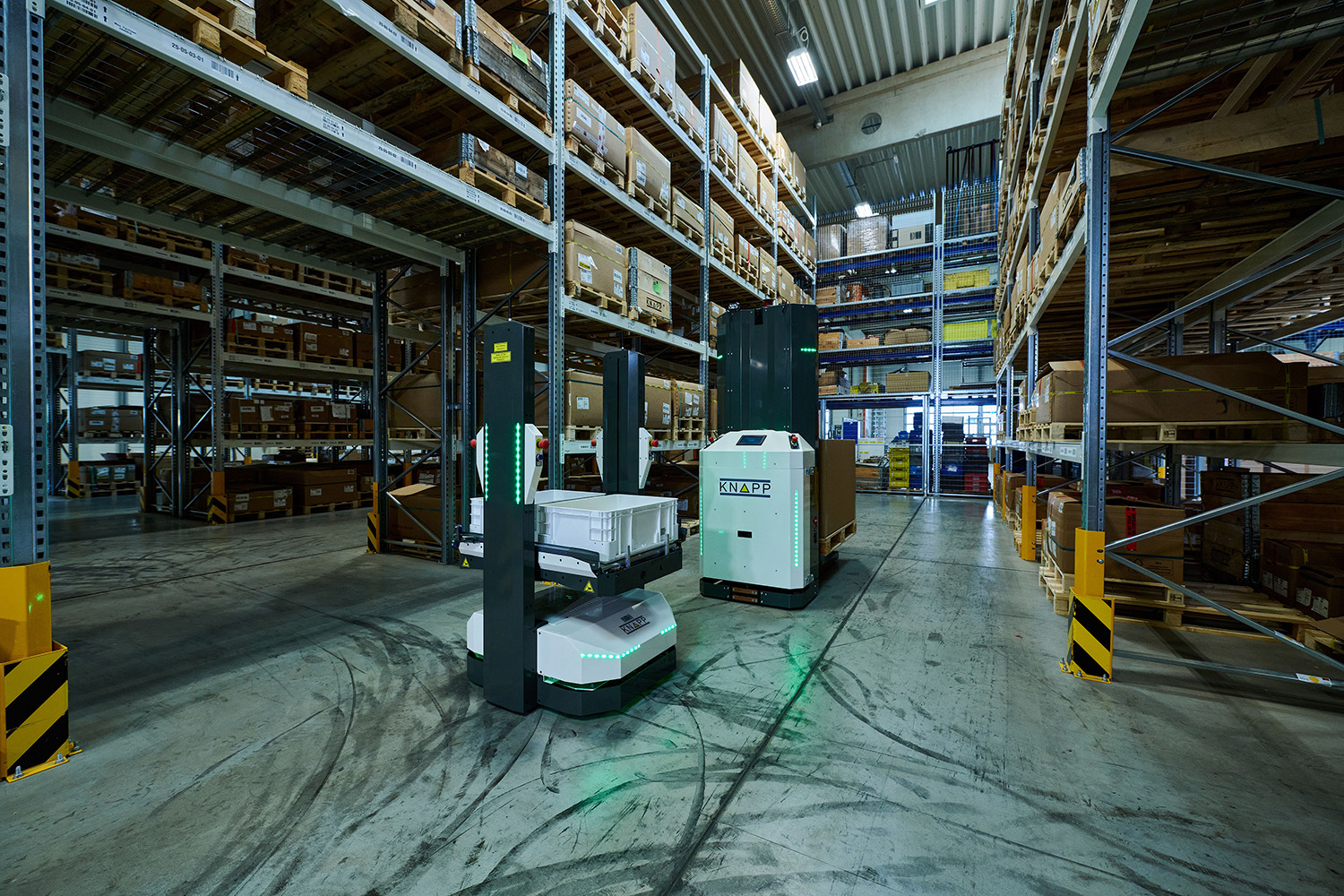 Availability of the AGV for pallet transport
That was quite a bit of information on the Open Shuttle Fork. What are the options for actually getting the autonomous mobile robots for your warehouse?
Gregor Schubert-Lebernegg: We take two approaches to this. On the one hand, the Open Shuttles can be purchased "ex works". We offer the right training courses for this. After successfully completing the training, the customer then has the ability to start the AMR himself, to put his own use cases into the software and to make changes. For this option, there is a fixed price per shuttle as well as a monthly fee, which covers hotline service and maintenance. On the other hand, at KNAPP our specialty is developing customized all-in-one solutions with the very best software and technologies in the mix. The cost of these projects naturally depends on the respective solution. But if you just want to get started with automation, or to smooth out your peak periods, the Open Shuttles can also be rented or leased.
We are here to help:
04:30 minutes reading time
Additional Information
Would you like to learn more about our Open Shuttles? At KNAPP, we look forward to discussing ideas and requests with you to create new solutions. Write to us at blog@knapp.com.