Würth Relies on Intelligent Automation in Logistics
Würth Industrie Service in Bad Mergentheim serves the entire logistics network in Europe and beyond. As an industry partner, they do more than just deliver goods in packages – they also bring them directly to the point of use in their proprietary small load containers (Würth-KLTs). Würth continuously works to advance their logistics processes to offer their industrial customers top-notch service and ensure optimal implementation. Together, we constantly re-evaluate and improve processes to make intelligent automation possible. Customers benefit from smooth logistics processes and receive their goods at the right place, at the right time.
OSR Shuttle & OSR Shuttle Evo with 200,000 storing locations each
Using innovation to continuously develop our logistics solutions is hugely important to us because it's how we ensure our company will be successful in the future.
Long-standing partnership lays the foundation for successful collaboration
As a long-term partner of Würth, we have been advancing their logistics processes together for years. Our common interest in innovation provides the best possible foundation for developing and implementing outstanding flexible solutions for industrial applications. In the logistics center in Bad Mergentheim, processes are continuously optimized. Developing and integrating innovative technologies means quality and productivity improve constantly. Together, we developed a future-proof solution that fulfills all of Würth's requirements. Just like in any partnership, there are ups and downs. But getting through them together helps us grow as a team.
Würth Industrie Service chose KNAPP as a partner because their logistical approaches and technologies were just right for us. Today, we have a partner in KNAPP who is continuously developing and can keep up with our pace.

Ergonomic solutions ensure good working conditions
Our goods-to-person work stations are ideal for warehouse employees: Automated systems perform physically demanding tasks and contribute to a pleasant work environment. Over 20 multifunctional Pick-it-Easy work stations make the picking process easier for employees. User-friendly software interfaces included in the automation solution assist employees with order processing. Thanks to the work stations' ergonomic design, strenuous tasks such as lifting, bending and reaching are kept to a minimum because the goods are always supplied to the work station at an ergonomic height. What's more, employees no longer have to walk great distances in the warehouse.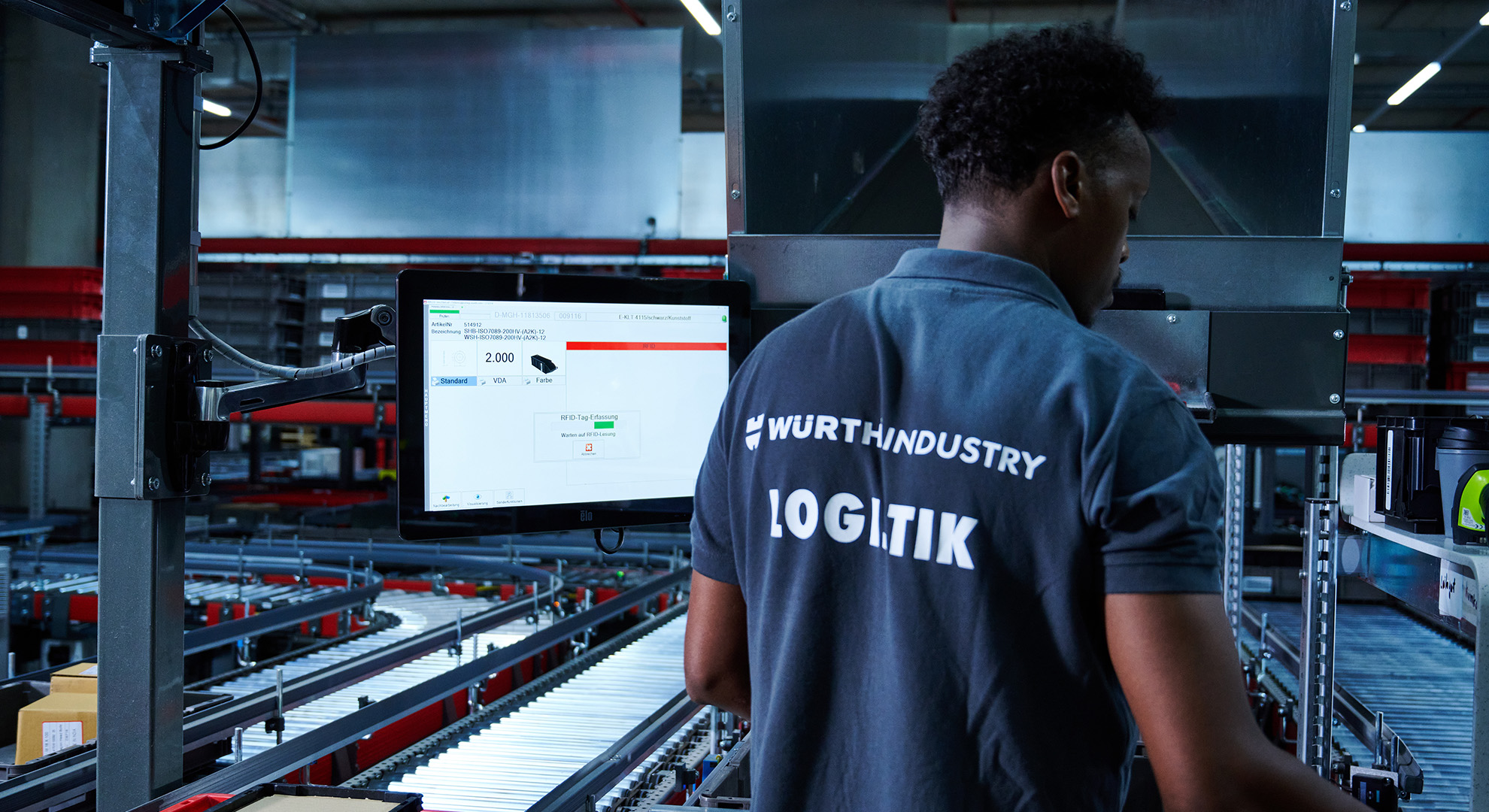 Working in logistics requires a lot of physical labor. That's why we have to support our employees and make performing these tasks as easy for them as possible. Furthermore, demographic change and skilled worker shortage are hot topics right now. Using robotics is vital to being able to stay competitive in the future and to secure our existence as a company.
storage locations
OSR Shuttle and OSR Shuttle Evo
Open Shuttles
for autonomous goods transport
Pick-it-Easy Robots
for fully automatic item picking
Pick-it-Easy work stations
for goods-to-person order processing
robots
palletizing all types of containers and cartons for dispatch
Intelligent automation thanks to cutting-edge robotics technology
To relieve warehouse workers from strenuous manual tasks and efficiently process customer orders, several robotic solutions have been part of the team in Bad Mergentheim for years: Five Pick-it-Easy Robots, two robots for fast picking, four shipping robots for palletizing containers and cartons and six Open Shuttles perform important logistics processes completely automatically, allowing employees to focus on more important processes in the warehouse. For example, the Pick-it-Easy Robot takes over picking orders. It can pick regardless of container, packaging or item type – or time of day. Plus, the robot learns something new with each pick. Its ability to determine the grip point develops continuously thanks to machine learning. Every grip improves the algorithm, making subsequent grips more robust and reliable. This special artificial intelligence tool was developed by the US company Covariant.
Robotics plays a very important role in Würth's strategy. We want to secure future growth, maximize productivity and reduce the strain on our employees. Using robotics also offers opportunities for our colleagues' professional development by creating new tasks and activities that allow them to hone their existing skills or learn new ones.
Maximilian Hammel
Department Manager, Picking & Consolidation, Logistics Department
KiSoft as the mastermind behind the automation solution
The integrated KiSoft software solutions that communicate with Würth Industrie Service's higher-level warehouse management system make intelligent automation possible. At the start of an order, the software determines how the goods should be distributed on the shipping pallets and which robots are responsible for what. Then the trays, containers and cartons arrive at the right area in the correct order. KiSoft instructs the robots in the shipping area where to place each item on the load carrier. A wide variety of software modules are used to ensure smooth operation. Real-time analysis guarantees maximum transparency and facilitates on-going optimization of all processes.
With KiSoft, we have a tool for evaluating the entire KNAPP system and viewing any kind of performance data we want.
Maximilian Hammel
Department Manager, Picking & Consolidation, Logistics Department
We've established an innovation board within the Würth Group for spreading existing technologies to our subsidiaries. We use it to spread awareness and expand the use of existing systems in the logistics network, like the OSR Shuttle, picking robots and the void reduction system in the shipping area.
Helmut Eisenkolb
Head of Logistics, procurator and member of the management team at Würth Industrie Service
Innovative technologies in Bad Mergentheim:
1 OSR Shuttle and 1 OSR Shuttle Evo, each with approximately 200,000 locations for storage, consolidation, sequencing, dispatch buffering and picking
1 Fastbox for sequencing orders quickly and accurately
25 multifunctional, ergonomic Pick-it-Easy work stations for goods-to-person order processing
5 Pick-it-Easy Robots for fully automatic item picking

2 robots for fast picking all types of containers directly from the pallet

4 robots for palletizing all types of containers and cartons for dispatch
6 Open Shuttles for autonomous goods transport