Perfect service for small food warehouses during ongoing operation
Our Multi-Site Control Center (MSCC) is an innovative service solution geared especially to food retailers having several small warehouses, or micro fulfillment centers (MFCs), at different locations. This is all about a proactive and preventative solution that checks and monitors all the logistical and technical processes. And it does this round the clock.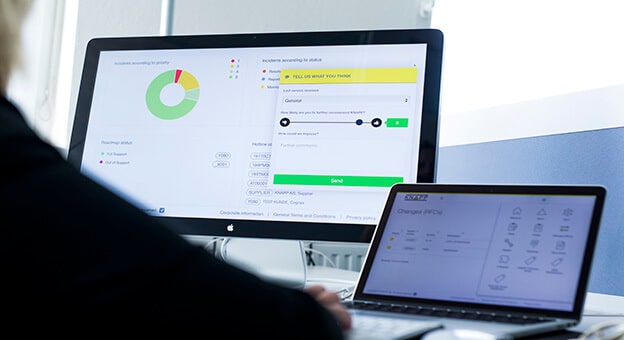 All-round service for food retailers.
Our MSCC team keeps an eye on all the warehouse locations. By identifying critical problems early on, rapid restoration of operations is guaranteed. In one overview, the MSCC displays all our systems, various customer systems and all logistical and technical processes. We check the software as well as the hardware of the system. This service is especially valuable for retailers who have no infrastructure of their own and who cannot provide support in their own control rooms.
"
"
An ideal early warning system
"The MSCC offers perfect service for daily operations for food retailers with MFC concepts. Our solution includes a special warning system. Our experts can therefore control all processes and detect and resolve problems early on."
Professional support from experts
Should a critical alarm occur in a customer's system, the type of problem is immediately shown in the detail view. If the error cannot be handled through remote maintenance, the on-site technician is immediately assigned the task of correcting the error. He can also contact the MSCC experts in the control room through video conference.
Specially developed index numbers (KPIs) show the MSCC team the system's status. Examples for KPIs are the number of customer orders, their transit times and picking performance. This constant monitoring means that incidents come to light before they affect on-going operation, and they can be corrected before any real damage is done.
Continuous, 24/7 live monitoring of MFCs
Early warning for critical problems
Technical instruction by teams of experts
Major customer advantages at a glance
Service available 24/7
Operating system is more stable
All logistical processes under control
Complete overview across all locations
Solution tracking for potential errors
Initiation of the process for restoring operations
Measures for continuously improving logistical processes
Daily reports on the food warehouse's status
Fewer resources: fewer personnel with specific knowledge on site
Lower costs: Monitoring several locations with one team and system