Pick-it-Easy Robot automates e-commerce warehouses
Humans and robots are the team of the future. When humans reach the limits of their capabilities, machines take over. Robots can provide support with monotonous or strenuous tasks. They can also prepare jobs at any time of day or night – regardless of the regulations governing working hours. Employees can then spend the rest of the time working with the robots to complete tasks within the standard working hours. Robots on the other hand are not able to carry out complex gripping actions as well as workers can, who can respond extremely quickly. In this age of automation, humans have become smart workers who are responsible for programming, servicing and repairs.
Robotics in food retail
Robots are already playing a central role in many sectors when it comes to logistics. In food retail, it's sensitive articles and the different shapes and packaging of items that are particularly challenging for the camera system and gripper unit. But this isn't stopping robots from becoming more and more prevalent. There are a variety of reasons for this. For one, the demands for quality, efficiency and performance are increasing. The article range is also becoming more and more diverse, subject to greater cost pressure and there is a shortage of both space and qualified personnel.
The Pick-it-Easy Robot ensures that food retail warehousing is fit for the future by serving as a reliable source of support that works faultlessly. It also guarantees consistent performance.
Smart software for robotics applications in e-commerce
As the Pick-it-Easy Robot is a fully-automatic solution, it is perfect for single item picking. It assists in diverse logistics areas as well as in the e-commerce segment of the food retail industry.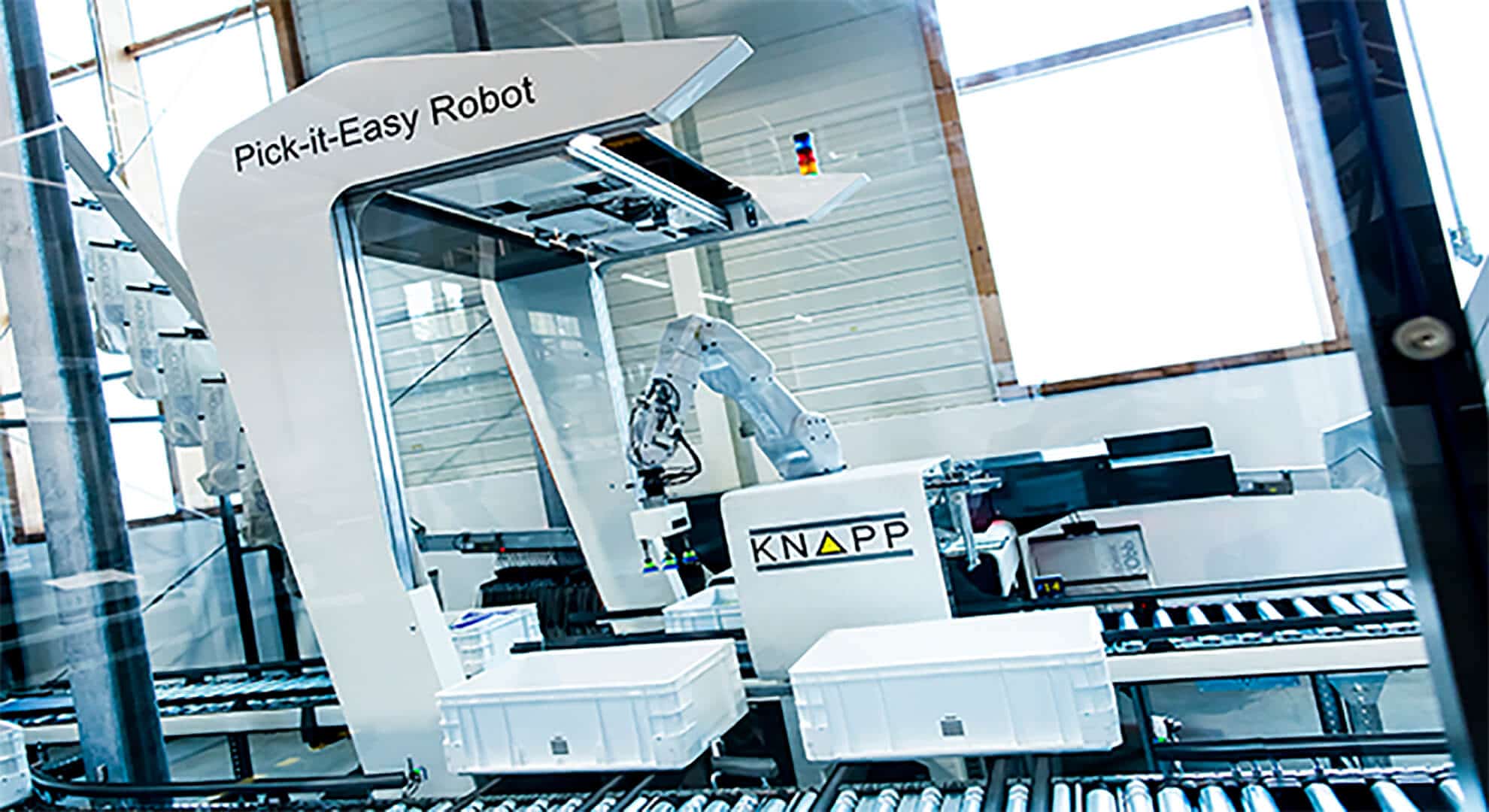 Unique gripping technology and machine learning
Thanks to its innovative and unique gripping technology, the Pick-it-Easy Robot reliably handles a multitude of articles in food retail. KNAPP has various grippers in their portfolio that cover most of the article range. The grippers have been especially adapted to the dimensions and weight of the goods in the food retail industry and are continuously enhanced. A special way of working means the robot carefully deposits the articles in precisely the right place. The aim is to expand the range of articles so that robots can process more and more orders fully automatically.
Innovative software packages are used to facilitate a harmonious and systematic interplay of all the components. KiSoft Pack Master supplies the automatic work stations with articles, which it retrieves from the OSR Shuttle™ in a precise sequence. Smart software solutions control the robot, detecting possible grip surfaces and rectifying any errors. The algorithms are self-learning to provide continuously improved performance and quality indicators, simultaneously allowing a wide range of articles to be handled efficiently.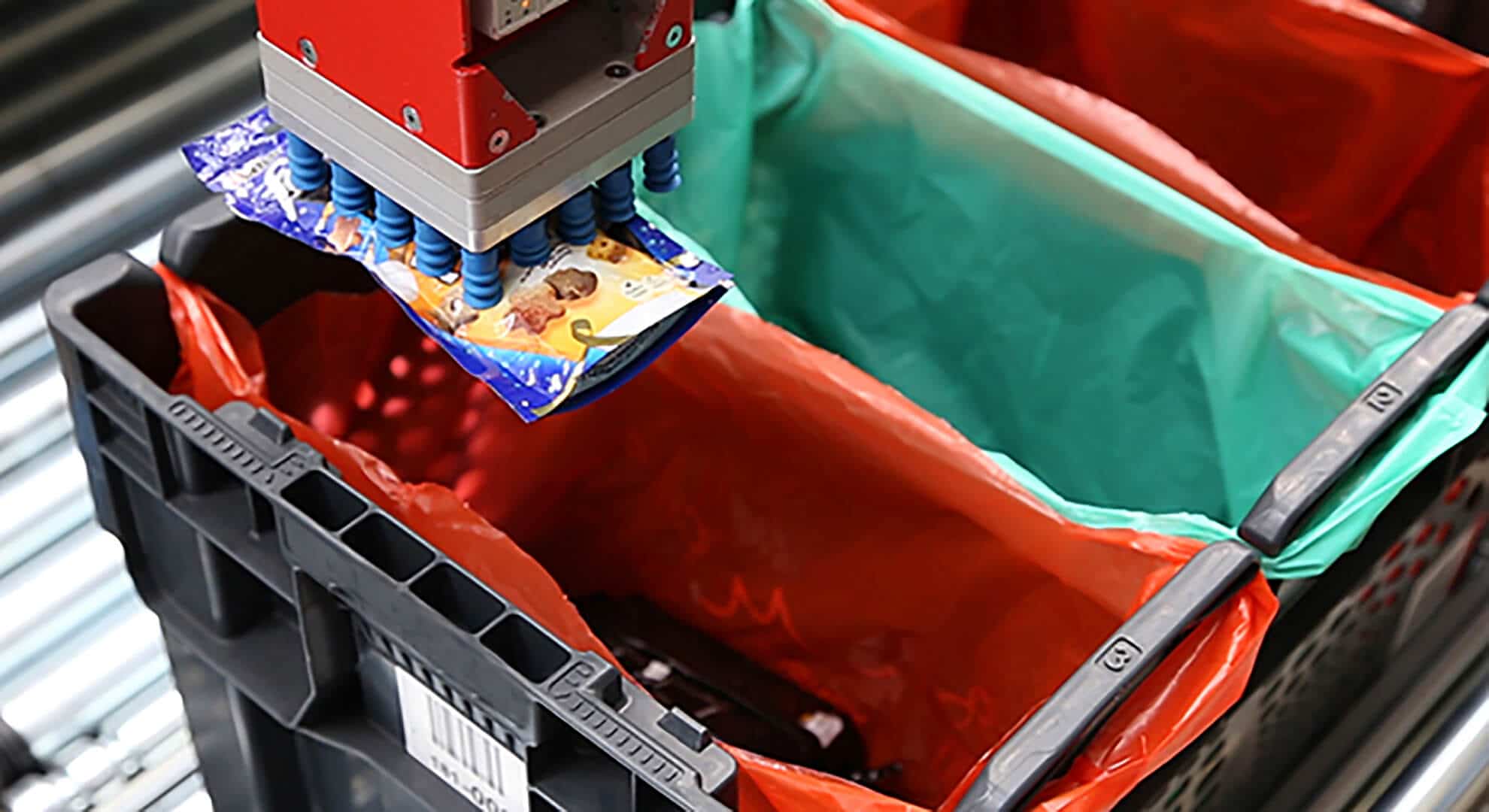 Flexible fully-automatic solution suitable for a wide range of applications
The Pick-it-Easy Robot is flexible, guarantees consistently high performance and can process a wide range of articles. What's more, it can be easily integrated into existing concepts. E-commerce retailers receive an innovative logistics solution and a system that has been especially tailored to their business. And the end customers? Excellent service thanks to short delivery times, guaranteed high quality and fresh articles.
Complete automation in the food retail sector?
Fully automated warehouses for e-commerce can't be expected anytime soon. Instead there will be a mix of humans and machines. The Pick-it-Easy Robot should therefore be seen as a source of support for manual order processing in the food retail sector.
"Our concepts are currently designed so that Pick-it-Easy work stations in a logistics solution can be replaced by fully-automatic work stations fitted with Pick-it-Easy Robots," explains Christian Fiausch, Engineering & Logistic Consulting for Food Solutions at KNAPP Systemintegration GmbH. "Our aim is for robots to process as many different types of articles as possible so that they can process entire orders."
When it comes to logistics within food retail, there is a great deal of potential for robotics in the future. As a result, warehouses are already designed with this in mind – they can be expanded at a later time to be fully-automatic. This means they are fit for the future.
Advantages of the Pick-it-Easy Robot in food retail:
Fully-automatic solution for single item picking
Perfect for e-commerce
Existing concepts can be replaced with fully-automatic ones
Food items handled with particular care
Diverse food items can be handled reliably
Automatic error handling
Machine learning algorithms
Consistently high performance
Low-maintenance and robust
Use not subject to existing working time regulations
3 minutes reading time
Additional Information
For more information on the Pick-it-Easy Robot and logistics solutions for food retail, feel free to get in touch with us at sales@knapp.com.