5 minutes reading time
Article contains videos
The inspiring world of robotics
The terminator, R2-D2 and Wall-E – robots and artificial intelligence have long inspired people's imagination. Robots are playing an increasingly important role not only on screen, but also in real life: Robotic lines for producing cars, for example, have been a well-established practice in the automobile industry for many years. Smaller and larger robots are also finding their way into our everyday lives, be it the classic robotic lawn mower or even robot dogs. Their purpose: To make our life easier, more efficient and more comfortable. Logistics is also an area with countless possibilities in which robots provide real added value.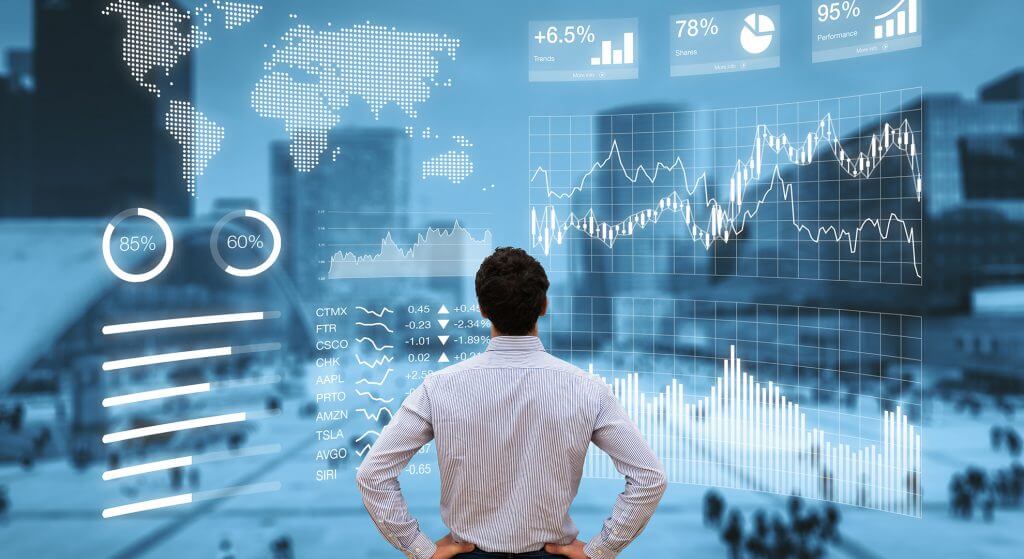 Why rely on robotics now?
Digitalization, cyber-physical systems, big data, machine learning, the list goes on – a myriad of terms like these has surrounded us for some time now. But what do they actually mean and how can they help in managing the high demands of the logistics industry? Markus Posch, Product Manager for robot systems at KNAPP explains the advantages of using robotics to handle the high demands for quality and performance, the growing article range, new business models, cost pressure as well as lack of space and labour shortage: "The Pick-it-Easy Robot meets the requirements of the trends robotics, machine learning and Industry 4.0. We offer our customers a high-performance and intelligent robot station which picks single items fully-automatically. This is a solution that is under constant development to increase its robustness, to keep up with the ever-expanding article range and to adapt it to various industries. Machine learning functionalities help us to achieve all this."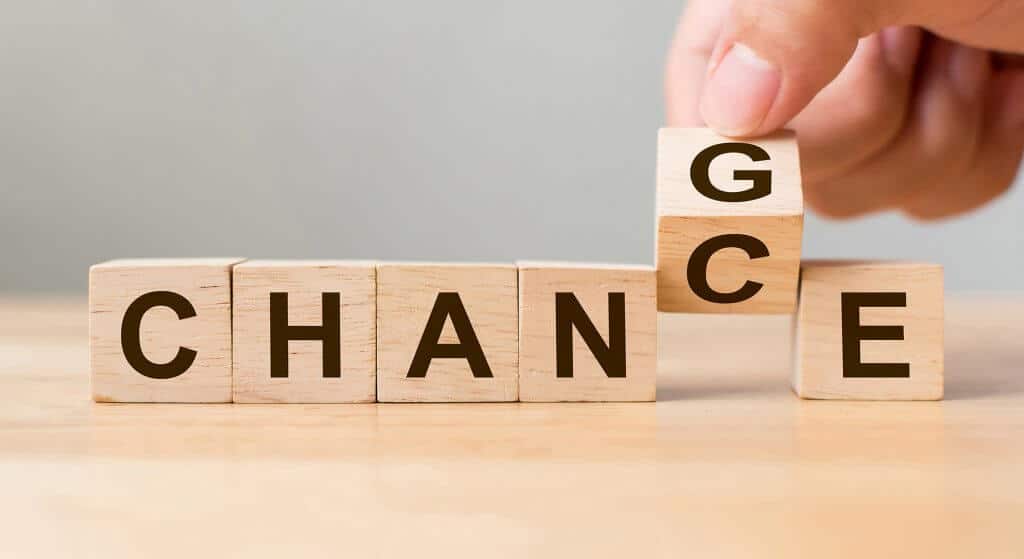 Man versus machine?
But what about the workers facing this cluster of machines and data? Which jobs and how many of them will disappear due to robots and automation is a hot topic. It is important to consider that not only the tasks of the machines are changing but also the human work environment. Monotonous tasks involved in the classic warehouse job will increasingly be replaced by value-adding tasks, with the warehouse worker taking on the role of a creative decision maker – the Smart Worker.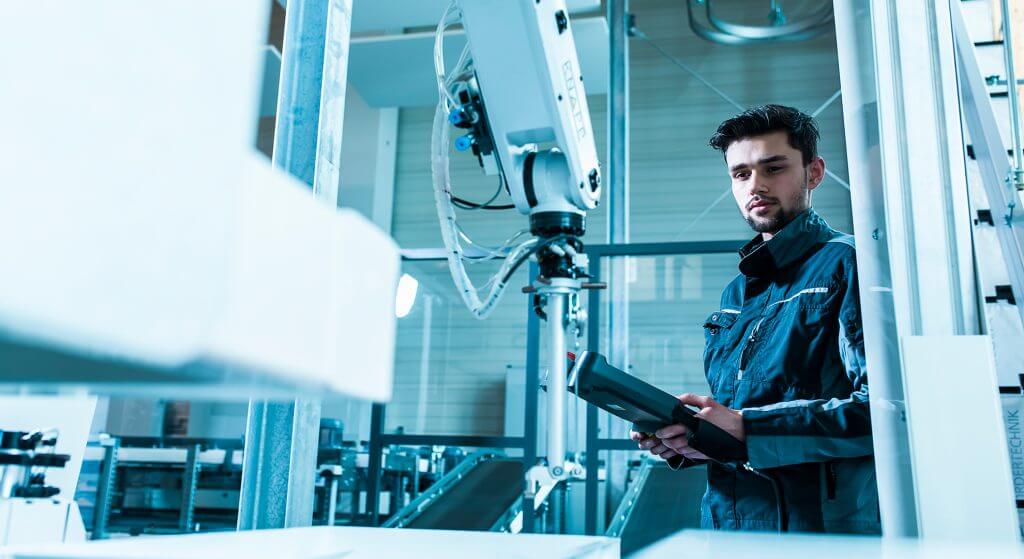 Man and technology make a great team
Man and machine do not compete with each other. A warehouse devoid of people is neither desirable nor reasonable. Man and technology make a great team for implementing logistical requirements in the best way possible. A robot, for instance, never gets tired and can carry out tasks such as picking or sorting goods over a long period of time in consistently high quality. The individual in turn is superior to the robot when it comes to complex gripping tasks. What's more, a person can respond quickly and flexibly to new requirements – for example, if the demand for goods suddenly changes – and if required, the person can also adjust the robot so that it can handle these new conditions. Furthermore, a number of new professions, such as the robot psychologist or code ethicist are emerging in the area of robotics and digitalization. "65 percent of all children who begin school this year will end up working in jobs that don't even exist yet", explains Christoph Scherübl, Head of Digital Services at KNAPP.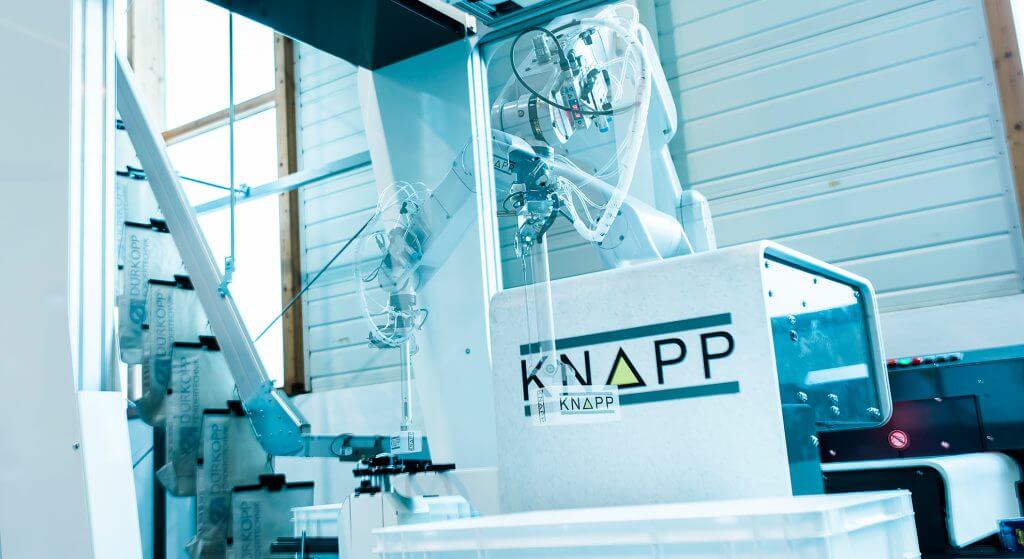 The next generation of robots for logistics
Robotics has been a hot topic at KNAPP for some years now. Our fully-automatic picking solution, the Pick-it-Easy Robot, is a robot application for logistics that is ready to go into production. In 2017, our Pick-it-Easy Robot was even awarded the title of best product at the leading intralogistics trade fair LogiMAT. Since then, we have continually enhanced the Pick-it-Easy Robot to optimize its application possibilities in the logistics sector. Whether it be packs of screws, jewellery boxes or shirts: By using different grippers, the robot can now process a wider range of articles – the intelligent robot automatically selects the suitable gripper and the optimized dynamic values for the gripping process of the article. As a result, the Pick-it-Easy Robot can be adapted more precisely to customer-specific applications.
Trend Maschine Learning
Thanks to further developments in the area of image processing technology the robot is now more robust than ever and is able to make more precise gripping movements. Another area of development lies in machine learning: For this purpose, experts from KNAPP work together with international research institutes and are in contact with companies in Silicon Valley. "Machine learning is certainly a huge trend that is opening up countless new possibilities. For a machine, however, being intelligent isn't everything; it still takes the ideal combination of machine learning, sensor technology and the human aspect for a solution to be successful, today as well as in future. This is what we focus on in our research and development departments", explains Christoph Sackl, Head of Robotics and Machine Learning at KNAPP.
Pick-it-Easy Robot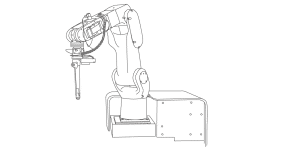 Fully-automatic picking solution for logistics applications
Can be used in combination with automated storage systems and manual picking work stations . This means an ideally coordinated picking system
Processing of a wide article range thanks to different grippers and a fully-automatic gripper change
Also suitable for delicate articles
Functions: Dropping; careful, organized placement; separating; merging
Integration into existing KNAPP systems
Robust and low-maintenance
Picking performance: Up to 1,200 items per hour
Awarded the title of best product at the LogiMAT 2017 trade fair