3 minutes reading time
Article contains videos
Perfectly equipped for eGrocery
E-commerce is an established trend reaching several years back and has now reached the food retail sector in many countries. Customers are used to shopping in other sectors around the clock, so they also want to order groceries and have them conveniently and quickly delivered to their homes too. Grocers can only handle online orders with existing logistics concepts at high cost and with limited service. Companies must therefore adapt their processes to offer their customers an online shopping experience.
Rethinking and redesigning logistics processes
When we order something online, we rarely think about what goes on behind the scenes. We just want the items delivered to us at the desired time. Groceries should also be as fresh as possible when they're delivered. What may sound simple to the consumer is in fact a tremendous challenge for the grocer. The existing logistics concepts, designed for brick-and-mortar shops, must be completely reworked to be able to handle online orders efficiently, with the right quality. Gone is preparing large orders with large pack units, here to stay is picking single items for small orders. Along with the basic demand for availability, demands for quality, delivery speed and costs play a big role in eGrocery, particularly when it comes to the freshness of items.
Challenges in eGrocery: 
Continuous availability of a large range of items from different temperature zones
Short order lead times to speed up delivery times
Picking single items, and items that can be relatively heavy
Large fluctuations in incoming orders on a daily or weekly basis
High quality and hygiene standards extending across the entire process
Perfect retrieval sequence from storage for fast delivery to end customers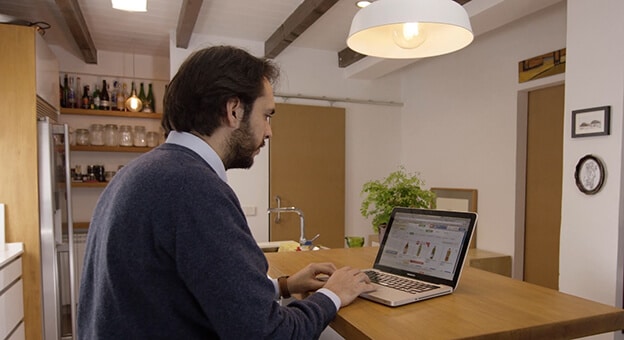 Automated logistic processes for online orders at Shufersal
Shufersal, Israel's largest retailer, generates 13 % of its turnover through its online business Shufersal Direct. To offer their customers even greater value and to handle orders as quickly as possible with the best possible quality, the company invested in an innovative logistics solution. Years of experience in automating warehouse processes in online food retail made KNAPP the ideal partner for the proposition. The combination of the flexible OSR Shuttle™ Evo, ergonomic Pick-it-Easy work stations and state-of-the-art warehouse management software forms the perfect team. The unique design of the system connects important warehouse processes and guarantees fast, flexible order handling. The OSR Shuttle™ Evo handles the storage of goods, buffers orders and supplies the work stations and dispatch areas. The system also allows access to every article from every work station. The new online business processes ensure error-free order processing and guarantee the quality and freshness of the items throughout the entire process. Providing added value for the customer takes highest priority at Shufersal: By automating distribution, the company can expand its range, speed up its delivery times and offer its customers same-day delivery.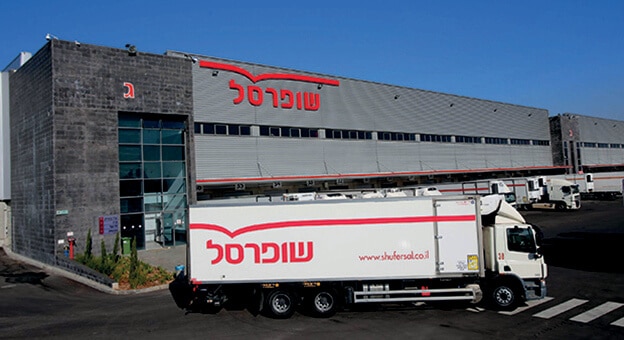 Takeoff on the rise with micro-fulfilment centres for urban spaces
Takeoff Technologies, a Boston startup, is revolutionizing food retail with their micro-fulfilment centre concept. Takeoff is partnering with KNAPP to work with existing food retailers who can use the innovative concept to handle their online orders. The OSR Shuttle™ and Pick-it-Easy work stations are at the heart of the solution, providing economical and efficient order fulfilment. In the micro-fulfilment centres, the same range can be managed and processed as in classic food retail – whereby the space-saving system uses only a tenth of the space. The process is really simple:
Customers order online from a trusted supermarket.
Orders are prepared in the micro-fulfilment centres.
Customers can pick up the order within 2 hours at a suitable pickup location or can have the order delivered to their home.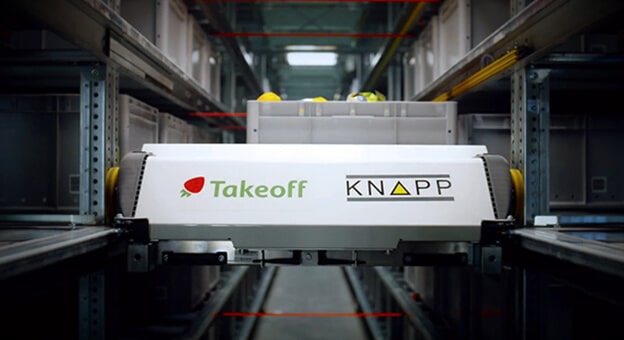 Perfectly equipped for eGrocery with KNAPP

As a supplier of all-in-one logistics solutions, automated storage systems and logistics software solutions, KNAPP is among the market and technology leaders in the food retail sector. Combining sector expertise and technological know-how allows KNAPP to optimally meet the wide range of demands of customers in online food retail. The automated systems increase the efficiency of all processes. Reducing errors and guaranteeing quality are paramount – taking all the article characteristics into account ensures that the groceries arrive whole and fresh at the customer.
The micro-fulfilment centres will revolutionize grocery shopping in urban areas. (©Takeoff Technologies)