Although the answer depends on a variety of factors, a scalable automation solution supports both options.
Increasingly, grocery shoppers would rather buy online than in-store
To save time, more American consumers are embracing shopping for groceries online — embracing convenience by taking advantage of more retailers' click and collect and/or home delivery offerings. Indeed, 23.1% used such a service in 2018; that number jumped to 36.8% in 2019. And the trend is not expected to slow down, with the Food Marketing Institute anticipating that 70% of consumers will do at least some grocery shopping online to the tune of $100 billion in sales (the equivalent of $850 per U.S. household annually) by 2022.
Initially, most stores offering such services were able to manage the demand with associates pushing carts through the aisles and filling one or more orders by following paper pick lists. However, as online food retail has become increasingly more popular, that process is no longer efficient today. Given both space restrictions and labor shortages, cart-based picking can no longer keep up with increasing customer demands, nor can it accommodate the shrinking delivery windows promised by retailers as they compete for customers' grocery dollars. It's also prone to human error and can result in a sub-optimal shopping experience for those shoppers still preferring to do their own shopping.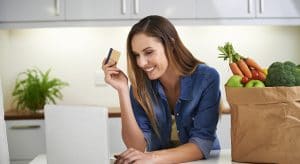 With transaction numbers — and competition — increasing and delivery windows shrinking in an already low-margin industry, what's a food and beverage retailer to do? Many are considering automated micro fulfillment centers as either an alternative or as a supplement to traditional central fulfillment centers historically used solely for retail store replenishment.
What's the difference?
Automated micro fulfillment centers are typically co-located within one or more retail stores, often in an adjacent building or in the back of the brick-and-mortar store footprint. Installed in a roughly 10,000 square foot space, they often serve three to five other store locations and home delivery services. Central fulfillment centers are traditional, large format, standalone facilities (also equipped with automation to fill online orders) that serve many stores and support home delivery services to customers within given region across variable delivery windows.
The question then becomes, which strategy is best for a given food retail operation — and what is the ideal automated material handling technology to most efficiently handle consumer demand? The answer, like so many in supply chain, depends on a wide range of factors.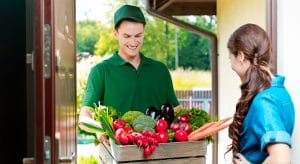 Factors to consider when choosing an e-grocery strategy
Before a strategy can be selected, it's important to understand your online shoppers' preferences, along with your own network offerings. These include:
Service preference. Do your customers prefer the click and collect model, where they pick up their grocery purchases curbside at the store? Or do you offer (and do they prefer) home delivery? The micro fulfillment model is well suited for customer pick-ups at a store, although — depending on your offering — it can also be used for deliveries to customers' homes. Alternately, the central fulfillment model can be ideal for direct-to-consumer deliveries within a given area, as no store labor will be required to package the shipments.
Geographic footprint. How many brick-and-mortar stores are participating in your e-network offering? Do all locations offer the click and collect, or just a few? Do the stores have enough back-room space (or buildable adjacent space) to install a separate automated order fulfillment system? If there are three to five stores in relatively close proximity that offer customers the option to pick up their purchases at the retail outlet, then it may be more cost-effective to install automation at a micro fulfillment center that delivers customer orders directly to those stores. However, if there's a considerable distance between stores, it's more likely that individual micro fulfillment centers located within each location will be better able to accommodate customer demands. Generally speaking, a central fulfillment strategy is the optimal approach for home deliveries.
Shopper buying patterns. Are customers comfortable with letting others select their perishables, such as fresh produce and meats? Or do they only order packaged items? How many items are usually ordered, and what are their sizes?
Understanding customer order profiles is key to cost justifying automation investments. Packaged and frozen items are easily handled by automation. If that's what the majority of customers order, automating a portion of a central fulfillment center can be the more cost-effective solution. However, if the majority of customers order perishables without hesitation, then utilizing automation at a micro fulfillment center, married with cart-based manual picking for produce and meats, might be a better choice. Additionally, the size of each order and the items within it can help determine how quickly each approach will deliver a return on investment (ROI), as it directly correlates to how many orders can be processed within a given period of time.
Selecting the optimal automated fulfillment strategy
Once customers' shopping patterns have been established and the possibilities for your e-grocery operations to satisfy those expectations have been determined, it's time to shop automation options.
The optimal automation solution, whether a micro fulfillment or central fulfillment approach (or a combination of the two) is selected, is one that delivers high throughput, accuracy and maximum flexibility (that is, able to scale up or down to handle shifts in demand as well as in product offerings). The solution must be robust and proven, as well as driven by software that can analyze and respond to customer behavior and changing inventory profiles.
Among the most commonly implemented automated solutions are shuttle-based automated storage and retrieval systems. Highly compact, easily expanded, and offering fast throughput, shuttles can be deployed in limited spaces — as small as 10,000 square feet — yet accommodate as many as 15,000 SKUs. One shuttle system can fit in the back of a grocery store and be used to serve just that outlet, or multiple store locations. Alternately, shuttle systems can also be utilized to handle single picks in central fulfillment centers to serve either direct-to-consumer deliveries or for deliveries for in-store pickups.
KNAPP's OSR Shuttle™ Evo is one such solution that combines storage of individual items with picking from a goods-to-person workstation. In online food retail applications, the system can encompass  refrigerated and ambient temperature storage, making it ideal for automating the picking of items for individual grocery customer orders.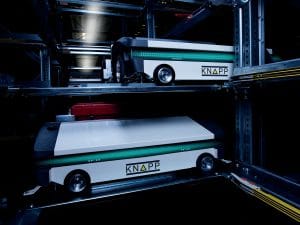 Cost, of course, is always a consideration. In general, the scale and scope of automation required of a central fulfillment center requires more time (18-24 months from contract to go live) and capital investment than the installation of a much smaller automated micro fulfillment center (as fast as 13 weeks). However, depending on the degree of customer demand and geographic regions to be served, multiple micro fulfillment centers may be required. The right system provider can help with the analysis and selection of the optimal solution.
One way to maximize an automation investment, regardless of the fulfillment center strategy selected, is to only apply automation to the items that are frequently ordered and to pick the fastest movers by hand. Typically, it's not cost effective to automate the inventory of an entire store. Instead, after analyzing customer buying habits and SKU velocities, the better approach is to handle a portion of the products within the automated system; for the majority of grocery retailers, this number usually falls between 10,000 and 15,000 SKUs. In practice, this might mean perishables are selected by hand, while packaged goods are automated; picks are then consolidated into a single order manually for either customer pick-up or delivery.
Ultimately, the era of e-grocery is now. Retailers who don't adapt and respond with automation investments now will ultimately lose customers in the long-term. Looking for more insights into different strategies and technologies for handling e-grocery demands? Please write to us at ksi.sales@knapp.com.