Availability and speed are two major challenges in e-commerce. What do companies have to do to supply brick-and-mortar shops as well as the online market from their existing warehouses? And what happens with the package when it leaves the warehouse? KNAPP helps its customers take on the challenges emerging in logistics on the back of the online trend.
Why are concepts for the last mile necessary?
For years, e-commerce and m-commerce have been gaining ground. More and more people are going online to do their shopping quickly and conveniently from their own home or while on the go. What's more, the growing urban population and increasing environmental awareness mean that transport vehicles need to have maximum capacity. As a result, companies are now facing new challenges that require new distribution concepts, particularly ones that optimize and adapt the intralogistics resources at hand.
Preparation for the last mile
Distribution structures vary from sector to sector. A multitude of companies have several distribution centres near to urban areas from which they supply their customers living close by. By contrast, others have one large central distribution centre from which they even supply several countries in some cases. These different structures mean that the "last mile" – in other words, the journey the package takes from the warehouse to the customer – is different for each online retailer.
KNAPP's solutions prepare the articles in the best way possible ready for dispatch. First, shuttle systems supply the goods to work stations in the correct sequence as part of the picking process in order to facilitate order fulfilment. Second, highly-automated dispatch sorting ensures that the goods are put together in a way that is aligned with the transport company. This dispatch preparation involves palletizing and stacking goods, as well as the careful organization necessary for courier express parcel services.
The solution portfolio of ISS-Automation, a company in the KNAPP group, enhances and strengthens the credentials of KNAPP AG in high-performance sorting Solutions.
Returns management
Online trade involves a lot of returns, particularly in online fashion retail. Here, the fast re-integration into the supply chain has top priority. The pocket sorter system produced by KNAPP's subsidiary Dürkopp Fördertechnik is the perfect solution. Originally developed with fashion projects in mind, the Sorter Pocket in fact offers the optimum conditions for all sorts of goods in the e-commerce industry.
Returns arriving from goods-in are recorded automatically and transported directly to automatic picking buffers without the need for any manual intervention. This returned stock is then prioritized for use in ongoing order fulfilment, retrieved automatically and sorted into the order sequence.
This completely automatic solution guarantees high efficiency by minimizing order throughput time while simultaneously ensuring high picking precision. As a result, short dispatch time windows are possible. Enhancing the system with the intelligent KiSoft software solution means that an integrated all-in-one solution is possible for every sector.
The journey to the customer
When the orders are ready for transport after having been prepared with technologies from the KNAPP product portfolio, they are shipped to stores or to individual end customers.
When it comes to delivering online orders, each company offers different possibilities. For example, distribution hubs in key locations allow customers to collect their orders from lockers. With click-and-collect, employees in brick-and-mortar shops fulfil the online orders in the branches ready to be collected by the customers in store.
In addition to these concepts, there is also the classic method of delivering orders to customers' homes. Here, consumers conveniently receive their orders at home via a courier express parcel Service.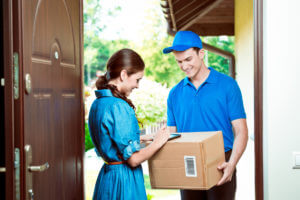 Mapping the entire transport chain digitally
The recently forged partnership with KRATZER AUTOMATION has expanded KNAPP's software portfolio to cover last mile. KiSoft Pick Up & Delivery enables, among other things:
Shipments to be traced
Complete documentation
Recording of damage caused during transit
Acquisition of key figures
All information across the entire supply chain is recorded, processed and provided in a needs-based way in its entirety.
KNAPP works together with its customers to develop concepts that optimize these processes along the entire supply chain and that boost the efficiency of supply to both end customers and to retailers.