1:30 minutes reading time
Pharmacies have been undergoing constant gradual change for a number of years. Whereas in previous years, efficient warehouse management, human resources and saving time were at the forefront when it came to automation, today, more and more pharmacies are taking the first step towards digitization.
Digital prescriptions, e-commerce even in established pharmacies, 24-hour and "self-advice" terminals as well as a new generation of customers with high demands are turning the omni-channel business model in pharmacies into a reality. In addition to this, the predictable shortage of qualified pharmaceutical sales assistants and pharmaceutical technical assistants is prompting pharmacies to take another step into the future.
But what does the buzzword digitization mean for small and medium-sized businesses and for stationary pharmacies in particular?
The digitized working world in pharmacies means integrating individual processes.
Established processes are mapped digitally or are also automated to save work steps. Consequently, digitization is also often used synonymously with automation.
Integrating the workflow makes optimal use of resources and provides all employees with the data they need right away.
Daily tasks such as expiry date management, stock differences and returns processing are simplified.
Considerably higher storage capacity and digital posters save space and thereby rental costs.
Merging the online world and real pharmacies
The KNAPP subsidiaries Apostore GmbH and adcommander GmbH are the partners of pharmacies during this time of change and bring the online world to brick and mortar pharmacies. The sophisticated all-in-one solutions of both companies bring a number of benefits that make daily life and work considerably easier. The Apostore autopickers with their intuitive software dash! will remain at the heart of the pharmacy of the future.
High-resolution window displays, digital posters in public pharmacies and "self-advice" terminals by adcommander ensure a perfectly orchestrated customer journey through the pharmacy of the future. Waiting times are reduced with the help of interactive touch screens that allow customers to search for detailed information on products completely independently.

Thomas Böse, Managing Director adcommander GmbH
Apps that let customers know about new products and when they can pick up the medicines they have ordered not only win over customers, they encourage them to remain loyal to a pharmacy over the long term. A 24-hour terminal dispenses over-the-counter products and medicines that have been ordered round the clock and replaces courier service. Seamlessly integrated processes achieve new value for pharmacists and customers alike.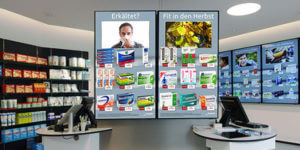 Optimum interplay between technology and software
Mechanical engineering including hardware plays a decisive role on the path towards the future. Autopickers must keep up with software demands. The technology used by Apostore and adcommander, including the service network, guarantees the quality required to stay competitive in the future.
Understanding that digital transformation is never triggered by technology itself is key – it actually comes about in order to solve a problem or provide the customer with a new service.

Christian Bauer, Managing Director KHT-Apostore-Gruppe
The customer-oriented solution marks the start of the pharmacy of the future.