SPAR Ebergassing optimizes
the food logistics processes
Last year, we expanded SPAR's solution in Ebergassing during ongoing warehouse operation – without interruptions. SPAR is a market-leading food retailer in Austria, currently supplying more than 200 stores with fresh groceries. Our long-term partner is now operating our new software solution KiSoft Genomix and our Reusables Management Solutions (RMS) for empties management. KiSoft Genomix uses complete and high-quality master data to boost warehouse efficiency and performance while RMS sort empties returned to the warehouse and return them to circulation. By providing tailored technologies and software from a single source, we complete the circle in the food industry and generate added value for our partners in food logistics.
200 branches are
supplied from the
central warehouse
Daily
1,000 fresh articles
Fast and automatic goods fulfillment
Every day, thousands of goods are delivered to the different SPAR supermarkets from the Ebergassing warehouse, ensuring that all goods are always available on store shelves. In the warehouse, a sophisticated and professional logistics solution makes sure that all goods arrive at the right time, at the right place and in the right quantity.
Together with our long-term partner SPAR, we expanded their central warehouse in Ebergassing to meet current market requirements, all the while keeping warehouse operations going. In addition, a special team of KNAPP Resident Engineers is on site to continue to support our partner during ongoing operation.
The KNAPP Resident Engineers help us on site to continuously service and maintain the installation. They also support optimization and provide general assistance to our error handlers.
square meters
(450,000 ft2)
large pack units per hour
Performance per work station
storage locations
OSR Shuttle™ in dry goods
Open Shuttles
in dry goods
storage locations
OSR Shuttle™ in fresh goods
Open Shuttles
for pallets in fresh goods
Store-friendly food logistics
The SPAR Ebergassing warehouse meets the newest logistics standards and is one of the most sustainable logistics centers of its kind. Thanks to our solution, SPAR can flexibly respond to all requirements in food retail, including peak periods, without having to design the entire warehouse for these spikes in demand. What makes the solution even more useful is the tailored level of automation: In SPAR's case, semi-automation provides the same performance as comparable fully automatic solutions, but with a much lower investment volume. SPAR is now able to deliver to 200 stores with very different layouts six times per week, such as SPAR supermarkets, deli product-oriented Gourmet markets, EUROSPAR supermarkets as well as INTERSPAR hypermarkets. The stores can make individualized orders from a selection of around 50,000 food and non-food items, which are processed and leave the warehouse within just a few hours.
The advantage of the extension we put into operation last year is that we can now handle many more goods. In fact, we can process around 20% more items with the same number of employees.
Patrick Hörmann 
Head of Warehousing and Goods Flow at SPAR Ebergassing
Spotless master data for successful automation
The basic requirement for successful automation solutions is high-quality master data. Our KiSoft Genomix software solution records and digitalizes all item attributes that are relevant for SPAR as early as during goods-in. The software knows exactly which parameters the technologies need in order to operate in the most productive way. This optimizes the entire process chain, improving efficiency and performance.
Harmonious interplay of food logistics technologies
In the goods-in area, our Open Shuttles take care of pallet transport autonomously, supporting the employees working in the warehouse. The majority of items are then automatically depalletized by high-performance robots. At the heart of the installation is our OSR Shuttle™, where the depalletized items are buffered until they are retrieved for store delivery. Our KiSoft software triggers retrieval once all order data is available. The retrieved items are then conveyed to the Pick-it-Easy work stations, which make the picking process extremely flexible. Thanks to their ergonomic design and intuitive procedures, picking is less strenuous and a lot easier for employees. Finally, our packing pattern software stacks the items to form stable and dense pallets.
Do you want to learn more about logistics automation?
Get in touch with our experts today.
Empties management is a
closed circular system in food logistics
Incoming empty goods are processed by our empties management solution, the Reusables Management Solutions (RMS). In Ebergassing, the empties sorting solution can process up to 156 different types of load carrier efficiently while saving resources. In the background, KiSoft RCS manages the data and configures the sorting process. In total, RMS can sort and return up to 1,200 empties handling units to circulation per hour. Reusables Management Solutions is the product of our joint endeavors with our partner Cleanaway.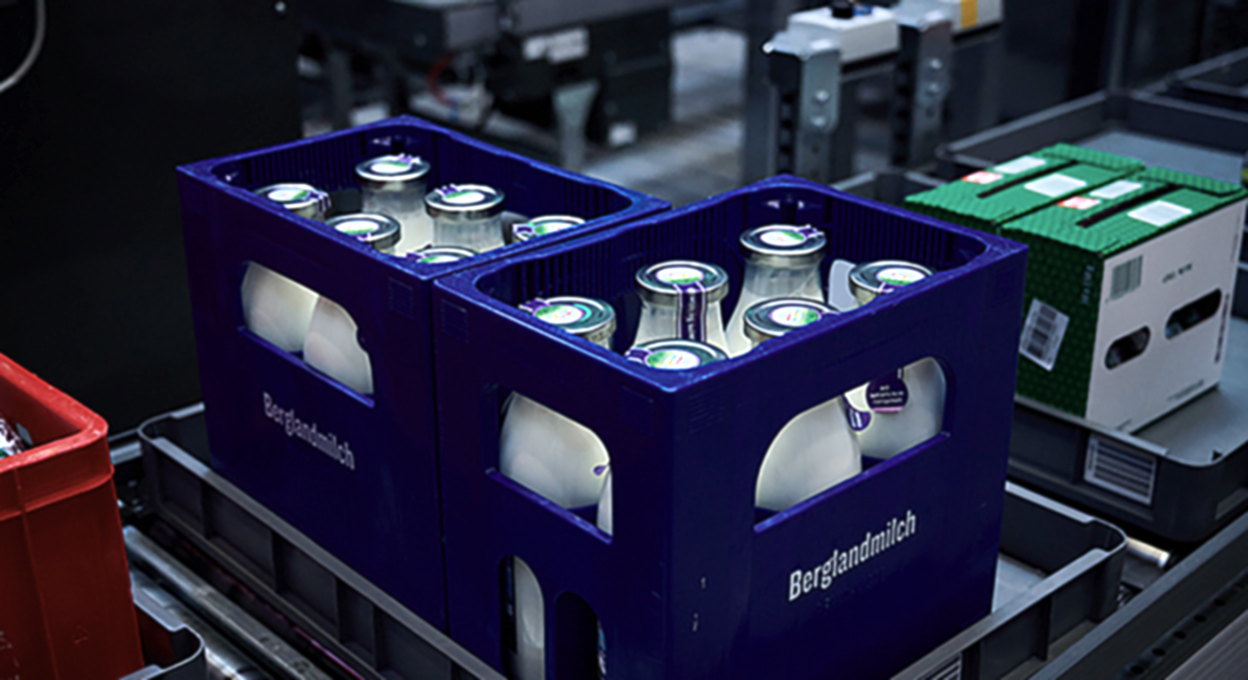 Our main goal was to make our employees' work less strenuous. The ergonomic work stations and processes made that happen.
Patrick Hörmann 
Head of Warehousing and Goods Flow at SPAR Ebergassing
Interview with Martin Gleiss
We also talked to Martin Gleiss, Head of Group Logistics and Goods Flow at SPAR Österreichische Warenhandels AG. He explained how food retail is evolving, how customers gain added value from automation and why SPAR values the years of partnership with us.
What are the key factors in food logistics?
The following factors are the key to working efficiently and successfully in the store and providing excellent service to customers: Speed, completeness, punctuality, accuracy and goods arrangement according to each store layout.
What are the advantages of automation in food retail for order fulfillment?
It has the potential to create a picking sequence according to each individual store. During times where demand peaks suddenly, we can see how important it is to have jobs that don't require weeks of training. Visual aids help employees fill orders, which rapidly increases throughput. Working hours can be quickly adapted and extended according to the workload without the need for long training phases.
Why did SPAR decide to work with KNAPP?
In the future, it won't be possible to find the required number of people to do classic, manual picking. KNAPP has been our reliable partner for 25 years, and we are convinced that Austrian partners can create the ideal solutions for our requirements.