Direct and indirect remuneration fees (DIRs) were originally created by the Centers for Medicare & Medicaid Services (CMS) to account for all prescription medication costs. They are a hotly debated topic because many pharmacies are charged without prior knowledge of these costs after they've filled prescriptions.
CMS says that between 2010 and 2019, DIR fees rose by an alarming rate of 91,500 percent. Yes, you read that right. In fact, in the last two years alone, DIR fees have more than doubled.
DIR fees don't just increase out-of-pocket prescription drug costs for seniors. The National Association of Chain Drug Stores (NACDS) says, "DIR fees are jeopardizing the viability of pharmacies and patient access." During the pandemic, the importance of having a pharmacy within five miles of 90 percent of Americans was realized anew by many. DIR fees put this essential service to our population at risk.
A new pharmacy coalition hoping to reduce patients' out-of-pocket costs and prevent pharmacy closures says, "DIR fees are exerting unnecessary and devastating pressures on patients, on pharmacies, and on communities — particularly the most vulnerable and the underserved. We welcome the introduction of the Pharmacy DIR Reform to Reduce Senior Drug Costs Act, and we urge its passage this year."
There is hope, but relief may not come soon enough for some pharmacies. And let's face it. DIR fee reform may not come at all.
As if DIR fees weren't enough of a challenge, generic effective rate (GER) fees add insult to injury. GER has been applied retroactively and at point-of-sale. GER and DIR fees mean pharmacies may actually lose money — $2 or more — when filling generic prescriptions.
"
"
"While Effective Rates are not new, they are adding complexity to already unclear reimbursement formulas. In 2018, pharmacy owners received bills for hundreds of thousands of dollars with 14 days to pay."
— Pharmacy Development Services
What's a pharmacy to do?
There are firms that can help mitigate recoupment costs. But even with mitigation, DIR and GER fees will continue to erode profitability for pharmacies. In this environment, the only thing pharmacies can do to reclaim profitability is to lower their operational cost to fill prescriptions. The right kind of automation can help pharmacies do that. And pharmacies have many options today.
In-store pill counters can speed the filling process and reduce the labor required for filling prescriptions. There are several different pill-counting solutions today including table top counters.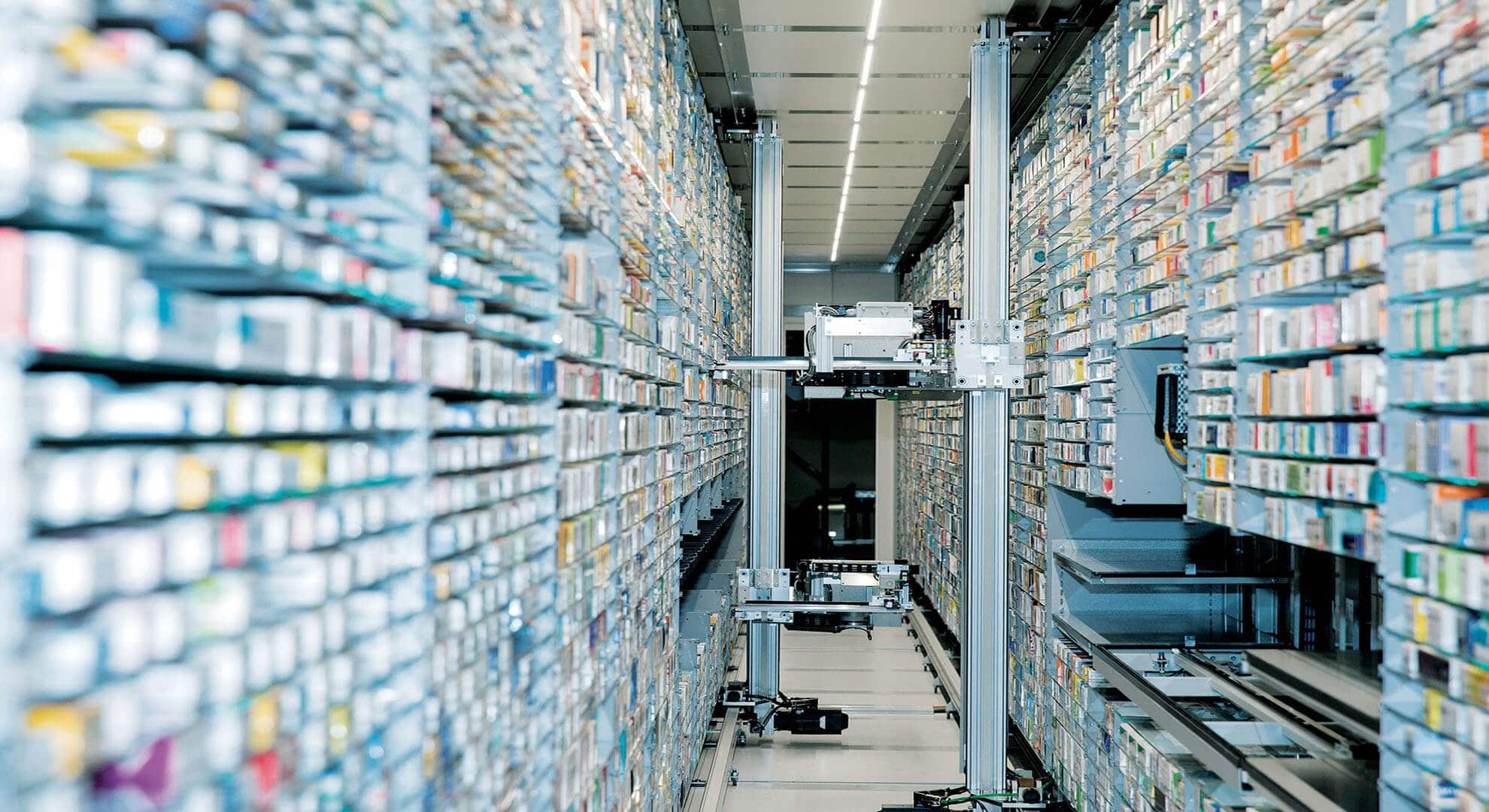 For independent pharmacies and small chains with a high density of stores in a metropolitan area, in-store nano-fulfillment may be just the thing to reclaim profitability and grow revenue. Nano-fulfillment automation technology in a hub and spoke configuration allows pharmacies to lower the cost to fill prescriptions by eliminating manual tasks for one or several stores in a close geographic area. Pharmacies can also:
Increase capacity and throughput
Dramatically improve pharmacy workflow
Eliminate mistakes due to human error
Reduce pharmacy and technician staff
Store more products in less space
Automate DSCSA compliance and
Reduce expired medication costs with 'first to expire, first out' dispensing
Nano fulfillment also frees up to 60 percent of behind-the-counter space in the hub store, making it possible for pharmacies to:
Provide more clinical services that build pharmacy revenue and positively impact patients' health
Extend working hours without increasing staff using 24/7 dispensing terminals
Grow operations without adding man hours and better compete with online retailers like Amazon and others
Our Apostore systems have been deployed throughout Europe. Some installations include automated 24/7 dispensing and other nano-fulfillment features. And there are already three similar systems installed in North America — with more in process.
Pharmacy profitability: Central fill may fill the bill
If you have enough volume, mail order central fill may fill the bill for better profitability. Medications can be delivered to pharmacies or direct-to-consumer (DTC) via mail order technology. Filling prescriptions outside the pharmacy and then delivering them to different sites or mailing them directly to consumers can deliver big savings while improving accuracy. It's also significantly faster than in-store manual fulfillment.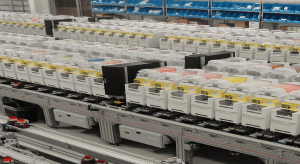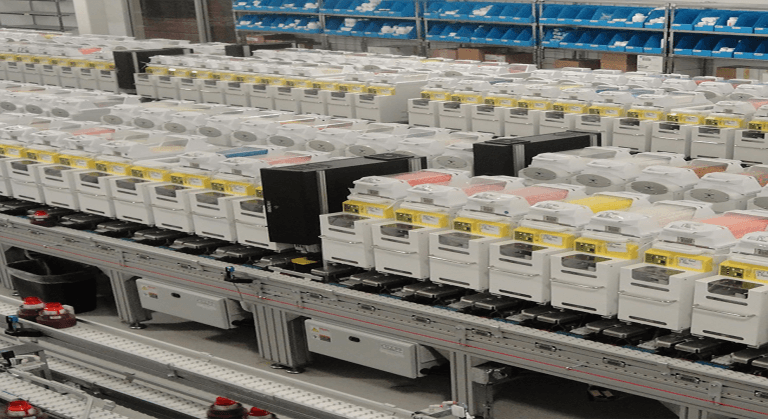 Modern automation technology including robotics, automatic tablet dispensers, specialized software and RFID makes it possible to intelligently and efficiently pick individual tablets. Patient-specific orders can be rapidly filled and labeled in a fully automated fashion with end-to-end traceability for every single medicine. The system even detects broken pills and capsules. And all materials that come in contact with medication have been certified by the Food and Drug Administration (FDA). The system is also suitable for 99% of the National Drug Code (NDC) directory.
The mail order central fill model frees time for pharmacists and technicians, so they can spend more time with patients. It also eliminates the information chaos, behind-the-counter chaos and workflow chaos found in so many pharmacies today.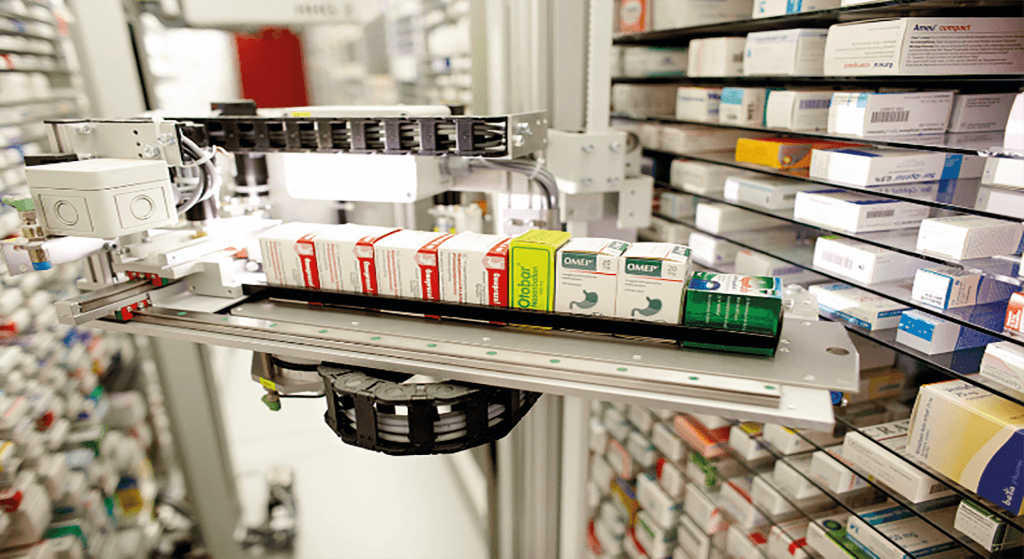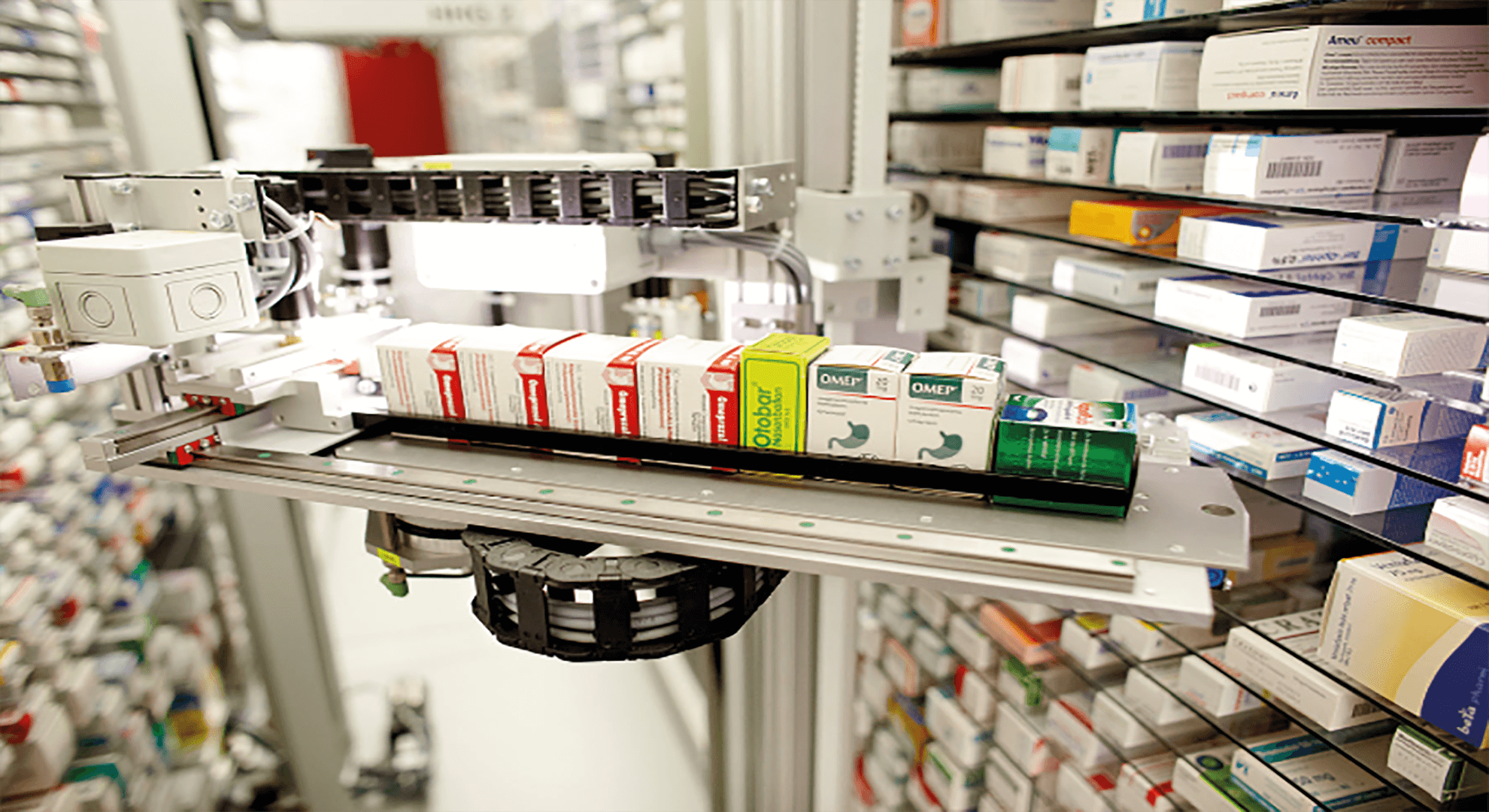 Centralizing dispensing of top-moving meds can save $9 to $10 in fill costs versus manual filling. Instead of losing $2 or more on a prescription due to DIR and GER fees, pharmacies could be making $8 per fill. This is a game-changing equation.
Mail order central fill is a flexible and scalable solution with a short pay-off time. Return on investment (ROI) depends on the size of the operation. Typically, ROI is less than 24 months due to reduced carrying and inventory costs and lower cost to fill as well as more revenue-generating services.
For pharmacies in serious trouble, mail order central fill can be the perfect way to address unpredictable GER and DIR fees. Central fulfillment also adds value beyond building a better bottom line.
Pharmacists can spend their time caring for patients instead of counting pills and filling bottles
Pharmacies can fill prescriptions with essentially 100% accuracy, ensuring the right medication is given to the right patient in the right quantity and dose — this is significantly higher than the retail accuracy rate
Patients can have more flexibility in how they receive their medication and benefit from clinical services that help them stay as healthy as possible
Adapt and change today.
When digital disruption happens, it's unstoppable, radical and extremely fast. No pharmacy is safe. Get digital transformation right and the benefits are immense. Increased sales. Reduced operating costs. Inventory optimization. Get it wrong, it will cost you time, money and customers.
The Global Center for Digital Business Transformation says, "In today's world, there are two paths: navigating to a new digital future, or being engulfed by exponential competitive change." This is already happening for the pharmacy sector, making it imperative to choose the right automation solutions sooner rather than later.
Pharmacies have a unique opportunity to manage the challenges of today and tomorrow with next-generation automation technology. Now is the time to capitalize on that opportunity by digitizing pharmacy operations and fulfilling your potential for profitable growth.