3,50 minutes reading time
Article contains videos
Changes in the healthcare supply chain are transforming the pharmacy business. This is placing unprecedented demands on logistics, which have to be met as soon as possible. Read on to find out more about these demands and the solutions we have for them.
The general change that society as a whole is experiencing is bringing with it changes in consumer and purchasing behaviour that has now reached pharmacies. Today, patients expect flexibility, quality and fast availability. Furthermore, legal requirements demand complete transparency and documentation. Legislation requiring serial number and lot tracking requires continuous traceability of every medicine from the producer to the patient. Also new business models are also emerging in the healthcare sector. While online customers order directly from online pharmacies, omni-channel customers order online and expect their pharmacy to provide same and next-day delivery.
Central Dispensing
There are various responses to the new challenges involved in customer behaviour, market conditions and legal provisions. Some such responses are so-called central dispensaries and hub and spoke systems. In automated distribution centres, prescriptions and orders arrive from doctors or pharmacies in electronic form and are fulfilled individually for each patient.
Pack2Patient
This has led to the emergence of one challenge in particular: handling single items intelligently and efficiently. Our response to this challenge is Pack2Patient, which allows patient-specific orders to be fulfilled automatically, safely and highly efficiently. What's more, Pack2Patient offers fast order processing while also guaranteeing top delivery quality and end-to-end traceability.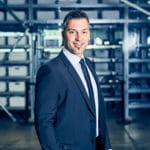 With Pack2Patient, we have created a solution that creates added value for both pharmacies and patients. The automated fulfilment of prescriptions outside of pharmacies guarantees quality and compliance with the law. Furthermore, Pack2Patient frees up time for the employees in pharmacies to advise customers individually, thereby strengthening customer relationships.

Christoph Lienhart, Executive Product Manager, KNAPP AG
How Pack2Patient works: 
Article identification with a barcode and product scanner, and label application
Article verification: It is checked whether the right label containing the correct information has been applied to the right article. Image recognition technology scans the whole of the package and not just the label.
Legal compliance according to DSCSA and FMD: Guarantees end-to-end traceability for every single medicine – from the manufacturer to the patient
Article sortation and order fulfilment based on prescriptions
Dispatch preparation and packing
Order delivery to pharmacies or directly to the patients
Mail Order Central Fill – the solution for the US market
The Automatic Tablet Dispenser (ATD) and the KNAPP Medication Dispenser (KMeD) are both reliable solutions for safely and efficiently picking individual tablets for patient-specific orders in vials. These are automatically labelled for each patient and are conveyed on a puck conveyor, held securely upright before being either automatically or semi-automatically packed.
Process reliability and quality also have top priority. The reliable replenishment process permits transparent and continuous traceability. The reliable tablet separation process can be individually calibrated and ensures that the medications are carefully placed in the vials – the system also detects broken pills and capsules. All materials that come into contact with the medication have been certified by the FDA (Food and Drug Administration).
Advantages:
Fully-automatic picking of individual tablets
Prescriptions for individual patients are picked safely
Suitable for manufacturers, wholesale and Direct2Patient
Maximum quality, efficiency and security with reliable robot technology, specialized software and RFID technology
Scalable system that takes up minimal space
Few resources required
Flexible and scalable solution with a short pay-off time
Light and moisture-proof storage
Optimal hygienic conditions
Simple maintenance; high safety standards
FDA-certified materials
Suitable for 99 % of the NDCs (National Drug Code Directory)
Online pharmacies
Online pharmacies represent a business area that is enjoying strong growth, gaining both popularity and generating increasing turnover. In the e-commerce business in particular, which is influenced by a large number of small-quantity orders, the advantages of the KNAPP-Store are especially effective because it can process orders faster, with less effort and with almost no errors.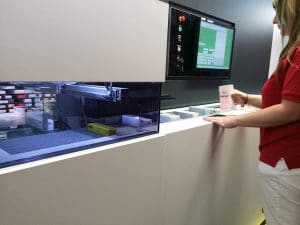 The KNAPP-Store has a much higher storage density than typical pull-out bins, for example, and the space required for storage is reduced. What's more, it assists in regulating lot and serial number tracking. By precisely monitoring article characteristics, articles with a specific lot or serial number, or with a specific date mark can be retrieved at the push of a button so they can be picked in due time.
For online pharmacies, this solution means above all a real plus in quality – one of their top priorities. There can be severe consequences if a patient receives the wrong medicine. Ensuring that there are no errors is enormously important.

Christoph Lienhart, Executive Product Manager KNAPP AG
3,50 minutes reading time
Article contains videos
Additional Information
Would you like to know more about our solutions for the healthcare sector? For more information, please visit: Healthcare Solutions