Get your career started. Join our apprenticeship programme.
An apprenticeship with KNAPP will provide you with terrific career opportunities. As one of the leading global providers of warehouse automation and warehouse logistics software, we are well positioned internationally with over 3,000 employees and more than 35 locations. For over 25 years we have been training apprentices as a federally recognized apprentice training company.
If you are fascinated by machines and technical processes, and you also enjoy working with your hands, then an apprenticeship could be just the thing for you.
We train our apprentices in the following professions with great future prospects:
Metalwork technician with core module mechanical engineering (3.5 years)
Metalwork technician with core module mechanical engineering and special module design engineering (4 years)
Mechatronics technician with core module automation technology (3.5 years)
Mechatronics technician with core module automation technology and special module PLC technology (4 years)
Information technology technician (3.5 years)
Information technology computer scientist (3.5 years)
At KNAPP, you will not only gain comprehensive practical skills in different departments; it is also important to us that we help develop your social skills.
Current apprenticeship position
Es sind derzeit keine ausgeschriebenen Lehrstellen verfügbar.
What we offer you...
FAIR TEAM PLAY. We promote a positive working environment in which you can prosper. Together with your colleagues you will tinker away at practice-orientated tasks. Mutual support and common goals are vital for a good team. Besides this, we also build upon the team spirit by organizing interesting excursions and joint outings.
PROJECT-BASED WORK. Our project-based work also provides the programme with variety. We foster your technical understanding away from conventional learning paths. Whether you're programming a solar-powered barbeque grill or designing and assembling punching machines, you will be expanding your horizons in the process and working on intriguing projects. We show you in a creative way how theoretical knowledge can be put to good use in an everyday context.
ACTIVE ABROAD. Experience complete logistic systems in action and observe how individual components interact. Towards the end of the apprenticeship we offer you the opportunity to gain your first practical experience abroad. You will be accompanied at all times by a mentor who will be there to answer any questions. Thanks to our English language training provided by Berlitz, you will also be well prepared for your assignments abroad.
HIGHER VOCATIONAL DIPLOMA. You can embellish your apprenticeship certificate with the Higher Vocational Diploma. You will complete the diploma in German, Mathematics, English and the specialist vocational area taken from practice. You complete the preparation courses in house with us following your working hours.
You can apply for an apprenticeship at any time throughout the year. The apprenticeship programmes always begin in September.
Use your application to show us what makes you unique and what your personal interests are; this helps us to form a better impression. Prior to the start of the apprenticeship, you will complete a trial week during which you will also sit an admission test. Our tip: be honest, friendly and inquisitive! We look forward to meeting you.
You application should include:
Cover letter specifying desired career path
CV (résumé) in tabular format with a photo
Final grade certificates from the last three years
Contact details of your parents
We need the following documents for a trial apprenticeship:
CV (résumé) in tabular format with a photo
Contact details of your parents
Confirmation of insurance coverage from your school
Desired career in which you would like to complete a trial apprenticeship

1. Online application

2. Application documents are checked

3. Acceptance deadline end of July

4. Interview between May and July

5. Start of apprenticeship middle of September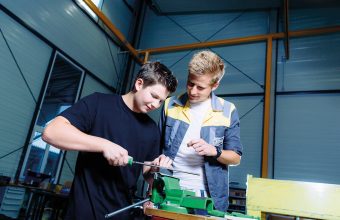 Apprenticeship programme: metalwork technician with focus on mechanical engineering
As a metalwork technician your world revolved around metals, machines and tools. You process different metals both manually and using machines. Sparks may well fly while turning, milling, cutting, grinding, filing, welding or soldering. You will become an expert in the mechanical construction of our logistics solutions.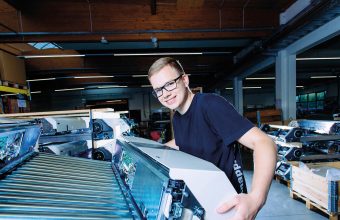 Apprenticeship programme: mechatronics technician with focus on automation technology
As a mechatronics technician you connect mechanical components with electrical and electronic ones. During your training you will learn how to install electrical, pneumatic and hydraulic control systems according to configuration diagrams. You will program computerized machinery and system parts, and add component parts to mechatronic systems for our logistics systems, which, you also put into operation on site at our customers.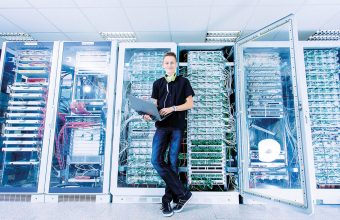 Apprenticeship programme: IT technician
As an IT technician you install hardware and software within the company network. You provide support to your colleagues by answering questions and offering practical assistance. You connect, configure and test terminals, network switches, routers and printers. Learning how to cable correctly and work with current are also part of your training along with analysing and rectifying sources of error.