2:30 minutes reading time
The automotive industry is changing
In the digital age, companies are constantly striving to balance quality, performance and costs. For the automotive industry in particular, this manifests itself in the customizations along the entire production chain. Customers now have a tremendous number of options to customize their vehicles to suit their individual tastes, for example. The product variation spans the A to Z of automobiles, from automatic to zero-emission, which places rising demands on production.
What does this mean for production companies?
The automotive industry is changing. The integration of digital processes as well as the demands placed on employees in terms of skills and abilities are changing considerably with it. Product variation continues to grow, with almost every customer expecting a customized car within the shortest time possible. This increasing variety is making production more and more complex and putting employees under enormous pressure.
Equipped for the future with innovative work stations
Two Styrian companies in the automotive industry have acknowledged this challenge and are equipping themselves for the future. They have selected innovative work station solutions by the KNAPP group, produced by KNAPP Industry Solutions and ivii GmbH. With these solutions, they are armed and ready to face the onslaught of customization within the production chain emerging from digitization.
Some of you may recognize the green and yellow logo from lorries on the motorway, others will know the company name. Jerich International is a supplier of vehicle body parts headquartered in Gleisdorf, Austria, with subsidiaries across the globe.
Herbert Jerich Jr. recognized the challenge of customization even in the face of digitization, 100 % quality and just-in-time delivery. He wants to optimize quality processes while relieving the strain on his employees.
Only 3 mistakes are allowed per year
"Quality is our top priority," explained Herbert Jerich Jr. in an interview with Victoria from ivii. His employees check vehicle body parts 8 hours a day, according to the 6-eyes principle. Failure to concentrate for just a moment, fatigue or distraction can lead to major errors. Jerich employees are allowed three mistakes per customer each year and check a whopping 100,000 parts annually. If more than three errors occur, Jerich loses its important status with its customers as an A supplier. In the worst-case scenario, they can even have their accreditation as a supplier suspended. A possible error would be delivering the wrong vehicle body part to the customer, for example. A barcode that has been covered by mistake also counts as an error.
Digital eye assists employees with quality assurance
Jerich was looking for a system that most closely resembled the human eye. This "digital eye" would fulfil the requirements for high quality and simultaneously reduce the strain on employees. Now, an ivii.smartdesk with an integrated image processing system and optimal lighting concept is assisting employees with their daily work.
There are different ways to improve the quality in production and relieve strain on employees. One of these ways is industrial image processing by ivii.
Jerich International is investing in the future and enhancing their picking work stations with image processing technology by ivii – all while keeping the focus on the person.
The added value? Higher quality.
There is no workforce as versatile and flexible as humans are. Why not provide them with support by relieving them of strenuous tasks and equipping them with intelligent technologies? The Jerich employees are supported by the ivii.smartdesk but still remain the essential force in the warehouse. The innovative image processing system provides the employees with just-in-time feedback, in other words, if a work step was incorrect, the system reports it immediately. This has the advantage that errors are corrected by the employee as part of the process and are not detected for the first time by the customer.
At the same time, Jerich's integrated system is fed with data that can be used for evaluations. The ease of use means that employees can be trained quickly saving both time and resources. The image processing systems by ivii provide an ergonomically designed work station for the employees where physical effort is reduced using intelligent image processing solutions. Problem solved!
Discover more about the innovative work station ivii.smartdesk here.
20 individual cable harnesses per hour
The car manufacturer Magna Steyr is also turning its attention to quality assurance.
Magna Steyr is the leading global, brand-independent development and production partner for automobile manufacturers and relies on KNAPP automation technology.
By the completion of a new vehicle project, cable harnesses for car doors have to be supplied to the production line in the correct sequence at a rate of 20 cars per hour. Manual picking is difficult to implement due to the many different possible combinations. This is why Magna Steyr opted for an automated small parts warehouse produced by KNAPP for their site in Werndorf, where the individual cable harnesses are picked for further installation at the line.
Armed for the demands of the future
An OSR Shuttle™ is the heart of the solution and supplies an ergonomic picking work station from the Pick-it-Easy series. The OSR Shuttle™ is ideally suited for high-performance applications and scalable in terms of size, performance and function. Error-free picking is guaranteed through individual item checks. Scanning the barcode on each cable harness confirms that the correct article is picked for the right car. In this way, Magna has an integrated quality check early on during the production process. The cable harnesses are connected correctly, the new car can be shipped and the customer is happy.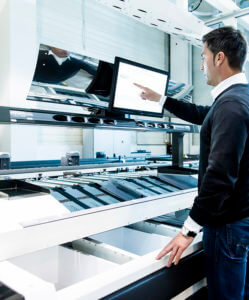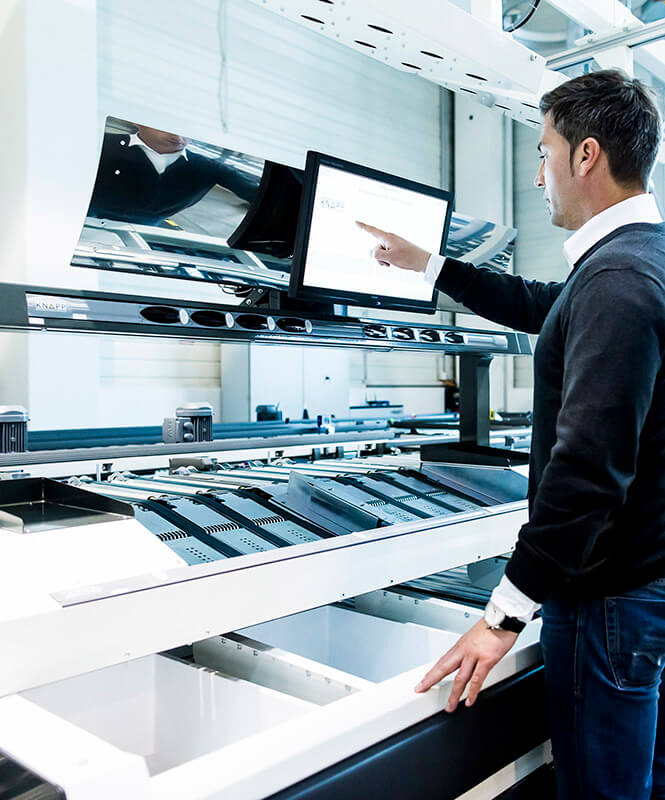 Change opening up new opportunities in the automotive industry
The automotive industry is facing some major changes. Technological revolutions, new and financially strong competitors, as well as new platform-based business models are only some of the most significant ones. In order to navigate these changes, the automotive industry needs efficient processes and workers who can be trained in the shortest possible time.
We see changes as opportunities. With our innovative work station concept, we want employees in production to work at smart work stations that are much more than just a desk. Background quality-assurance software and easy-to-use software at the work station help to save time and costs. Now, nothing stands in the way of 100 % quality. For Jerich International and Magna Steyr, the future can come.
We're ready for the future. Are you?
2:30 minutes reading time
Additional Information
P.S. Do you have work stations that need improving?  We at KNAPP and ivii would be delighted to discuss your ideas and requirements to develop new solutions tailored to your business. Contact us at blog@knapp.com.