4 minutes reading time
Article contains videos
A pocket for every situation
A modern distribution centre faces a variety of demands. The market is less and less predictable, order volumes are growing while, at the same time, lot sizes are shrinking. The modern DC must be able to optimally process a constantly changing range of goods. Omni-channel fulfilment is now the daily business in many areas, coming hand-in-hand with increasing demands for flexibility, quality and customer service.
How can all these demands be fulfilled? At KNAPP, we've got the solution: Put it all in the pocket sorter with matrix sortation and out of the chaos you get a precise item-by-item sequence. The pocket sorter cleans up – quickly, efficiently and scaled flexibly to your needs.
The pocket sorter – everything in the correct order

With subsidiary Dürkopp Fördertechnik, the KNAPP group has over 10 years of experience in pocket sorter systems and has already successfully implemented more than 35 systems with more than 2.5 million Sorter Pockets worldwide. Using this system, hanging goods as well as flat-packed goods such as shirts, shoes or accessories can all be transported and buffered together in one system. This pocket sorter is therefore ideal for applications in the e-commerce and omni-channel areas, which need high performance with a great deal of sorting.
The Sorter Pocket allows hanging and flat-packed goods to be transported and sorted in one system.
The intelligent pocket sorter system has already convinced numerous customers, above all in fashion sector, but also in other sectors as well, such as retail. The systems are in use worldwide, assisting renowned customers such as ASOS, REI and Marks & Spencer.
This assistance is smart down to the smallest detail: Equipped with RFID technology, the pocket sorter really delivers with 100 % tracking, accurate identification and access at any time to any article in the system. Intelligent Matrix sortation brings order to otherwise chaotically buffered goods and provides a reliable 100 % sequence, sorted according to the desired criteria. The pocket sorter system and the matrix sortation form the basis of modern omni-channel fulfilment and master every challenge.
Performance, quality, and convenience
⇒ Solution: A central hub integrates every work station with every pocket; matrix sortation for 100 % sequence
A central hub in the sortation system ensures maximum performance and flexibility in the modern omni-channel warehouse. It connects every work station with every pocket in every sortation module: As a result, any work station can process any customer order. It makes no difference whether it's a small e-commerce order or a large shop delivery: The pocket sorter separates order processing from the order structure and the business model.
Heavy articles first? Same and next day delivery? Shop-friendly delivery or sorting according to size or colour? No problem. Thanks to matrix sortation, the latest trends always arrive quickly at the shops or the end customer in the perfect quality. The pockets with the goods arrive at the work stations in the exact sequence needed for packing. The result: Every work station is capable of omni-channel fulfilment, and work is reduced both in the warehouse and in the shops, and finally, the end customer gets more service and quality.
Different processing times in warehouse areas
⇒ Solution: Order processing temporally decoupled using the pocket sorter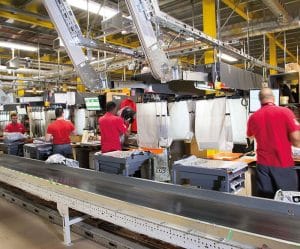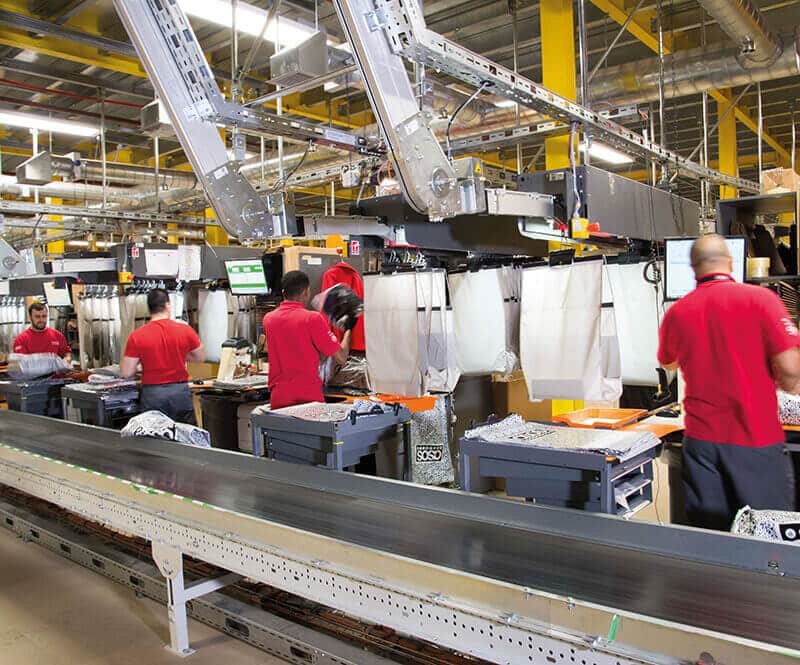 Picking goods in the manual areas typically requires different lengths of time in comparison to picking in the automatic areas of the warehouse. This has an effect on the overall processing time for an order because an order is only consolidated after all its articles have been picked. Functioning as a pre-buffer, the pocket sorter harmonizes different processing times. Articles are picked in batches to increase the efficiency of manual and automatic picking areas. Orders with similar content are combined and picked together. Whether picked manually or automatically, every article ends up in a Sorter Pocket and is temporarily stored in the pocket sorter. When all the articles for an order are available, the matrix sortation organizes the articles in the precise sequence before they are packed. The pocket sorter combines performance, flexibility and efficiency in one system.
Low predictability
⇒ Solution: A pocket sorter system combined with manual and automated warehouse areas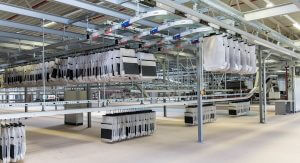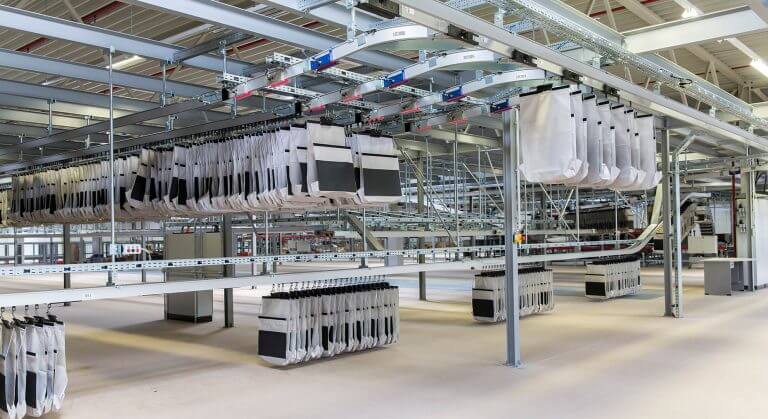 Low predictability, rapidly changing assortment, changes in order numbers and structures are characteristic of the business. This doesn't affect the pocket sorter system because in this system everything revolves around the single item. This is why it's the ideal solution for the demands of the future. The modular construction allows the pocket sorter to be flexibly scaled for growth. For increasing demand, additional sorter modules can be added, which makes this system the ideal automation starter system. Just start compact and smart, then allow the pocket sorter to grow as business grows. This flexible system makes the pocket sorter the ideal plug-in solution for retrofits.
Full efficiency and economy
⇒ Solution: Hanging and flat-packed goods in one system; one-touch handling; dynamic buffer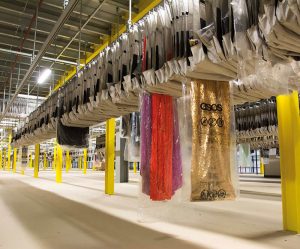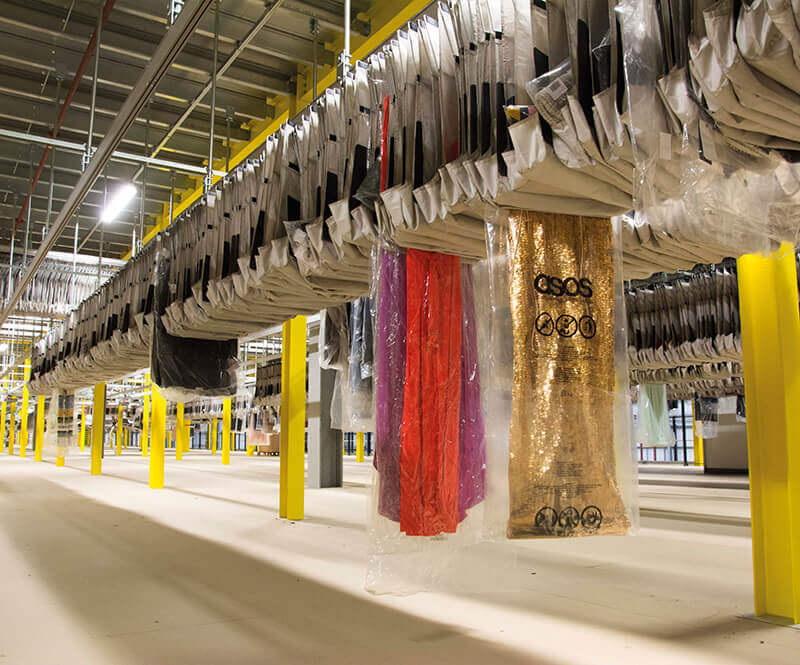 Especially in e-commerce, processing hanging and flat-packed goods together poses a significant challenge. Here, the pocket sorter is the intelligent solution. Flat-packed goods are transported in the pockets, while hanging goods are either fastened to the pocket or directly fed into the system on hangers. All the articles are buffered in the pocket sorter and are available quickly and straightforwardly for further processing.
Cost-effective one-touch handling of returns is a clear case for the pocket sorter. Pockets with returns are buffered in the dynamic buffer and are immediately available for further sale. The dynamic buffer is ideally suited to fast-moving articles or seasonal peaks. The goods are pre-picked into the pockets, buffered in the dynamic buffer and can be pulled out of the buffer whenever needed. This saves valuable time and resources during times with peak loads.
Regardless whether it is
performance, quality, and convenience
different processing times in warehouse areas
little or no plannability or
full efficiency and economy,
…with our intelligent pocket sorter solution, we overcome every challenge faced with in a modern distribution centre.
4 minutes reading time
Article contains videos
Additional Information
Sie wollen mehr über unsere intelligenten Taschensorter-Lösungen erfahren? Detaillierte Informationen finden Sie hier: http://www.duerkopp.com/de/index.php.
Wenden Sie sich auch gerne an uns. Wir freuen uns, mit Ihnen Ihre Ideen und Anforderungen zu diskutieren und neue Lösungen zu schaffen. Kontaktieren Sie uns einfach unter blog@knapp.com.