Top-notch image recognition and processing technology
Our ivii.smartinspector literally has a photographic memory. This intelligent solution detects any remaining articles or dirt in containers. To do so, ivii.smartinspector uses top-notch image recognition and processing technology. The smart helper was developed by ivii, a recent and ambitious addition to the KNAPP group. Christian Zink is the Product Manager for the ivii portfolio and gives an insight into the areas of application and advantages of the ivii.smartinspector.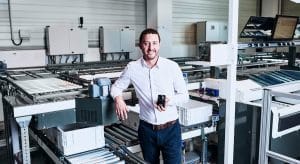 With ivii.smartinspector dirt or left-over articles can be detected in containers. Where do you implement such a solution and what are the advantages?
Our ivii.smartinspector is a classic solution for the goods-in procedures to ensure efficient and high-quality goods-in processes. A camera system with intelligent software is installed above the conveyor system: each container is photographed from above and the actual image is compared to the expected image in the database. In doing so, empty storage containers can be checked automatically without stopping the container flow before they are filled with new goods again. One advantage of the ivii.smartinspector is that it can be adapted flexibly to its environment such as the customer's conveyor system. Thanks to a PLC interface, the ivii.smartinspector can be easily integrated into existing systems. The system is easy to install and also low-maintenance during ongoing operation. All in all, this is a plug & play solution that boosts quality.
What are the scopes of application in the fashion and retail sectors?
High quality and speed in processing customer orders are crucial in the retail and fashion sectors, especially in online commerce where goods are shipped directly to the end consumer. Dirt, a stain or adhesive residue on an article that the customer can't wait to receive can ruin the shopping experience. This is where the ivii.smartinspector helps to ensure the best possible quality without compromising efficiency. We are currently implementing this concept for a large online retailer in Germany.
 Our motto is passion for simplicity. What drives us is the passion to make the life of our customers simpler.

Christian Zink, Product Manager at ivii
Location: Dobl
Specialization: Intelligent solutions for image recognition and image processing for industry and logistics
Employees: 31
ivii.smartinspector
Area of application: Detection of dirt and any remaining articles in containers in the goods-in area
Advantages: Automatic checking of containers without stopping the container flow; simple integration, communication via PLC interface