3 minutes reading time
Article contains videos
The urbanization megatrend affects all areas of life, from mobility to the provision of goods. An increasing number of people have to get the things they need in an increasingly small space – quickly and easily. Which new services and sales channels are developing to meet consumers' demands? And how can they be reconciled with sustainability? As a strong partner for automation and digitalization, these are all questions we ask ourselves. In the following interview, our experts from Sales and Product Management shed light on the current trends in retail technology and present solutions to the challenges posed to today's value chains.
The EHI LAB is a platform for young retail professionals that promotes the transparent exchange of knowledge and ideas, providing exciting news from researchers and professionals in the field alike. Kira Wiesner invited our urban solution experts to a conversation.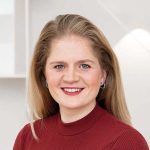 Kira Wiesner is Project Manager at EHI LAB. In the following podcast episode, Kira talked to Wolfrum and Jürgen about intelligent urban networks and today's retail technology trends.
Wolfrum Hofbauer is Head of Sales for Food Retail Solutions at KNAPP Systemintegration GmbH. Wolfrum is in close contact with customers and knows their needs and requirements inside out. Together with other departments, he uses this knowledge to develop tailored solutions.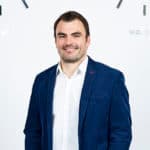 Jürgen Drobeschis Portfolio Manager for Value Chain Solutions in Product Management at the KNAPP AG. In his area of expertise, Jürgen works with innovative products and the solutions of tomorrow, ensuring that value chains become more efficient, resilient and sustainable.
Let's start with the basics: What is a value chain?
Jürgen: "Value chain" is the umbrella term for all activities involved in developing, manufacturing, selling and delivering a product. So, a product goes through many steps before it reaches the end consumer – a process that can be quite lengthy. In distribution, the last step is the last mile.
Could you briefly explain what the last mile is?
Wolfrum: The last mile is the last step in the process, when the product leaves the last stop in the warehouse. It describes how the order gets to the consumer, who is waiting at home, in their office or somewhere else. The delivery can also go to a store, for instance.
Why does the last mile play such a major role in retail?
Jürgen: Because this last stretch uses up 50 % of the energy and resources. There is a lot of potential here to increase efficiency. And that is one of the trends in retail technology for urban areas.
If you manage to decrease the distance travelled by 10 % or 20 %, then you can achieve added value with regard to efficiency and service quality. If you can save on distance, the consumer receives their product faster, which increase service quality and reduces costs. Today's consumers want their orders to arrive within 15 minutes.
The last mile is where the customer experience takes place. If the consumer can choose where and when they want the products they ordered to arrive, they will feel well looked after. The moment the order is handed over to the consumer is also crucial, as it's the first direct contact between the retailer and the consumer. Before that, the consumer could only engage with the retailer indirectly through an online store or an app. The hand-over process is where retailers aim to leave consumers happy and content. If hand-over was successful, they will gain a long-term customer. If not, they will lose them.
What challenges are retailers currently facing in the value chain?
Jürgen: At the moment, they are up against a number of challenges. Supply chains all around the globe are changing dramatically. This makes it extremely difficult for retailers to plan ahead and define precise delivery times. Delivery times have often been prolonged by months, making it impossible to plan ahead. Another issue is the shortage of personnel. Retailers have to learn to cope with fewer employees and become more efficient with what they've got.
What trends are developing in the market?
Jürgen: Consumers used to avoid buying certain products such as food online. However, they have lost their inhibitions over the past years. The trend in food retail used to be click and collect. Now consumers wish to have their orders delivered to their home at a particular time of the day. This trend, however, spans across the entire product range and assortment, from that special pair of red shoes to the groceries for the entire week. In urban areas, this is an especially sustainable type of logistics, which we call "intelligent urban network".
Wolfrum: Food e-commerce has been around for a while in France, the US and the UK. What is different today is the level of service. As a consumer, I can have everything I want delivered to my front door. Quick commerce is another trend. A few years ago, it was impossible to imagine that an order could be delivered within as little as ten minutes. In my view, the retailers who offer the best service will achieve the strongest relationship with their customers. And the consumers really are at the center of all this. For example, one of our customers, Intermarché, has automated their retail processes in Lyon and Paris using an MFC.
Jürgen: Today's value chains are demand-driven, since consumers today are spoiled for choice when it comes to the number of retailers. This means that the demands of the end customer determine the demands on the value chain, including how, when and where the customer wants to receive their products and how many of them. This not only has an effect on delivery and the store, but also on production.
What can be automated in this area?
Jürgen: In future, retailers will have to manage the delivery of massive order volumes. To achieve this, they will need small automated centers in urban areas to compensate for the shortage of delivery drivers. Automation is key, as it helps boost efficiency while ensuring closeness to the consumer.
What are some other trends you're seeing?
Wolfrum: One of the major trends is sustainability, regarding increasing the efficiency in store delivery, reducing CO2 emissions and curbing the shortage of personnel. Automation is the key here. Another important topic is the limited space that is available in urban areas. Consumers want their orders to arrive faster and more reliably. As cities regulate transit traffic, logistics centers are built on the outskirts of the city. Such centers are called micro fulfillment centers, MFCs for short, which ensure that retailers are close to the customer, the level of service is optimized and traffic inside the city is reduced.
In food retail, it's important to mention the solutions for store delivery. Distribution centers ensure that the shelves in grocery stores are always filled. The challenge here is that every store has its own particular layout, meaning the shelves are arranged differently in every store. So, the pallets and roll containers have to be packed in a way that the employees in the stores can fill the shelves as efficiently as possible. Our solutions already take the different store layouts into account when the orders for pallets come in. In addition, we arrange the products on the roll containers and pallets as compactly as possible to avoid using more trucks for delivery than necessary.
How can you make these networks future-proof?
Jürgen: To meet customers' demands, we have to find ways to use resources such as personnel and energy more efficiently. We also have to ensure sustainable energy supply. Transport has to become more efficient and distribution centers need to be automated to operate sustainably and without wasting resources.
Finally, I would like to ask: What are the most important factors in evaluating value chains?
Wolfrum: It's important to maintain a high level of service for consumers, while adapting the level of automation to the requirements of the supply chain.
Jürgen: In my view, the consumer's needs have to be the driving force. The goal is to supply them with what they need, whether it's half a gallon of milk or their medicine. One of the major challenges we have to master in the future is achieving this goal while saving resources and energy.
Shift towards micro fulfillment centers
Micro fulfillment centers (MFCs) are small automated solutions that are connected to supermarkets. They function like a store that also offers an online order service, allowing consumers to choose what they want from the full assortment of goods. An MFC can supply three to five stores and is especially suited for urban areas, as it can be built in a compact space.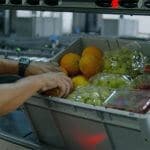 Contactless point of sale with in-store retail technology
Another concept that seamlessly integrates into urban surroundings is RetailStore, a fully automatic picking system by KNAPP. The in-store automation technology combines the best of brick and mortar and online stores, resulting in a contactless 24/7 shopping experience. KNAPP's customers EDEKA and Würth, for instance, are already running the solution successfully. RetailStore stores a wide range of goods space-effectively and is complemented by features such as interactive screens.
Take a look behind the scenes of the MFC operated by our customer Intermarché
3 minutes reading time
Article contains videos
Additional Information
Would you like to know more about our solutions for urban areas? We look forward to hearing from you at blog@knapp.com.