3:40 minutes reading time
Digitalization poses a huge challenge to companies and society as a whole. The question is – how do we deal with it best? The three members of the KNAPP AG Managing Board asked this and more in a round-table interview with digitalization expert Viktor Mayer-Schönberger from the Oxford Internet Institute.
Why is digitalization such a significant development and what does it mean for companies and for us people in general?
Viktor Mayer-Schönberger: For me, the critical dimension of digitalization is not digitalizing to make things faster and more efficient, which we are already doing today. Instead, we should view digitalization as a chance to re-think existing processes and make them different to how they were before. Digitalization is often seen as something technical.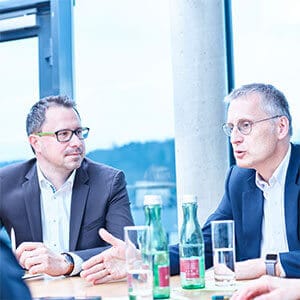 In my view, I believe that data and its role in generating added value are more important.
What does digitalization mean for intralogistics? Which steps should we take to not just keep up but to stay ahead of the phenomenon?
Gerald Hofer: We've defined the term smart workers because we are convinced that people are the best tool there is. People are best at reaching for things, they can improvise, they can learn and they possess several senses. We believe that digitalization in the form of augmented reality will help people to achieve more. They will be able to work more efficiently and will feel more secure by receiving immediate feedback. By turning data into information and by providing this at precisely the right time and in the right quality, lifelong learning is possible.
The second aspect is the digitalized product; today, we not only distribute items of clothing and medicines, we distribute items of clothing with unique IDs and medicines with unique serial numbers. As a result, each product has a bundle of information that is bound to this product forever and accompanies it through the manufacturing and distribution process – a kind of digital signature with a host of properties.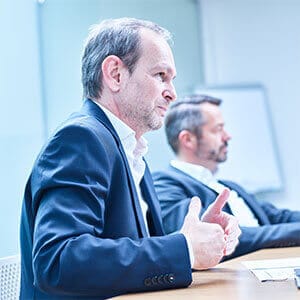 Allocating the information to many different value creation stages is an essential part of our strategy.
You describe big data as a new perspective on the world. Why do you see it as such and do you think this will be beneficial for us or prove to be disadvantageous?
Mayer-Schönberger: It all begins with how we as humans understand the world and drive innovations. In the past, we asked a question, then we collected data in order to answer the question and once the question had been answered, we discarded the data. In order for this to work, it's crucial that we ask the right questions. With big data, it's a different story; the sheer wealth of data available to us today enables us to identify patterns that show us which questions we need to ask and which questions could be relevant to us.
Are we asking the right questions?
Franz Mathi: I believe that at the moment, we can't even see what is achievable with the possibilities of recording data we currently have. What we do know, however, and what we also see with logistics systems, is that they need to become more flexible. Flexibility means having the necessary communication and interaction. Today, people communicate using social media, which is based on the Internet. In the future, objects will also take advantage of this technology – so-called cyber-physical systems, small units that communicate with each other.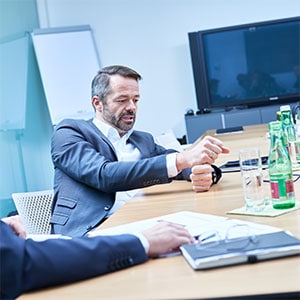 Data mining is the keyword here, but this doesn't mean simply possessing data, but knowing much more about what you can use it for and how you can interpret it.
You believe that innovations in the future will be generated by data and to a much smaller extent, by people. What impacts will this have on companies?
Mayer-Schönberger: Until now, increases in productivity enabled large companies to grow even bigger and innovation opened up new opportunities for new companies and ideas on the market. Together they led to market stability. This will all change as innovation will no longer be driven by human ideas in the future, but will instead be fuelled by data. If innovations come from data then those who have a lot of data have an innovative advantage.
Hofer: For KNAPP, this means not only providing new services and making our systems smarter, but as a development-driven company, we will use this knowledge in the form of data in order to remain an innovative driving force.
Grabner: It's incredibly important that we don't waste time with the wrong issues. We shouldn't analyse data that is of no use. When placing high demands on our data, we have to always ask ourselves how our customers will benefit from this.
Do we need new rules of play if companies collect data and use it for their business?
Mayer-Schönberger: Yes, even if a lot of data isn't of a personal nature. We need rules on who is able to use data because it's so incredibly valuable and these rules have to apply to the entre value creation chain.
KNAPP is considering providing the warehouse manager and warehouse personnel with a personal assistant. How could this benefit our customers?
Hofer: A personal assistant certainly makes life easier. All they do is provide the right information, at the right time, at the right location and at the right cost. This is also exactly what a logistics engineer should do. But this isn't all – data exchange is a complex topic and we can use it to support our customers in many different respects.
Mayer-Schönberger: KNAPP has the advantage of having the right data. Take away the risk from the customer and solve their problems. Bear other requirements in mind.
Mathi: At the end of the day, it's vital to keep pushing the boundaries. We shouldn't base things on fixed framework conditions – we need to be aware of how the framework conditions will change.
Mayer-Schönberger: Of course it's also important to safeguard value creation. It's all very exciting. In Central Europe we are ahead of the curve in terms of thinking, feeling, estimation and intelligence, but we all need to think and then act in the right way.
3:40 minutes reading time
Additional Information
Viktor Mayer-Schönberger
Mayer-Schönberger currently holds a chair at the Oxford Internet Institute. He advises companies, international organizations and governments, for example, the Digital Council of the German government. His current research focusses on the implications of Big Data for society.
Books: "Big Data: A Revolution That Will Transform How We Live, Work, and Think"; "Das neue Kapital – Markt, Wertschöpfung und Gerechtigkeit im Datenkapitalismus"