Picking
Order fulfilment – or picking – is one of the most critical processes in a distribution centre. Several picking systems are available, catering to different turnover rates and article characteristics. Efficient – accurate – paperless. KNAPP technologies like KiSoft RF, KiSoft Voice Picking, KiSoft Pick-to-Light and Vision Manual Picking provide support in manual picking areas. Tried and tested central belt technology with a range of different autopickers means that picking is automatic. When workers reach their limits, the innovative Pick-it-Easy Robot guarantees high performance and quality over long periods of time. KNAPP tops off its portfolio of state-of-the-art picking systems with the ergonomic goods-to-person work stations from the Pick-it-Easy series.
Paperless
Paperless picking systems guarantee efficient and accurate order processing in manual picking areas. KNAPP has a range of paperless picking systems on hand.
Goods-to-person
During goods-to-person picking, the required articles are automatically conveyed to special goods-to-person work stations where they are picked manually. This type of picking guarantees an ergonomic way of working and efficient order processing. KNAPP has an extensive range of goods-to-person work stations available.
Cutting-edge work station design
KNAPP has been blazing trails in the design of the goods-to-person work stations for over 15 years. The design concept behind the Pick-it-Easy work stations is KiDesign, which combines ergonomics and precision with cost-effectiveness and sophisticated design. The intelligent KiDesign achieves the best performance possible with the least amount of strain. With KiDesign, KNAPP has raised the bar in work station design.
Intuitive man and machine communication
The easyUse operating concept is the next logical step in the KiDesign work station model. In keeping with our slogan making complexity simple, easyUse stands for maximum ease of use, operating comfort, modern work station design, and man-machine communication. In particular, easyUse focuses on simplicity and consistency. The easyUse interfaces are clearly structured and use icons and colour to support intuitive interaction. The user can navigate quickly and accurately through the individual work steps using touchscreens. They can call up any information they need at any time. An immediate sense of achievement boosts employee satisfaction and facilitates efficient and more accurate work.
Unparalleled work station concept
Pick-it-Easy is the KNAPP's innovative series of work stations based on the goods-to-person principle. The Pick-it-Easy work station series successfully combines efficiency, ergonomics, precision, cost-effectiveness and cutting-edge work station design for use in the industrial sector. Pick-it-Easy work stations reduce the number of monotonous and strenuous tasks involving lifting, stooping and stretching to reach objects. At the same time, they boost efficiency in order processing as well as the quality of deliveries and services. In developing the Pick-it-Easy series, KNAPP has applied its zero defect philosophy to the world of work stations. The ergo-dynamic KiDesign, the easyUse intuitive user guidance system and automated checks within processes guarantee maximum quality and performance. More than 600 Pick-it-Easy work stations are in operation around the world.
Advantages of Pick-it-Easy
Multifunctional goods-to-person work stations
Many different styles available to suit requirements specific to different sectors
Individually adaptable
KiDesign for maximum efficiency, quality and ergonomics
Intuitive man and machine communication with easyUse
Vision technology makes a 100 % check possible
Individually adaptable to the work process
Goods and operating elements are always within easy reach
Find out more about Pick-it-Easy here.
Automatic
In automatic picking areas, autopickers or robots take care of order processing. Human intervention is not necessary during the standard picking process. Automatic picking is particularly effective in high-performance applications or when consistent quality and performance are required over long periods of time.
Proven technology
The Central Belt System is an all-in-one, automatic picking solution. As the inventor of the autopicker, KNAPP has about 35 years experience in the field of central belt technology. KNAPP offers a modern system for automatic order fulfilment by combining the Central Belt System with different autopickers, transfer stations and tailor-made software – all from a single source. The Central Belt System smooths over peaks in demand, utilizes off-peak periods efficiently and applies resources effectively, all while improving quality and speeding up transit times. KNAPP is the leading provider of central belt technology with over 1,300 systems around the globe with 1.4 million ejectors in operation.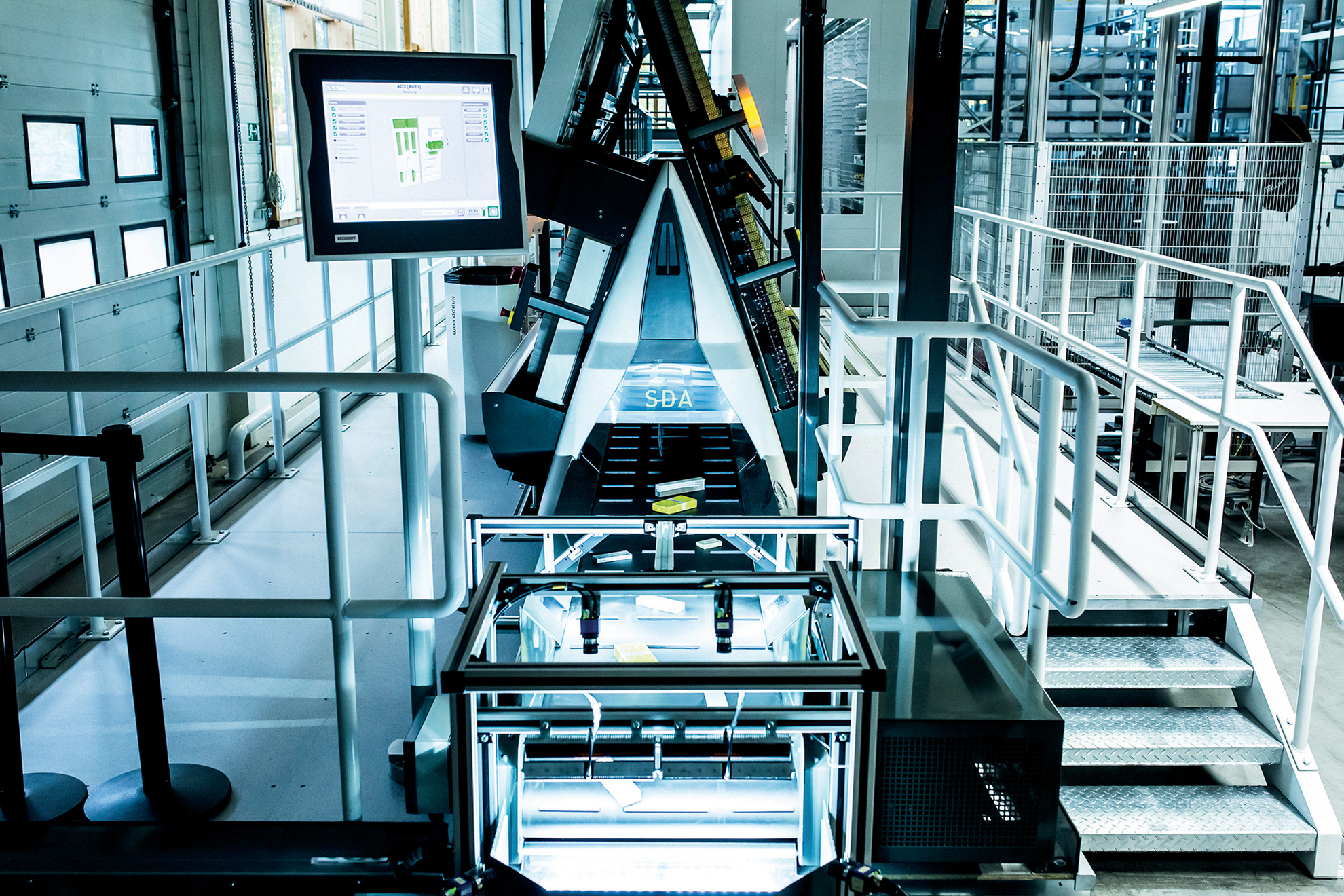 Maximum performance and quality
The Central Belt System is designed to achieve maximum performance with maximum quality. It's particularly effective in distribution centres with distinct peak periods and an ABC curve. Small, cuboid, stackable articles with a high turnover rate – common in pharmaceutical wholesale and the cosmetics sector – can be processed efficiently with the Central Belt System. The space-effective Central Belt System increases productivity, as well as improving throughput, picking performance and picking quality. It can process up to 250,000 articles per hour depending on the order structure and article characteristics. Processing a wide range of articles with various characteristics requires different types of ejectors within a Central Belt System. Automating specific articles such as mascara or lipsticks is made possible by using special wave channels.
Is the Central Belt System suitable for my orders and articles?
| | |
| --- | --- |
| Order lines per day | Over 15,000 |
| Quantity per order line | 5–6 items per order, on average |
| ABC curve | Distinct; marked peak and off-peak periods |
| Article characteristics | Cuboid or cylindrical; stackable; details on dimensions and weight on request |
| Not suitable for | Explosive, easily inflammable or radioactive materials, liquids in unsealed containers, articles with a strong a magnetic or voltage field |
Scalable in size and investment
The Central Belt System is characterized by its robust, modular structure and can be scaled flexibly to suit the required performance, budget and the available space. This means that it can also be used as a retrofit solution. The Central Belt System contains:
Central belt conveyor
Autopickers with autopicker channels and ejectors
Transfer stations and accessories
ACS control software
LGI (Light Guided Indicator) function indicator (optional)
Vision Central Belt makes a 100 % check possible (optional)
Different types of autopickers for different articles can be integrated into the Central Belt System. Customized transfer stations achieve high performance and optimize throughput. Combined with the uniform ACS control logic, the Central Belt System is a reliable, high-performance solution provided by a single supplier. The ACS has interfaces to the higher-level software systems and to the warehouse control system (PLC). It is operated using touch screens. The ACS calculates a virtual order window on the central belt conveyor for each order, into which the articles are ejected. In addition to the Vision Central Belt add-on for image recognition and processing, a 100 % check can also be incorporated in the automated picking area. Vision Central Belt checks each individual article in the area around the transfer station and records any distinct security features such as serial number, lot information, date mark, etc. In doing so it not only fulfils the applicable legal requirements, it also boosts efficiency and quality. Vision Central Belt is easy to integrate in existing systems and can also be used as a retrofit solution. The Central Belt System is therefore perfectly in sync with KNAPP's zero-defect philosophy. Watch video: Vision Central Belt.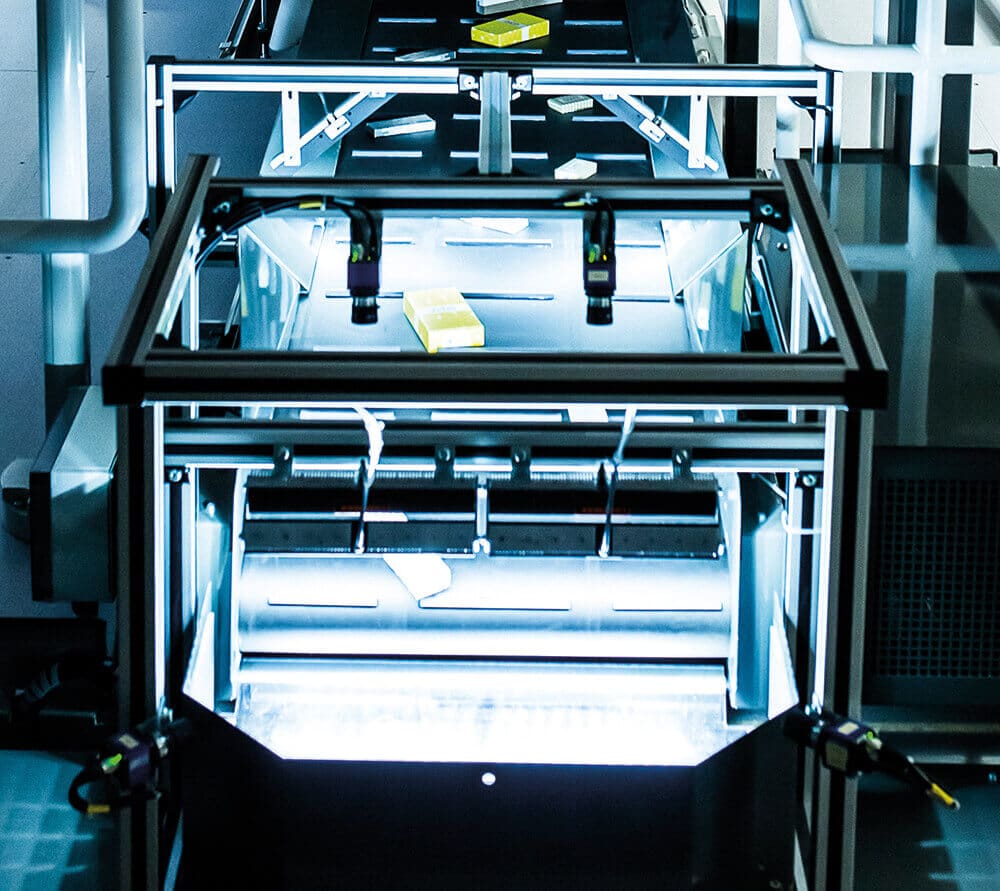 Advantages of the Central Belt System
Automatic picking system from a single supplier including control software
Tried and tested, perfected technology – 1,300 systems active worldwide
Modular structure
Various ejectors to suit different articles and throughput requirements
Scalable in size, performance and investment
Suitable for a wide range of articles
Vision technology makes a 100 % check possible
Security features are recorded: serial numbers, lot information, date marks, etc.
Ideally suited as a retrofit solution
Robust, durable system – full support for the entire life cycle of the system
The KNAPP-Store is an innovative storage and picking system that can be used along the entire pharmaceutical supply chain, whether in wholesale or for online pharmacies. The KNAPP-Store can store diverse articles effortlessly and occupies minimal space. It automates a wide spectrum of articles that would normally require a great deal of manual processing, with manageable investment costs and low costs per storage location. Scalable dimensions and the use of a resilient robot increase quality and efficiency as well as providing maximum storage density using a minimum amount of space. The flexibility and performance required to respond swiftly to ever-changing demands are then available when needed. Moreover, the KNAPP-Store also meets the documentation requirements specific to the sector (lot tracking, serial number tracking, date mark) for single items. A standard KNAPP-Store has a scalable rack line with glass shelves for maximum storage density, a reliable two-arm gripper system, a storage work station, output chutes as well as a customized software solution. There are several KNAPP-Store variants catering to different requirements and processes.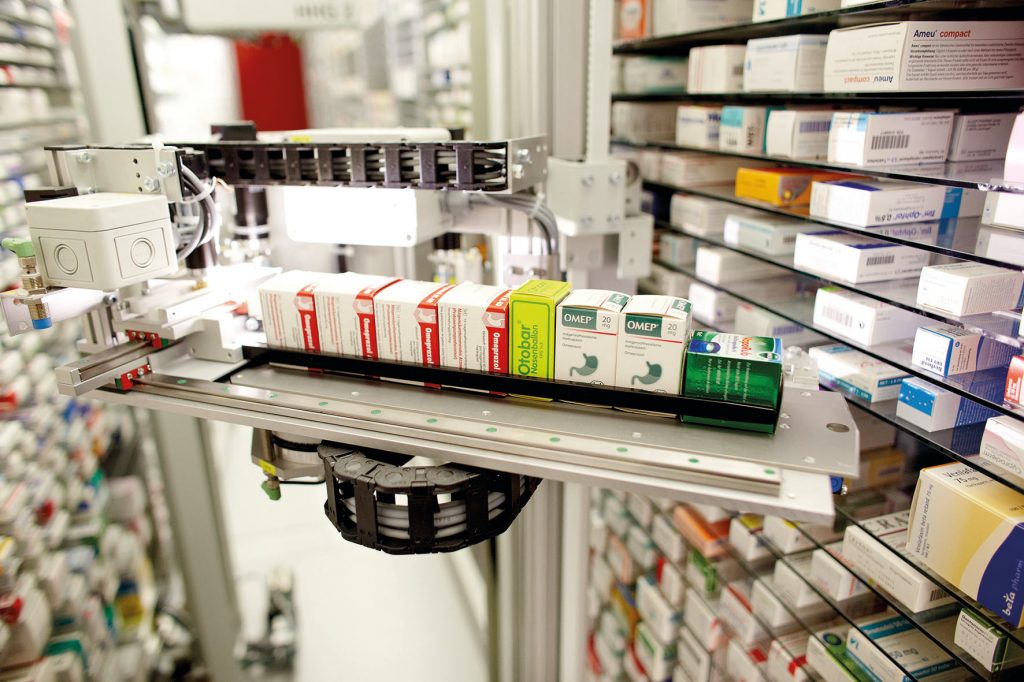 Wide range of articles
The KNAPP-Store is an efficient and safe automation solution for a wide range of articles, whether that be medium movers, slow movers, returns, special articles or e-commerce orders. Articles that are not usually compatible with automated systems, such as cans and pots can be cleverly automated.
Space-saving and versatile
The KNAPP-Store stores articles multi-deep on glass shelves to best use the available space. Articles enter the system automatically on a storage conveyor. The serial and lot numbers are also registered by the KNAPP-Store during the goods-in process, along with the date mark. A robust two-arm gripper system works ambidextrously to handle picking, storage and relocation. It can access all storage locations. Several KNAPP-Store variants are available:
KNAPP-Store Standard: integrated into the Central Belt System; transfers articles to the central belt
KNAPP-Store Standalone: integrated into the manual picking area
KNAPP-Store Smart: space-saving design with one work station for two KNAPP-Store rack line systems
KNAPP-Store Direct:  connected to the conveyor system; transfers articles directly into containers on the conveyor
KNAPP-Store Compact: space-effective design; integrated into the Central Belt System with a central storage work station
KNAPP-Store advantages
Efficient, flexible, economical
Ideal for use along the entire pharmaceutical supply chain, but particularly in wholesale and e-commerce
Scalable rack line system that can be adapted to the space available; can be expanded flexibly as and when required
Reliable two-arm gripper system for maximum availability
Automated goods-in procedure
Wide range of articles can be automated
Serial number and lot tracking
Date mark registration – retrieval at the touch of a button
Direct access to all articles in the system
Customized software solution
Maximum storage density
Reasonable investment – simple to integrate into existing systems
Different variants available
KHT is part of the international KNAPP group and has more than 30 years of experience in innovative warehouse technology. With the INDU-Store, KHT offers an efficient and versatile picking solution.
The INDU-Store is based on the KNAPP-Store but is intended for use in industry. The INDU-Store provides secure storage using minimal space and efficiently handles single items from a wide range of articles.
Learn more about the Industore here.
The Pick-it-Easy Robot is an industrial robot developed for automatic picking. With it, KNAPP has succeeded in achieving "bin picking", opening new possibilities for intralogistics. Pick-it-Easy Robot is ideally suited for slow and medium-moving articles that normally make up a large proportion of the stored articles. An all-in-one solution, Pick-it-Easy Robot contains a robot cell with an articulated arm robot, changeable grippers, specialized software and comprehensive safety devices. The completely automatic picking solution combines flexibility with reliability and performance.
In 2017, the Pick-it-Easy Robot was awarded the title of
best product
at the leading intralogistics trade fair LogiMAT Stuttgart. Since then, we have continually enhanced the Pick-it-Easy Robot to optimize its application possibilities in the logistics sector.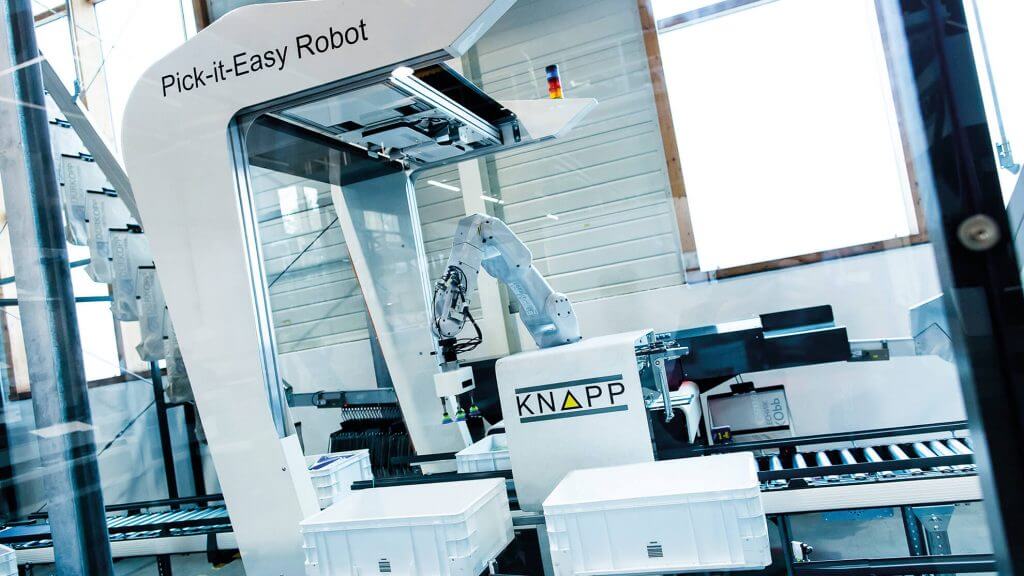 Robot ensures reliable picking
Pick-it-Easy Robot is designed for use in diverse order processing and distribution centres. It's a particularly valuable asset for the healthcare and cosmetics sectors, and is ideally suited to their article range. The Pick-it-Easy Robot is being successfully used in pharmaceutical wholesale, for example, at Novaltia, Spain's largest pharmaceutical wholesaler. It's not just in the healthcare sector that customers rely on the Pick-it-Easy Robot. The fully automatic picking solution is also used in retail and industry, for example at Würth. Pick-it-Easy Robot is the right solution wherever consistently high throughput and quality are required over long periods of time. Is Pick-it-Easy Robot suitable for me? You have:
High labour costs and wage incidentals
Sensitive, valuable or luxury articles
Decided to reduce errors and costs incurred by errors
Shift operation
7-day week
Warehouse areas with constant requirements in terms of throughput and quality
Difficulties finding qualified personnel in your market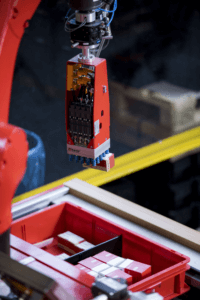 How does the Pick-it-Easy Robot work?
Pick-it-Easy Robot can be easily integrated in existing systems. Completely automatic, error-free picking in 4 steps:
The warehouse system (e.g. OSR Shuttle™) provides the picking robot with an even supply of goods. The robot cell is supplied with target containers at the same time.
The image recognition and processing software identifies the articles and calculates the ideal gripping point.
The articulated arm robot removes the exact quantity of articles with its flexible gripper. The article is arranged randomly in the container. Pick-it-Easy Robot can simultaneously process several orders, guaranteeing continuous, efficient picking.
Different sensor systems identify and report potential errors in order to guarantee high quality. Pick-it-Easy therefore fits KNAPP's zero defect philosophy perfectly.
Advantages of the Pick-it-Easy Robot
Ideal for shift operation and areas where high performance and quality are essential
Combines flexibility with high-performance and precision
Comprehensive all-in-one solution that includes software
The very latest robot technology: articulated arm robot with flexible gripper
Automatic gripper replacement to cater to a wide range of articles
Different picking scenarios: multiple picking, processes different container heights and outer dimensions; batch picking; containers are completely emptied
No need to prepare the source containers in any way (articles can be picked from the containers either randomly or according to a certain sequence)
Gentle handling and precise placement of articles save space in the target container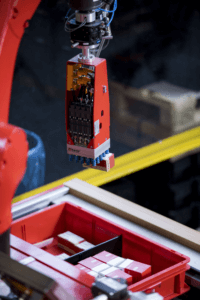 More information on Pick-it-Easy Robot
A solution you can rely on for accurate picking
The KNAPP Medication Dispenser (KMeD) is an innovative automation solution for fast, efficient and accurate picking of patient-specific orders into vials. The KMeD is particularly effective when used for medium and slow-moving medicinal articles. It is a complete picking solution that includes specialized software and protects patient safety while still guaranteeing efficient order processing.
Versatile scope of application
The KMeD is ideal for use in production, wholesale and for Direct2Patient applications, where order fulfilment involves individual tablets for specific patients. Prescriptions are picked reliably on an individual basis, reducing the time and resources usually required to achieve that level of quality. The KMeD is the ideal addition to the proven Automatic Tablet Dispenser (ATD) and is characterized by its high level of flexibility, ease of integration and precise order fulfilment.
Process reliability and transparency
The KMeD is essentially a scalable rack line system equipped with dispensers, meaning it can be individually adapted to requirements and available space. Depending on the system design, up to 900 vials per hour can processed automatically. An articulated arm robot takes care of automatic replenishment, ensuring an even rate of order processing. RFID technology guarantees maximum process reliability and transparency by identifying and verifying storage locations and medicines.
Advantages of the KNAPP Medication Dispenser
Slow and medium-moving tablets are picked completely automatically on an individual basis
Prescriptions for individual patients are picked safely
Ideal for production, wholesale and Direct2Patient applications
Maximum quality, efficiency and security with reliable robot technology, specialized software and RFID technology
Scalable system that takes up minimal space
Few resources required
Short pay-off time
Light and moisture-proof storage
Ideal hygienic conditions
Simple maintenance; high safety standards
Pill-perfect picking for fast-movers
The Automatic Tablet Dispenser (ATD) is a fully automatic picking solution for picking individual tablets required for specific patient prescriptions. It's designed to process fast-moving medicines. The ATD is an all-in-one solution that includes software.
Quality and efficiency
The ATD is ideal for high-performance applications in the pharmaceutical supply chain where maximum quality and efficiency are required while using fewer resources. Individual tablets can be picked and put into vials for specific patient orders. Therefore, the ATD can be put to good use in production, wholesale and in Direct2Patient applications.
Complete safety – pill by pill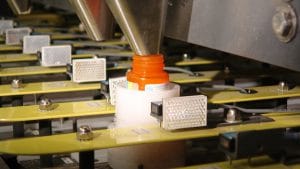 The ATD contains an ejector system with an LED/LCD display, a tablet magazine and buffer, a counter and specialized software. Both tablets and capsules are processed with the ATD ejector. A stream of air ensures that medication is securely placed into vials. Reliability and quality are the two highest priorities with the ATD; it identifies damaged tablets and capsules and complete traceability is achieved thanks to a transparent replenishment process. All materials that come into contact with the medication have been certified by the FDA (Food and Drug Administration).
Advantages of the Automatic Tablet Dispenser
Fast-moving individual tablets are picked completely automatically
Prescriptions for individual patients are picked safely
Ideal for production, wholesale and Direct2Patient applications
Maximum quality, efficiency and safety: detects broken tablets and capsules
Scalable system which takes up minimal space
Few resources required
Short pay-off time
Optimum hygiene; all materials that come into contact with medicines is approved by the FDA
Suitable for 99 % of the NDC (National Drug Code Directory)
Robust system that's easy to maintain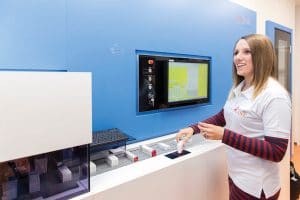 Apostore, based in Gelsenkirchen, is the leading provider of autopickers for use in pharmacies. The comprehensive Apostore portfolio completes KNAPP's range of products catering to the entire pharmaceutical supply chain.
Find out more about Apostore.