3 minutes reading time
Article contains videos
With KiSoft Cloud, KNAPP introduces their first cloud-based service platform. Here, all the data generated in our highly complex logistics networks is brought together and made available for various applications including machine learning. We have taken an in-depth look at what the new platform offers and present you with the advantages that the KiSoft Cloud solution offers. This is part of our cutting-edge, hybrid IT infrastructure, which is making value chains even more competitive.
Logistics infused with cloud technology
Cloud computing has spurred a revolution in private and business applications over the past decade. Today, data and software programs can be saved or run in any data processing center in the world. Everything runs through the Internet, completely independent of the location or end device. Cloud computing has made installation, administration and updates significantly easier and has thereby laid the foundation for Software as a Service (SaaS). This business model provides many advantages for logistics:
Processing big data efficiently: Unlimited memory and, if needed, tremendous computing power are available.
Rapid integration: All you need is an end device, an Internet connection and an interface for data transmission.
All-round care package: As a user, your costs are clearly calculated, and the service can be terminated at any time.
Supplementary services: For example, installing the latest software version is usually part of the offer.
Pay as you grow: Whichever way your company develops, services can be flexibly integrated in a step-by-step manner.
In addition to these advantages, completely new ways of using artificial intelligence arise, especially when using machine learning. This is key, not only for driverless vehicles on the road, but also for robotic picking in distribution centers.
KNAPP software expanded by AI-supported KiSoft Cloud
At KNAPP, we have known for a long time that cloud computing and artificial intelligence would open up fantastic new opportunities for logistics. Using these technologies increases transparency in logistics networks and allows them to become more intelligent. This brings us much closer to our vision: to combine the vertical integration across several system levels of a single location with the horizontal integration across a logistics network.
With KiSoft Cloud, we are offering a comprehensive servicing platform for logistics for the very first time. It bundles all the data and services available to customers in a single infrastructure. The benefits speak for themselves:
The operating data of one or more systems is centrally and readily available for further processing, regardless of whether it is for the logistical or the technical operation of the system.
Data can be easily used for various applications such as detailed monitoring and analysis of operations, planning, optimizing stocks and use of resources or preparing recorded master data for other locations.
Nathan Seaburn, Head of Fulfillment Operations at online retailer The Very Group is already using KiSoft Cloud successfully: "We use the data KiSoft Analytics gives us to run our automation intelligently, it helps us to identify problems and to find solutions, so we meet customers' expectations."
Various AI applications can be easily supported because the cloud service platform provides the infrastructure needed to support various AI methods such as machine learning and deep learning including the training of neural networks.
For example, McKesson, the world's largest healthcare company, benefits from the cloud-based learning capabilities of our robots. "US medicine packaging is very complex, posing a great challenge to fully automatic robotic picking. Getting there was not exactly easy, but today we can pick a large part of the product range with the Pick-it-Easy Robot," enthuses Todd Kleinow, Vice President Strategic Distribution and Operations at McKesson.
Hardware and software support, IT security, data security and interfaces between applications are ensured out of the box, regardless of the software or automation supplier.
KiSoft's 6 cloud services
From the customer's perspective, the KiSoft Cloud is invisible. However, it is the basis for accessing a wide range of services quickly and without having to carry out complex and often lengthy software integration projects. The customer benefit is clearly in focus. Currently, users can choose from 6 cloud services available on the KiSoft Cloud service platform:

Data analysis: KiSoft Analytics
The data analysis software in the KiSoft Cloud provides a clear overview of the complex processes in the systems as well as in the entire value chain. How is this achieved? By continuously merging data from a wide range of systems from machine control units, other IoT devices, WCS and WMS to TMS and ERP. Important trends and forecasts can then be derived from this. A clear visualization including KPIs is provided for all the information. Data can be monitored over the long term, a great resource for making the right decisions, whether tactical or strategic.

Resource management: redPILOT®
The redPILOT® cloud service makes sure that your logistics system is running at its optimal level during every hour of operation. All resources such as personnel or machinery are optimized, while taking into account  the constantly changing conditions in a logistics operation. When it comes to making decisions in operative warehouse management, redPILOT® provides live reports and suggestions for optimal alternative actions throughout the day.

Maintenance management: KiSoft CMMS
Maximum availability using minimal resources. In the balancing act between operation and maintenance, KiSoft Computerized Maintenance Management System is the key to making sound, data-driven, maintenance-related decisions. The software seamlessly integrates maintenance and servicing measures into operations. Where problems occur, the components in question are handled with priority.

Capturing master data: KiSoft Genomix
The intelligent system decodes and digitizes all the relevant attributes of items needed for automation: weight, dimensions, packaging type, content, center of gravity, tilting behavior and much more. KiSoft Genomix knows exactly which parameters the technologies need to work perfectly in an automated warehouse environment.

Fleet control: KiSoft FCS
Universally applicable, this fleet management system efficiently manages KNAPP Open Shuttles, manually operated vehicles or AMRs of other manufacturers. What's more, a simulation environment that the customer can operate themselves allows them to immediately determine whether an AMR can be given tasks, what the size of the fleet should be and make adaptations to processes.

Enabling AI: KiSoft Artificial Intelligence
The KiSoft Artificial Intelligence service helps provide data and images, train neural networks, as well as validate, manage, and roll out generated models to the customers' systems. Open interfaces in combination with IT and data security allow working together with partners. Some of our successfully established use cases include the picking robot Pick-it-Easy Robot in partnership with Covariant, the computer vision system ivii.iriis or demand forecasting with redPILOT.
Further cloud services are soon to follow. These are exciting times!
Combine the best of two worlds: conventional on-premises systems with cloud services
In this case, do we still need on-premises systems* for software applications in logistics? If in some countries, autonomous cars are already driving on public roads, can we also operate a warehouse fully autonomously?
The fact is, cloud computing is increasingly replacing on-premises installations in logistics. However, there are technological limitations. In logistics, it is just like with cars: much of the data is located and managed in the cloud, with system updates often being installed over the air. However, decisions that have to be made in real time within milliseconds or those critical to safety can only be made directly at the vehicle.
It can be concluded from this that the potential of cloud computing can also be used to great effect in logistics applications, provided that the response times and security requirements permit this.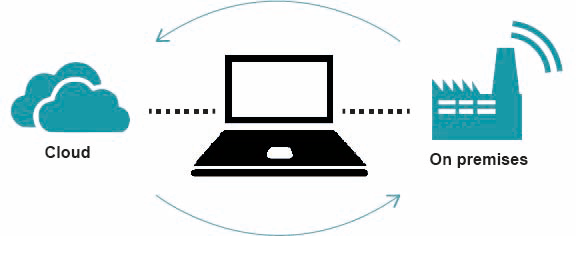 Therefore, a hybrid IT infrastructure is the solution for future-oriented value chains: System-critical software programs with high real-time requirements run on premises. Data storage and supply chain tools for analysis and optimization tasks are all managed in the cloud. To best exploit the potential of both IT worlds, the two systems should be closely interconnected.
"
"
The combination of cloud computing with machine learning was the real breakthrough for the Pick-it-Easy Robot. AI-based grip point calculation with a simple management of master data from various sectors to be able to correctly grip a large range of items: This is the magic at work behind the robot cell. This was also the most critical step in achieving a ROI on the Pick-it-Easy Robot and in successfully rolling it out as an industrial solution at many customers.
* On-premises systems are resources that are supplied internally and within IT infrastructure of a company. The company is responsible for maintaining it.
KiSoft Cloud is here to stay
"
"
Over the course of many years, we have gained a profound understanding of the opportunities inherent in cloud computing and artificial intelligence, as well as their limitations – from the design of a prototype based on scientific research to standardized use cases. Today, we are exploiting the full potential by intelligently using these technologies. On this foundation, we are continuing with its development to achieve our goals. We pride ourselves in offering an advanced cloud solution.
The bottom line is that all the hard work has paid off. KiSoft Cloud and its services form the ideal complement to on-premises applications to further optimize value chains. This hybrid approach is the real deal. The new service platform offers many opportunities to our customers to choose between the various SaaS or subscription business models. Standard services to optimize in-house logistics can be rapidly activated with almost no initial costs. The pay-as-you-grow principle allow companies to easily expand their use of services as they grow. In many cases, this includes updates or upgrade projects.
In the area of artificial intelligence, KiSoft Cloud application users also have a one-of-a-kind industrial solution with the use of KiSoft Artificial Intelligence. It ties in perfectly with the hybrid approach. Thanks to the smart combination of KiSoft Artificial Intelligence, cloud and on-premises applications, new use cases can quickly be defined. This quickly broadens the new range of services and offers our customers future-proof technologies, in keeping with our motto innovation is our tradition.
Would you like to learn more about the KiSoft Cloud service platform and AI in logistics?
Come visit us at LogiMAT:
LogiMAT: May 31–June 2, 2022
Fair stand B05 in Hall 3
Shaping the value chains of the future!