5 minutes reading time
Article contains videos
Always one step ahead – know the trends and create added value with proactive service
In the past months, we were all confronted with drastic changes to our everyday life. Everyone had to master health, family and even existential challenges. In one fell swoop, the entire world was reminded of just how important it is to keep flexible and able to act. Even in times like these, our goal is still to provide our customers with the best possible support, designing our services accordingly – reliably, individually and always at hand.
We were prepared for the emergency having executed various test runs and thanks to the way we work as collaborators with our customers. Our customers can rely on the added value of a proactive partnership focussed on solutions, which inspired us to develop our digital services. In these unusual and critical times, the advantages come to the fore. Impeccable technical infrastructures, innovative tools and consulting that focusses on the trends are all prerequisites, as only then can the optimum performance and availability of a KNAPP system be achieved – and that at all times.
In exceptional situations, having the right information is crucial for making the right decisions. Thanks to our intelligent application KiSoft Analytics, we were immediately able to analyze the changed business situation of individual industries and customers and to identify appropriate recommendations for action – without spending a lot of time and resources.

Alessandro Freidl, Director of Onsite Services, KNAPP AG
We create these conditions though agile lifecycle management. If needed, we can immediately change the configuration of our systems, proactively tailoring it to the customer's special situation. For the design, startup and ongoing care of the KNAPP systems, we have developed a system of service modules that mesh perfectly with each other. For each phase, there is a corresponding service package providing flexible life cycle management. In recent years, our analysis tool KiSoft Analytics has helped us to maintain our high level of service in every system phase. Using a targeted analysis of the relevant data, we are always a step ahead for our customers!
KiSoft Analytics

Cloud-based data platform:

→ highest security for your data

→ Worldwide access using the mobile app

Software as a service:

→ development, infrastructure and operation

→ Ideal for executives as well as logistics and supply chain managers

Trends and prognoses:

→ Clear dashboards and standard KPIs for operations and business

→ Benchmarking for installations and industries

Service packages:

→ KiSoft Analytics Essential, Basic, Classic und Premium

→ Low investment thanks to a subscription model
With the intelligent tool KiSoft Analytics, we transform your big data into smart data:
Analyze and visualize your data and, on the dashboards, get an overview of the complex processes in your warehouse
Identify the trends and know how to act – set short-term tactics and long-term strategic measures at the right moment.
Make the right decisions with the help of our logistics experts based on sound statistics, index numbers and prognoses
Automatic reporting means always having the complete overview using our service platform
Platforms for the exchange of information have been a trend for quite some time. In the past months startups and citizen initiatives have launched even more online platforms, after all, necessity is the mother of invention. For example, through platforms, lists of regional merchants were created or neighborhood helpers coordinated. These measures have helped to see us through the severe restrictions. Services appeared practically overnight that up to now were only dreamed about.
At KNAPP, we also have a service platform to offer our customers! Information regarding all our warehouse services is transparently presented in e-insight. Since the platform is modular in design, each customer can decide how much they want to use e-insight. Our customers have mobile access to their warehouse data by location through their account. They can view important service information and documents no matter where or when. Status messages regarding service requests, requests for change or hotline reports can be easily called up or additionally activated. In these times where travel is restricted, e-insight has really proved to be a useful tool and customer use has greatly increased.
e-insight

Use the device of your choice:

Android or iOS smartphone
Android or iOS tablet
Computer with Internet access

→ Worldwide access to your real-time data

→ Overview of your designated KNAPP service team

→ Give feedback using the integrated KNAPP Promoter Score

→ Query your spare parts online

→ Fast access to maintenance and repair work carried out

→ Overview of current and past incidents

→ Comprehensive statistics and warehouse system documentation

→ Updated product roadmaps specific to your logistics system
The e-insight portal opens new dimensions of service:
Plan your investments with foresight: roadmaps for individual products and the lifecycle of your system make this possible
Customized, step by step modernization for maximum added value: We combine your requirements with the technologically necessary upgrades
Secure access to your data: Your personal user name and password are required to log in. Both are provided by your KNAPP representative.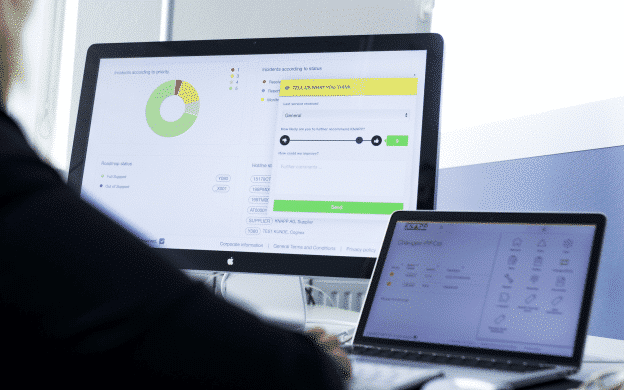 Always available without limitation through our Service Desk
The food retail sector and pharmaceutical wholesalers are facing special challenges because of the current Covid-19 situation. How can we successfully support our customers in this extreme situation? We use our sophisticated communication system that has proven itself for many years: our Service Desk.
Our Service Desk offers comprehensive 24/7 support in up to nine languages and is the foundation of customer support. With our 24/7 Hotline, our customers are mastering the challenges and keeping their system performance consistently high. The goods are delivered reliably, even during a lockdown. The value of this system is nothing new: Contactless incident management and automatic escalation management were service highlights in our portfolio long before the crisis.
Thanks to our many years of experience in 24/7 customer support, we were ready in every way. Communication across all available channels is our strength, so the switch to telecommuting was no real challenge for our teams. We are flexible and mobile and trained in the efficient exchange of information across distance.

Sonja Reinfelder, Head of Communication Center, KNAPP AG
Our Communication Center is the heart and soul of our Service Desk: It's really a control center where all customer requests and incident notifications are received. All the relevant information is gathered to understand the customer's situation, to develop adequate solution strategies and to act as quickly as possible. We accompany our customers professionally from the translation of the language through de-escalation management to the provision of a team of experts. Hardware and software technicians work to find a customized solution that complies with the applicable ITIL® standards. Our customers therefore get bundled expert knowledge first hand and can rely on KNAPP expertise.
Follow-the-sun concept
The Service Hotline is always available because we employ the follow-the-sun concept. This means that at any time, several Hotline hubs are available in different time zones worldwide. Customer calls are automatically transferred to the different locations. The best representative is always provided for our customers. This concept ensures constant availability. Our hubs are located in Hart bei Graz and Leoben, as well as in the USA, Brazil and China.
Each hub has several languages available and provides several shifts in the respective time zone. The different locations provide a tight service network in which our customers can always find just the right expert to talk with.

Sonja Reinfelder, Head of Communication Center, KNAPP AG
Our follow-the-sun concept at a glance:
Hotline hubs in place worldwide provide a strong service network
Contact person nearest to the customer speaks their language
Fast response times around the clock
Costs are reduced through reduced travel and remote incident management
Optimal spare parts management
Saving costs and valuable time using our remote tools
We've been using our remote tools for almost ten years. Combining our own know-how with innovative technologies has resulted in future-oriented support concepts. That's why digital tools are already a standard part of our services. This crisis made a lot of things more apparent to us, especially regarding where we have been working tirelessly for many years and where we will continue to focus our work: Guiding our customers safely and reliably through uncharted territory such as the current situation. The welcome side-effect: Valuable time is used for service instead of traveling.
Innovation is part of our KNAPP service DNA and is valued correspondingly. 90 percent of our service calls are already solved remotely. Here, our technicians have shared their knowledge with the personnel on site, for an enduring transfer of know-how. With our customers, the Hotline and the departments involved, we have expanded and adapted our supply chains, whether through servicing measures, spare parts pulled from several sources, or through inspections carried out remotely by KNAPP employees.

Alessandro Freidl, Director of Onsite Services, KNAPP AG
During live training, for example for repairs, we are using our remote expertise with purpose. We thus empower our customers' technicians to correct problems as quickly and independently as possible. KNAPP expanded its video support for this just in time. Even before the lockdown, we were able to considerably minimize travel time and we will continue to do so in the future. Using a variety of devices, we can now provide direct instructions using mixed reality. Such intuitive and time-saving training ensures long-lasting success in learning, which also positively effects employee satisfaction. Simultaneously, a valuable knowledge base is built from which we already profited during the crisis. We can now do things that only recently were considered impossible.
If we consider the global corona crisis as a stress test for our company, then we have done very well up to now. We can even look back on a few positive results. We will be implementing a few things that have proved to be helpful and efficient in our new "normality mode".

Robert Riesmeyer, Project Management STA, KNAPP AG
Staying innovative using mobile end devices in service
As a service provider, KNAPP has an international network of service technicians. They are well-trained and highly versatile. We plan partnerships with our customers and recognize that in the future, remote tools will play a greater role in their work. Our KNAPPteams & Dynamics 365 Solution (augmented support solution) has absolutely proven itself in the past months. Especially where on-site installation and commissioning (PLC) are involved, our subsidiaries are becoming even more independent, thanks to the use of smart devices. Currently, we are starting initiatives with our Development and Startup Department to intensively promote our partners' competence in these areas.
These KNAPP support tools provide more independence:
Remote assistance tools for communication – Microsoft Dynamics 365 Remote Assist
Software Commissioning Tools
Commissioning for Production Lines
We are planning to increase our integration of smart devices (smartphone, tablet, GoPro und conference systems). Tests and use cases across the entire value chain have recently demonstrated that we can use these to even better support our customers in the future.

Erik Gutmann, Vice President of Customer Service, KNAPP AG
5 minutes reading time
Article contains videos
Additional Information
Would you like to get to know our services and the advantages of professional lifecycle management better? Which innovative services would you want to see, to be able to run your installations even more flexibly and reliably? We look forward to getting your feedback blog@knapp.com or by email customerservice@knapp.com.
To get further information visit our KNAPP youTube channel:
Downloads