In challenging times like these, responding quickly to changes in market demand is extremely important, as is driving innovation forward. We are a technology company, and as innovators, the continual development of our products is essential. This is how we remain a strong and reliable partner for our customers worldwide.
Our experts in the departments Product Core Management, Design Engineering and Prototypes talk about how we boost innovation at KNAPP and the challenges this brings.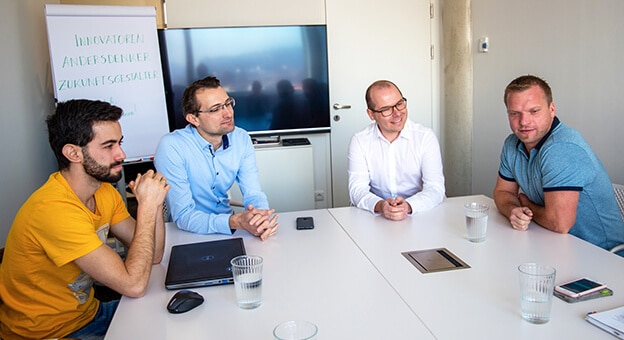 How would you best describe innovation at KNAPP?
Peter Puchwein, Vice President, Innovation: "Innovation means doing something new, and having the courage to actually do it. This is an important aspect of our corporate culture. We try lots of different things to push the development of our technologies forward. Innovative ideas don't really come from solo fliers but from all areas of the company. In intensive workshops, we bounce ideas around and drop them into the feedback loops involving all our organizational units."
Markus Schimautz, Development Project Manager, Robotics & Machine Learning: "We have a true culture of innovation. Every idea has a chance and is honestly considered. As a team, we are much more creative than we would be as individuals. I am totally thrilled with our work in Robotics at KNAPP because we are building and developing the best robots in the world."
Marc Pendl, Team Leader, Robotics & Special Machines: "We are true fans of technology and are especially interested in the brand new stuff. For innovation, we also look at other sectors to inspire us and to find ideas that might have a completely different application for us. It's very exciting. An innovative corporate culture essentially means that you're always curious."
Martin Deimel, Prototypes: "Being innovative, for us it's enjoying that WOW effect in the audience when we present our latest solutions at the trade fair."
"
"
Innovative ideas don't really
come from solo fliers
but from all areas of the company.
How do you develop a culture of proactive innovation?
Puchwein: "We do a lot of research, so we know the prevailing trends in technology. Another important point is patent management and integrating specialized development partners. For example, we work closely with universities and have partners in the startup sector. Added to that is close cooperation with our customers. When you've found an enthusiastic customer, you've created the perfect setting for developing innovations. For example, with our OSR Shuttle™ Evo, an automatic system based on flexible shuttles for the storage and supply of small parts, the customer was fascinated by the new technology from the beginning and added suggestions and impulses."
Deimel: "Exactly. This close contact with the customer is incredibly important. Many innovations come from talking to our customers, who describe their practical problems and are searching for solutions. Since we are willing to listen and game for further development, we are a partner fit for the future."
Schimautz: "The big challenge in innovation is knowing what's effective. In the best case, a new general solution arises from individual customer needs."
"
"
The big challenge
in innovation is knowing
what's effective.
Which innovations will be receiving more investment in the future?
Pendl: "Our sector is changing more than any other sector. There is a growing trend for more innovation in software."
Schimautz: "Machine learning is an important topic too. How can we intelligently synchronize systems? The waves of movement in a warehouse are extremely complex."
Puchwein: "The variety of parameters is complex and expanding. That's why the major trend for the next years will be generic algorithms, such as those used in artificial intelligence. These algorithms adapt the parameters independently, thereby improving the results."
Here are some of our innovative new solutions:
The Digital Butler, Apostore's multi-system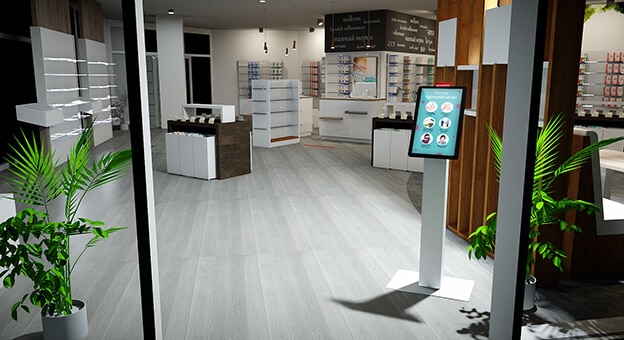 Pharmacies are now facing new challenges. Customers and employees must be protected as far as possible from the coronavirus. Controlling access to the shop provides safety for both employees and customers. The Digital Butler is at your service to provide the help needed. The innovative admittance system controls access to pharmacies using clear signals that are easy to understand regardless of the customer's language or culture. Individual content and additional information can be shown on the screen to shorten the customer's perception of the time spent waiting.
This is all controlled safely and stress-free from any work station or from a mobile device. The innovative solution is quickly assembled and easy to operate, ensuring a comfortable and safe atmosphere in every pharmacy. "With our Digital Butler, we offer a solution suited to pharmacies and retailers addressing that important first customer contact. We are constantly developing our products. Sensor-controlled admission control will soon be available," explains Christopher Thielen, Managing Director, Apostore GmbH.
Information: Digital Butler von Apostore
Project Retail CX by KNAPP – contactless shopping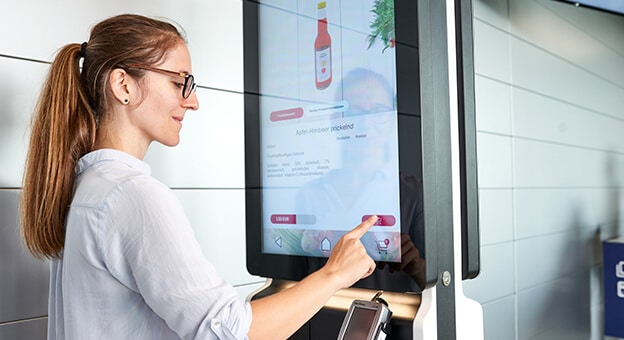 "Convenient and safe shopping" is made possible by the innovative in-store solution by KNAPP. The system combines the advantages of a brick and mortar store with those of an online shop. Customers can shop around the clock at the order terminal, selecting products and paying cashless. In the background, an intelligent robot is at work, storing a comprehensive array of items in a space-effective and secure manner.
This concept can be found in southern Styria at the specialty food shop "Kreisler". A robot stores and retrieves regional products from the company's cold storage. With a length of 20 meters (65 ft) and a capacity of up to 6,400 products, this will be the first high-tech speciality food shop in Austria. At the four order terminals, consumers can select and purchase local and regional groceries. Completely contactless. "Our project will add value to the region, guarantee short supply routes, and the delicacies produced by our local farmers will be displayed in a contemporary, environmentally friendly shop window," enthuses Andreas Höcher, Managing Director, Kreisler.
Information: Project Retail CX by KNAPP
UV-C disinfection – fast and safe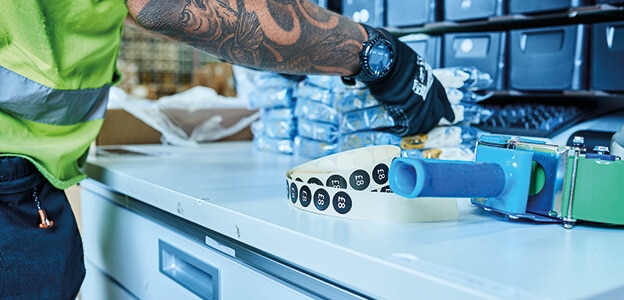 Disinfection is more important than ever, therefore surfaces and tools must be regularly disinfected to protect employees from possible pathogens. This can be done quickly and effectively with the certified UV-C light technologies by KNAPP.
UV-C light is a natural part of sunlight. Within a few minutes and without any chemicals, it can deactivate bacteria, viruses, yeasts, fungi and mold spores. One particular advantage of this solution is that the germs do not develop any resistance: UV-C light is therefore always effective.
In the industrial environment – for example in distribution centres or production facilities – UV-C technologies are ideal for fast, effective disinfection. That's why KNAPP is offering a hygiene add-on specifically designed for use in production and logistics. The add-on is equipped with high-performance, high-grade UV-C lamps that provide 2.5 times greater performance in comparison to conventional UV-C lamps. This provides precise and effective disinfection.