The rapid advancement of online retail in the past years has also affected brick and mortar retail. While consumers can shop around the clock with an endless selection of goods available at the click of a mouse, brick and mortar retail offers other advantages. These include expert advice from personnel and experiencing the products and services in real time. In future, the focus will be on creating attractive customer experiences to perfectly orchestrate the special features of brick and mortar retail. You may be wondering what all of this has to do with logistics? Actually, a great deal! Our new in-store system Project RetailStore creates a new customer experience and the best possible processes at the point of sale.
What role does brick and mortar retail play in the digital world?
E-commerce, social media, the smartphone, constantly changing promotion periods and increasingly shorter delivery times: These factors have all influenced our purchasing behaviour over the past few years. As well-connected and informed consumers, we also want to have the advantages and the convenience that we enjoy with the digital world at the store:
Shop around the clock
Fast product selection in various media
Detailed article information
High article availability
What's more, rapidly rising rents do not make life for retailers any easier. Dealers in all sectors are faced with questions such as,
What benefits does a brick and mortar store still offer today?
What role will stores play in the future?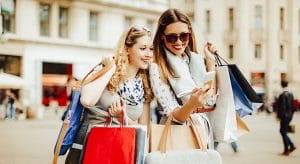 What affects the retail sector also affects us as logistics experts. Our solution to the pressing questions and challenges of retail: The innovative in-store system Project RetailStore.
Project RetailStore is a combination of technologies, expertise and innovation from the KNAPP group put together to form a brand new in-store solution. This allows us to create the technological framework to combine the benefits of both online and offline retail. We combine the best from both worlds to make shopping at the store an exciting experience. Our new solution also takes the pressure off the employees for tasks such as checkout and provides inventory transparency.

Christian Bauer, Managing Director at KHT, a member of the KNAPP group

 
Whether a vial, a screw or high heels: An intelligent in-store solution for a wide range of goods
There's no doubt about it: The digital transformation is in full swing and comes with many challenges for retailers. The good news is our in-store system Project RetailStore allows you to take control in these turbulent times. Revolutionizing the shopping experience – optimizing workflows – transforming the challenges of retail into success – this is what Project RetailStore stands for.
The new in-store system combines the advantages of both online and brick and mortar stores and suits almost all retail sectors and diverse types of stores. The in-store system Project RetailStore is based on many years of experience handling both data and various goods, including not only tiny articles such as screws, but also fragile items such as glass vials and items with unstable forms such as textiles. Project RetailStore can be relied on to take care of goods and groups of goods from the following sectors:
Drugstore and supplements
Food
DIY and craftsmen
Perfume and cosmetics
Electronics
Jewellery
Shoes
Turning shopping into an experience:
| | |
| --- | --- |
| ProjectRetailStore opens new dimensions for creating customer experiences. | From product presentation to 24/7 vending. |
Project RetailStore revolutionizes both the workflow and the shopping experience
Central to the solution is an intelligent picking robot that handles the extensive range of products intelligently, storing them securely in minimal space. Features such as engaging interactive screens, a self-service checkout or a 24/7 vending compartment all make Project RetailStore an intelligent and attractive tool.
Project RetailStore benefits:
Creates space in the store: More options for shop design and product presentation
More time for customer service: Employees are freed from the cash register and have more time for advising customers.
Secure storage: Valuable goods are kept in the theft-proof in-store system
Next level customer experience: Customers can try out the goods, check for information on availability on interactive screens and allow innovative robot technology to serve them personally.
Two system solutions for different store concepts
We developed two different system solutions to meet the requirements of different store concepts: self-sufficient and fully integrated. With these various design concepts for Project Retail CX, you can specifically address the purchasing behaviour and needs of your customers.
Variant 1 – 
Self-sufficient store-in-store concept
This Project RetailStore variant is particularly easy to integrate into existing store concepts. It not only presents products with variety and innovation, at the same time, it raises customer convenience. Almost all the components are permanently installed according to the plug-and-play principle so the in-store system can be up and running quite rapidly. This concept is particularly suited for the DIY and craftsmen sector. Whether they want a screw, wall plug or grinding wheel, customers know exactly what they are looking for and Project RetailStore allows them to get the desired items quickly and easily. Information on the article or other sizes can be accessed on demand without the help of an employee.
As individual as your customers:
| | |
| --- | --- |
| Customers who know exactly what they want would like to find and pay for their items as quickly and easily as possible. | By comparison, extensive customer service is par for the course in speciality stores. In both cases, the in-store system Project RetailStore provides the needed support. |
V
ariant 2 –
Fully integrated solution
The fully integrated Project RetailStore solution allows individual components such as interactive screens or vending compartments to be combined as needed and installed in the desired location. This creates a store that is fully networked with a multitude of use scenarios creating a one of a kind customer experience. At the same time, employees are freed from time-consuming work at the cash register and can fully focus on the wishes of the customers and providing them expert advice. After all, the brick and mortar store should no longer be losing disappointed customers.
| | | |
| --- | --- | --- |
| Unique shopping experience | Click & Collect | Promotions and interactive shelves |
Project RetailStore
 changes processes in the shop
Along with improved product presentation and more time for in-depth customer service with specialists, the Project RetailStore provides yet another advantage: New design possibilities for processes in your store.
This is mainly possible thanks to the modular construction of the system, where high-quality and proven hardware components blend together seamlessly with modern digital solutions:
Automatic picking machine with robot for storing and retrieving goods
Touch screens for presenting the goods as well as searching for them
Vending compartments for secure pickup
Intelligent operating software for dynamically controlling and configuring the on-screen contents
Furthermore, there is a series of upgrades, including the so-called ActiveShelf. This is an interactive shelf that allows the customer to test and try out products. A 24/7 terminal can also be integrated so customers can shop outside of store hours. By integrating your merchandise management, POS and logistics software, data can be linked and used on many levels. This creates even more potential for efficient processes, pioneering innovations and attractive shopping experiences.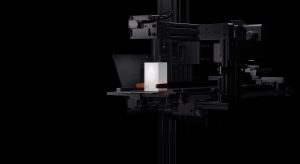 New solution focuses on customer expectations and proximity
There is a multitude of benefits for the retailer, such as process and storage optimization, but our new in-store solution also focuses on the customers and their needs and expectations. In comparison to the established shop design, dominated by long rows of shelves, goods are presented in creative ways. The desired article is available in just a few moments, without a long search, and can be paid for in seconds, without waiting in long queues. The product on the screen is now part of the shop design and becomes a "wow" factor in the customer's experience. This new type of store layout invites the customer to spend time in an interesting environment where, as needed, different levels of service are available to them.
"
"
"There are still customer needs that can only be fulfilled in a physical shop. This is where goods can be tested, tried and immediately taken home. Furthermore, expert employees are available for advice. The success of brick and mortar stores, in my opinion, depends on how well these one of a kind features are translated into customer experience. We want customers to get excited about our in-store system Project RetailStore and to make their shopping experience so pleasant that they are always happy to return."
The new in-store system Project RetailStore opens many new possibilities for presenting the best qualities of brick and mortar stores to customers. Would you like to know more about Project RetailStore? We would be happy to hear from you kso.info@knapp.com or at +49 20994117-9494 (Mon–Fri, 8 am–6 pm).
5 minutes reading time
Additional Information
The new in-store system Project RetailStore opens many new possibilities for presenting the best qualities of brick and mortar stores to customers. Would you like to know more about Project RetailStore? We would be happy to hear from you kso.info@knapp.com or at +49 20994117-9494 (Mon–Fri, 8 am–6 pm).
More information on RetailStore.knapp.com

More information about KHT.