Build the optimal supply chain with these useful software tools
In today's world, everything relies on information and this is equally true in logistics. Ours is a digital world: Every tiny sensor, every machine and even every human being is generating a plethora of data each second just waiting to be transformed into useful information and facts. At KNAPP, we are banking on comprehensive, fully integrated logistics software that not only runs the systems, but also makes smart maintenance and ideal planning possible. But which app is suited to whom and for which application? Let's take a closer look at three of our software tools.
KiSoft Analytics: Making the right decisions for warehouses and supply chains with smart software
KiSoft Analytics is a versatile tool for supply chain analyses, specially tailored for logistics. The logistics app provides critical business information for executives, logistics managers, supply chain managers and operations teams. KiSoft Analytics gives these users a clear overview of the complex processes in the system and warehouse as well as the overall supply chain. In doing so, the software tool connects real-time data with the logistics processes and visualizes all information on dashboards in a user-friendly way. It helps to make the right decisions, both tactical ones in the short run and strategic ones in the long run.
When is the right time to conduct proactive maintenance in a system area?
How can you optimize your warehouse workload?
How well did the last peak go, and what can you learn from it for the next peak?
When would the ideal time be to start a new business model such as micro fulfillment?
In Short
KiSoft Analytics is a tool that strategically analyzes and visualizes supply chain data. Benchmarks, long-term statistics and prognoses are a great help when it comes to making decisions about complex processes, detecting changes in the business early on or simply optimizing the supply chain. The logistics app for smartphones and desktops is perfect for executives, logistics managers, supply chain managers or operations teams.
Even with all this useful information, the human factor always remains important. Our logistics experts give you the support you need to make the right decisions, based on solid information provided by KiSoft Analytics.
MSCC: The sophisticated 24/7 tool for micro fulfillment centers
The Multi-Site Control Center (MSCC) is a control system perfectly suited for food retailers having several small logistics systems at different locations – the so-called micro fulfillment centers (MFC). The preventative and proactive logistics software monitors all logistical and technical processes around the clock. This application is especially valuable for retailers with MFC concepts who have no infrastructure of their own and who cannot provide this type of support in their own control rooms.
Our professional team keeps an eye on all the warehouse locations. With the sophisticated  MSCC tool, our experts are able to control all processes, while detecting and correcting disruptions early on. If an error occurs that cannot be rectified through remote maintenance, the on-site technician is assigned the task. Specific instructions given via video call help guide the technician through the task.
All the KNAPP systems as well as the various customer systems are integrated into the Multi-Site Control Center. Our experts check the software as well as the hardware. Specially developed index numbers (KPIs) continually provide real-time information on the condition and performance of the system, such as:
Transit times of customer orders
Number of customer orders
Picking performance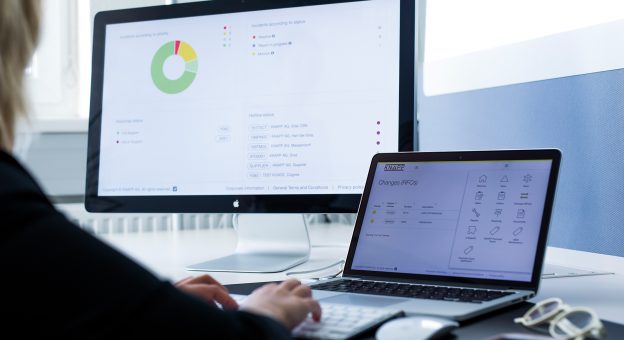 In Short
The Multi-Site Control Center (MSCC) is a strategic, operational service and is ideal for food retailers with MFC concepts. The MSCC monitors, analyzes and assists by providing status information on the logistics installation or by providing communication on any incidents and preventative measures. Dashboards, KPIs and long-term statistics and prognoses provide a clear overview of all the technical and logistics processes.
Find out more about this software tool here.
redPILOT Operational Excellence OPTIMIZER: Efficient resource management for your supply chain
The redPILOT Operational Excellence Solution is a modular software solution that helps logistics companies optimally operate their logistics system during every hour of operation. It can be used in a variety of ways for sustainable resource management. The software module CMMS (short for Computerized Maintenance Management System) supports the structured and step-by-step maintenance work during technical system operation. Further modules such as PLANNER, OPTIMIZER and IMPROVER make enhancements to the operation of your logistics system including automatic employee scheduling and optimizations based on dynamic bottleneck detection.
Clever alternatives increase performance
The performance of the overall logistics supply chain is often throttled by one or more components, often causing a bottleneck. To solve this problem, redPILOT has developed an intelligent algorithm that can detect such inefficiencies. The advanced logistics app not only prepares data, it can compute the best possible scenario, and then adjust it when changes take place – just like a navigation system. If the goal is defined, a suitable route will be determined. If the traffic situation changes or, in our case, the logistic parameters, the intelligent tool provides those responsible with an alternative action to take. All the data is saved for future planning, which means that the software learns with every hour of operation. The acquired information enables logistics companies to respond to changes early on, increasing the performance of the overall system.
Where are the bottlenecks and excess capacities in the logistics system?
What are the best alternatives for ironing out inefficient processes?
How can you raise the system's performance?
In Short
The redPILOT OPTIMIZER is an operational tool for optimizing the supply chain. The desktop app is ideal for planners, team leaders and on-site managers. The OPTIMIZER provides information on actions that can be taken and ways to increase the overall performance of the system, also detecting bottlenecks and excess capacities.
Click here to visit the redPILOT-website.
Would you like more information on our intelligent logistics apps? Write to us at blog@knapp.com.