The classic for manual and semi-automatic picking
The paperless picking solution, which is a combination of software and hardware components, is now a classic product in our technology portfolio and supports manual and semi-automatic picking applications for efficient and error-free order fulfilment. The small, intelligent luminous displays from KiSoft Pick-to-Light are in use at 1,500 KNAPP installations around the globe. KiSoft Pick-to-Light is developed and manufactured at KNAPP Systemintegration in Leoben. Roland Graf, Product Manager for KiSoft Pick-to-Light, gives us an insight into his product.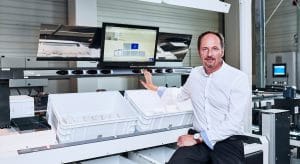 KiSoft Pick-to-Light has a long-standing tradition. How has this technology developed over the years?
The first generation of Pick-to-Light was first put into operation in 1993. In the same year, an industrial design was also submitted at the Austrian patent office. Over the years, the product has been adapted and re-designed to be more flexible. Currently, the third generation of Pick-to-Light is on the market; the biggest difference to the previous versions is its design. Changing the aluminium housing to plastic saves considerably on costs. Additional command keys were also integrated into the display so that more functions can be carried out directly at the work station. It's also worth mentioning that the latest generation of the system is still compatible with all the solutions of the third generation, despite all the changes and adaptations. This is a huge advantage when it comes to upgrades and retrofits. The story of KiSoft Pick-to-Light is far from over – we continually work on new functions and developments.
KiSoft Pick-to-Light is typically used to support paperless manual picking processes or is part of product solutions such as Pick-it-Easy work stations or KiSoft Sort & Pack. In addition, there is an interesting application of KiSoft Pick-to-Light for the Fashion and Retail sector…  
KiSoft Pick-to-Light is also ideally suited to the fashion and retail sectors to ensure that shop delivery is efficient. We currently have one such concept in operation at a major fashion customer in Sweden. KiSoft Pick-to-Light displays are mounted on flow racks, with each rack compartment corresponding to a store. KiSoft Pick-to-Light indicates how many items of an article must be picked for each store. In doing so, a picker can process the deliveries for several stores in a fast, efficient and error-free manner.
We have a 25-year-long history of successfully implementing KiSoft Pick-to-Light in our solutions. We utilize our experience and skills to constantly develop and enhance KiSoft Pick-to-Light. As a result, our customers can always turn to a reliable and stable product.

Roland Graf, Product Manager at KNAPP Systemintegration
Location: Leoben
Specialization: Innovative, tailor-made automation solutions for both online and brick and mortar food retail. KiSoft Pick-to-Light solutions for all sectors of the KNAPP group.
Employees: Over 500
KiSoft Pick-to-Light
Scope of application: Paperless, manual picking; part of the optimum work station design at ergonomic Pick-it-Easy work stations.
Installations worldwide: Around 1,500
Advantages: Efficient, error-free, manual picking processes; increased picking performance; short training period for new employees; flexible warehouse organization; fast amortization of investment costs.