4,5 minutes reading time
Article contains videos
What does it take to make e-commerce fulfilment efficient and service-oriented?
What is the ideal degree of automation?
What questions should you ask yourself about your business?
E-commerce fulfillment: Turn

ing customer needs into intelligent logistics processes
The online business is an integral part of our lives and is now booming. Whether looking for fashion, electronics, medicine, food or spare parts for farming equipment, more and more people today are getting the shopping done online. All these purchases have two things in common: a specific need and an expectation for the experience of shopping. To fulfil these customer needs, smooth logistics is critical for online businesses.  
Our logistics experts Anton Tschurwald, Mario Rauch and Gerrit Schneider shed light on important aspects of e-commerce fulfilment. They also share valuable tips on what is important for the right logistics solution.  
How to create the right logistics solution for online retailers
Every consumer has a specific reason in mind when they click on the Buy Now button. Is it the cheapest price, the large selection, regional products, product customization or the fast delivery? "To stand out from other online vendors, every company makes a promise to their customers in their online shop. Intelligent e-commerce fulfilment helps you to fulfil this promise and gives the company a competitive advantage," says Mario Rauch, expert for process design and software consulting.  
When he gives advice to companies looking for a logistics solution, he therefore begins by asking questions such as:  
How is your business different from others? 

 

What are your goals and business scenarios now and what are they for the future? 

 

What is your corporate culture like?

 

 

  

Which processes must be integrated?

  

Which business models should be catered to?

  

What is the product range like

?

  

 

Which requirements must the logistics solution be able to fulfill in the future

?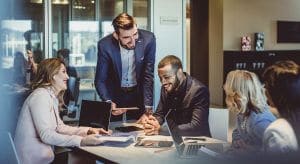 From the first ideas to the finished concept
This is how the software consulting team assists customers from the first ideas to the finished concept which forms the basis for the actual solution. "Our goal is to translate the individuality of each customer and their business into tailor-made processes and a complete logistics solution that ultimately creates added value for them. The most mind-blowing solution is useless if it doesn't fit the performance requirements, the budget or the growth plans," explains Mario Rauch. In this phase of getting to know one another, workshops are the perfect setting for exchanging ideas, elaborating further, "We sit down with the customer and use various methods to get a general overview. In these workshops, we focus on depicting all the information in a single model with all the logistics processes. During this step, we deliberately leave out technologies and products."  
Working together in our software and process workshops at the beginning of a project forms a close relationship that includes the important element of trust. This provides the very thing needed for successful projects. I am very proud that in our work with our customers, we have already celebrated many great successes.

Mario Rauch, Director of Digital Businessmodels, KNAPP
The customer often finds it unusual to get a comprehensive workshop instead of a specific offer, however, the lasting value of this approach quickly becomes apparent. This is confirmed by the experience of Edgar Flecklin, Head of Logistics at Victorinox, manufacturer of the long-standing Swiss Army Knife, who remembers: "This approach was unusual for us. Here comes a supplier with post-it notes – which raised some eyebrows – until we understood what KNAPP really wanted. The whole point of this intense collaboration was to build a foundation of mutual trust. Our needs and wishes were taken seriously – KNAPP has always developed a solution with us – a solution with which we are satisfied to this day."  Read more about Victorinox's new fulfillment center in Switzerland. 
Deliver on customer promises using automation
Tailor-made processes for your business
Scalable solutions for future growth
E-Commerce Fulfillment:

When and why should you automate your business processes?
The right time and the way a company enters the world of automation should be planned step by step and considering all relevant aspects and depends on individual turnover figures and growth prognoses. Anton Tschurwald, Vice President of the Retail Business Unit at KNAPP is very experienced in helping companies adopt and develop their e-commerce fulfilment: "With our customers, we develop scenarios and expansion steps. The solution has to provide maximum efficiency at all times. The most common criteria for automating a business include growing order volumes and an increasing number of articles, but also quality and delivery speed. Orders have to be fulfilled with top quality and with ever increasing speed, so as not to disappoint the end customer with an error or a long wait," he explains. Another factor having a direct effect on customer satisfaction is the so-called cut-off time: 'Order by 11:59 pm and receive your delivery on the next day.' This is a service that many of our customers offer or plan to offer. Here, intelligent logistics processes and technologies can help: For example, a warehouse system such as our OSR Shuttle™ Evo, from which all goods can be retrieved at any time, one-touch picking or pre-sorting of dispatch routes. One key component here is a comprehensive, intelligent software solution such as our KiSoft software," says Anton Tschurwald. 
Find out in this video how Dutch online retailer Wehkamp delivers on their customer promises using intelligent logistics processes.
Our customers are experts in their business. We are experts for intelligent automation. Only by combining our knowledge can we create the best e-commerce solution. The key lies in open dialogue with the customer. 

Anton Tschurwald, Vice President Retail Solutions, KNAPP
Long-standing successful partnership with John Lewis
John Lewis and Partners, a British company with a long-standing tradition, has been working since 2005 in online trade in addition to their department stores. From the beginning, John Lewis relied on the  partnership with technology expert KNAPP, as John Munnelly, Head of Logistics Operations at John Lewis remembers: "Back in 2005, automation was a completely new world for us. From the very beginning, we were looking for a partner for our logistics with whom we could learn and grow together. KNAPP convinced us that they wanted to grow with us and with our business, that they were flexible and sharp enough to respond to changes and that they would also be capable of assisting us through difficult times. Furthermore, the technology portfolio was very convincing, above all, the OSR Shuttle™ with which we are satisfied to this day. And yet, our business is completely different from what it was a few years ago. Most notably, our online business has grown incredibly."
Find out more about the amazing John Lewis omni-channel fulfilment centre in this video.  
Affordable and manageable automation?
The word automation sounds like a huge investment and might put off companies wanting to enter the e-commerce business. Getting started, however, doesn't have to be expensive nor does it mean they have to fully-automate their entire business. Much can be achieved with just small, systematic measures within a reasonable budget. "You can start smart and small, for example, with paperless manual picking, carton closers or photo stations to document the contents of shipments. A WMS software is also an important step because with it, you can collect and analyse data, learn from it and prepare yourself for growth at the right time," says Mario Rauch.  
One of the greatest logistics challenges in e-commerce is capacity fluctuations, meaning the peaks. In e-commerce, data plays an important role. With data, you can be proactive instead of reactive.

Gerrit Schneider, Sales Manager, KHT
Master data as the key to success in e-commerce
Transparent and reliable data plays an important role in e-commerce fulfilment.  Along with customer-specific data or data providing information about expected ordering behaviour, when it comes to intralogistics, complete and correct article master data is absolutely essential as well. In practice, however, the efficient and correct recording of article master data is often a huge challenge for online retailers, as Gerrit Schneider, expert in master data management at KHT knows from experience: "One of the greatest logistics challenges in e-commerce is capacity fluctuations, meaning the peaks. Here, data plays an important role because it makes it possible to think ahead regarding purchasing behaviour and to be proactive instead of reactive. An overview of the warehouse workload is often missing and valuable space wasted. A mobile station such as our MultiScan or ProfileScan records article dimensions and weight and is a simple but effective solution. It is also useful in the dispatch area for selecting the correct carton size and for saving valuable resources." Using standardized interfaces, the recorded data is automatically transmitted to the warehouse management system, adding to the article master data and available for analysis.
Find out more about the advantages provided by master data recording in this video.  
Successful e-commerce fulfilment depends on many different factors, but one thing is certain: "There is no 'one size fits all' solution. The solution must be as unique as the customer. Basically, we design solutions geared towards the future that can grow with the customer's business. At the end of the day, it's only the actual success, supported by the automation, that matter, " concludes Anton Tschurwald.  
4,5 minutes reading time
Article contains videos
Additional Information
Would you like to find out more about e-commerce fulfilment or do you have any questions for us? Just drop us a line at 

sales@knapp.com

.