Ready for Black Friday
The peak time of retail sales has a rocket start with Black Friday at the end of November every year, opening the Christmas shopping season. Over half of all British consumers will make purchases on Black Friday, and of these, almost 80 % will do so online (1). Clearly, every e-commerce retailer must prepare for this enormous event, which  of course, involves a crucial prep time for John Lewis & Partners and therefore for KNAPP. A shared strategy is vital for this successful long-term partnership.
Best sales performance in a single day
John Lewis & Partners achieved its best sales performance in a single day on Black Friday 2017. This was after a tough year for retailers. With a 7.2 % increase in sales for the same period in the previous year, the department store chain took £ 214.3m across its retail and e-comm operations (2). They sold 705 items per minute online during Black Friday itself (3). So, what have John Lewis & Partners and KNAPP been doing to prepare for the peak this year?
Maximize the effectiveness for the customer
Every year the capacity, throughput, and versatility of this site is further enhanced by KNAPP hardware and software. Internally, KNAPP has been working collaboratively to ensure John Lewis gets the level of support befitting a site of such a large scale. Sales, Design, Project, IT & Planning departments are working together closely to ensure projects and support are delivered on time and to maximize their effectiveness for the customer.
"We evaluate past peaks in the system, derive measures for improvement and then implement them. If there's a bottleneck, we plan system expansions, which are implemented in live operation, to ensure we are prepared for the next peak."

Daniel Nierensee, Senior System Design Engineer
During last year's Black Friday peak, the site was able to process 5 parcels per second (4).  To maintain such a fast operational pace, a dedicated team of engineers is permanently on site ready to quickly respond to any maintenance issues as they occur.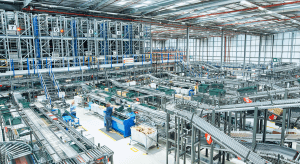 "The KNAPP Resident Engineer team consists of about 60 employees, who cover the entire mechanical and electrical support for the plant 24/7 in a 3 and 4-shift model. In addition, we set up a KNAPP technical support task force on site during peak times as well as a team of technicians on standby for remote support."

Swen Kosielek, Head of Customer Support & Projects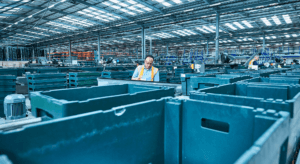 Jason Clark is the KNAPP Engineering Manager for the John Lewis site and oversees the preparations for peaks. He describes the lengths we go to in the run up to Black Friday.
"Preparation for a peak at JLP starts the moment the last peak finishes. JLP's ever evolving project site also adds the challenging integration of new equipment to contend with in terms of settlement and learning how to handle errors/repairs. Apart from making sure the equipment is in the best possible shape, our main focus is to ensure we have the right team on site. That means, engineers, automation assistants, machine minders and the day support team. Other factors of preparation include ensuring all tools kits are checked, the workshop is in good shape and physically checking critical spares stock levels."
Additional resources
The zero-defect warehouse is a long-held goal of KNAPP, and it's one of the key aspects of making sure John Lewis & Partners has a successful Black Friday. At this time of year, KNAPP diverts additional resources to its Hotline in the form of Peak Seasonal Support. This ensures that 24 hours a day, any issues that require specialist assistance from our KNAPP teams are dealt with quickly and efficiently on site, reducing any down time and optimizing operations. The world of retail is shifting seismically, but with forethought and investment, John Lewis & Partners is proving that it can get ahead of the curve and adapt to the changing marketplace.
 "Like in any close relationship, long-term business partners will come across highs and lows, learning from the experience. We always try to focus on the highs and navigate around the lows. Our common goal is a strong partnership and being even closer to our customer." Sarah Ott, Sales Support
Together, partners John Lewis and KNAPP, providingare implementing innovative logistical solutions to meet these new challenges. We are optimistic that Black Friday 2018 will be another record year.
Sources
(1)"What's in store for Black Friday this year?", PWC
(2)"Black Friday breaks John Lewis trading record", Sky News
(3)"Black Friday breaks John Lewis trading record", Sky News
(4)"John Lewis's hi-tech warehouse a hard act for Sports Direct to follow", The Guardian