5:22 minutes reading time
In times of low emission zones and overnight delivery bans, commercial enterprises and logistics service providers are coming up with new ideas on how to provide their logistics services on the last mile. Various collaborations, the use of electric vehicles and logistics hubs on the outskirts of the city are only a few concepts that are slowly gaining momentum. Addressing these challenges, KNAPP has launched the initiative New Urban Logistics with a comprehensive solution portfolio. The healthcare sector in particular allows for innovative ways to combine the advantages of a local pharmacy with those of an online store.
Healthcare Campus manages logistics for Central Apotheke Frankfurt
The proprietor of Central Apotheke Frankfurt, Marc Schrott, has the vision of not only supplying pharmacies, but also office buildings, hospitals and private customers with medicines and health products within a few hours in an eco-friendly way.
"
"
In the last few years, it has become apparent that for essential medicines, international supply chains are no longer stable enough for our patients. We have had to return to keeping stock that we can control locally, even though this drives the costs up for pharmacies.
What are the resulting logistical challenges?
When mixing B2B and B2C, the order structure is completely different, while the product structure is very similar.
Different pack sizes are needed when assembling shipments in the warehouse depending on whether the order is for a hospital, a pharmacy or an individual customer.
"
"
Gathering different business models together in one central logistics center is the key to success in efficient urban logistics. To make this happen, KNAPP provides a fully integrated solution such as a warehouse with pallet storage and a shuttle system, fully automatic central belt systems, ergonomic goods-to-person work stations and a shipping solution that takes security regulations specific to pharmacies into account. Technology and software modules can easily be added to suit the needs of the expanding business.
The entire Healthcare Campus runs on solar power, collected by way of roof panels and active facades. Central Apotheke uses the maximum solar charging power for their delivery fleet. The building is designed to be as energy-efficient and eco-friendly as possible, utilizing geothermal heating and cooling for the warehouse and picking areas.
"
"
Delivering in a few days is not enough, we want to deliver within a few hours. It takes an intralogistics solution with extremely short order transit times to achieve this. Our deliveries are made using electric vehicles and e-bikes. It was especially important to us that the solution be expandable. Our supply network provides a number of options for delivering to locations within the city, in collaboration with other local shops.
Novaltia relies on smart mobility in pharmaceutical retail
Spanish pharmaceutical wholesaler Novaltia is also a pioneer when it comes to green urban supply.
The Novaltia-KNAPP partnership spans 22 years.
Headquarters in Saragossa
Operates 4 distribution centers
Supplies more than 1,100 pharmacies up to five times per day
Supplies medicines even to the region's remote areas
"
"
Our recipe for success? Quite simply, the close collaboration between both our companies in developing solutions that fulfill our clients' demands for service and quality.
Making deliveries in urban areas more environmentally-friendly, sustainable and regional
If you are frequently using the car in the city, you already know: Finding a parking space is difficult if not impossible. The boom in e-commerce with the resulting deliveries on the last mile have aggravated the problem further. This is where cargo bikes come in handy. They require little space and have no emissions.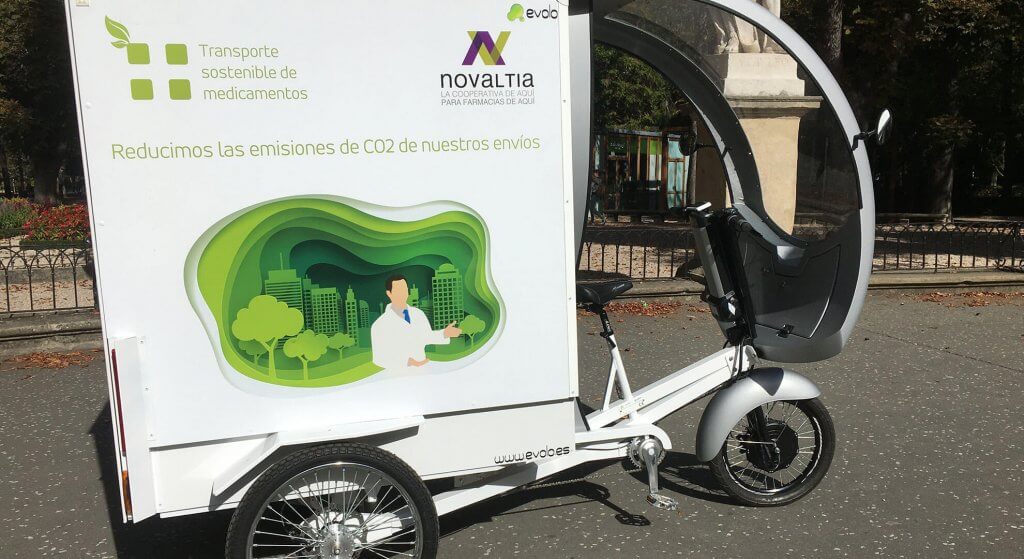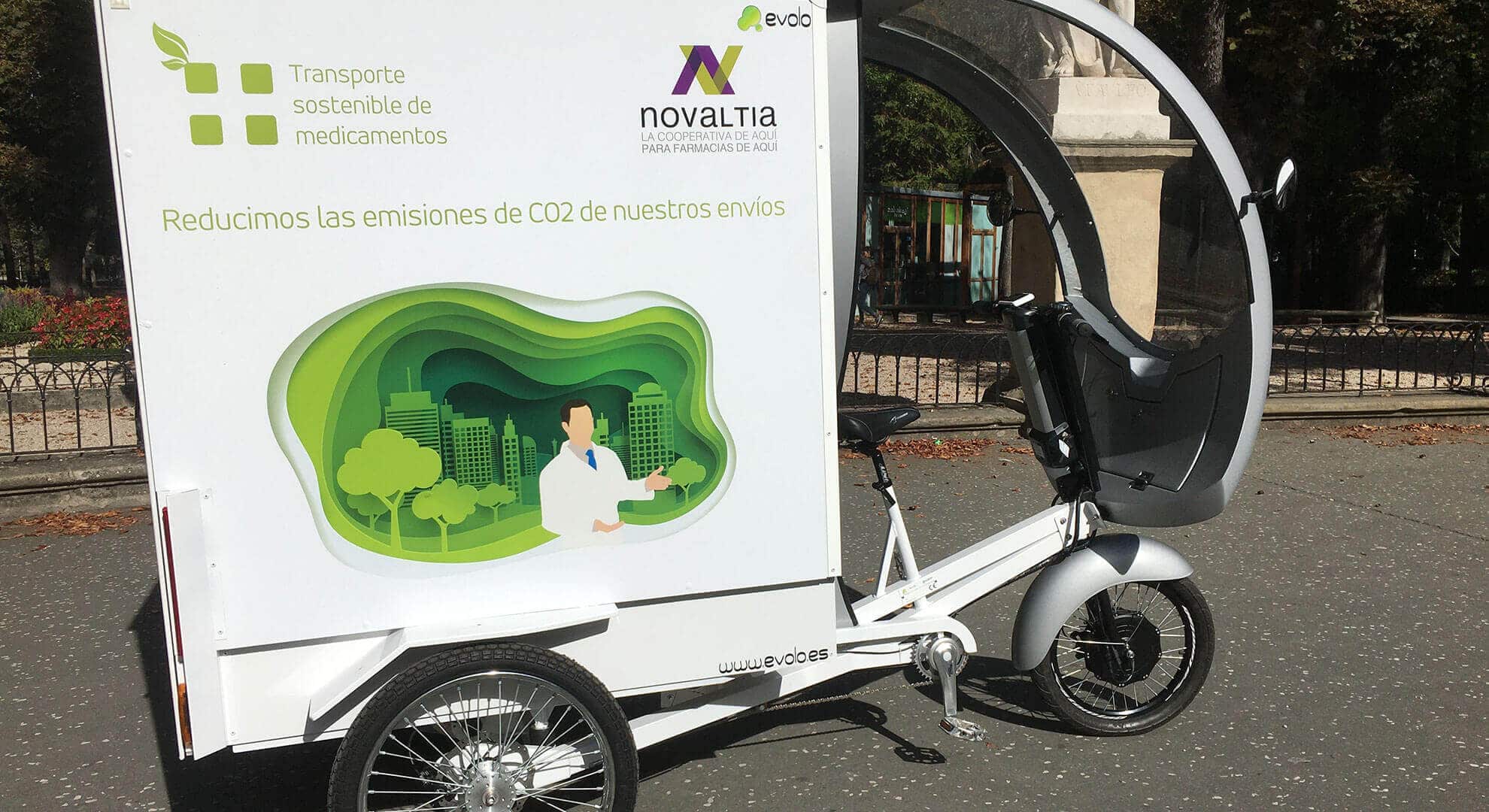 This way of sustainably delivering medicines to pharmacies has earned Novaltia the Global Green City Award 2019 by the city of Vitoria. Aside from the strategy of reducing fossil fuel burning vehicles, bicycles are often the only remaining option in Spain to directly supply pharmacies located in the old town centers.
Urgently needed medicines are delivered to pharmacies in less than 30 minutes, saving both costs and the environment.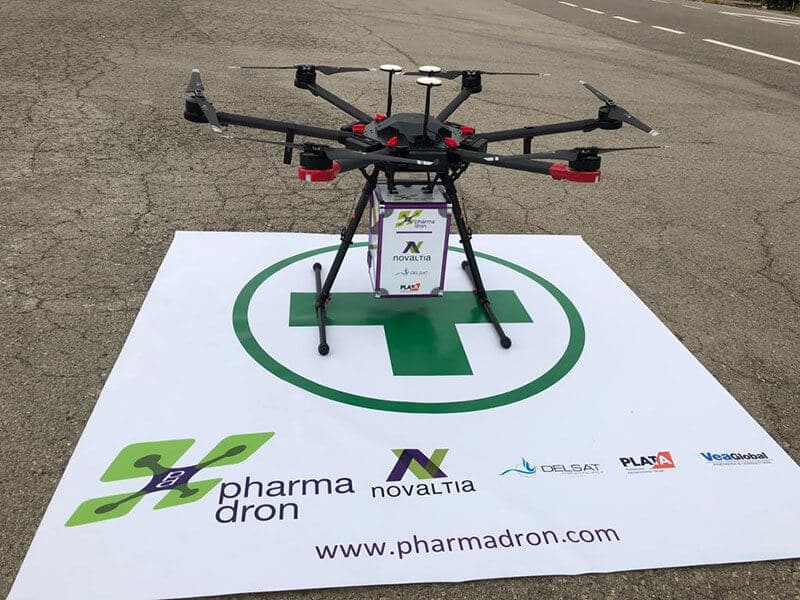 Novaltia has another project in the pipeline: Pharmadron. The idea behind this is to provide a steady supply of medicines to the chronically ill, the elderly and people who live in remote areas as well as to ensure that medicines are transported even during poor weather conditions and natural disasters.
"
"
My goal is to increase the service quality for pharmacies and patients with optional, integrated service customized for each individual patient. Services such as e-commerce, a larger product range, reduced transit time and home healthcare services are tools for creating service packages that will strengthen customer loyalty.
Courier management for pharmacies
A German startup company has created a tool that is both free of charge and easy to use, and that has been designed for an efficient delivery service for pharmacies: apomap. It includes interactive route planning for courier assignments and shipment tracking in real time. The software runs on the browser without requiring any further installation, allowing it to be integrated fast and effortlessly.

The apomap app has the following advantages:
Supports couriers in navigation
Patients can track the delivery status of their order
Customers can pay digitally
In the future, they should also be able to contact the pharmacy through the app, for example, to receive personal advice.
"
"
We have developed apomap together with pharmacists with a focus on the challenges that are specific to this industry. To use the software, customers simply need to register and create an account, which is free of charge. The tool is compatible with every insurance system.