4 minutes reading time
Article contains videos
Robots and artificial intelligence: Turning visions into reality in logistics
What do you think of when you hear the word "robot"? Do you perhaps think of Arnold Schwarzenegger as the Terminator, the super sports car K.I.T.T. or of the first toy robot you had as a child? The idea of building a machine with super-human strength and human intelligence has given wings to our fantasy for hundreds of years. At the same time, this idea is the driving force behind research and innovation in the field of robotics and artificial intelligence. But, aside from the fantasy, what processes are right for robots in retail logistics? Here, we present a few retail applications for robots.
Robots support various logistics processes
Theoretically, many processes in a warehouse can be automated using robotics. The question, however, is not: "What can be automated?", but "Which processes will become better, safer and more efficient by using robots?"
On top of this, using robotics can improve the human work environment. In the retail sector in particular, the vast range of goods keeps expanding and changes seasonally. Order numbers are growing rapidly, especially in e-commerce, and shift operation and heavy workloads are typical. Moreover, finding the right employees to work in the retail warehouse is becoming increasingly difficult. In light of this situation, there are three processes in particular where lasting improvement can be achieved thanks to intelligent robots:
Depalletizing and palletizing
Picking
Transporting and supplying
Robots handle strenuous and monotonous tasks
Depalletizing goods in the goods-in area of a warehouse is a task which is actually too strenuous and monotonous for employees. However, in an omni-channel DC for cosmetics, for example, robots could depalletize the cosmetics articles. This can be done in the following ways.
Robots depalletize cartons layer by layer from unmixed pallets
Robots depalletize cartons one by one from mixed pallets
The robots place the cartons on the trays with precision. In the same work step, scanners capture important master data such as the lot number and transmit this to the higher-level warehouse control system. The articles are immediately known to the system and can be tracked throughout processing in the warehouse and beyond.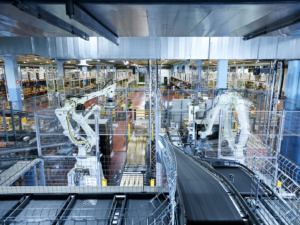 Improving supply to shops using robotics
Robots can bolster the quality in the goods-out area by building pallets for delivery to shops – just-in-time and just-in-sequence. Deliveries to shops are normally known 24 hours in advance and are therefore easily planned. The route departure times are planned by the intelligent logistics software KiSoft. Then, KiSoft Pack Master works out the best way to build the pallets so they are shop-friendly and based on the shop layout, making the work of the shop employees easier. Finally, the robots build the pallets automatically for delivery to the shops. Robots can also do this job at night, so the pallets are ready for delivery first thing in the morning. Automatic labelling can also be integrated into the process.
Assembling mixed pallets is an important process for the cosmetics retail sector. When done by hand, it takes a lot of time and errors are common. Robots combined with our intelligent packing arrangement calculation software are a great advantage. Our solutions efficiently automate this process, boosting quality and performance for the long term.

                                                           Brice Gaujard, Director Sales KNAPP France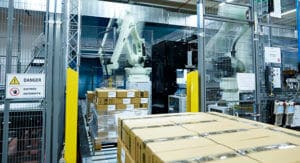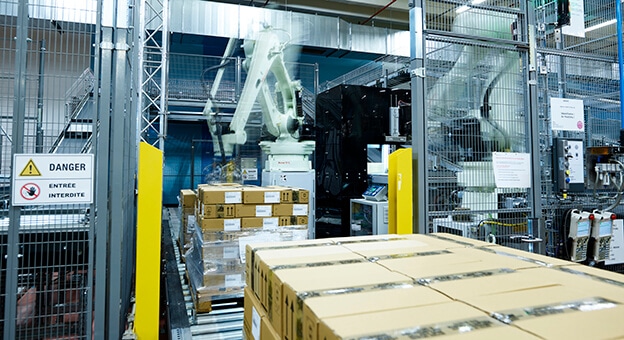 Lipstick, gloves or plush toy? Machine learning for single item picking
Picking and dropping a rectangular article such as a carton is no great challenge for robots today. But what about an article with a shiny surface? Or soft, irregularly shaped objects lying chaotically in a container? How does a robot manage to gently handle a fragile article and to place it down carefully in a precise location? The reality is that many retail or cosmetic articles in a distribution centre have just such characteristics. Our intelligent Pick-it-Easy robot can master this challenge thanks to machine learning, a sub-discipline of artificial intelligence. Daniel Hütter, Team Leader of Systems Engineering for Retail Solutions at KNAPP, explains how this works:
 Like humans, robots learn from experience. Every time the robot tries to grip an article, it generates experience in the form of data. With every grip, it learns to differentiate the characteristics and similarities of articles and to apply this to other articles. The special thing about our Pick-it-Easy Robot is that this data is then stored in a cloud so all the other robots can access it. This means that when one robot learns, all the other robots independently learn along with it. For the retail branch and its fast-growing article range, this is a huge benefit.

Daniel Hütter Teamleader Systems Engineering; Retail Solutions, KNAPP AG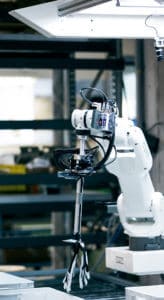 With its talent for single item picking, the robot is perfect for loading sorter pockets to fill a dynamic buffer. The sorter pockets are filled with fast-moving articles which are then quickly available during peak periods. This is monotonous work and therefore less popular with employees – here, the Pick-it-Easy Robot can take over this step of the process, allowing employees to get on with other tasks.
Ready for Black Friday: Autonomous mobile robots supply temporary work stations
Black Friday at the end of November marks the beginning of the strongest sales season in retail. To handle the huge influx of orders, many retailers hire additional employees and set up temporary work stations in their fulfilment centres. These stations must be efficiently connected to the existing goods flow and integrated into the warehouse processes. Autonomous mobile robots such as our Open Shuttles can be used to automatically supply these temporary work stations with goods, packaging materials or other necessary utensils. The Open Shuttles communicate with each other using swarm intelligence and distribute the tasks among themselves independently, true to the motto – the swarm is where the work is. Furthermore, the Open Shuttles need no guiding lines, but adapt their routes to the local conditions. Their sophisticated sensor elements zero in on the safety of personnel: They can therefore "share the road" with people and other vehicles. Discover more about the use of autonomous mobile robots in this blog post.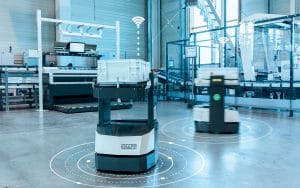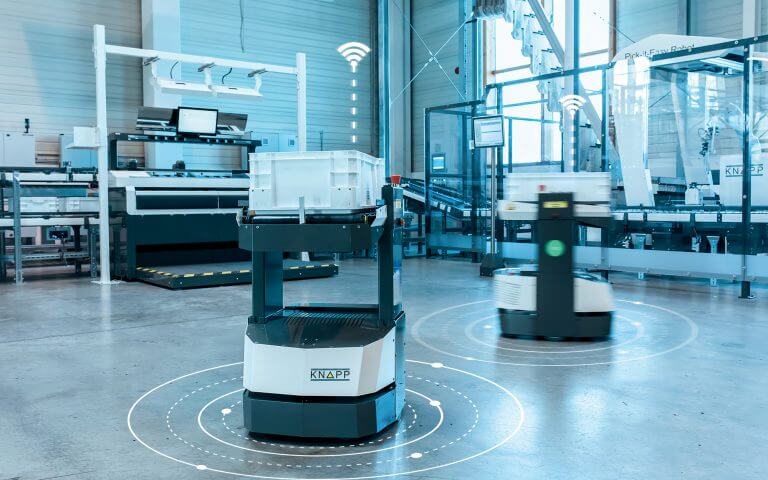 Would you like to learn more about using robots and artificial intelligence in retail logistics? For which applications would you use robots in your warehouse? Please write to us at blog@knapp.com
4 minutes reading time
Article contains videos
Additional Information
Further information
The international cosmetic company Parfums Christian Dior relies on intelligent processes using robots in its worldwide distribution centre in Saint-Jean-de-Braye. Watch this video for an insightful look into the warehouse.