4 minutes reading time
Article contains videos
COVID-19 is having a lasting impact on our lives, and for logistics, this has meant great challenges as well. It is increasingly important to integrate protective measures in our everyday life as best as we can. With tailored solutions and new products, we are helping our customers to be protected against the coronavirus. What's more, we have significantly expanded our remote support services using new technologies.
Our products and solutions provide support in various areas, helping to protect customers and employees as best possible, for example:
Digital Butler creates a safe zone for customers and employees in the pharmacy
Pharmacies are facing unprecedented challenges these days. Customers and employees must be protected as far as possible from the coronavirus. Controlling access to the shop provides safety for both employees and customers. The Digital Butler is at your service: The innovative admission system controls access to pharmacies or stores using clear signals that are easy to understand regardless of the customer's language or culture. Individual content and additional information can be shown on the screen to shorten the customer's perceived waiting time. The employees can regulate the content safely and easily from their work station or a mobile device. The Digital Butler is installed quickly and easy to operate. The innovative system ensures a comfortable and safe atmosphere in the sales area as well.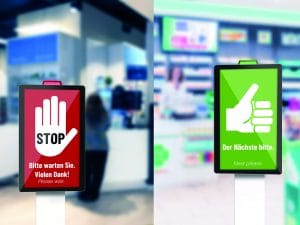 "
"
With our Digital Butler, we offer a solution suited to pharmacies and retailers addressing that important first customer contact. We are constantly developing our products. Sensor-controlled admission control will soon be available.
Project Retail CX by KNAPP brings you contactless shopping
Shopping, safely and quickly – thanks to Project Retail CX. This product is an automated store within a store: As you might be able to guess, this technology makes shopping at the store simpler, more exciting and, in times of COVID-19, also safer. Project Retail CX combines the advantages of a brick and mortar store with those of an online shop. Customers can shop around the clock at order terminals, selecting goods and paying cashless.
This concept has already been implemented in southern Styria at the specialty food shop Kreisler.
About 6,400 regional products are stored and cooled in a 20-meter long automated rack
As soon as a customer has ordered and paid at one of the four terminals, the robot begins to work.
The robot retrieves the selected items from the rack and hands them over to the customer.
See more of Kreisler's innovative way of shopping groceries in this video.
"
"
Our project adds value to the region, ensures short supply routes, and the delicacies produced by our local farmers are displayed in a contemporary, environmentally friendly shop window
Disinfect work surfaces and containers quickly and safely with UV-C light
Regular disinfection is more important today than ever. To protect employees and ensure safe operations in distribution and production companies, surfaces and tools must be regularly freed of possible pathogens. This can be done quickly and effectively with the certified UV-C light technology.  This technology can be used, for example, to clean work areas and tools. UV-C light is also suitable for disinfecting containers and cartons.
Powerful
Germs reduced up to 99.9 percent
Cost-effective
The costs of purchasing are easily calculated; long life-cycle; low maintenance
Sustainable
Chemical-free process; reduced waste
How does UV-C light actually work?
UV-C light is a natural part of sunlight. Within a few minutes and without any chemicals, it can deactivate bacteria, viruses, yeasts, fungi and mold spores. One particular advantage of this solution is that the germs do not develop any resistance: UV-C light is therefore always effective.
"
"
In the industrial environment – for example in distribution centers or production facilities – UV-C technologies are ideal for fast disinfection. UV-C technology is a long tried and tested technology in other areas, for example, in the treatment of water. For our solutions, we use high-quality lamps which provide a 2.5 times greater performance in comparison to conventional UV-C lamps. This provides precise and effective disinfection."
Remote support with crystal-clear sound and image quality using ivii.global.assist
The web-based software solution ivii.global.assist connects people worldwide using image and sound technology. Since travel is currently severely restricted because of COVID-19, ivii.global.assist offers a simple, effective solution to provide remote support. Sound and image are transmitted live in both directions so that individuals can see and hear each other. Even working with both hands free is possible, which is particularly practical when it comes to maintenance. The employee on site wears a set of glasses – smart glasses – and various kinds of information can be displayed to them in their field of view. The software basically works independent of the end device used (Android, IoS, tablet, etc.).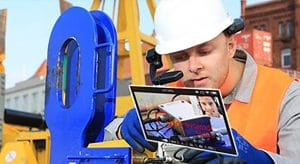 There are numerous application possibilities for ivii.global.assist, allowing contactless interaction in industrial environments, such as:
Remote support
Servicing
Inspections
Guided system startup
After work is completed, end-to-end documentation including text, image and language is provided. In times of restrictions such as those related to COVID-19, this application provides many advantages. Experts needn't absolutely be on site and can supervise startups or provide certified training from a distance.
Like a navigation system for plant operation: redPILOT Operation Excellence Solution
The software solution redPILOT Operation Excellence Solution helps logistics companies to operate their logistics system at their optimum in every hour of operation. In this context, sustainable resource management, especially scheduling employees, is an important factor. The software ensures the continuity of the business, for example, through the following measures:
Distribution of critical operational processes across several shifts
Adaptable rules for breaks
Adaptable work station assignment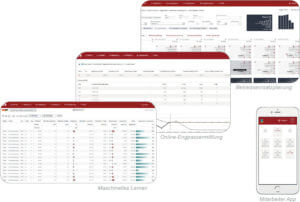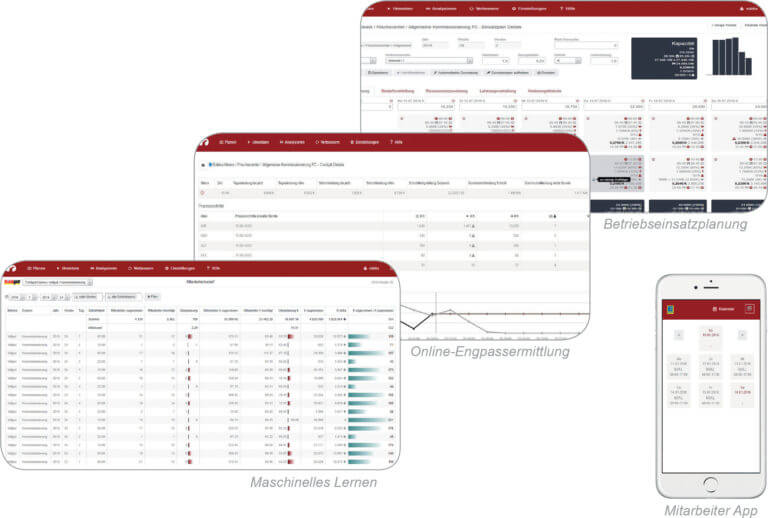 Manage infection risks and create transparency in resource planning
To prevent an infection and its spread, certificates are used to evaluate the current situation and, in case of an infection, contact tracing is done where a look at recent shifts reveals any potential chains of infection. Reports and statistics on critical index numbers associated with infections offer transparency and help with informed decision-making.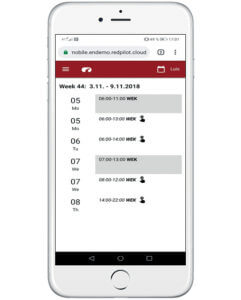 Flexible personnel assignment planning with teamApp by redPILOT
The special redPILOT teamApp ensures increased flexibility in employee management. Temporary employees and contract workers can also be integrated easily and managed using the teamApp. The app allows the wishes of the employees to be seamlessly dovetailed into the planning process, creating more value for the company as an attractive employer. Comprehensive operational planning minimized planning expenditures and identifying excess capacities bring costs down.
Intelligent robot gives a helping hand in logistics processes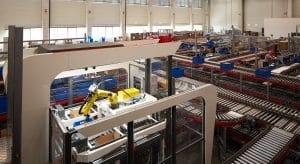 The industry-grade robot solution Pick-it-Easy Robot is ideal for automatic order fulfillment, for example, in the distribution centers of online retailers. The robot is capable of reliably gripping a variety of goods. Even things wrapped in film, for example, or with reflective surfaces or even very expensive items such as perfumes, are picked up with precision and gently placed down.
In times like these where social distancing is a necessary evil, an automatic picking solution such as the Pick-it-Easy Robot has its advantages:
The robot can work 24 hours a day, providing relief for workers during night shifts.
At the same time, delivery performance can be increased in industries such as food or pharmaceuticals, which are currently experiencing greater workloads due to the pandemic.
Thanks to its artificial intelligence, the robot can independently learn how to process new items, a feature that is essential, since it provides safety and the possibility to plan ahead.
What's more, using a robot results in fewer people working together, which in turn makes social distancing easier.
Would you like to learn more about our solutions and how they can help you overcome the challenges of COVID-19? Write to us at blog@knapp.com.