The pandemic will leave a lasting impact on consumer behavior.
Shopping habits have changed a lot since the onset of the global pandemic. There's been a shift in spending patterns, less spending on discretionary categories and greater spending on groceries as people stay home, stock up and start cooking again.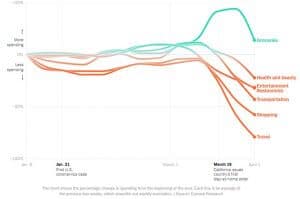 There's also been an incredible uptick in the use of e-commerce as people stay home to stay safe. According to McKinsey, 3 out of 4 Americans have tried a new shopping behavior.  Many believe COVID-19 pushed e-commerce adoption ahead by 4-6 years. 
While some brand switching can be attributed to supply chain strain, the pandemic is amplifying brand disloyalty: Americans are more willing to try new brands and products than they were in mid-2019.

Nielsen, Understanding Consumer Sentiment Can Help Companies Adjust as the U.S. Begins to Re-Open
In a recent survey on U.S. consumer sentiment, McKinsey found that COVID-19 has affected consumer behavior in five key ways, many of which will have a lasting impact.  
Shift to value and essentials:

 Consumers are spending less on discretionary items and more on the essentials.

 

Flight to digital and omnichannel:

 Post-COVID-19, most consumers intend to continue to shop online and to use contactless services such as buying online and picking up in store or curbside pickup. Many consumers plan to shift their shopping almost completely online. 

 

Shock to brand loyalty:

 

A majority of

 Americans have tried new brands, new places to shop and new shopping methods during the crisis.

 

Health and "caring" economy:

 The importance of visible safety signs such as masks and physical barriers is growing. Increasingly, company actions regarding their employees matter to consumers.

 

Homebody economy:

 Most Americans are in a "wait-and-see" mode and not engaging in "normal" out-of-home activities. Instead, they're choosing at-home solutions for activities like wellness and entertainment and they plan to continue these activities post-crisis.

 
Prepare for a polarization in spending
In May 2020, Nielsen released three likely COVID scenarios. 
Rebound:

 An early return to normal living conditions at some point in the third quarter of 2020

 

Reboot:

 A medium-term scenario that is positioned in the fourth quarter of the year

 

Reinvent:

 A longer-term view that places the world in a general return to normal living conditions at some point in the first half of 2021

 
It's pretty clear that the longer-term "revinvent" scenario has come to pass. Nielsen expects two clear sets of customers will emerge: those with insulated levels of spending and those who will be restrained in their spending habits.  
Horizon 3: Life Reinvent
Over 6 months of restricted living. Red means more significant impact.
Demand more precautions. Everywhere. 24/7.
Opt for open confined places
Value Virtual before physical
Survive on absolut basics
Source: 2020 The Nielsen Company (US) LLC
We're looking at a real polarization of spending. This will continue to change consumer buying behavior. As shoppers adjust to changed economic circumstances, it will also change the range of products being offered: 
The repertoire

 

Pack sizes

 

Brand choices

 

Product origins
Recalibrate your supply chain
To serve this new and always-changing world, fulfillment centers will need to be retooled, repurposed or reinvented. How you do this re-engineering can make or break you. 
The world is fundamentally recalibrating right now. Consumer habits are changing at pace and understanding those changes, in the context of these scenarios, will be critical as businesses prioritize how they too recalibrate to meet the changed circumstances driven by COVID-19.

Scott McKenzie

Nielsen Global Intelligence Leader
What's the best way forward for retailers? We believe an Omni-flexible fulfillment model is the future of fulfillment. When done right, Omni-channel fulfillment bridges the gap between in-store and online shopping experiences; fusing real and digital. 
Stores, logistics systems, distribution facilities and supplier networks weren't engineered for the rapid shifts in demand patterns that we're seeing today.

— Gartner
With Omni-flexible fulfillment: 
Customers can own their experience

 

Inventory levels can be optimized

 

Brick and mortar stores can be used for last-mile fulfillment

 

Retailers can delight their customers while maintaining profitability

 
McKinsey says, "The winners in e-commerce will be those that deliver a great and consistent customer experience the fastest." In other words, if you want to remain relevant, you need to have a laser-like focus on customer experience. Past recessions have shown that brands who embrace innovation and agility in order to create superior customer experiences, outperform their peers. In fact, customer experience leaders in the last downturn had 3X higher returns than experience laggards.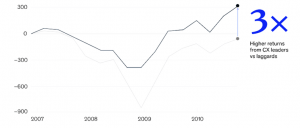 McKinsey recommends five key actions for navigating the next normal in customer experience. 
Double down on digital

 

Inject innovation into omnichannel

 

Transform store operations and win on "

SafeX

"

 

Reimagine the physical network

 

Embrace an agile operating model.

 
These five actions perfectly reflect where KNAPP has been headed since before the pandemic. Our hardware and software supply chain solutions give you the power to innovate and differentiate your customer experience, so you can be profitable both near- and long-term. When it comes to digital transformation, we know the right fulfillment system strikes the right balance between: 
The level of investment

 

Flexibility for the future

 

Performance or delivery capacity 

 

Growth goals

 
Whether you need a single warehouse, a system that spans several locations or an entire value chain, you'll get the right fulfillment system for your needs. We create intelligent, end-to-end solutions for everything from production and distribution to point of sales. We can help you: 
Inject innovation into Omni-channel and manage complexity

 

Reimagine your physical network and rapidly respond to unexpected situations

 

Be agile and react fast to changing customer needs

 
Interested in learning more about our solutions? Write to blog@knapp.com.