6 minutes reading time
Article contains videos
In intralogistics, digital twins hold the key to more efficiency in the warehouse, allowing systems and processes to be simulated, tested and optimized for long-term reliability before they are implemented in the real world. Discover the benefits and possible applications of digital twins in this blog post.
What is a digital twin?
Digital twins are the avatars of real-life systems – many companies know about them, a few are using them and for some, they are not even on the radar. But what is actually the purpose of a digital twin? Let's look at the definition:
Digital twins are virtual models depicting systems or processes, created using technical data and algorithms. System or process data from a real system can be entered in the digital twin to simulate, test and optimize processes and systems before they are implemented, and during ongoing operation, bridging the gap between the real world and the virtual world.
What types of digital twin are possible?
Digital twins come in four different types:

Twins of components or parts
A twin of separate components of a whole system that directly influence performance, e.g. a digital twin of valves or sensors.
Twins of assets
A twin of two or more components that function together as an asset, revealing potential for improvement, e.g. a digital twin of a motor.
Twins of systems or units
A visualization of different resources in an interconnected system, providing information on the interplay of different systems and on where performance can be beefed up, e.g. a digital twin of the entire production.
Twins of processes
A twin showing how systems work together as the greater production facility, indicating whether processes are running with highest efficiency.
How digital twins work
Now that you know what digital twins are, let's look at what they do:
Data collection
Digital twins use information and data models as well as real data. The higher the quality of that data, the better the digital twin works. The information has to be correct and precise to ensure the success of the virtual model, for example, using existing data and data collected by sensors. This is the foundation for the digital twin.
Virtual model
Based on the collected data, systems and processes can be visualized, giving you an initial overview of the processes. Even at this stage, the digital twin provides a good basis for deciding "Which system and which AGV best fits my requirements?".
Simulation and analysis
With digital twins, you can simulate processes and test various scenarios using AI algorithms. This helps you optimize the logistics processes exactly where it's needed and before you actually implement them.
Monitoring and optimization
Even beyond implementation, digital twins make great sense. The software continuously monitors your logistics operations and compares the actual performance with the virtual model. Any deviations are detected by the software allowing you to take action right away. With a digital twin, you can also evaluate changes in your processes during running operation and digitally test process effectiveness and efficiency.
Simulations software vs. digital twins
For a simulation software to earn the name "digital twin", it has to depict reality in as much detail as possible and be able to be supplied with up-to-date process data. This is what distinguishes the technology from a classic simulation software for system planning.
If you don't have any planning data, for instance, you can only make assumptions. However, digital twins provide a lot more detail, as they not only use data but also send information back to the real system, creating a constant flow of feedback to and from the system. Conventional simulation software can't do this.
Areas of application in logistics
In warehouse logistics, digital twins can be used in a number of situations, such as: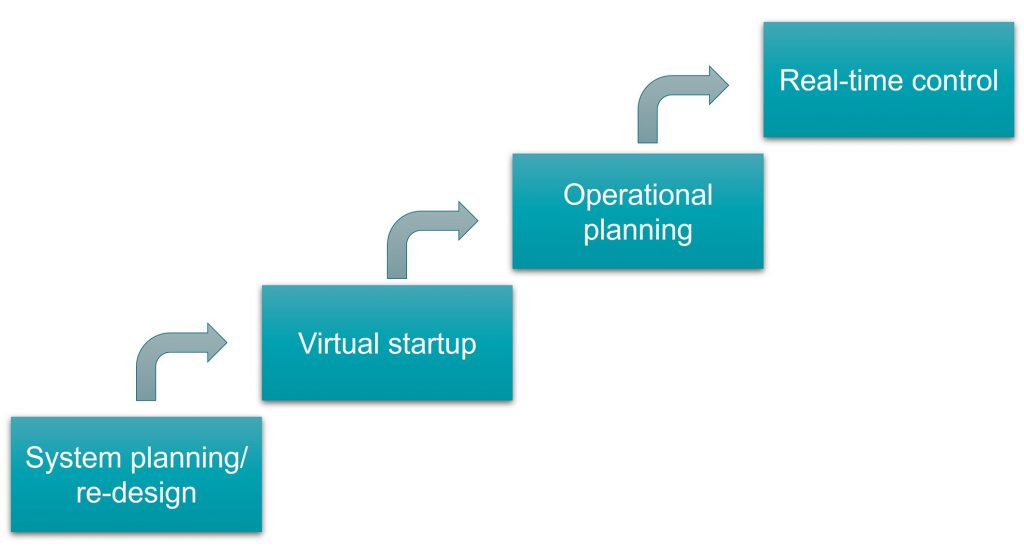 1) Planning and implementing an installation or warehouse
Planning a new installation or revamping an existing warehouse is a big investment and is also a great place to use a digital twin.
Getting the size and performance of the system just right is critical. With a digital twin, you can see the layout of your systems and improve the configurations of, for example, storage and picking systems, where necessary. A digital twin can help you answer the following questions:
What do I need?
How a digital twin can help me
At KNAPP, we have been using digital twins in our planning process for warehouse systems since 2021. We use them to simulate, test and optimize new systems and extensions including our Streamline conveyor system and Pick-it-Easy work stations before we implement them.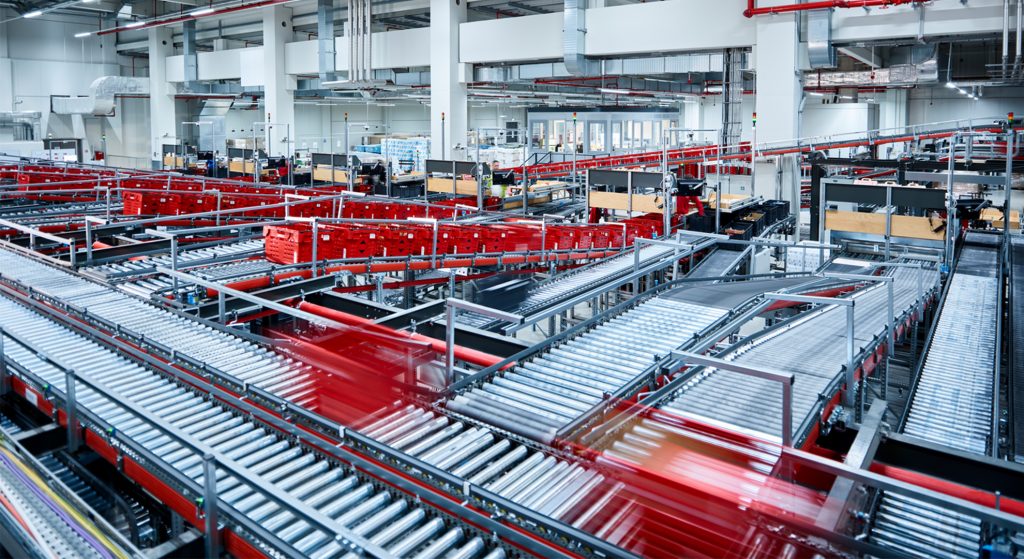 "
"
Increasing degrees of automation and the growing range of our customer's products requires increasingly complex warehouse systems. Digital twins help us to simulate and optimize warehouse processes and strategies, including control systems, before the systems are started up.
2) Virtual startup and troubleshooting
When planning a new system or expanding an existing one, it's important to plan for the startup process. During startup, you need to comply with productivity and safety measures and minimize the time needed on site. With a digital twin, you can put your installation into operation in a virtual environment, test different systems and improve them before they are built and installed. The digital twin adds the data of the planned system to the data pool of the existing system, making it possible to evaluate and enhance the performance of the system before the go live. This translates into more efficiency and fewer costs.
Digital twins can also be used in customer service to identify and rectify errors that may occur during ongoing operation.
Digital twins help KNAPP simulate and optimize systems:
"
"
We can test customer-specific requirements as early as during project preparation, making the go live on site shorter and reducing error costs. Our customers also benefit from this tremendously.  Thanks to the digital twin, we can draw the best out of the warehouse across the entire span of the project.
3) Warehouse operation and operational planning
Digital twins for operation and planning can be used for many purposes:
4) Real-time warehouse control using AI
The long-term goal behind digital twins is to make it easier for businesses in real time. Digital twins are the key to making the right decisions, and combined with artificial intelligence they train AI algorithms to find intelligent solutions for your system. Thanks to the dynamic feedback loop between the digital twin and AI algorithm, you can make improvements for your business operation as a whole.
The combination of AI and digital twin is especially useful for planning the routes of autonomous mobile robots and allocating tasks to them. This decreases the distance the robots have to travel and ensures they mesh well with other warehouse vehicles.
At KNAPP, we offer a digital twin for our KiSoft Fleet Management System (KiSoft FCS). The software allows you to simulate and test the integration of autonomous mobile robots, such as our Open Shuttles, as well as changes to existing warehouses and processes.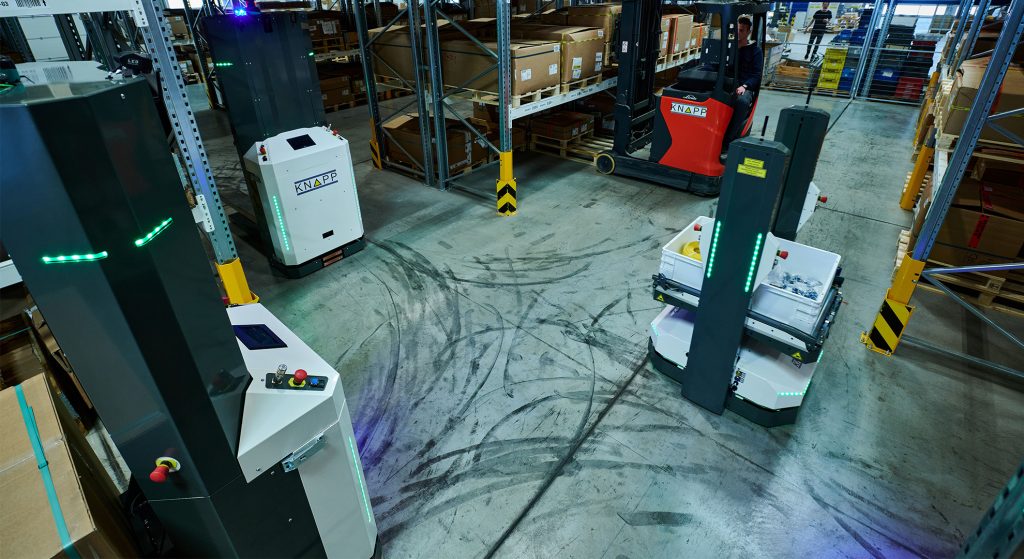 5) Training ground for employees
Last but not least, digital twins are also extremely useful when it comes to training employees. Combined with augmented reality (AR) and virtual reality (VR), digital twins provide a virtual training environment for employees where they can learn and practice new tasks, such as picking, without influencing the real system.
How your logistics can benefit from digital twins
Digital twins can be used for a range of applications, that's clear. But why do many companies consider it the ideal tool for boosting quality?
# Time and cost savings
Digital twins help you prioritize and make the right choices, saving valuable time and costs in system planning and startup. Since you can test interfaces and process steps in advance, you can reduce the required effort on site significantly, ensuring a smooth go live and error-free operation.
# Assured quality
To keep production quality high, it is vital to monitor and respond to IoT sensor data during the manufacturing process. Using a digital twin, companies can model every step of the manufacturing process and see whether there are any deviations and whether better materials or procedures need to be used.
# Making maintenance simple
Digital twins of systems recognize deviations pointing to imminent repairs or maintenance. This prevents small issues from turning into problematic ones and helps you determine load limits and maintenance cycles.
# Transparent decisions
Planning and implementing logistics installations and processes is never an easy process. You need to take into account a number of factors as well as collect and analyze large amounts of data. Armed with the best information, you select the solution that will be right for you, both now and in the future. Thanks to the transparency digital twins provide in system testing and planning, you can make your decisions with confidence.
# Increased efficiency and productivity
Digital twins provide a platform where the data generated by the technologies of Industry 4.0, such as intelligent robots, automated guided vehicle systems, and automated picking and storage solutions, can be combined and viewed at a glance. This allows you to optimize the layout of your warehouse, increase the effectiveness of your processes and improve the productivity of your employees.
# Greener operations
Digital twins also help you boost your warehouse's sustainability, as they eliminate the need for producing expensive prototypes and prevent you from opting for the wrong AGV. Using virtual models of your systems and processes, you can see where there is potential for lowering energy consumption and saving resources.
"
"
In intralogistics, digital twins are the key technology for planning and starting up new systems as well as for continuous process optimization. They allow companies to overcome the challenges in the logistics sector, such as flexible manufacturing processes, time pressure and ever-changing market situations. Digital twins are at the heart of Industry 4.0 and pave the way for the production of the future.
In a nutshell: When does it makes sense to use a digital twin?
When your situation is characterized by a high level of complexity, using a digital twin is the best choice. Only digital twins make it possible to process the large amounts of data that are measured, collected and evaluated in today's systems. And whenever you want to change or redesign your logistics processes the digital twin allows you to evaluate different solutions objectively and determine the required resources, such as the right number of autonomous mobile robots, or the optimal performance of your warehouse.
It also makes absolute sense to use a digital twin for existing logistics processes with changing variables and processes. However, to fully exploit the opportunities of a digital twin, you need to feed it with correct and precise data. Without it, digital twins don't make sense.
What's to come: digital twins and AI technology for a competitive edge
Digital twins in logistics hold a lot in store: Combed with artificial intelligence, digital twins help you make more accurate predictions.
The interplay of AI and digital twins ensures a constant flow of feedback in both directions, allowing them to learn from each other and process huge amounts of data, making machine learning all the more effective. The digital twin-AI combo provides companies a competitive edge and supports them in optimizing their logistics networks.
Would you like to know more about how digital twins are used in our projects