Software plays an integral role in automation, interconnecting goods, processes, people and places along the entire value chain. Today, it's hard to imagine value chains without the digitalization made possible by software and its benefits, such as cost savings, transparency and an overview of all processes. So, in this blog post, let's zoom in on the top seven software solutions for your digital warehouse.
WMS and WCS help you stay on top of things in your digital warehouse
Today's warehouses are pretty complex, as work stations, machines, robots and the related processes are all linked along the flow of materials. All processes – from goods-in, storage and retrieval, sorting and picking to packing and shipping – have to be coordinated in a way that they mesh with each other harmoniously. How do you keep on top of things in your complex environment? There's help! Higher-level software solutions such as warehouse management systems (WMS) combined with warehouse control systems (WCS) will get things running like clockwork for you.
Warehouse management systems are the brains behind every warehouse, serving as the central hub in digital value chains. The WMS not only records the received goods, it also allocates them to the ideal storage location, while providing real-time information about stock and the location of all items. In addition, the system calculates when the goods need to be reordered. All this allows the WMS to plan, monitor, control and optimize all processes, from goods-in to goods-out, including all internal warehouse processes. With a WMS, you can keep warehouse stock at a minimum while also ensuring that highly requested items are in stock for the following day.
In comparison, warehouse control systems manage warehouse operations in real time, controlling all components – conveyor systems, sorters and other machines – to ensure an optimum goods and material flow in the warehouse. As the interface to the machine control system, the WCS makes decisions for the components immediately. To boost the efficiency of your operations, combining the WMS and WCS is not just a helpful bonus, it's a necessity.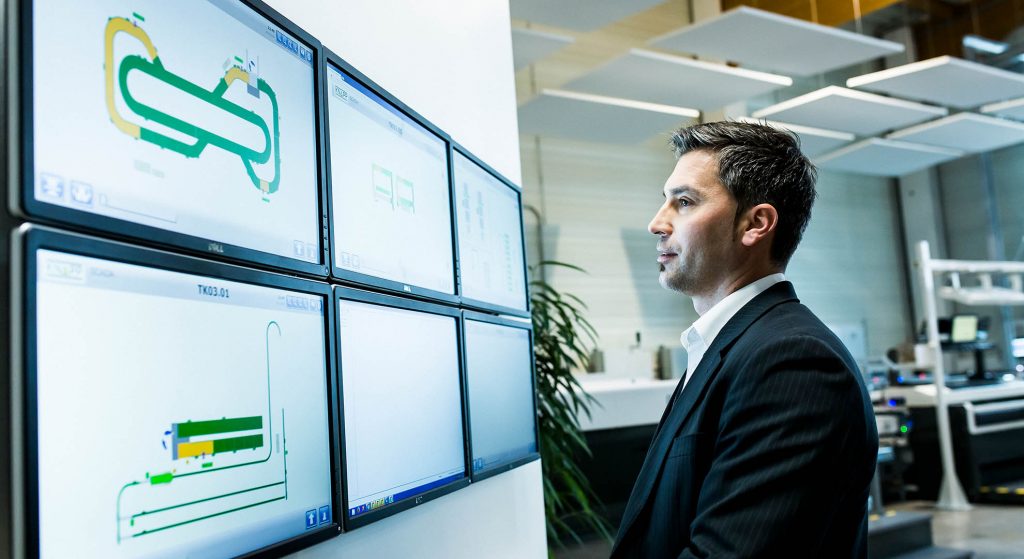 Planning for the future with predictive analytics
In these volatile times, making forecasts for developments in the market has become extremely difficult, making it hardly possible to fine-tune operations to ever-changing order volumes. In addition, occasional sales peaks such as Black Friday push warehouses to the limit. Does this all sound too familiar? These challenges, however, can be overcome. Using tools that allow for realistic estimations, warehouse operators can anticipate market developments, even in uncertain times.
Tools for predictive analytics allow you to adequately prepare for such phases. What makes them ingenious is their simplicity. Whenever an order comes in, the tool collects, combines and evaluates data on a continuous basis, helping you to answer the following questions:
At which time of day do you receive the most orders?
On which day do the most/least orders come in?
How often does a single customer make an order?
How high is the average order value?
How big is the average lot size per order?
Which product class is currently the most popular?
And so on.
With the gathered information, you can identify trends and take the right action. For example, you can fill sorter pockets with the most popular items before a peak is imminent, or store fast-moving products closer to the picking stations. To handle peak periods, for instance, you can make arrangements early to add to your fulfillment team. Thanks to the forecasts created by the tool, you can fulfill orders rapidly, even during those stressful peaks.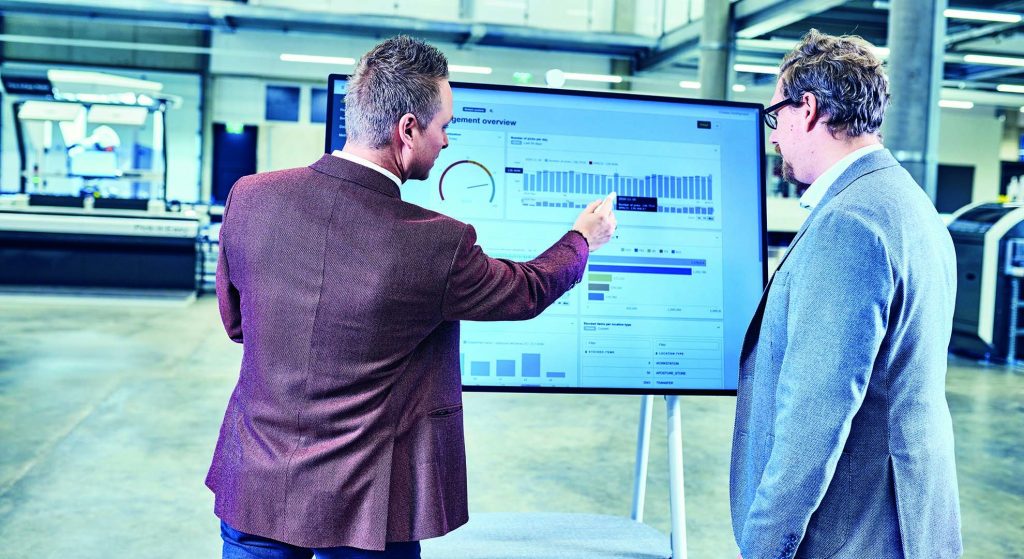 Optimum resource planning for optimum performance
For most warehouses, the workforce is one of the largest cost sources. Is this the case for you too? Then you may want to consider using a dynamic tool for efficient personnel assignment planning.
These software solutions combine the most important information on order volumes, prognoses, the availability of personnel and much more. With this data at hand, you can create cost- and performance-optimized shift schedules at the click of a mouse. Machine learning allows the software to better plan staffing in relation to the forecasted order volumes – you don't wind up with too many or too few people.
What makes these solutions so useful is that they benefit both companies and employees. Using the corresponding smartphone app, employees can manage their work hours themselves, swap shifts and take time off. This motivates employees to be even more productive as their work becomes more flexible. The app also makes the planning process for shift supervisors easier, who can use the app to send out open shifts and schedules.
Resource planning tools are also handy or managers, as they can view employee and process performance as well as work hours and costs With these tools, you can gain information in real time on all the processes in the warehouse and discover hidden potential that can greatly increase efficiency, helping you get a better control of the order flow.
Robot intelligence with machine learning
Intelligent technologies have long been gaining ground in our everyday lives. For example, we all use software that is based on artificial intelligence every day. We use language assistants to fulfill different tasks for us and smart home systems that flexibly control the lighting and heating in our homes, while navigation systems help us find the fastest routes in real time. These solutions all utilize algorithms to continuously achieve better and more precise results. Artificial intelligence (AI), which is based on machine learning, is also part and parcel of today's warehouse processes, forming what we call a digital warehouse.
Applied to picking robots, AI from machine learning significantly improves the picking process. Intelligent picking robots can collect anonymized data about every pick and store the information centrally. This data is used to train neural networks and furnish other machines with artificial intelligence. The models created in the process are then validated and installed on the robot, allowing it to grip items more reliably and place them where they belong more quickly. Well trained robots are a real asset as they compensate for the shortage of personnel, relieve employees of monotonous picking tasks and take on unpopular night shifts.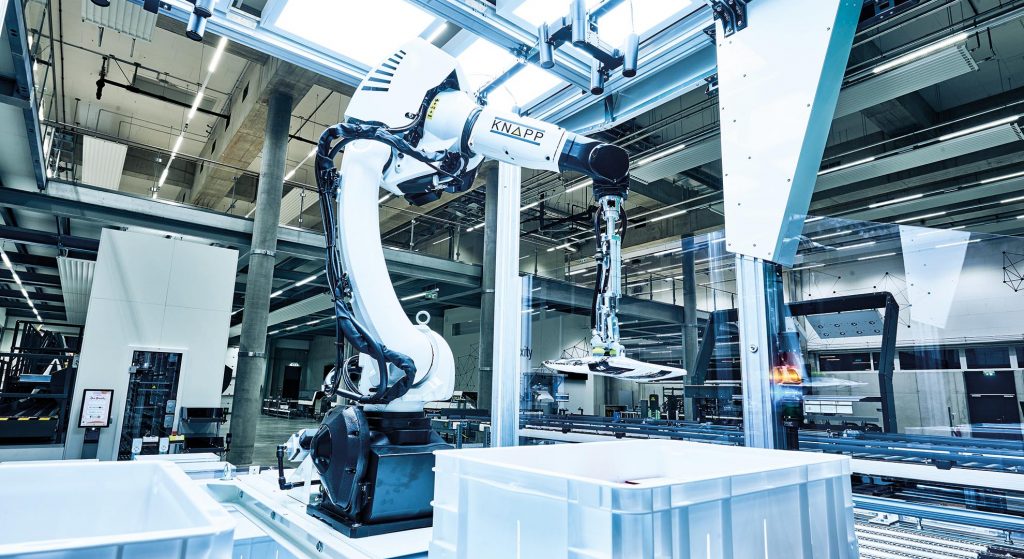 Intelligent maintenance tools ensure system reliability
Unexpected downtimes are a warehouse operator's worst nightmare. One second, everything is running as expected – goods are automatically stored and retrieved, and conveyed to robots for further processing. One second later, complete standstill. The cause is usually minor, yet the consequences are dire. We hope you have never had to experience something like it! To keep your system up and running at all times, there are a number of technologies that provide assistance.
Intelligent maintenance software, for instance, helps you ensure the continuous availability of your system by supporting you with the following:
Automatic planning: Plan maintenance work at the push of a button, organize your servicing team with ease and quickly respond to maintenance requests.
Preventive maintenance: Automatic reminders help you keep track of cyclical maintenance intervals, lowering the risk of unplanned repairs and downtimes.
Spare parts management: Critical replaceable parts are reaching the end of their lifecycle? The software helps you keep an eye on components and orders spare parts independently.
Technician support: Using straightforward apps, your technicians can analyse your system and document events more quickly. This speeds up administration work, allowing you and your team to concentrate on maintenance.
As you can see, maintenance software has a wide scope of application, making your system more efficient, ensuring it runs like clockwork and reducing your costs.
Create data value with master data management
Master data forms the basis of error-free warehouse operation. For robots, shuttles and other machines to handle goods optimally, they need a comprehensive and extensive set of data. But this is easier said than done. Usually, goods arriving at warehouses come from different suppliers and the quality of their data varies profoundly. If this sounds familiar to you, then you're probably tired of having to spend so much time on recording the attributes needed for automation manually. Acquiring master data is just extremely labor-intensive and involves a high risk of error.
Intelligent software solutions make managing master data a breeze with transparent data collection starting back at goods-in. The solutions are compatible with smartphones and tablets, making it easy for warehouse employees to capture important product information. Has a pallet, tray or single item been delivered? What's the structure of the pallet, how have the products been stacked? How many levels does the stack have? What properties do the trays have? The employees answer these questions using a straightforward, intuitive questionnaire.
To have physical properties such as volume, weight and measurements automatically recorded, warehouse employees place one item at a time on a scanner, which measures the product within seconds and saves the data automatically.
But what really is the greatest benefit of master data recording software?
All item attributes are automatically recorded and digitized, including those that humans have trouble determining. This data forms the basis for warehouse processes further down the line. The fact that the data is automatically collected and subjected to additional verification provides the highest quality. All the data that is needed for automation – called automation master data – is compiled on a local server. Technologies such as robots access this data, giving them vital information on optimal item handling. This helps them to operate better, in turn optimizing performance and efficiency for the entire automation solution and process chain.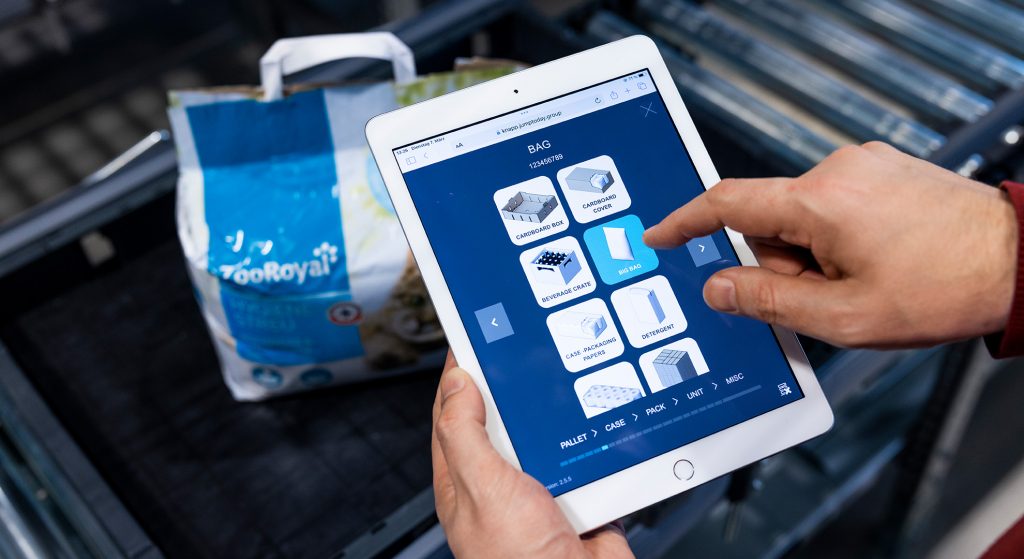 Right on track with the right tracking and transport management tool
Have you ever been in this situation? You've ordered a pair of shoes online, but only notice on the day of delivery that you won't be home to receive it. You want to change address quickly, but can't because it's too late? It's so frustrating… but it doesn't have to be!
Your customers have probably experienced this too. These days, consumers want to be able to change addresses flexibly and use new services such as next-day and same-day delivery, which pose new challenges to the world of logistics. To meet these demands, you need an integrated planning tool – for the warehouse as well as for the road. Intelligent tracking and transport management tools make it possible. The integrated solutions offer a complete overview of the available items located in the warehouse and in the trucks en route to customers. Not only do you know whether the items are inside the warehouse or on the road, but also which items are being delivered by which truck and where the truck is.
But how does all this information help you? It serves to both track and optimize shipping during delivery. When a new order comes in whose delivery address is on the way of the current route, it can be factored in in real time. These tools pave the way for a new range of business models and services such as same-day delivery. With such a tool, you can save both time, costs and CO2 emissions – the environment will thank you for it!
Let your value chain go digital!
Are you interested in talking to a logistics expert in your sector about digitalization and the use of software in your value chain? Get in touch with us now or drop by our stands B01 and B03 in Hall 3 at the LogiMAT trade fair from April 25–27 in Stuttgart, Germany. We would be happy to assist you and your business!