3 minutes reading time
Article contains videos
When it comes to automation and digitalization in logistics, quite a few myths and misconceptions are floating around. Many of these myths stem from a time when logistics was limited to what was taking place within the four walls of the warehouse, where the task was getting things from point A to point B. In the interconnected and digitally driven value chains of today, however, the task is connecting raw materials, goods, processes, people, technologies and locations. It's about time we say goodbye to some of these old beliefs, so today, we'll take a closer look at three of them.
Automation in logistics limits flexibility
Companies often worry that automating logistics processes means being bound up in a corset, resulting in limited flexibility. But don't worry, at KNAPP, we believe that even the highest efficiency and highest degree of automation should never come at the cost of flexibility. We combine our intelligent technologies and create tailor-made solutions for our customers to achieve an ideal balance between automation and optimal flexibility.
Our core business areas include:
For each business model, our goal is to ideally map out its individuality using our automation solutions, adapting them to our customers' growth targets and investment frameworks.
Here are a just a few examples of our intelligent technologies.
Using an automated storage system and autonomous mobile robots to gain more flexibility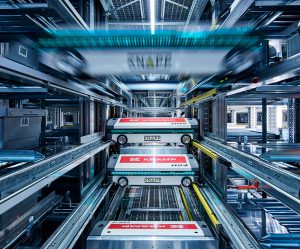 The automated storage system OSR Shuttle™ Evo can be found at the heart of modern warehouse processes and fulfillment strategies in all sectors from healthcare and e-commerce to food retail and the automotive sector. The system can be scaled up and down both in terms of size and performance, and handles the storage of all types of goods, storing not just SKUs but also overstock. Containers, cartons and trays with loads of up to 50 kilograms can be stored multi-deep in the system. The OSR Shuttle™ Evo is an integral part of the KNAPP software landscape. As Jan Frans Berends, Logistics Director at our customer Kramp describes it, "It's a digitally driven system. The design of the system was another reason why we chose it, because we did not want to have spaghetti-like coils of conveyors in our warehouse."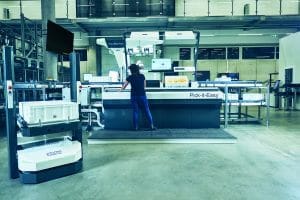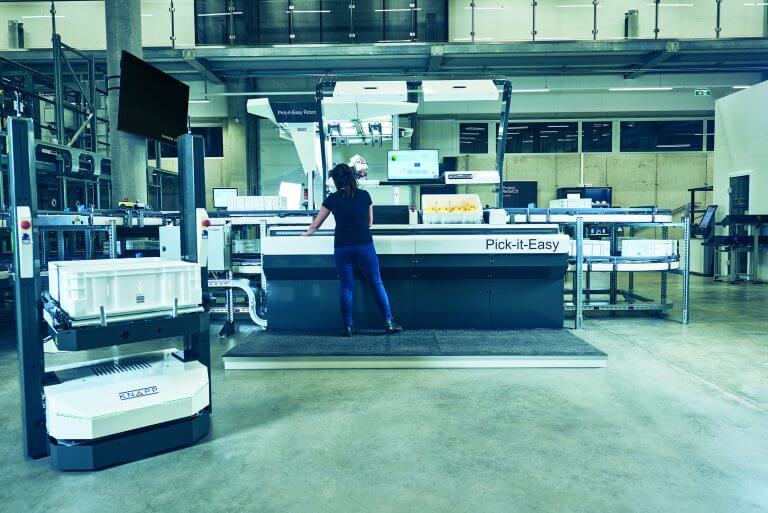 The combination of intelligent, autonomous mobile robots and the central storage system gives rise to the OSR Shuttle ™ Evo+ solution. The plus stands for the extra flexibility that this solution offers. With incredible flexibility, the autonomous, freely moving Open Shuttles link the different areas and processes in the warehouse with the central storage system. The Open Shuttles can
work in goods-in,
supply various decentralized and manual work stations,
handle express or special transport jobs in dispatch,
supply materials to production machines and
handle applications in micro fulfillment.
Smart interface between man and machine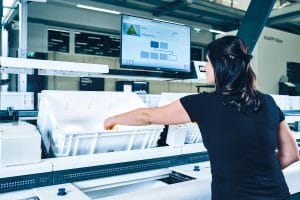 The goods-to-person work stations of the Pick-it-Easy series form the interface between people and the automated warehouse technology. The work stations bring together ergonomics, efficiency and the highest quality in order processing: For example, multiple orders can be processed simultaneously. User-friendly software interfaces guide the employees step by step through each order. "For me, one of the greatest successes in our project was how we optimized the manual picking procedures. Our employees work hand-in-hand with top-notch automation technology. All the work processes are ergonomic, and software guidance reduces errors to a minimum," says Olivier Sorbe, Logistics Manager for Europe, the Middle East and Africa for Parfums Christian Dior.
Pocket sorters bring organization and flexibility to logistics processes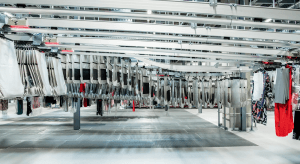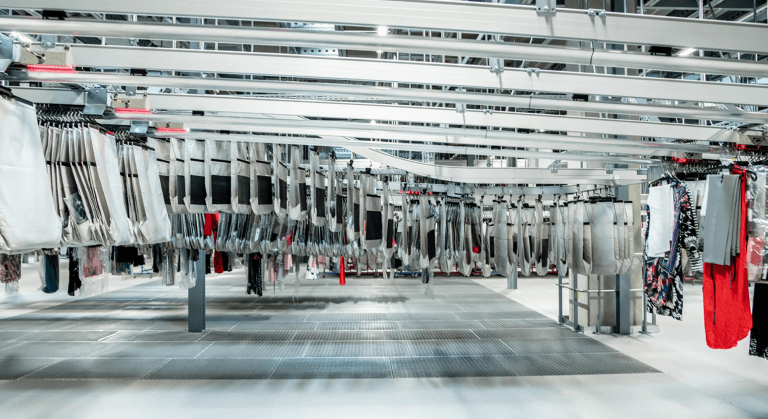 Pocket sorter systems are ideal for various applications and bring new momentum to fulfillment processes, particularly when combined with a powerful automated storage system. For e-commerce and omni-channel fulfillment in particular, pocket sorters provide a great deal of flexibility. Every item in every pocket can be clearly identified and retrieved from the pocket buffer. Pocket sorter systems are ideal for storing goods space-effectively, especially in the fashion sector where they are unrivalled when it comes to handling returns efficiently: Incoming returns are placed directly in a pocket at the returns work station, making them immediately available for sales. Even in fine sorting and CEP, pocket sorting offers exciting opportunities to increase flexibility and performance capacities.
Robots in logistics are just gimmicks
Have you heard this one before? For a long time, robots in logistics were viewed as expensive playthings having special "prototype" status. There were not enough applicable areas and not enough SKUs suitable for the robot and, in general, it just did not work that reliably – at least this was the widely held belief. But this could not be further from the truth. Thanks to rapid technological advances, especially in artificial intelligence, robots today are incredibly useful in logistics processes and not only raise efficiency and quality, but employee satisfaction to boot.
Robots create added value in many logistics processes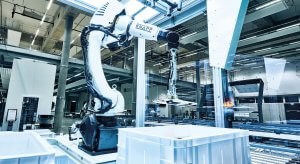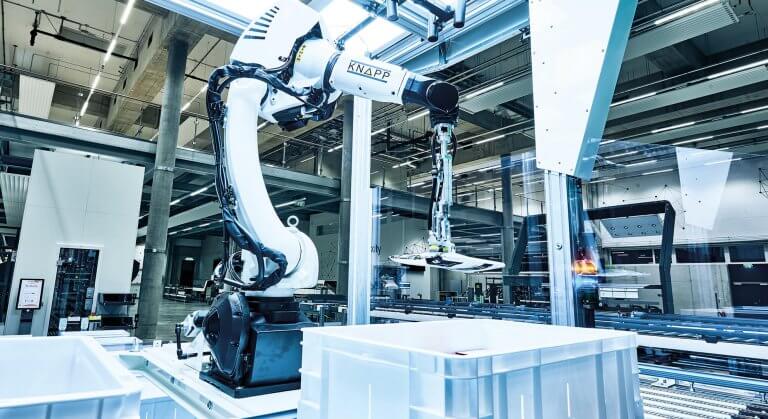 The picking robot Pick-it-Easy Robot is being used worldwide in various sectors, for example, to pick medicines, foods and high-grade cosmetics, in tools and spare parts retail as well as in the fashion and retail industries. The Pick-it-Easy Robot can master a broad range of items thanks to its artificial intelligence – the so-called Covariant Brain – and can (almost) see things and pick them up like a human. Even items wrapped in film, glass bottles or floppy items such as socks can be reliably and gently handled. The intelligent and versatile Pick-it-Easy Robot works around the clock when needed, increasing performance and providing considerable relief to its human colleagues, for example, by working the night shift.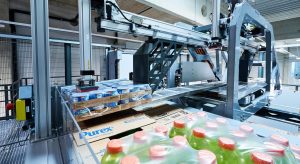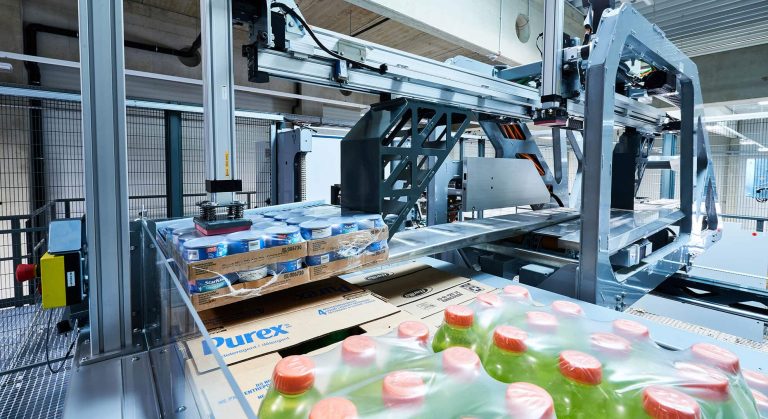 In food distribution in particular, employees often have to take on physically demanding tasks. For deliveries to supermarkets, goods must be stacked on pallets or roll containers in a stable manner. This is a job for the palletizing robot RUNPICK and the smart packing arrangement calculating software KiSoft Pack Master. This combination allows stable roll containers to be formed automatically according to defined specifications. Employees at the warehouse no longer need to do the heavy lifting and carrying, and neither do the employees at the supermarkets, because the roll container is stacked precisely according to the layout of the supermarket.
The KiSoft Pack Master application is also suitable for palletizing tasks in other sectors.
Service technicians are the guys with the screwdriver
Always on the go in his overalls, with a tool box in his hand – that's what you have in mind when you think of a service technician, right? Well, here's some news – service and maintenance has undergone an amazing transformation in recent years. The trend has been towards digital services and intelligent information and what's more, "as much as 90 percent of our service call-outs are solved using remote technology," says Alessandro Freidl, Director of Online Services at KNAPP. Intelligent information is extremely useful when it comes to the day to day business of running a warehouse, including predictive maintenance or staff allocation planning.
"
"
The trend has been towards digital services and intelligent information and what's more. As much as 90 percent of our service call-outs are solved using remote technology,
Intelligent information keeps the logistics system at its best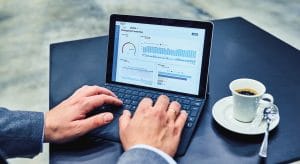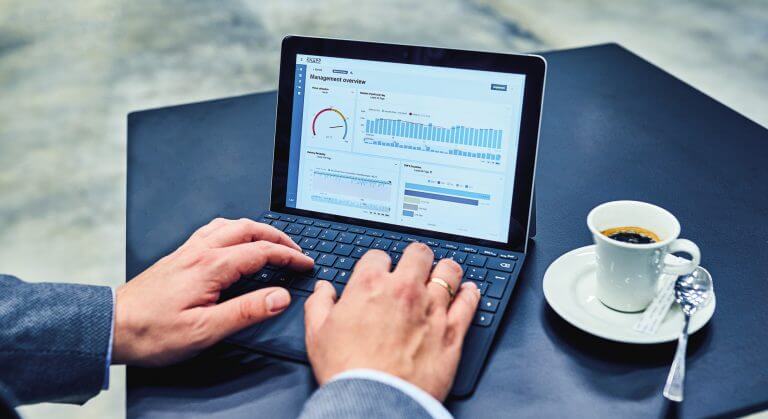 With our Lifecycle Management, we work closely with our customers to ensure the reliable operation of their systems. One valuable tool in the service toolbox is KiSoft Analytics. The software application analyzes relevant system data and displays it in a dashboard with KPIs, facilitating the decision-making process whether for the short, medium or long term.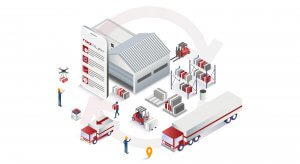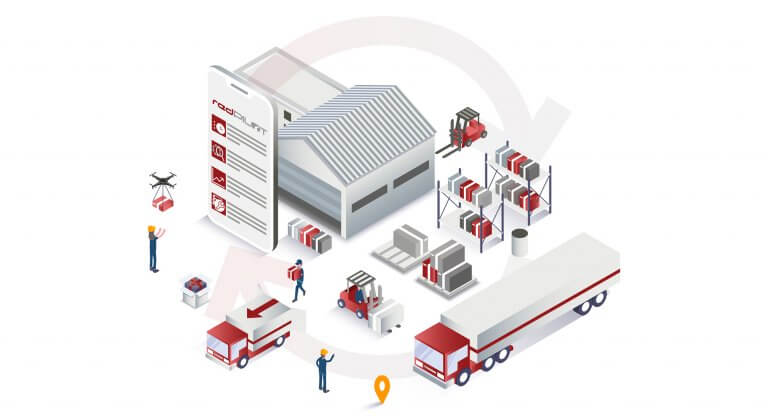 Another clever assistant is the redPILOT Operational Excellence Suite. This software keeps the logistics system running optimally at all times. With redPILOT on the team, shifts are easily and quickly planned, with the right person with the right qualifications always being on the right job. The CMMS tool (Computerized Maintenance Management System) by redPILOT uses system data to schedule maintenance tasks in a structured way. This saves costs, prevents unexpected failures and optimizes the efficiency and availability of the system. Additionally, reports are available at all times to provide a system overview.
Learn more about the intelligent redPILOT Operational Excellence Suite.
Would you like to chat about more myths surrounding logistics automation? Or, perhaps you have a few questions about our technologies that create real value in everyday logistics. Just drop us a line at blog@knapp.com.