Pallet conveyors and container and carton conveyors for your success
The pallet conveyor system Powerline and the container and carton conveyor system Streamline are our perfect team when it comes to conveying. Streamline and Powerline are manufactured on several sites, including at KNAPP AB in Åstorp, Sweden. Malin Schäfer, Managing Director of KNAPP AB, introduces Streamline and Powerline.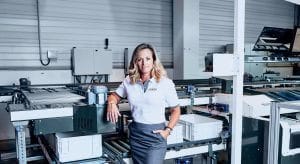 What makes our conveyor systems the secret champion of the warehouse?
An intelligent conveyor system solution constitutes enormous added value for the logistics system because it ensures a continuous flow of goods, links and supplies the various warehouse areas and does so in a quiet, fast and energy-saving way, while also being careful with the conveyed goods. The control system of both Streamline and Powerline conveyor systems is fully integrated in our logistics software KiSoft, which makes their operation and maintenance far more efficient. Another speciality of Streamline and Powerline is its modular system. This allows us to design the system precisely according to the customer's needs, which also ensures faster installation on site.
KNAPP Flexline Solution from KNAPP AB is a new approach to managing conveyor system projects. Howe can customers benefit from it?
Our KNAPP Flexline Solution concept is designed to focus on customers who want to implement projects with a low or medium degree of complexity. These are standard projects involving Streamline or Powerline with a PLC control system. What's more, we integrate machines from third-party suppliers such as strapping machines into the system. The advantage for our customers is that we are able to quickly present them with a design and offer for the solution they require, as well as short transit times and support for the system's entire life cycle. Another advantage, especially for companies that are making their first steps towards automating their warehouse, is our wealth of experience and consulting expertise when it comes to designing automated systems.
Our new design concept KNAPP Flexline Solutions allows us to easily plan and implement projects with a low and medium degree of complexity for our customers.

Malin Schäfer, Managing Director of KNAPP AB
About KNAPP AB
Location: Åstorp, Sweden
Production: Streamline, Powerline
Specialization: Design, manufacturing and management of conveyor system projects for customers in Scandinavia, the UK, Germany, Benelux, France and Poland.
Employees: 130