Picking robots improve safety, efficiency and performance
In 2021, it's no big secret any more: In the world of warehouse and automation technology, robots are the trend, and are a big help when it comes to meeting the growing demands for performance and efficiency. Projections indicate that by 2025, more than 4 million robots will be working in robotic warehouses[1]. Machine learning and intelligent sensors are the tools robots rely on to handle tasks involving single-item picking, palletizing and even transport, as well as a broad range of goods.
Picking robots ensure safety and efficiency in pharmaceutical wholesale
Pharmaceutical distribution is marked by its own set of challenges: It requires a rapid turnover of goods within short delivery windows. Pharmacies are receiving deliveries several times a day or patients must receive their home deliveries as quickly as possible. Furthermore, the quality requirements and the legal framework to protect patients, such as the GDP[1] or the DSCSA[2], are very strict. Added to this is a rather tight labor market. Todd Kleinow, Vice President of Strategic Distribution and Operations for the pharmaceutical corporation and Fortune-8 company, McKesson explains, "Today, people are choosing brains over brawn, which means they would rather work creatively than do physical work. Night shifts are unpopular, but for us they are necessary to uphold our delivery promise. That's why we are turning more and more to robots for our processes."
[1] GDP: The Good Distribution Practice, or GDP, describes the standards of the European Commission for the distribution and traceability of medicinal products for human use.
[2] DSCSA: The Drug Supply Chain Security Act, or DSCSA. Regulation for end-to-end electronic registration of prescription drugs in the US.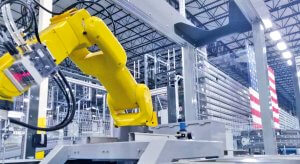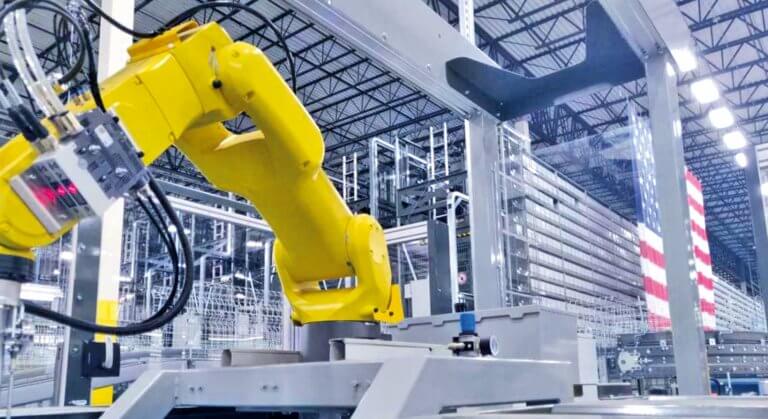 McKesson relies on the Pick-it-Easy Robot
At McKesson, our intelligent picking robot, the Pick-it-Easy Robot, is the star of the show. Here, we have the best of both brains and brawn – intelligence and high performance. The robot works reliably around the clock. Artificial intelligence provides the intelligence the robot needs to recognize different packaging and features on the medicinal products. Orders are processed fully automatically, while fulfilling all the legal requirements. "US medicine packaging is very complex, posing a great challenge to fully automatic robotic picking. Getting there was not exactly easy, but today we can pick a large part of our range with the Pick-it-Easy Robot," says Todd Kleinow.
"
"
The Pick-it-Easy Robot helps us not only to make up for the shortage of workers, but also to keep our delivery promise and comply with the legal requirements of the DSCSA.
Pick-it-Easy Robot: Automatic insertion of fashion items into pockets
Handling fashion and textiles is quite challenging for robots. Why is this? The items are often soft, floppy and wrapped in film. This makes it hard for the robot to determine the perfect grip point to reliably grip the items. Pick-it-Easy Robot masters these challenges with its sophisticated camera system and AI-based object recognition technology, the Covariant Brain. This special artificial intelligence tool was developed by the US company Covariant.
Along with picking, the Pick-it-Easy Robot is now able to automatically insert fashion items into pockets.
Pocket loading using robots works as follows:
The robot transfers the items one by one to a chute from which they slide into the pocket.
The barcode of the item is read during this process with no loss in performance allocating it to the pocket.
Every item in the system can therefore always be found and retrieved.
This automation solution is suited for handling returns but is also great for loading pockets with super-fast moving or discount items. Efficiency therefore increases and takes the pressure off employees, especially during peak periods such as Black Friday. The latest generation of the robot station has been up and running at the fulfillment center of 3PL specialist GXO in Tilburg in the Netherlands since July this year.
"
"
Our goal is to offer our customers cutting-edge technologies to help them gain the competitive edge in logistics and e-commerce fulfillment. We are excited to use the first Pick-it-Easy Robot for fashion e-fulfillment in our warehouse in the Netherlands.
From click to pick: Picking robots in online food retail
The gentle handling of groceries plays an important role particularly in online retail. Whether it's a package of potato chips or a bottle of beer – a wide range of goods must be rapidly processed in the best quality, because in online food retail, a short window of delivery is vital for optimum product quality and customer satisfaction. Even though online food retail has been continually growing in recent years, it was the COVID-19 pandemic that led an even greater number of consumers to adopt this way of shopping.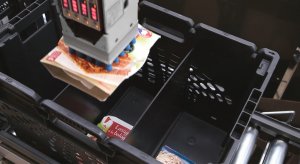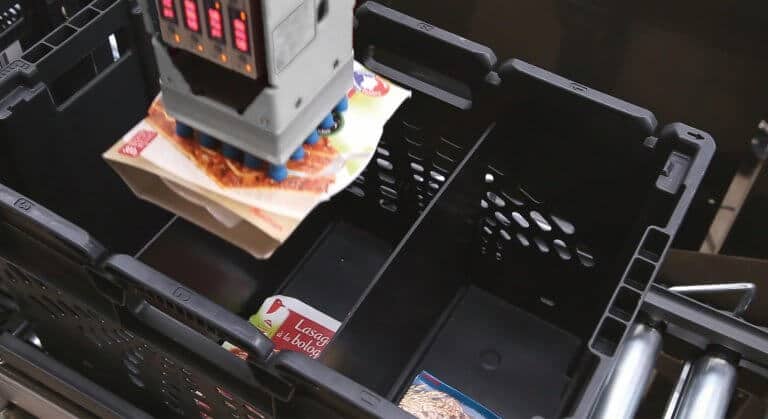 Food retailer Shufersal opts for Pick-it-Easy Robot
Food retailer Shufersal relies on a particularly high level of automation in their new distribution center, with the Pick-it-Easy Robot playing a big part in their plans for the future. Executive Vice President Zvika Fishaimer explains why the company is relying on robotics as part of their automation strategy: "There was no other way to reach our goals: We want to provide our customers with high quality and a wide selection and make 1–5 percent profit."
"
"
When it comes to robotics, a lot has been happening: Just a few years ago, only 15 percent of the foods sold online were suited for robotic picking, while today that number is up to 50 percent. In addition to picking, I see a great deal of potential for robots in decanting.
Robots for full case picking in food retail
For supplying supermarkets, mixed pallets are built from large handling units at the food distribution centers. Here, full case picking is a particular challenge and moving large handling units by hand onto the pallet is heavy work. The large handling units are mixed and must nevertheless be stacked in a stable manner – a difficult task that requires good spatial thinking skills. It's a strenuous task, so to lighten the load for warehouse employees, as well as to increase efficiency and quality, we developed RUNPICK – the Robotic Universal Picker – specifically designed for the food retail sector. RUNPICK processes the entire range of groceries fully automatically, picking and palletizing large handling units and building either mixed pallets or roll containers for brick and mortar retail. Here, it's brains meet brawn, where the RUNPICK robot is backed up by the intelligent KiSoft Pack Master software which effortlessly creates the perfect stack.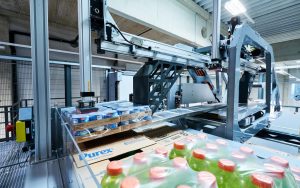 Grocery giant Kroger opts for RUNPICK for omnichannel fulfillment
In summer 2021, the first RUNPICK in the US was put into operation at the food retailer Kroger. Along with the usual supply to stores, RUNPICK is also well-suited for omnichannel applications in food retail.
RUNPICK is operating at the Great Lakes DC. For more information, see our press release.
Would you like more information on our intelligent robot solutions? Drop us a line at blog@knapp.com and schedule a meeting with one of our robot experts.