4 minutes reading time
Article contains videos
With several digitalization specialists on board, REWE Markt GmbH is one of the pioneers of digital food retail in continental Europe within the REWE Group. REWE's goal is to bring online food retail in Europe up to a whole new level using innovative process optimization in intralogistics.
Setting new standards in online food retail
That's why REWE decided to invest in the Scarlet ONE project – which will become the company's very first automated food fulfillment center (FFC) – at their site in Cologne. At this center, e-commerce orders for the REWE delivery service will be prepared. Thanks to the innovative automation solution, the entire range of goods is delivered fresh to the customer and in the best quality. Customers can shop for their groceries in the REWE online shop and have them conveniently delivered to their door.
"
"
Our investment in the food fulfillment center for REWE represents an important milestone in our broader digitalization strategy.
REWE chose us as a partner for the implementation of this pioneering e-commerce solution: Our years of experience in single-item picking and specialization in automating the food retail sector allowed us to create a logistics solution for REWE which is optimally tailored to the company's online strategy.
"
"
Our goal is to offer our customers the best digital shopping experience. KNAPP has extensive experience in shuttle technology and, what's more, they were prepared to think about, develop and implement many innovations with us.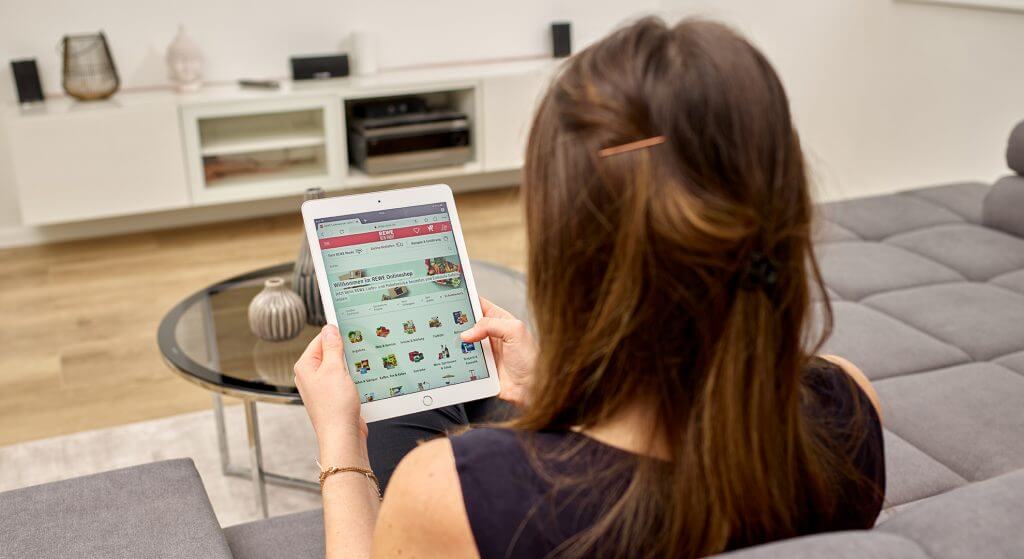 E-Grocer – optimum processes for online food retail
The core of the automated FFC in Cologne is our E-Grocer solution. Specially developed for online food retail, the solution makes it possible for groceries to be rapidly supplied to customers. The system successfully incorporates manual and automatic processes, making order processing efficient and reducing both costs and transit times. Thanks to sequencing by customer and optimal delivery routes, the groceries arrive at customers' homes fast and fresh.
REWE's range of goods comprises over 20,000 groceries – from fruit and vegetables, dairy products and drinks to fresh, frozen and shelf-stable goods – offering customers a vast array of food and beverages online. The center's high degree of automation allows, contrary to popular belief, gentle product handling, and the cold chain is maintained across all areas, from incoming goods to delivery. All this allows customers to choose from a large selection of fresh groceries.
The new logistics center has been designed with future growth in mind and processes groceries stored in a range of different temperature zones. Customers can choose to have their orders conveniently delivered to their door, with same- or next-day delivery, or to pick them up at a pickup station. Here, it's crucial that the time window between placing an order and delivery is kept as short as possible and that the delivery times are considered throughout the day.
At the 16,000-square meter FFC using state-of-the-art technologies and optimum processes, customer orders are prepared for same-day and next-day deliveries.
Highlights of the solution:
OSR Shuttle™ for storing and picking fresh and shelf-stable goods
OSR Shuttle™ for sequencing, consolidation and shipping
Pick-it-Easy work stations for ergonomic and efficient grocery picking
Dolly loader for fully automatic stacking of order containers according to ideal delivery routes
Maximum freshness and quality thanks to transparent processes
In food retail, the freshness and quality of groceries are a fundamental requirement. Even before the products are stored in the OSR Shuttle™ storage and picking system, the most important properties, such as their shelf life, are recorded and sent to the WMS.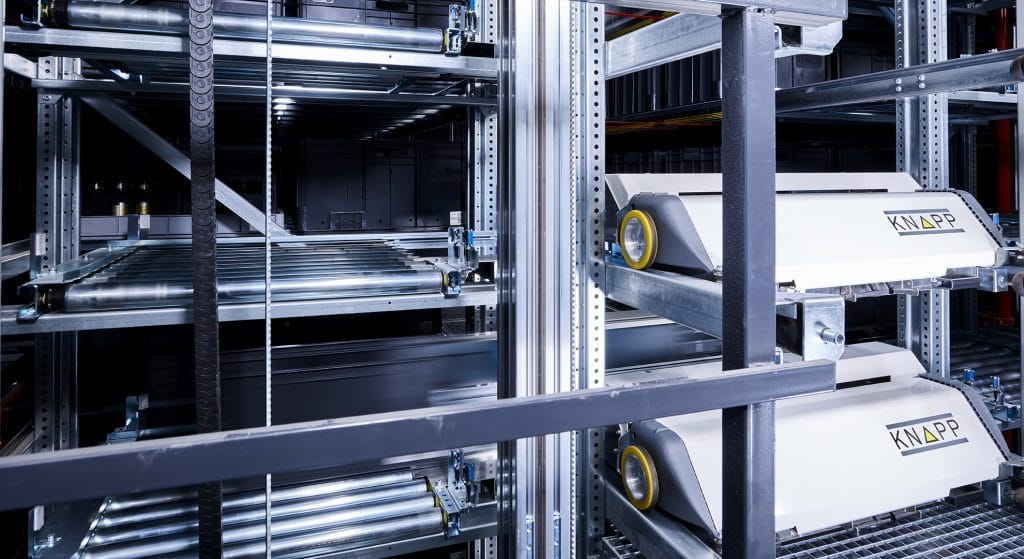 Intuitive guidance throughout the picking process
In the FFC, the system guides employees through the process, no matter which area they are working in. Simple guidance and clear information allow efficient work processes, regardless of whether the employees pick fruit and vegetables manually or work at the semi-automatic Pick-it-Easy work stations for fresh and shelf-stable goods. System interfaces make intuitive interaction possible. The user can navigate quickly through the individual work steps using touchscreens.
"
"
Our focus was not just on efficiency. Ergonomics also played an important role during the development of the installation. In manual picking, the goods are always directly accessible, which helps us ensure that they are supplied in the best quality. Thanks to their Pick-it-Easy work stations, KNAPP could fulfill our wishes and requirements.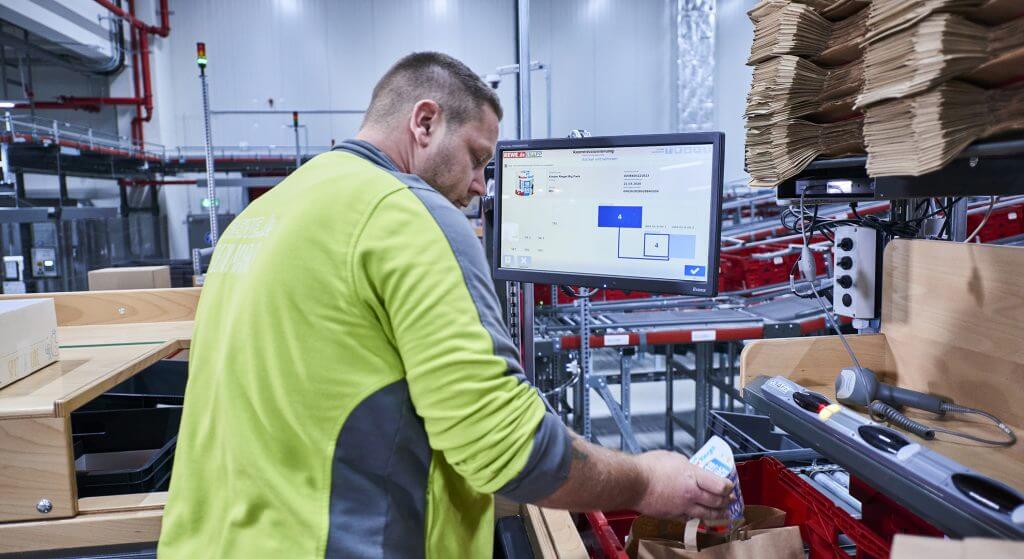 Perfect sequencing for optimal route delivery
The core element in delivering groceries to customers is route planning. REWE's route planning software compiles orders as close to the shipping time as possible and gets them ready for the drivers in the ideal order. Since customers can place orders shortly before shipment, the optimal route is continuously calculated until just before the goods are sent out. Ready orders are buffered in the goods-out area in the OSR Shuttle™ dispatch buffer and the order containers are automatically stacked for shipment.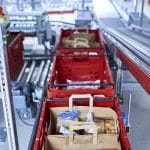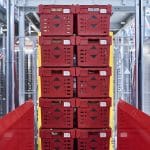 Our customers benefit from the smooth-running logistics solution: They receive their goods at the door, fresh and in the best quality," concludes Andreas Palmen.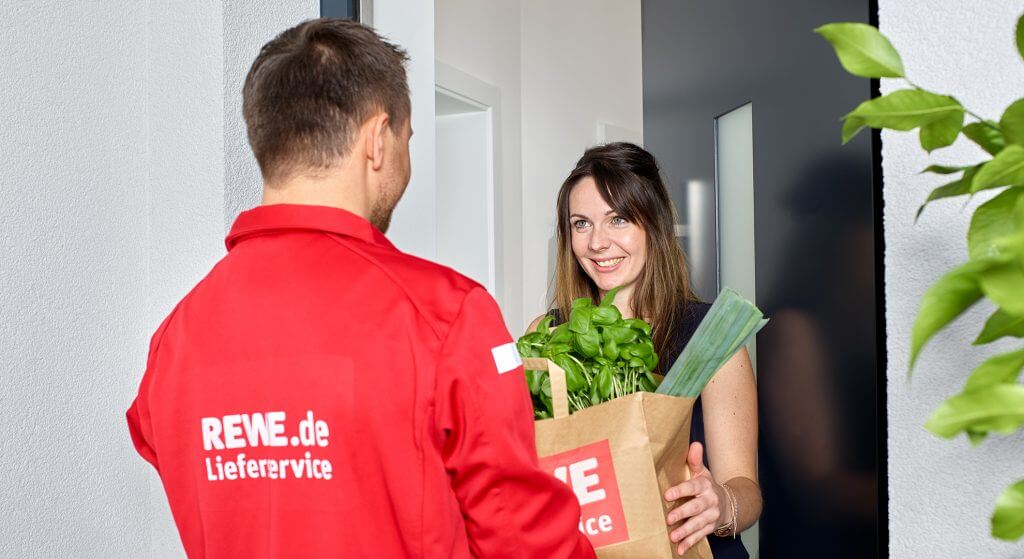 Experience our solution at REWE